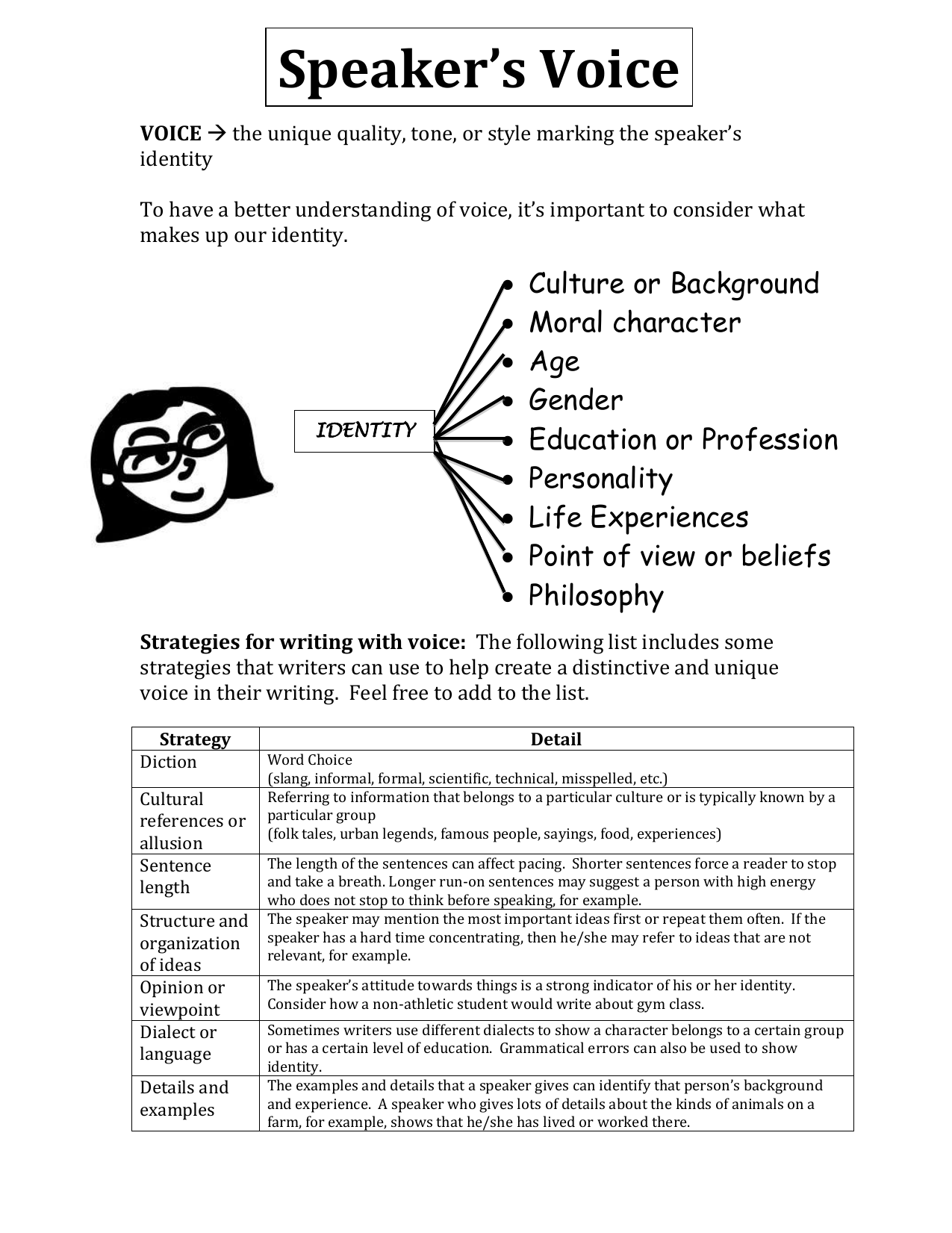 Speaker's Voice
VOICE  the unique quality, tone, or style marking the speaker's
identity
To have a better understanding of voice, it's important to consider what
makes up our identity.
IDENTITY
 Culture or Background
 Moral character
 Age
 Gender
 Education or Profession
 Personality
 Life Experiences
 Point of view or beliefs
 Philosophy
Valueslist includes some
The following
Strategies for writing with voice:
strategies that writers can use to help create a distinctive and unique
voice in their writing. Feel free to add to the list.
Strategy
Diction
Cultural
references or
allusion
Sentence
length
Structure and
organization
of ideas
Opinion or
viewpoint
Dialect or
language
Details and
examples
Detail
Word Choice
(slang, informal, formal, scientific, technical, misspelled, etc.)
Referring to information that belongs to a particular culture or is typically known by a
particular group
(folk tales, urban legends, famous people, sayings, food, experiences)
The length of the sentences can affect pacing. Shorter sentences force a reader to stop
and take a breath. Longer run-on sentences may suggest a person with high energy
who does not stop to think before speaking, for example.
The speaker may mention the most important ideas first or repeat them often. If the
speaker has a hard time concentrating, then he/she may refer to ideas that are not
relevant, for example.
The speaker's attitude towards things is a strong indicator of his or her identity.
Consider how a non-athletic student would write about gym class.
Sometimes writers use different dialects to show a character belongs to a certain group
or has a certain level of education. Grammatical errors can also be used to show
identity.
The examples and details that a speaker gives can identify that person's background
and experience. A speaker who gives lots of details about the kinds of animals on a
farm, for example, shows that he/she has lived or worked there.