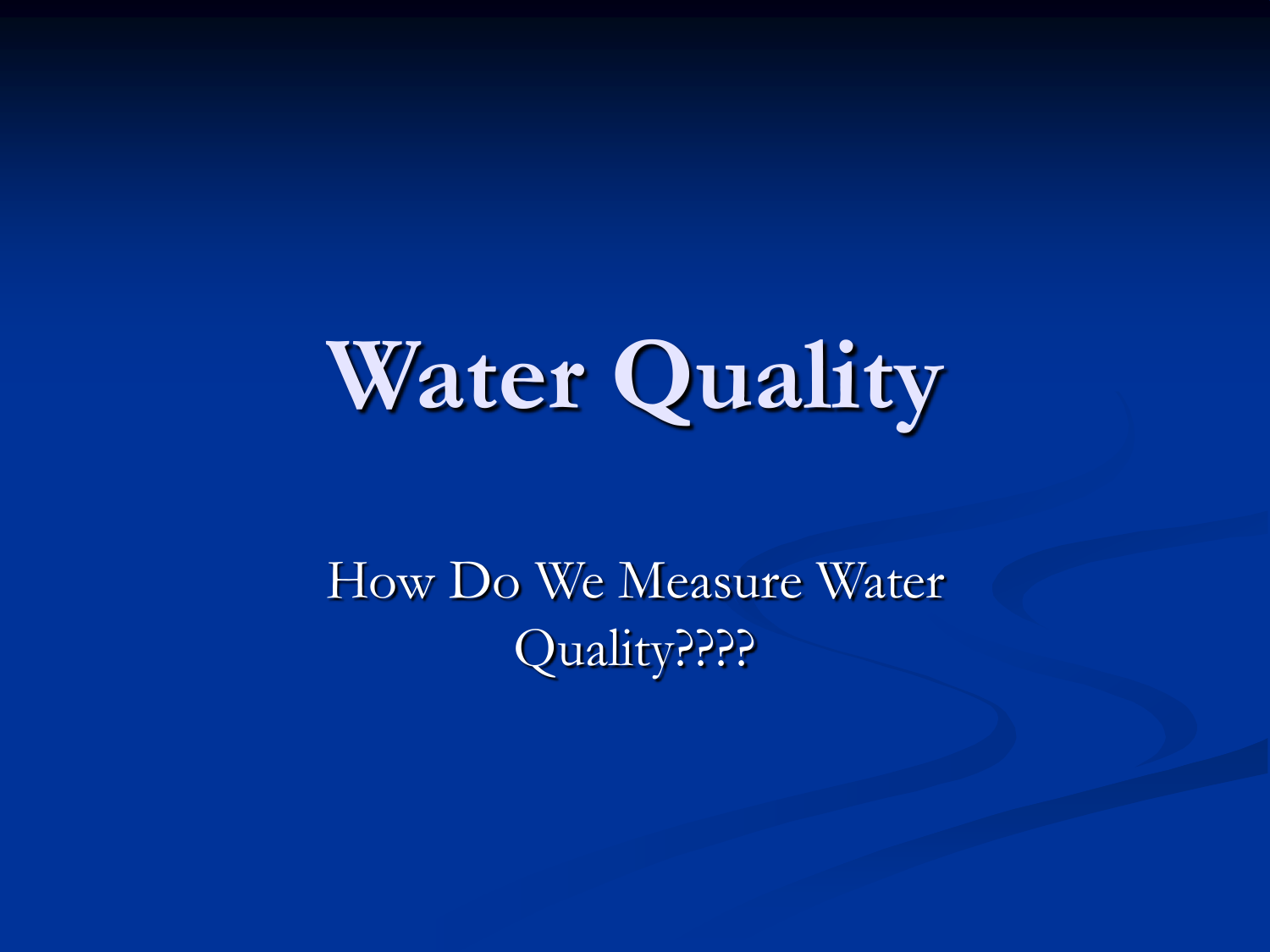 Water Quality
How Do We Measure Water
Quality????
Water Quality

Chemical Characteristics

Biological Characteristics

Physical Characteristics
Chemical Characteristics





Dissolved Oxygen
Nitrogen
Phosphorous
pH
Alkalinity
Dissolved Oxygen
Dissolved Oxygen
Fish Kill
pH
Acid Rain
Alkalinity
Nitrogen and Phosphorous
Eutrophication
Good Water Quality




Dissolved Oxygen: >6 ppm
pH: Neutral
Alkalinity: 100 – 200 ppm
Nitrogen and Phosphorous: <.1 ppm
Biological Characteristics

Fish

Algae

Rooted Aquatic Plants

Bacteria

Benthic Macroinvertebrates
Benthic Macroinvertebrates
Think Small!!!!!
Benthic Macroinvertebrate Sampling
Stonefly Larvae
Mayfly Larvae
Caddisfly Larvae
Benthic Macroinvertebrates as Water
Quality Indicators

Mayflies

Stoneflies

Caddisflies
Physical Characteristics





Temperature
Local Land Use Activities
Stream Bank Erosion
Stream Bottom
Flow
Different Types of
Fish Do Better in
Different Water
Temperatures
Warm Water Fish
Blue Gills
Stream Bank Erosion
Stream Bottom
Characteristics
Measuring Stream Flow
Measuring Stream Flow

Width X Depth X Feet per Second = Cubic Feet
per Second (cfs)
Watershed Scientists
What Do We Do?






Take Water Quality Measurements
Sample for Macroinvertebrates
Take Water Temperature
Figure Out the Stream Flow
Look for Signs of Pollutants
What Do All of These Say About Water
Quality?