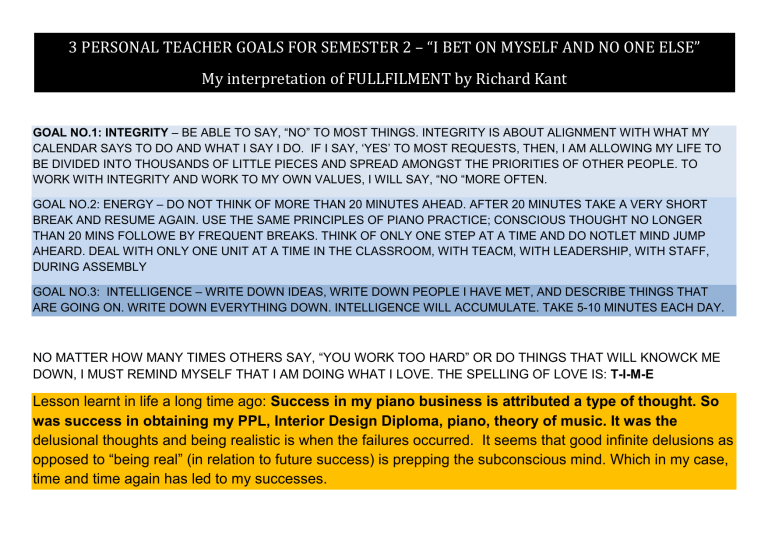 3 PERSONAL TEACHER GOALS FOR SEMESTER 2 – "I BET ON MYSELF AND NO ONE ELSE"
My interpretation of FULLFILMENT by Richard Kant
GOAL NO.1: INTEGRITY – BE ABLE TO SAY, "NO" TO MOST THINGS. INTEGRITY IS ABOUT ALIGNMENT WITH WHAT MY
CALENDAR SAYS TO DO AND WHAT I SAY I DO. IF I SAY, 'YES' TO MOST REQUESTS, THEN, I AM ALLOWING MY LIFE TO
BE DIVIDED INTO THOUSANDS OF LITTLE PIECES AND SPREAD AMONGST THE PRIORITIES OF OTHER PEOPLE. TO
WORK WITH INTEGRITY AND WORK TO MY OWN VALUES, I WILL SAY, "NO "MORE OFTEN.
GOAL NO.2: ENERGY – DO NOT THINK OF MORE THAN 20 MINUTES AHEAD. AFTER 20 MINUTES TAKE A VERY SHORT
BREAK AND RESUME AGAIN. USE THE SAME PRINCIPLES OF PIANO PRACTICE; CONSCIOUS THOUGHT NO LONGER
THAN 20 MINS FOLLOWE BY FREQUENT BREAKS. THINK OF ONLY ONE STEP AT A TIME AND DO NOTLET MIND JUMP
AHEARD. DEAL WITH ONLY ONE UNIT AT A TIME IN THE CLASSROOM, WITH TEACM, WITH LEADERSHIP, WITH STAFF,
DURING ASSEMBLY
GOAL NO.3: INTELLIGENCE – WRITE DOWN IDEAS, WRITE DOWN PEOPLE I HAVE MET, AND DESCRIBE THINGS THAT
ARE GOING ON. WRITE DOWN EVERYTHING DOWN. INTELLIGENCE WILL ACCUMULATE. TAKE 5-10 MINUTES EACH DAY.
NO MATTER HOW MANY TIMES OTHERS SAY, "YOU WORK TOO HARD" OR DO THINGS THAT WILL KNOWCK ME
DOWN, I MUST REMIND MYSELF THAT I AM DOING WHAT I LOVE. THE SPELLING OF LOVE IS: T-I-M-E
Lesson learnt in life a long time ago: Success in my piano business is attributed a type of thought. So
was success in obtaining my PPL, Interior Design Diploma, piano, theory of music. It was the
delusional thoughts and being realistic is when the failures occurred. It seems that good infinite delusions as
opposed to "being real" (in relation to future success) is prepping the subconscious mind. Which in my case,
time and time again has led to my successes.