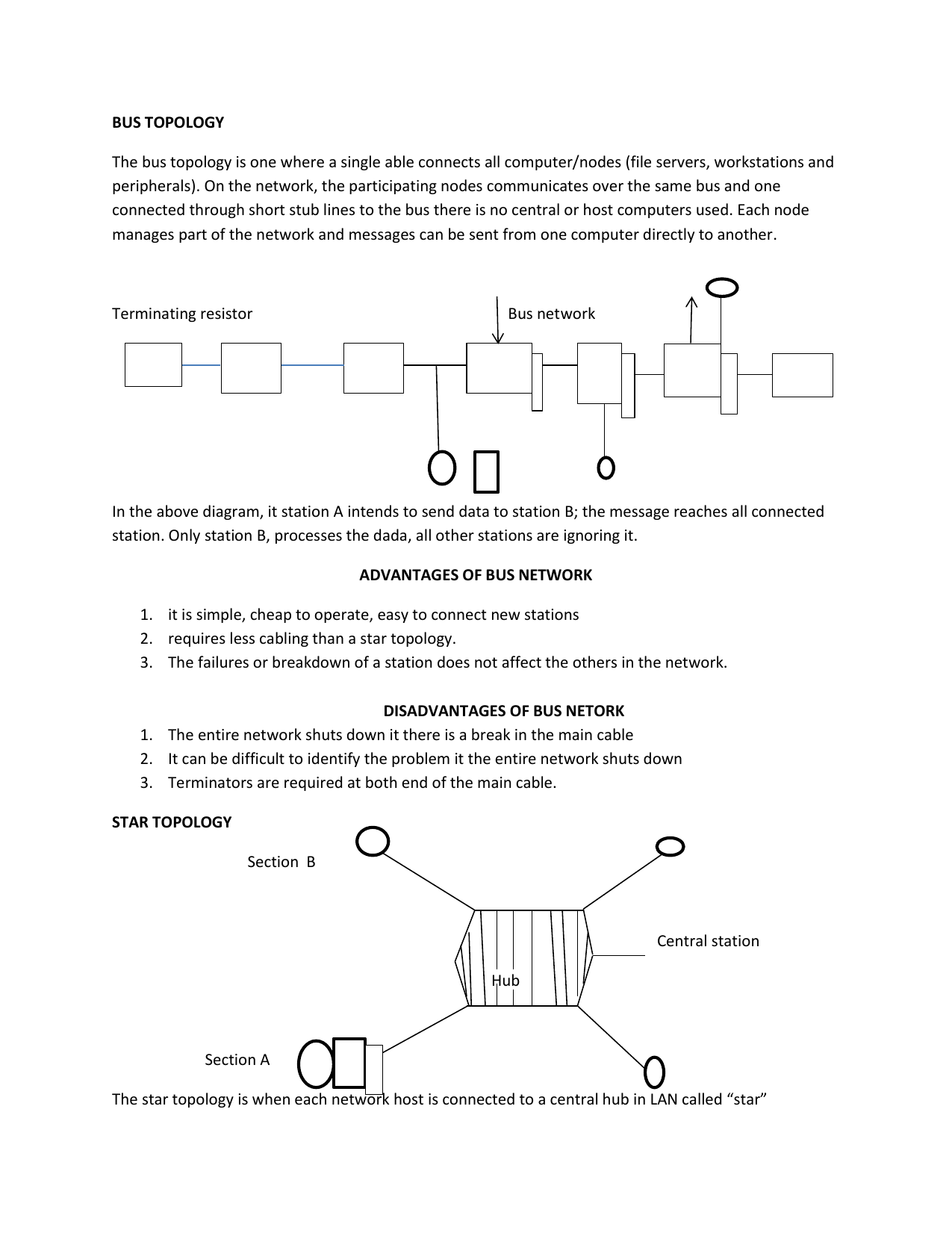 BUS TOPOLOGY
The bus topology is one where a single able connects all computer/nodes (file servers, workstations and
peripherals). On the network, the participating nodes communicates over the same bus and one
connected through short stub lines to the bus there is no central or host computers used. Each node
manages part of the network and messages can be sent from one computer directly to another.
Terminating resistor
Bus network
In the above diagram, it station A intends to send data to station B; the message reaches all connected
station. Only station B, processes the dada, all other stations are ignoring it.
ADVANTAGES OF BUS NETWORK
1. it is simple, cheap to operate, easy to connect new stations
2. requires less cabling than a star topology.
3. The failures or breakdown of a station does not affect the others in the network.
DISADVANTAGES OF BUS NETORK
1. The entire network shuts down it there is a break in the main cable
2. It can be difficult to identify the problem it the entire network shuts down
3. Terminators are required at both end of the main cable.
STAR TOPOLOGY
Section B
Central station
Hub
Section A
The star topology is when each network host is connected to a central hub in LAN called "star"
It is a topology where each node is connected directly to central node. Designated computer as central
station; message of station A, is forwarded to station B, through the central station. Broadcast network
(hub) or point connection switch.
ADVANTAGES
1.
2.
3.
4.
It is easy to install and wire.
One malfunctioning node does not affect the host of the networks.
Easy to direct faults and to network parts.
No disruption to the network when connecting or rewiring.
DISADVANTAGES
1. It requires lots of cabling than bus topology; hence expensive central station is needed.
2. It the central node fails, nodes attached are disable.
RING TOPOLOGY
This is a topology that is set up in a circular fashion where computers are connected in a single cable
with the end nodes also connected to each other. Data travels around the ring in one direction and each
device on the right acts as repeaters to keep the signal strong as it travels.
This topology uses the token ring technology. Ring topologies are found in some office buildings or
school campuses.
ADVANTAGES
1. It can be established or spam a large environment than other types such as bus or star.
2. Easy correction of new stations
Stations are connected by two opposed rings.
DISADVANTAGES
1. A breakdown of one single station can cause complete network failure.
2. It is expensive to set up
3. It the cable breaks, it can cause network failure
TREE TOPOLOGY
The tree topology is a "hybrid" topology that combines the characteristics of the bus and star
topologies. It is a connection of several buses or stars.
ADVANTAGES
1. It is a good flexible choice for large computer network, as the tree topology divides the whole
network into parts that are more easily manageable.
2. It is easy to expand a network.
3. Minimization of the cable length necessary i.e. the amount of cable used in constructing it is
less.
4. It is adaptable to any given geographical structure or zone or area.
DISADVANTAGES
The online network depends on a central bus and a failure of the central bus can cripple the entire
network.
MESHED TOPOLOGY
This is a topology where nodes are connected with many redundant (alternating) inter connections
between network nodes. Every node on the network has a connection to every other node.
ADVANTAGES
1. Very long distances can be covered.
2. It is a redundant network, it is hard for the network to fail.