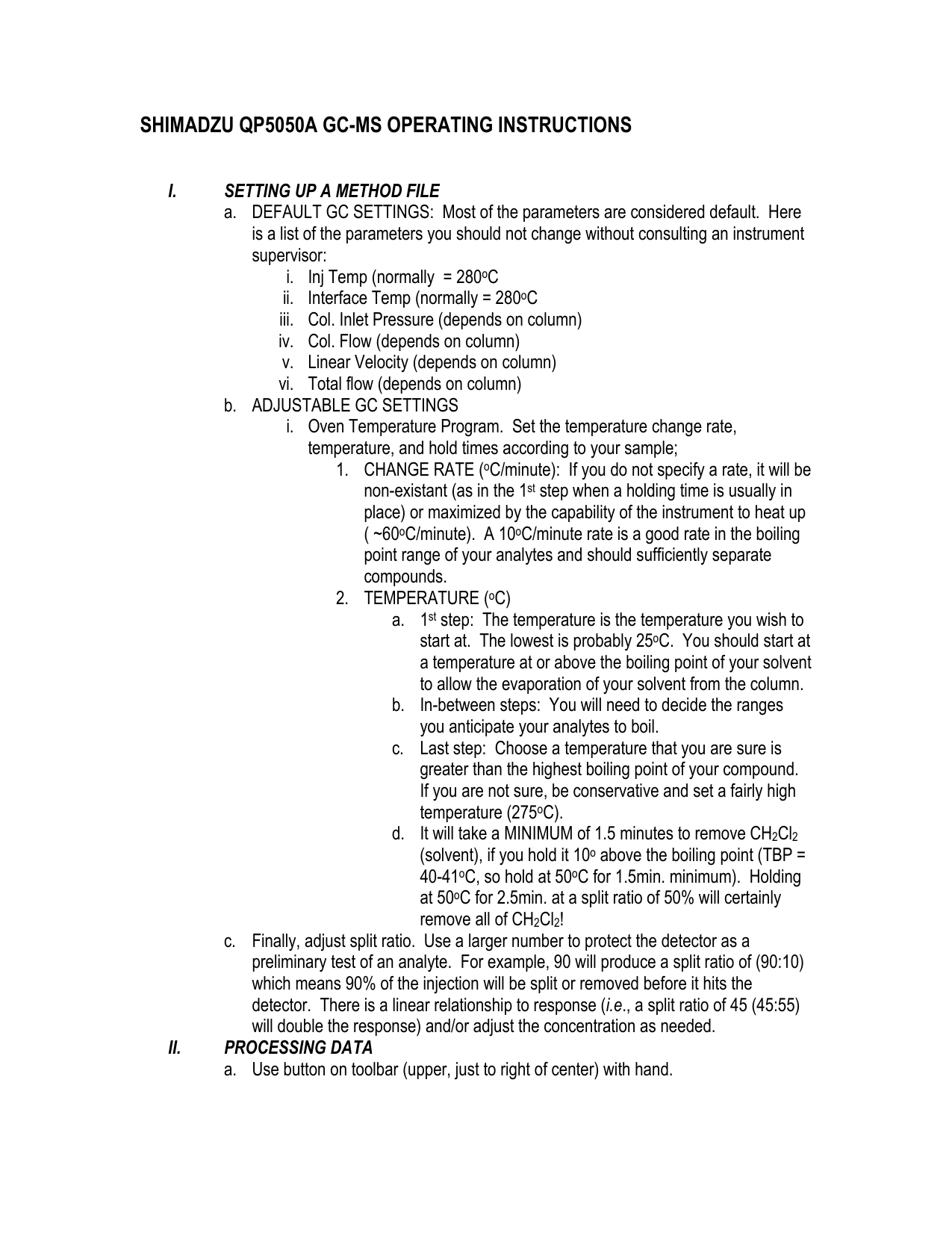 SHIMADZU QP5050A GC-MS OPERATING INSTRUCTIONS
I.
II.
SETTING UP A METHOD FILE
a. DEFAULT GC SETTINGS: Most of the parameters are considered default. Here
is a list of the parameters you should not change without consulting an instrument
supervisor:
i. Inj Temp (normally = 280oC
ii. Interface Temp (normally = 280oC
iii. Col. Inlet Pressure (depends on column)
iv. Col. Flow (depends on column)
v. Linear Velocity (depends on column)
vi. Total flow (depends on column)
b. ADJUSTABLE GC SETTINGS
i. Oven Temperature Program. Set the temperature change rate,
temperature, and hold times according to your sample;
1. CHANGE RATE (oC/minute): If you do not specify a rate, it will be
non-existant (as in the 1st step when a holding time is usually in
place) or maximized by the capability of the instrument to heat up
( ~60oC/minute). A 10oC/minute rate is a good rate in the boiling
point range of your analytes and should sufficiently separate
compounds.
2. TEMPERATURE (oC)
a. 1st step: The temperature is the temperature you wish to
start at. The lowest is probably 25oC. You should start at
a temperature at or above the boiling point of your solvent
to allow the evaporation of your solvent from the column.
b. In-between steps: You will need to decide the ranges
you anticipate your analytes to boil.
c. Last step: Choose a temperature that you are sure is
greater than the highest boiling point of your compound.
If you are not sure, be conservative and set a fairly high
temperature (275oC).
d. It will take a MINIMUM of 1.5 minutes to remove CH2Cl2
(solvent), if you hold it 10o above the boiling point (TBP =
40-41oC, so hold at 50oC for 1.5min. minimum). Holding
at 50oC for 2.5min. at a split ratio of 50% will certainly
remove all of CH2Cl2!
c. Finally, adjust split ratio. Use a larger number to protect the detector as a
preliminary test of an analyte. For example, 90 will produce a split ratio of (90:10)
which means 90% of the injection will be split or removed before it hits the
detector. There is a linear relationship to response (i.e., a split ratio of 45 (45:55)
will double the response) and/or adjust the concentration as needed.
PROCESSING DATA
a. Use button on toolbar (upper, just to right of center) with hand.
III.
b. In lower chromatogram, select peak you wish to integrate by clicking and holding
from left to right side of the peak.
c. Next, use the "Peak" arrow key (just above and right of upper chromatogram,
below toolbar) to select the peak you are interested in.
d. Left click and select, "Similarity search" from the menu. You will need to designate
a library (nist98?) before you can complete a similarity search.
e. TO PRINT THE SIMILARITY SEARCH:
i. While still in the Similarity Search Window,
ii. select "Report" from the (upper left) tool bar in this window
iii. select "Search Results" to print out 1p of the most likely identities
iv. select "Cmpd Info" to print out the identity and detailed mass table of the
most likely candidate identified.
f. Register each integrated peak into table so it will show up on the report!
GENERATING REPORTS
a. Select, "Postrun Analysis" from the main menu
b. Open data file
c. Select "Qualitative" from the menu bar (upper left).
d. Select "Report" from the menu bar (lower left).
e. Open Format file you'd like to use OR: generate a report format.