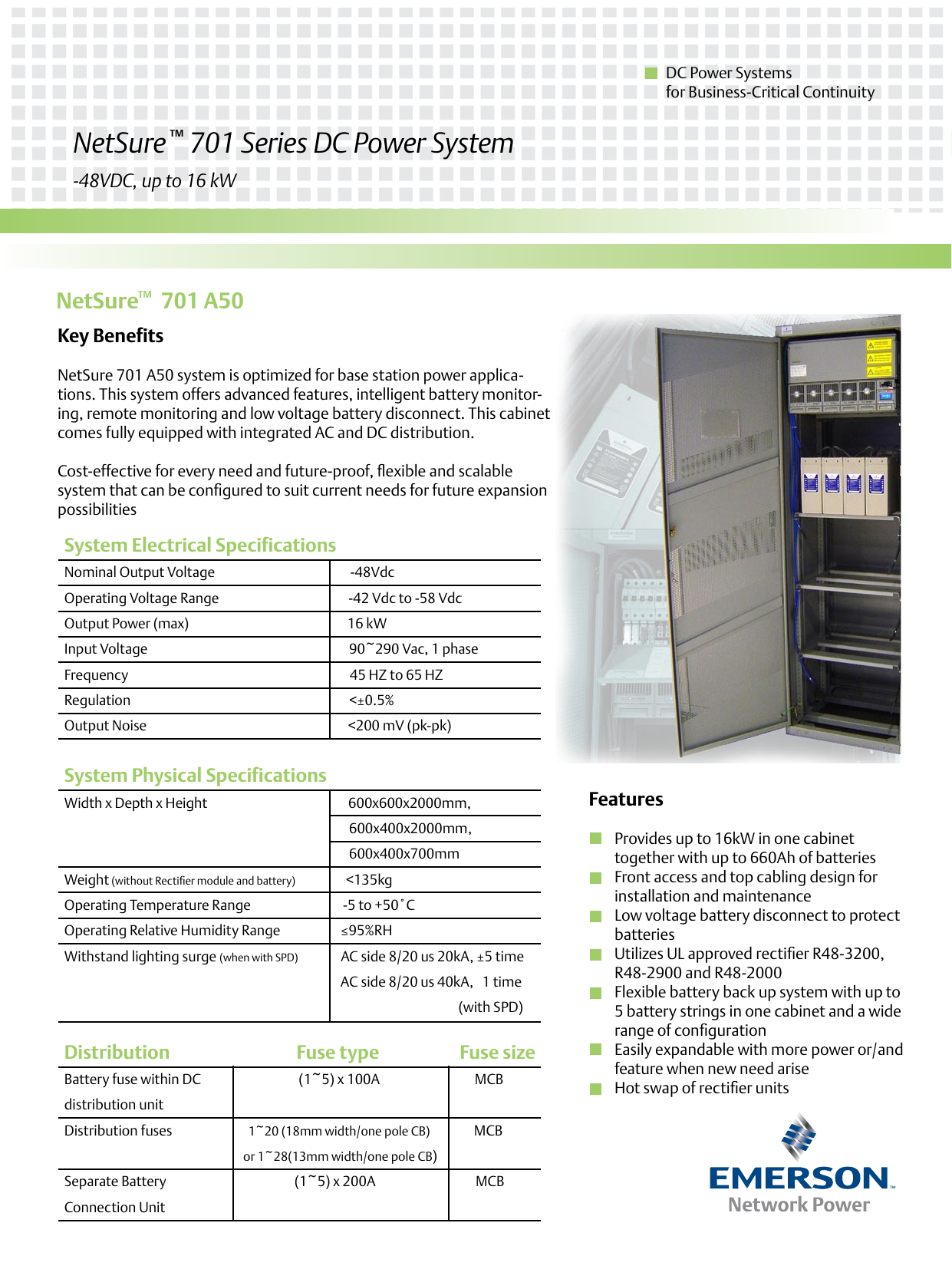 DC Power Systems
for Business-Critical Continuity
NetSure 701 Series DC Power System
TM
-48VDC, up to 16 kW
NetSureTM 701 A50
Key Benefits
NetSure 701 A50 system is optimized for base station power applications. This system offers advanced features, intelligent battery monitoring, remote monitoring and low voltage battery disconnect. This cabinet
comes fully equipped with integrated AC and DC distribution.
Cost-effective for every need and future-proof, flexible and scalable
system that can be configured to suit current needs for future expansion
possibilities
System Electrical Specifications
Nominal Output Voltage
-48Vdc
Operating Voltage Range
-42 Vdc to -58 Vdc
Output Power (max)
16 kW
Input Voltage
90~290 Vac, 1 phase
Frequency
45 HZ to 65 HZ
Regulation
<±0.5%
Output Noise
<200 mV (pk-pk)
System Physical Specifications
Width x Depth x Height
Features
600x600x2000mm,
600x400x2000mm,
600x400x700mm
Weight (without Rectifier module and battery)
<135kg
Operating Temperature Range
-5 to +50˚C
Operating Relative Humidity Range
≤95%RH
Withstand lighting surge (when with SPD)
AC side 8/20 us 20kA, ±5 time
AC side 8/20 us 40kA, 1 time
(with SPD)
Distribution
Fuse type
Fuse size
Battery fuse within DC
(1~5) x 100A
MCB
1~20 (18mm width/one pole CB)
MCB
distribution unit
Distribution fuses
or 1~28(13mm width/one pole CB)
Separate Battery
Connection Unit
(1~5) x 200A
MCB
Provides up to 16kW in one cabinet
together with up to 660Ah of batteries
Front access and top cabling design for
installation and maintenance
Low voltage battery disconnect to protect
batteries
Utilizes UL approved rectifier R48-3200,
R48-2900 and R48-2000
Flexible battery back up system with up to
5 battery strings in one cabinet and a wide
range of configuration
Easily expandable with more power or/and
feature when new need arise
Hot swap of rectifier units
Standard Controller Module – M500D / M501D
Columbus, Ohio
T: 614-8880246
F: 614-8416022
T: 800-8779222 ( US and Canada Only)
Australia
T: 61-1300367686
F: 61-2-97438737
China
T: 86-755-86010808
F: 86-755-86010909
Hong Kong
T: 852-25722201
F: 852-28310114
India
T: 91-22-25807000 / 2388 F: 91-22-25828358
Indonesia
T: 62-21-7507800
F: 62-21-7507899
Japan
T: 81-3-54038594
F: 81-3-54032924
Korea
T: 82-2-34831500
F: 82-2-5927883
Malaysia
T: 603-7884 5000
F: 603-7884 5188
New Zealand
T: 64-3-3430235
F: 64-3-3430250
Philippines
T: 63-2-8934177 / 178
F: 63-2-8112027
Singapore
T: 65-64672211
F: 65-64670130
Taiwan
T: 886-2-87713655
F: 886-2-87717297
Thailand
T: 66-2-6178260
F: 66-2-6178277 / 278
Features
Menu operated and user friendly
Intelligent battery management
Control of rectifier and batteries
Basic PLC function
Visual and audible alarms
Latest 200 alarm history log
RS232, User configurable digital inputs
Hot swappable and dry contacts
Advanced Controller Module – M800D
Features
Cover all functions of SCU
Web and SNMP support
Advanced PLC function
SM modules support
Energy Savings support
Up to 400 alarm history log
Rectifiers – R48-2000, R48-2900U, R48-3200
Features
High efficiency and unity power factor
Active load sharing
Wide input voltage range and operating temperature range
Hot swappable
R48-2000
R48-2900U
Input voltage window
85 to 290 VAC
Non-destructive voltage
0 to 415 VAC
Power factor
0.99
THD
<5%
Output voltage
-42 to -58 VDC
R48-3200
Output Power
2000 W
2900 W
3200 W
Max Output Current
44.5 A
60 A
67 A
Efficiency
Temperature range
92%
-40 to +65 C
-5 to +65 C
-40 to +75 C
RH (non-condensing)
0 to 95%
EMC
EN 300 386:2001, class B & FCC part 15, class B
Safety
IEC / EN / UL 60950
Dimensions
132H (3U) x 85W (2U) x 287D (mm)
Weight
3.5 kg
Emerson Network Power.
The global leader in enabling
business-critical continuity.
AC Power Systems
Connectivity
DC Power Systems
Embedded Power
Integrated Cabinet Solutions
Outside Plant
Power Switching and Control
Precision Cooling
Site Monitoring
Surge Protection
Embedded Computing
Services
EmersonNetworkPower.com
Emerson Network Power and the Emerson
Network Power logo are trademarks and
service marks of Emerson Electric Co.
©2006 Emerson Electric Co.