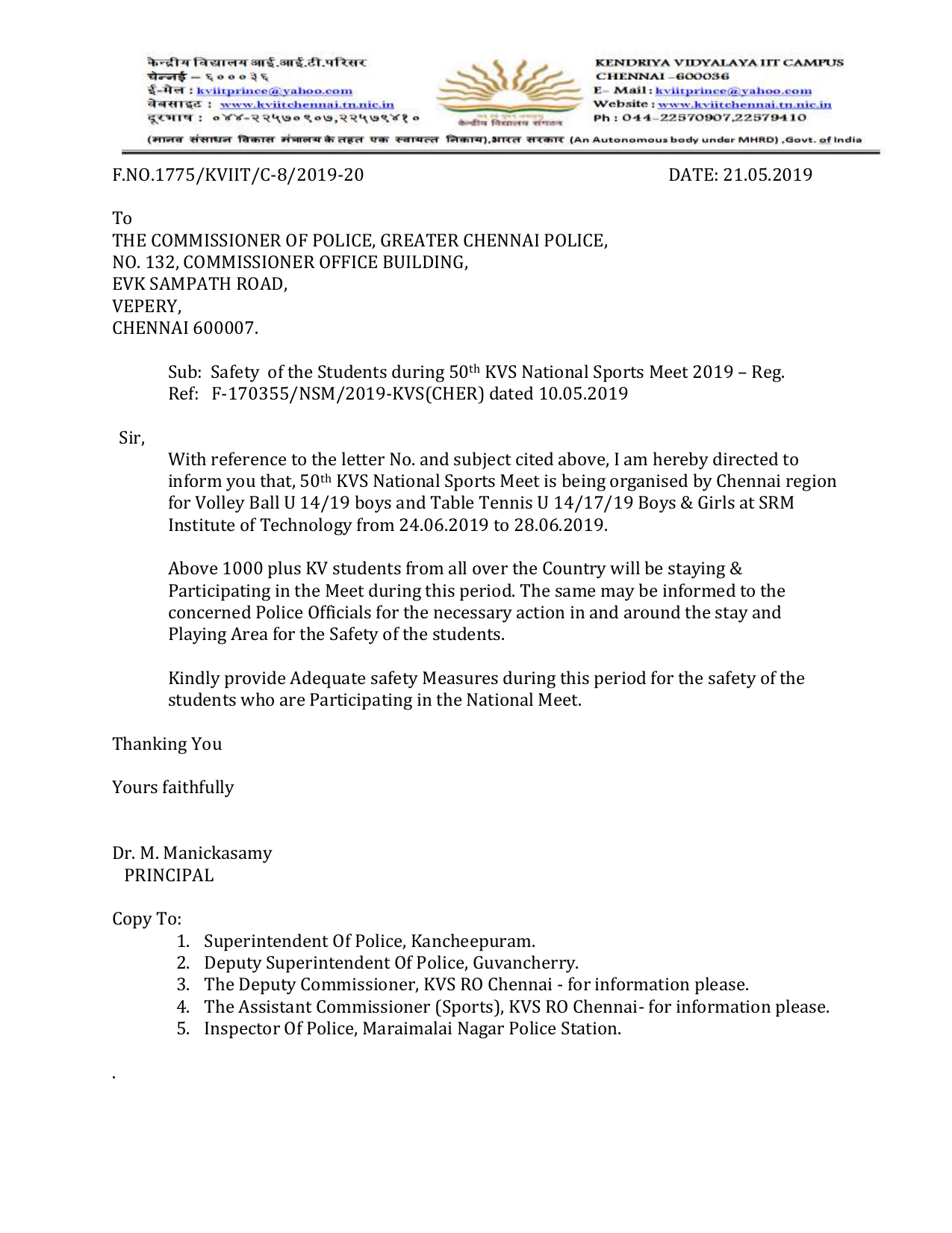 F.NO.1775/KVIIT/C-8/2019-20
DATE: 21.05.2019
To
THE COMMISSIONER OF POLICE, GREATER CHENNAI POLICE,
NO. 132, COMMISSIONER OFFICE BUILDING,
EVK SAMPATH ROAD,
VEPERY,
CHENNAI 600007.
Sub: Safety of the Students during 50th KVS National Sports Meet 2019 – Reg.
Ref: F-170355/NSM/2019-KVS(CHER) dated 10.05.2019
Sir,
With reference to the letter No. and subject cited above, I am hereby directed to
inform you that, 50th KVS National Sports Meet is being organised by Chennai region
for Volley Ball U 14/19 boys and Table Tennis U 14/17/19 Boys & Girls at SRM
Institute of Technology from 24.06.2019 to 28.06.2019.
Above 1000 plus KV students from all over the Country will be staying &
Participating in the Meet during this period. The same may be informed to the
concerned Police Officials for the necessary action in and around the stay and
Playing Area for the Safety of the students.
Kindly provide Adequate safety Measures during this period for the safety of the
students who are Participating in the National Meet.
Thanking You
Yours faithfully
Dr. M. Manickasamy
PRINCIPAL
Copy To:
1.
2.
3.
4.
5.
.
Superintendent Of Police, Kancheepuram.
Deputy Superintendent Of Police, Guvancherry.
The Deputy Commissioner, KVS RO Chennai - for information please.
The Assistant Commissioner (Sports), KVS RO Chennai- for information please.
Inspector Of Police, Maraimalai Nagar Police Station.