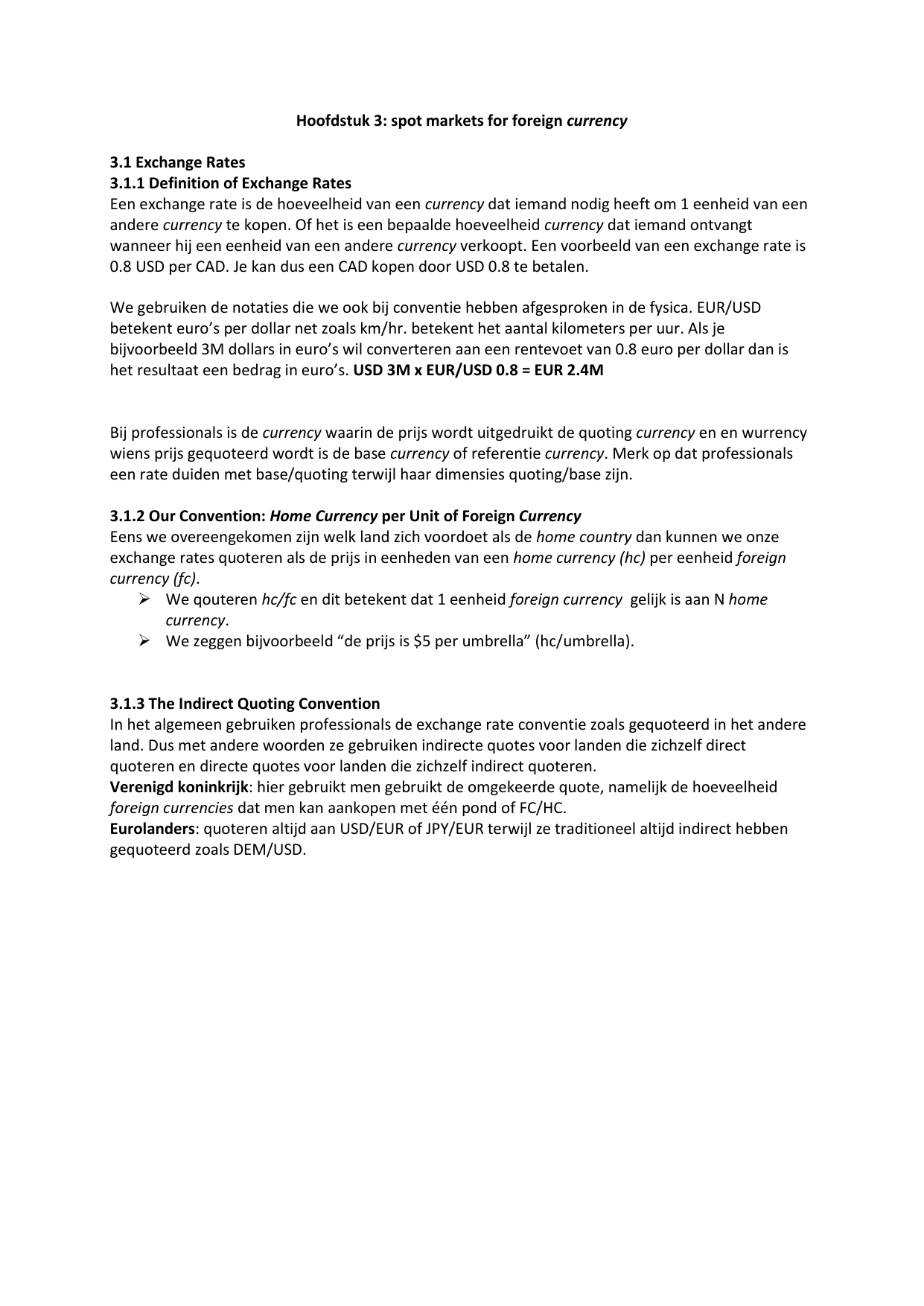 Hoofdstuk 3: spot markets for foreign currency
3.1 Exchange Rates
3.1.1 Definition of Exchange Rates
Een exchange rate is de hoeveelheid van een currency dat iemand nodig heeft om 1 eenheid van een
andere currency te kopen. Of het is een bepaalde hoeveelheid currency dat iemand ontvangt
wanneer hij een eenheid van een andere currency verkoopt. Een voorbeeld van een exchange rate is
0.8 USD per CAD. Je kan dus een CAD kopen door USD 0.8 te betalen.
We gebruiken de notaties die we ook bij conventie hebben afgesproken in de fysica. EUR/USD
betekent euro's per dollar net zoals km/hr. betekent het aantal kilometers per uur. Als je
bijvoorbeeld 3M dollars in euro's wil converteren aan een rentevoet van 0.8 euro per dollar dan is
het resultaat een bedrag in euro's. USD 3M x EUR/USD 0.8 = EUR 2.4M
Bij professionals is de currency waarin de prijs wordt uitgedruikt de quoting currency en en wurrency
wiens prijs gequoteerd wordt is de base currency of referentie currency. Merk op dat professionals
een rate duiden met base/quoting terwijl haar dimensies quoting/base zijn.
3.1.2 Our Convention: Home Currency per Unit of Foreign Currency
Eens we overeengekomen zijn welk land zich voordoet als de home country dan kunnen we onze
exchange rates quoteren als de prijs in eenheden van een home currency (hc) per eenheid foreign
currency (fc).
 We qouteren hc/fc en dit betekent dat 1 eenheid foreign currency gelijk is aan N home
currency.
 We zeggen bijvoorbeeld "de prijs is $5 per umbrella" (hc/umbrella).
3.1.3 The Indirect Quoting Convention
In het algemeen gebruiken professionals de exchange rate conventie zoals gequoteerd in het andere
land. Dus met andere woorden ze gebruiken indirecte quotes voor landen die zichzelf direct
quoteren en directe quotes voor landen die zichzelf indirect quoteren.
Verenigd koninkrijk: hier gebruikt men gebruikt de omgekeerde quote, namelijk de hoeveelheid
foreign currencies dat men kan aankopen met één pond of FC/HC.
Eurolanders: quoteren altijd aan USD/EUR of JPY/EUR terwijl ze traditioneel altijd indirect hebben
gequoteerd zoals DEM/USD.