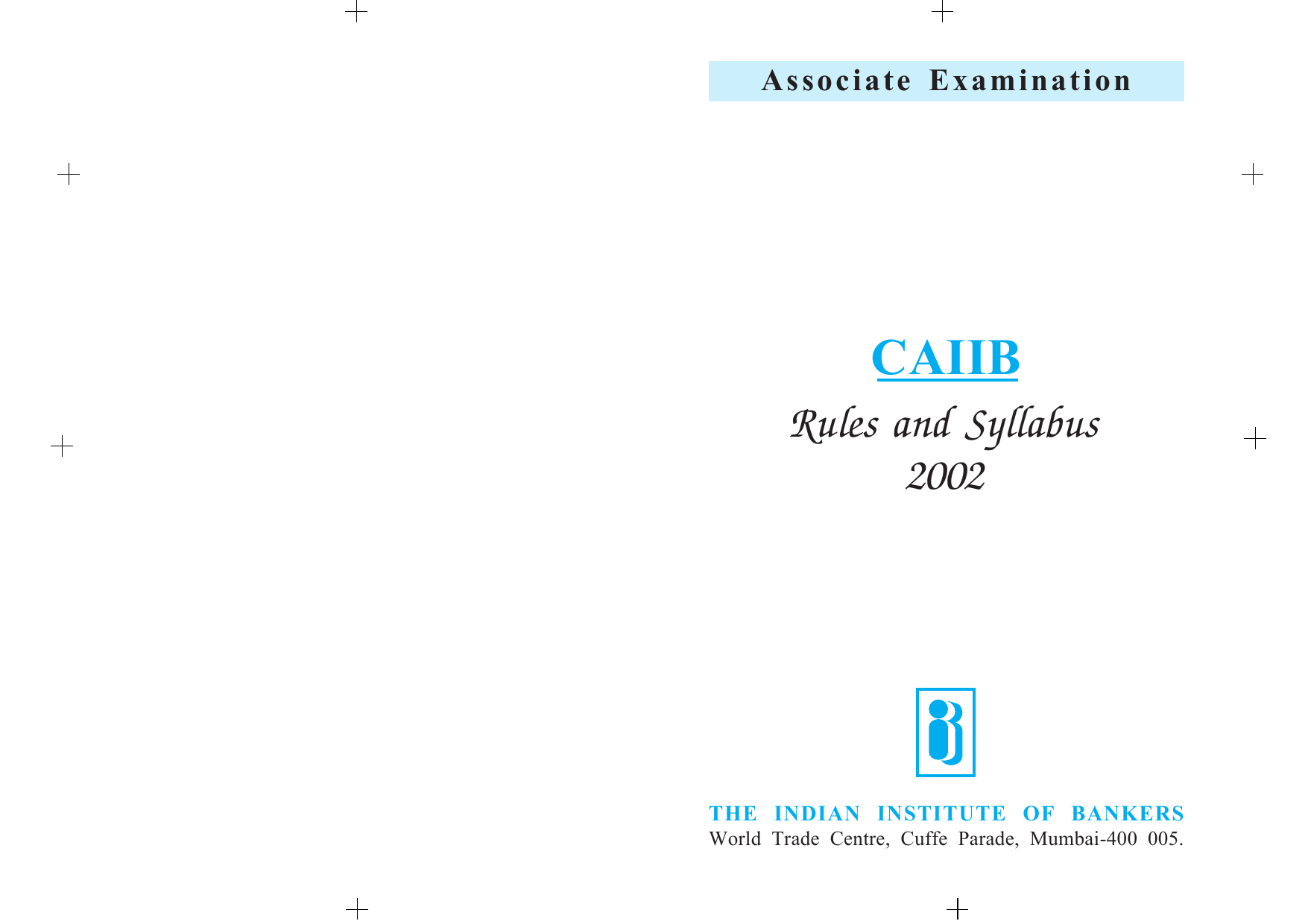 Associate Examination
CAIIB
Rules and Syllabus
2002
THE INDIAN INSTITUTE OF BANKERS
World Trade Centre, Cuffe Parade, Mumbai-400 005.
CONTENTS
CONTENTS
1.
3
Page No.
ABOUT THE INSTITUTE ........................................... 5
1.1
Genesis ............................................................................. 5
1.2
Mission ............................................................................. 5
1.3
Objectives ......................................................................... 5
1.4
Activities ....................................................................... 5-6
2.
EXAMINATIONS .......................................................... 6
2.1
Associate Examination-Objectives .................................. 6
2.2
Syllabus ............................................................................ 7
2.3
Subjects/Scheme of Exemptions ................................. 8-10
2.4
Pattern ............................................................................ 10
2.5
Periodicity and Examination Centres ............................. 11
2.6
Eligibility .................................................................. 11-12
2.7
Credit Transfer ............................................................... 12
2.8
Time limit for passing the examination ......................... 13
2.9
Medium of Examination .......................................... 13.-14
2.10 Procedure for applying for examination ........................ 14
2.11 Examination fees ....................................................... 14-15
2.12 Admit Card ................................................................ 15-16
2.13 Conduct and Discipline in the Examination Hall ...... 16-18
2.14 Penalties for unfair practices .......................................... 18
2.15 Passing Criteria ......................................................... 18-19
2.16 Declaration of results ..................................................... 19
2.17 Facility for verification of marks ................................... 19
2.18 Issue of Certificates ................................................... 19-20
3.
EDUCATIONAL SUPPORT ...................................... 20
3.1
Tutorial / Contact Programmes ...................................... 20
3.2
Library ............................................................................ 20
3.3
Bank Quest ..................................................................... 20
4
CONTENTS
CONTENTS
Page No.
ABOUT THE INSTITUTE
5
THE INDIAN INSTITUTE OF BANKERS
ASSOCIATE EXAMINATION-RULES
3.4
IIB Vision ....................................................................... 21
3.5
IIB Portal ................................................................... 20-21
1. ABOUT THE INSTITUTE
4.
SYLLABUS FOR ASSOCIATE
EXAMINATION FOR CAIIB ............................... 22-46
1.1 GENESIS
5.
LIST OF ZONAL OFFICES ....................................... 47
The Indian Institute of Bankers which is a professional body of
banks and financial institutions in India, was established on 30th
April 1928 as a Limited Company under the Indian Companies
Act, 1913 with limited liability without the addition of the word
'Limited' to its name at the initiative of few eminent bankers,
businessmen and industrialists of India.
1.2 MISSION
The mission of the Institute is to develop professionally qualified
and competent bankers primarily through a process of training,
examinations and continuing professional development
programmes.
1.3 OBJECTIVES:
The objectives for which the Institute was established are:
i)
to encourage the study of the theory of banking and for that
purpose to institute a scheme of examinations and to give
certificates, scholarships and prizes.
ii)
to promote information on banking and allied subjects by
lectures, discussions, books, correspondence with public
bodies and individuals.
1.4 ACTIVITIES
i)
Design, develop and conduct examinations to test the
proficiency of bank / financial sector employees in various
finance related subjects
ii)
Award certificates / diplomas to the successful candidates
iii)
Provide necessary educational support services such as
tutorial classes, contact programmes and study material.
iv)
Dissemination of knowledge on banking and financial
6
RULES AND SYLLABUS 2002
services through publication of quarterly journal "Bank
Quest", newsletters and by organising lectures/seminars,
workshops as a part of continuing professional development
programmes.
v)
Organising and managing efficient library facility at Mumbai
and at few other selected centres.
vi)
Any other activity incidental to and facilitating the
achievement of the basic objectives of the institute.
2. EXAMINATIONS
The Institute conducts the following examinations for the benefits
of its members:
a)
Associate Examination
b)
Associate Diploma in Banking (ADB)
c)
Diploma in Treasury, Investment and Risk Management
(DTIRM)
d)
Diploma in Banking Technology (DBT)
e)
Diploma in Advanced Rural Banking (ADRB)
f)
Diploma in International Banking and Finance (DIBF)
g)
Diploma in Capital Markets and Merchant Banking
(DCMMB)
h)
Program on Mutual Fund Management (MFM)
i)
Banking Oriented Paper in Hindi (BOPH)
The syllabi and other information pertaining to the examinations are
available with the Institute's offices at Mumbai, Chennai, New Delhi,
Kolkata and at other centres/sub centres of the Institute.
2.1 ASSOCIATE EXAMINATION – OBJECTIVES
A.
JAIIB aims at providing maximum level of basic knowledge in
banking and financial systems, communication, and customer
relations and basic accountancy necessary for carrying out day to
day banking operation.
B.
CAIIB aims at providing advanced knowledge necessary for better
EXAMINATIONS
7
decision making together with a reasonable level of specialisation
in specific disciplines.
2.2 SYLLABUS:
The details of the prescribed syllabi are furnished elsewhere in
the booklet. Though a detailed syllabus has been prepared for all
the subjects, the same is only indicative and not exhaustive.
Keeping in view the professional nature of the examinations,
all matters falling within the realm of the subject concerned
will have to be studied by the candidate as questions can be
asked on all relevant matters under the subject. Candidates
appearing for the Associate Examination should particularly
prepare themselves for answering questions that may be asked
on the latest developments taking place under the various
subjects of the said examination although those topics may
not have been specifically included in the syllabus. The Institute
also reserves to itself the right to vary the syllabus/rules from
time to time. Any alterations made will be notified from time
to time.
8
RULES AND SYLLABUS 2002
2.3 SUBJECTS :
This examination has been divided into two parts, namely, JAIIB
and CAIIB. The subjects under each part are as under :
JAIIB
EXAMINATIONS
Subject
JAIIB
1. Basic
Accountancy
CAIIB
i) Indian Financial System &
Commercial Banking
ii) Business Communication
and Customer Relations
i) Laws & Practices
relating to Banking
ii) Management
Accounting & Financial
Management
iii) Special and Preferred Sector iii) Indian Economic
Finance
Environment
iv) Basic Accountancy
iv) Business Management
v) Introduction to Computers v) Introduction to Foreign
Trade, Foreign Exchange
and Risk Management.
vi) OPTIONAL SUBJECTS
(Choose any one)
a) Investment and
Merchant Banking
b) Electronic Banking
and Information
Technology in Banks
c) Organisational
Development and
Human Resources
Development
d) Marketing of Banking
Services
2. Introduction
to Computers
The Institute will consider granting exemption from passing the
following subjects for JAIIB and CAIIB for the candidates who
possessed the qualification/s noted against each subject :
Prior Qualification
B.COM degree of a University in India
provided the percentage of marks secured
by the candidate is above or equal to 50%
in this subject or Charterd Accountant, or
Cost Accountant from ICWAI.
B.TECH/M. TECH or B.E. Degree of a
University of India or Diploma in
Computers from DOEAC/NCST with a
minimum study duration of 12 months, or
MCA/MCM degree from a University in India,
provided the percentage of marks secured
by the candidates is above or equal to 50%.
CAIIB
1. Management
Accounting and
Financial
Management
2.
3.
4.
JAIIB and CAIIB have been equated with Part I and Part II
respectively of the present Associate Examination.
Scheme of Exemptions
9
5.
M.COM or MBA from a University in India
provided the percentage of marks secured
by the candidate is above or equal to 50%
in this subject or possessing an equivalent
qualification from the IIMs, or Chartered
Accountants.
Indian Economic M.A. Economics from a University in India
Environment
provided the percentage of marks secured
by the candidate is above or equal to 50%.
Business
MBA degree of a University in India
Management
including PG Diploma from the IIMs,
equivalent to MBA recognised by AICTE
provided the percentage of marks secured
by the candidate is above or equal to 50%.
Electronic
B. TECH. or M. TECH or equivalent from
Banking and
a reputed University in India, with
Information
Eectronics or Computers or MCA/MCM
Technology
from a University in India.
in Banks
Organisational MBA with specialisation in Personnel or
Development
HRD or Industrial Relations from a
and HRD
University in India, or possessing an
equivalent qualification from the IIMs.
10
RULES AND SYLLABUS 2002
6. Marketing of
Banking
Services
MBA with specialisation in Marketing
from a University in India provided the
percentage of marks secured by the
candidate is above or equal to 50% in this
subject or possessing an equivalent
qualification from the IIMs.
Note :
For all other papers/subjects of JAIIB and CAIIB no exemptions
will be given.
A candidate will be required to apply for exemptions with the
documentary evidence viz. attested marks sheets, a copy of the
syllabus and attested copy of the certificate. The candidate should
apply for exemptions before submitting the entry form for the
examination. In case of professional examination the candidate
may submit the attested copy of the certificate. The decision of
the Institute will be final in the matter.
The term 'A University in India' mentioned above will also include
an institution which is recognised as 'A deemed University' or
recognised by the Association of Indian Universities.
The scheme of Exemptions is subject to the following :
i)
No candidate will be granted exemption in all in not more
than two subjects.
ii) No candidate will be granted exemption in more than one
subject based on a single qualification
iii) No exemption will be granted for the optional subjects under
CAIIB.
The scheme of exemptions will not be open for our Diploma
Examinations
2.4 PATTERN :
The pattern of the question papers for the candidates appearing
for JAIIB and CAIIB would be as under :
a) Calling for Conceptual Grasp (Multiple Choice Questions)
b) Quick Problem Solving (Short Problems)
c) Analytical/ Logical Expositions (Major Problems)
EXAMINATIONS
11
d) Theoretical Foundation (Theory Questions).
2.5 PERIODICITY AND EXAMINATION CENTRES :
The examination will be held normally twice a year in the months
of June and December on three Sundays (two papers on each
Sunday) at all Metropolitan Centres, State Capitals, certain Districts
and other places in India as also at certain centres abroad as
may be decided by the Institute. A list of such examination centres
will be provided along with the entry form.
2.6 ELIGIBILITY :
1.
The Examination is open only to the members of the Institute
who are in employment of the Institutions which are members
of the Institute provided individual subscription is not in arrears.
2.
A new candidate will be advised of the examination for
which he/she is eligible to appear while intimating his/her
membership number.
3.
The candidates must have passed the matriculation
examination or its equivalent. However, the Institute may, at its
discretion, allow any candidate from clerical or supervisory staff
cadre to appear at the examination on the recommendation of
the Manager of the bank/the officer-in-charge of the bank's office
where he/she is working, even if he/she is not a matriculate or
its equivalent. Subordinate staff of recognised Banking/Financial
Institutions in India, who are members of the Institute, are eligible
to appear at the examination, provided they have passed the
matriculation examination or its equivalent.
4.
A candidate applying for any subject or subjects of CAIIB
must have completed JAIIB or Part I of the Associate examination.
5.
Candidates appearing for CAIIB have to appear in 5
compulsory subjects and any one optional subject to complete
CAIIB. Once the subject under the optional group is selected by
the candidate, the same cannot be changed till he/she completes
the CAIIB.
Candidates may subsequently appear for the remaining
optional papers at their own volition only after completing CAIIB
and on completion a separate certificate for passing in each of
12
RULES AND SYLLABUS 2002
EXAMINATIONS
the subject subsequently will be awarded.
6.
Candidates appearing for the first time will be eligible to
appear under the revised syllabus only i.e. for the Junior Associate
Examination (JAIIB). Similarly candidates who have not passed
any subject of Part I under the old syllabus will be required to
appear under the revised syllabus.
7.
The ex-employees of Banks/Financial Institutions who desire
to appear at and complete Associate Examination will be allowed
to appear for the Examination at the discretion of the Institute
subject to the following :
i.
The cessation of service is not due to reason of any
misconduct.
ii.
The application is forwarded through the Institution in whose
employment the candidate was before ceasing to be in service
with their recommendations in the prescribed format, along
with a no objection certificate from the current employer.
2.7 CREDIT TRANSFER :
Candidates switching over from the old syllabus to the revised
syllabus will be given credit for subjects passed under old Syllabus as
under:
Part I
JAIIB
1.
Practice & Law of Banking I 1.
Indian Financial System &
Commercial Banking
2. Business Communication
& Customer Relations
3. Basic Accountancy
4. Introduction to Computers
2.
Business Communication
3.
4.
Book-Keeping
Principles of Computer
Science
Part II
1.
2.
CAIIB
Commercial Law and
Practice and Law of
Banking II
1.
Management Accounting
2.
Laws & Practice Relating to
Banking
3.
4.
Part II
Foreign Exchange
Monetary Theory &
Practice and Indian
Economic Problems
13
3.
4.
CAIIB
Foreign Exchange & Risk
Mangement
Indian Economic
Environment
Candidates who have passed in all the four subjects mentioned
under Part I need to appear only in Special & Preferred Sector Finance
to get JAIIB Certificate. Members who have passed all the four subjects
under Part II need to appear for Business Management and one optional
subject to get CAIIB Certificate. The benefit of credit transfer will be
available also to those who had already switched over to the revised
syllabus.
Candidates getting benefit of credit transfer will not be entitled
for any refund of examination fees.
For candidates who have completed JAIIB/CAIIB after getting
the credit transfer, the word first class or distinction will not be added
in the certificates issued to them, they will be declared as ordinary Pass
only since they have not completed all the subjects in the first attempt,
but have completed the examination with the help of credit transfer.
Candidates passing with credit transfers and getting 50% aggregate
marks in the remaining subjects in first attempt but getting 45 or 46
marks in individual subjects will not be declared as passed since certain
subjects are completed under the old syllabus earlier and they have not
passed the examination in single attempt.
2.8 TIME LIMIT FOR PASSING THE EXAMINATION:
Candidates for the JAIIB / CAIIB Examination are required to
pass in all subjects of the respective examination in not more than 8
consecutive attempts. The counting of attempts will begin from the
date of application for the examination and attempts will be counted
irrespective of whether a candidate appears at any examination or
otherwise.
2.9 MEDIUM OF EXAMINATION:
Management Accounting &
Financial Management
1.
The candidates are allowed to write the examination either in Hindi
or English. They should fill in the entry form in his/her own hand
14
2.
3.
RULES AND SYLLABUS 2002
EXAMINATIONS
15
under his/her signature and indicate the choice of medium as Hindi
or English for answering the question paper. In the absence of a
clear indication about the medium opted by the candidate, English
will be presumed as the medium.
(1) Candidates who complete the JAIIB /CAIIB examinations in
50% of the total number of chances allowed will be refunded
50% of the examination fees only. The amount paid for the
study kit will not be refunded.
Answers to all questions in all subjects of an examination should
be written through chosen medium only, and it should be the
medium opted by the candidate in the entry form for the
examination. The candidates are not permitted to answer different
subjects in the same examination in different mediums. The
candidates are also not permitted to answer the question paper of
a subject, partly in English and partly in Hindi. In case a candidate
uses both languages simultaneously for answering question paper/
s in one examination, his/her answer book/s will be liable to be
rejected. Alternatively, the Institute may consider valuing only
the portion of the answers written in the medium opted by the
candidate as per his/her indication on the entry form.
(2) This provision of refund of 50% examination fees is not
applicable to the candidates who are availing the facility of
credit transfer as mentioned in item 2.7 above.
The candidate can change the medium of examination ONCE
during the period of four years which is allowed for JAIIB/CAIIB.
2.10 PROCEDURE FOR APPLYING FOR EXAMINATION:
Examination Application Forms will be available on the Institute's
web site at " iib-online.org" which could be filled up and submitted
online. The applications will be available at the Institute's offices also
including Corporate Office.
The Institute accepts no responsibility for delay or inconvenience
arising from the candidate's failure to reach the entry form in time or if
the form is incomplete or failure to furnish all the essential information
about himself/herself and the details of his/her examination.
2.11 EXAMINATION FEES:
The fees payable by the candidates for appearing at the examination
centres in India for the Associate examination under the revised syllabus
are as under:
For JAIIB Examination Rs 1500/-(excluding cost of study kit)
For CAIIB Examination Rs 2000/- (excluding cost of study kit)
The study material would be available from the offices of the Institute
or at selected subcentres @Rs 150/- per subject.
As regards the candidates appearing at overseas centres, the
payment of examination fees must be made by a draft in US dollar /
Sterling Pound as under. It may be noted that such candidates have to
apply a fresh for each attempt.
Number of Subjects
1 subject
2 subjects
3 subjects
4 subjects
5 subjects
6 subjects
Examination Fee
US $40 / £ 23
US $45 / £ 26
US $50 / £ 29
US $55 / £ 32
US $60 / £ 35
US $65 / £ 38
2.12 ADMIT CARD:
The Institute will be issuing Examinations Admit Cards, to
members who apply for the Associate Examinations. This card will be
valid for the period as mentioned on the card. The Admit Card along
with the Permanent Membership Identity Card should be produced to
the examination authority each time in the examination hall for
identification. In absence of the Admit Card / Permanent Membership
Identity Card the candidate is liable to be denied permission in the
examination hall.
Members who have enrolled for the examination and having
Examination Identity Card issued to them earlier will continue to appear
for the examination based on Examination Identity Card and will not
be issued any Membership Card or Admit Card. Permanent Membership
Identity Card will be issued by Zonal Offices in case any person is
admitted as a member, he/ she renews his / her membership or applies
for the examination in future.
16
RULES AND SYLLABUS 2002
EXAMINATIONS
The candidates will have to appear at the Centre which he/she
chooses while applying for the examination first time for the subsequent
examinations also. The venue for the examination will be advised while
issuing the Admit Card. In case of any change in venue due to transfer
or any other valid reason, the candidate should inform the Institute well
in advance to enable the Institute to intimate the changed venue. The
Institute reserves a right to close any of the existing centres on
account of less number of candidates appearing from that centre
or any other reason which it may think fit. In such case candidates
will be advised to appear from the nearest available centre.
Calculators should:
2.13 CONDUCT & DISCIPLINE IN THE EXAMINATION HALL
1. No candidate shall be permitted to enter the examination hall after
the expiry of 15 minutes from the commencement of the examination
and no candidate shall be permitted to leave the hall before the expiry
of one hour from the commencement of the examination. The candidates
shall be at the examination venue at least 15 minutes before the
commencement of the examination.
2.
Candidates should ensure that he/she signs the Attendance Sheet.
MISCONDUCT AND UNFAIR PRACTICE
1. Candidates should not possess and/or use books, notes, periodicals
etc. in the examination hall at the time of the examination /or use
mathematical tables, slide rules, stencils etc. during the examination
except for the examination for which such use is expressly permitted.
A candidate found in possession of such unauthorised material during
the examination is liable to be proceeded against for adoption of unfair
means in the examination in addition to reporting the matter to his/her
employer for disciplinary proceedings for the misconduct. They should
hand them over to the Hall Superintendent before the commencement
of the examination.
Generally candidates appearing for Basic Accountancy, Financial
Management, Introduction to Computers and Introduction to Foreign
Trade & Foreign Exchange, will be permitted to use calculators while
appearing for the Associate Examinations subject to the following:
17
a)
be pocket size and fully portable
b)
be silent while operation
c)
be battery operated
d)
not be capable of being programmed by the insertion of tapes or
otherwise.
e)
Not have print out facilities
f)
be of the type upto 6 functions and 12 digits.
g)
not be capable of retaining/storing data in memory when the
calculator is switched off.
Calculators which do not comply with the above conditions and
found in possession of the candidates during the examination will be
confiscated by the Examination Supervisors and returned to the
candidates at the end of the examination. In case a candidate is found
using the calculator not complying with the above conditions in the
course of the examination it would amount to adoption of unfair practice
at the examination by the candidate concerned and the Institute shall
take such action against the candidate as may be deemed appropriate.
Candidates are not permitted to carry mobile phone in the
examination hall.
1. Communication of any sort between candidates or with outsiders
is not permitted and complete silence should be maintained during the
examination.
2. Copying the answers from the answer books of other candidates
or permitting others to copy from one's answer book will attract the
rules relating to unfair practices in the examination.
3. No candidate should leave the examination hall without handing
over the answer scripts to the Hall Supervisor / Invigilator. Once the
answer book is handed over to the Supervisor / Invigilator the same
cannot be taken back by the candidate.
4. No candidate shall impersonate others or allow others to
impersonate himself at the examination.
18
RULES AND SYLLABUS 2002
If any candidate violates any of the above rules it will be considered to
be an act of misconduct and he/she will be liable for punishment
mentioned herein under.
EXAMINATIONS
subject and 60% or more marks in the aggregate and pass in all
subjects in the first attempt.
c)
First Class: 60% or more marks in aggregate and pass in all the
subjects in the first attempt.
d)
Candidates will be allowed to retain credits for the subject he/she
has passed in one attempt till the expiry of the time limit.
2.14 PENALITIES FOR MISCONDUCT / UNFAIR PRACTICES
The Institute shall have the right to impose penalties on any
member for committing an act of misconduct/ unfair practice in respect
of any matter affecting the Institute or at or in respect of any examination
conducted by the Institute or disqualifying any candidate who, they
have reason to believe has received or given unfair assistance at the
examination and
a)
to cancel the result of such candidate in all or any of the subjects
of the examination at which he/she may have appeared
b)
to exclude him/her from future examinations either permanently
or for a specified number of examinations;
c)
to report his/her name to his/her employer and
d)
to take such other action against him/her as the Institute shall in
their sole discretion deem fit and the decision of the Institute shall
be final and binding on the candidates concerned.
19
First Class / First Class with Distinction will not be applicable to
the candidates availing the facility of credit transfer as they would not
be passing the examination in first attempt.
2.16 DECLARATION OF RESULTS
The results of the examination along with the marks secured for
each subject of the examination will be communicated to the candidates
by letter.
2.17 FACILITY FOR VERIFICATION OF MARKS
The Institute shall also have a right to cancel the results of any
subsequent examination at which the candidate may have appeared if
such examination falls within the exclusion period in the penalty, as by
reason of imposition of such a penalty of exclusion from the future
examination, the candidates would not have been eligible to appear at
such subsequent examinations.
In case any member including former member, desires to institute
any legal proceedings against the Institute in respect of anything done
or proposed to be done by the Institute in relation to him/her such legal
proceedings shall be instituted only in the courts at Chennai, Kolkata,
New Delhi and Mumbai in whose jurisdiction the application is
submitted by him/her and not in any other court.
2.15 PASSING CRITERIA
a)
Pass: Minimum 50% or more marks in each subjects
b)
First Class with Distinction: 75% or more marks in any individual
The decision of the examiners with regard to marks shall in every
case, be final and no request for re-valuation of the candidate's paper
will be entertained. If, however, any candidate requires his/her marks
to be verified he/she may request the Chief Executive Officer
accordingly. Such verification will cover the following:
i)
all answers have been valued
ii)
the marks awarded for all the answers have been carried forward
correctly to the cover-page for totalling
iii) the total arrived at is arithmetically correct.
The request for verification of marks must be received in the
Institute's Zonal office within one month from the date of the declaration
of the examination results. The candidates will have to pay a sum of
Rs.80/- The payment should be made by means of MICR crossed
Demand Draft drawn in favour of "The Indian Institute Of Bankers"
and made payable at the place of the Zonal Office. The candidates should
write their membership number on the reverse of the draft.
2.18 ISSUE OF CERTIFICATES
Candidates who complete JAIIB will receive a Certificate of Junior
Associateship of the Indian Institute of Bankers and those who complete
20
RULES AND SYLLABUS 2002
CAIIB will receive a Certificate of Associateship of The Indian Institute
of Bankers.
3 EDUCATIONAL SUPPORT
3.1 TUTORIAL/ CONTACT PROGRAMMES:
Tutorial / Contact programmes will be organised by the Institute.
For further details candidates may get in touch with Zonal Office /
nearest sub-centre or log on to the Institute's web site at "iib-online.org"
3.2 LIBRARY:
The Institute provides library facility to the members at its Zonal
offices and Sub-Centres.
In addition, the Institute provides postal lending service also for
the benefit of the outstation members. The rules for the postal lending
services and functional library at sub-centres to meet the normal
requirements of the candidates for the Institute's examination are that:
a)
the subscription from members should not be in arrears;
b)
the request should be forwarded through the officer in charge of
the Branch/Office in which the member is working;
c)
the member should undertake to return the book at his cost within
the stipulated time.
3.3 BANK QUEST:
The Institute publishes quarterly bank quest, covering various
aspects of banking and allied subjects. It is supplied to all the members
free of cost, whose membership subscription is upto date. The bank
quest also gives information on the dates of examinations, other
important information and announcements, from the Institute.
3.4 IIB Vision :
The Institute publishes a bimonthly newsletter "Vision" containing
latest information about banking and finance. The publication is
available for yearly subscription of Rs.40/- only.
3.5 IIB Portal :
The Institute has its own web site "iib-online.org". The web site
EDUCATIONAL SUPPORT
21
facilitates information about membership / examination including
announcements, schedule of examinations, online membership /
examination, results, online tutorials etc.
22
RULES AND SYLLABUS 2002
CAIIB
23
Selective Credit Controls.
4. SYLLABUS FOR ASSOCIATE EXAMINATION
viii) Interest Rate policies and directives.
CAIIB
ix)
Statutory Audit and Inspections; Supervision and control
function. Board of Financial Supervision and its scope and
role.
x)
Disclosure of Accounts and Balance Sheets.
xi)
Submission of returns, etc. to RBI.
CORE / COMPULSORY SUBJECTS
1. LAWS AND PRACTICES RELATING TO BANKING
Objectives
1.
the legal and regulatory framework of the Banking system.
xii) Banking Companies (Acquisition and Transfer of
Undertakings) Act, 1970 and 1980 – Amendments to the
Acts – Powers of the Central Government to acquire shares
and disinvest shares of Banking companies.
2.
the various laws and enactments affecting day to day banking
operations.
SECTION B: LEGAL ASPECTS OF BANKING
OPERATIONS
3.
the principles and importance of Credit, documentation, monitoring
and control.
The questions in this Section will be with strict reference to legal
issues and problems and will be generally based on Case Studies.
4.
a broad understanding of other functions associated with banking.
The Candidates while answering the questions, should be able to
relate various aspects of branch banking with the relevant Laws such
as Indian Contract Act, Sale of Goods Act, NI Act, Bankers Book
Evidence Act, Indian Company Law, Indian Partnership Act, etc.
The candidates would be able to acquire an indepth knowledge of
Syllabus
SECTION A: REGULATIONS
Regulatory and Compliance framework:
A.
RBI Act/BR Act
B.
Government's and RBI's powers
i)
Opening of New banks and branch licensing.
ii)
Constitution of the Board of Directors and their rights.
iii)
Bank's Shareholders and their rights.
iv)
Maintenance of Liquid Assets/ Reserve Funds / Cash
reserves/ Statutory reserves; CRR / SLR concepts, guidelines
and impact on Banks.
v)
Cash/Currency Chest management.
vi)
Winding-up and amalgamations of Banks.
vii) Powers to control advances: Monetary and Credit policies:
i.
Case Laws on Responsibility of Paying / Collecting Bankers.
ii.
Essentials of a Contract and Types of Contracts; Various types of
relationships with customers such as Creditor-Debtors, BailorBailee, Principal-Agent, etc., Garnishee orders and Attachment
orders, Bankers' right of lien, set-off and appropriation.
iii. Indemnities and Bank Guarantees; scope and application;
obligations of a Banker; precautions and rights; Letters of Credit
and DPGs; Inland bill discounting; Laws relating to Bill finance.
iv.
Types of Securities; Laws relating to securities; Valuation of
securities; modes of charging of securities.
v.
Different types of Borrowers; Types of Credit Facilities;
NBFCs Broking firms and Intermediary Agencies; Secured and
Unsecured loans; Registration of Firms / Companies; Registration /
Satisfaction of charges.
24
RULES AND SYLLABUS 2002
CAIIB
SECTION C: CREDIT MANAGEMENT
industrial units and companies; causes and symptoms of sickness;
Reliefs and concessions available to Sick industries; BIFR and its
role; Debt Recovery Tribunals.
Credit, Documentation, Monitoring and Control
The candidate should be able to relate various aspects of Credit
Monitoring, Control and Recovery aspects with the relevant Laws such
as Transfer of Property Act, Stamp Act, Limitation Act, etc.
i.
Principles of credit management; Credit Appraisal Techniques;
approach to lending; recommendations of various Committees in
the area of Credit.
ii.
Credit Monitoring Arrangement; Loan syndication and lending to
groups; loan delivery system; Credit Rating –role of various Credit
Rating Agencies and their impact; Stock Statements, Select
Operational data and Quarterly Information System;
iii. Consortium Finance – objectives; scope and guidelines – role of
the Leader and participating Institutions / members – paripassu
charges – security norms – comparison with Multiple Banking
Arrangements; Shetty Committee recommendations.
iv.
Different types of documents; Documentation Procedures;
Stamping of documents and their scope, relevance and
consequences; Validity of documents; Effect of limitation;
Different types of Mortgages; Creation, enforcement, and
precautions to be taken. Various types of documents of title to
goods; advantages and drawbacks of each type; precautions to be
taken while sanctioning advances against them.
v.
Inspection of Securities; Financial and Physical follow-up; Enduse
of credit. Diversion of funds; Recall of advances and recovery;
seizure and attachment of Assets; stoppage of operations; stoppage
of interest application; filing and execution of recovery suits;
recovery in the case of death of a borrower; recovery mechanisms
and processes; execution of decrees.
SECTION D: RECOVERY MEASURES
Other Areas
i.
Prevention and Detection of Frauds and forgeries; Preventive
Vigilance; Vigilance setup and functions and objectives.
ii.
Sick Industries and their rehabilitation; Definition of Sick/Weak
25
iii. Case Laws on COPRA and OMBUDSMAN – Concepts of service
- Redressal mechanism – impact on Banks.
iv.
Audit and Inspection; types of audit; scope and objectives of audit;
Computer audit and frauds; Internal controls and functions;
Reconciliation of Office/Branch accounts.
v.
New Enactments/Laws proposed to be introduced in the banking
system; Share Committee recommendations.
26
RULES AND SYLLABUS 2002
CAIIB
SECTION C: ASSESSMENT OF WORKING CAPITAL
2. MANAGEMENTACCOUNTING&FINANCIALMANAGEMENT
Objectives
The Candidates would be able to acquire indepth knowledge of
1.
the principles of financial management and management
accounting.
2.
the techniques of analysis and interpretation of financial statements.
3.
the Corporate concerns in the areas of Prudential norms and the
financial discipline to be practiced by bankers.
Syllabus
The questions in this Section will mainly consist of case studies
and problems.
7.
Analysis and Interpretation of Financial Statements; Types; of
Ratios and interpretation; Cash Flow and Funds flow techniques.
8.
Various methods of Working capital assessment; factors affecting
working capital; inventory and receivables management; assessing
working capital needs, both Fund -based and Non-fund based
facilities; regulation of bank finance.
SECTION D: METHODS OF FINANCING AND CONTROL
9.
Leasing and Hire purchase; Techniques of financing and appraisal
of Leasing, Hire purchase; Factoring – appraisal of proposals and
techniques of financing – comparisons with other methods of
financing; Forfaiting – technique of financing and advantages to
Exporters and Banks.
10.
Marginal costing and profitability; concepts, advantages and
disadvantages of marginal costing; Direct costing; Product pricing
models; Transfer pricing concepts and application; imputed costs;
pricing of Bank Services; Profit planning.
SECTION A: INTRODUCTION
1.
Management accounting; meaning and scope; principles and
utility; limitations.
2.
Financial management; evolution and scope; objectives and basic
consideration; Acquiring and allocating resources; anticipating
financial needs; comparison with management accounting.
3.
Accounting concepts and conventions; Generally accepted
accounting practices and standards; International accounting
standards; setting of objectives and the planning process.
SECTION B: FINANCIAL MANAGEMENT
4.
Functional areas of Financial management; Costing; concepts of
cost and components of cost; methods and classification;
implications of costing; Pricing and its objectives; cost-benefit
analysis; cost volume profit relationship; contribution analysis;
break even analysis.
5.
Capital budgeting; Long Term Financing; appraisal of capital
expenditure; methods of appraisal; preparation of cash flow and
forecasting; Concept of IRR and Net Present value estimation;
DPG and Term loan appraisal.
6.
Budgetary Controls; meaning, scope and limitations of a budget;
zero based budgeting; Classification of budgets; forecasts and
budgeting.
27
11. Prudential Accounting Standards; Capital Adequacy concepts and
impact; Exposure ceilings; Assets classification, Income
recognition and provisioning guidelines.
28
3.
RULES AND SYLLABUS 2002
CAIIB
composition and direction of financing of trade K EXIM policy –
EXIM regulations – GATT, WTO, and India's External Trade.
INDIAN ECONOMIC ENVIRONMENT
Objectives
8.
The candidate would be able to acquire an understanding about
1.
the financial/monetary issues affecting the Indian economy.
2.
the impact of the external factors on the economy.
3.
the policies of the Government and the Central Bank and their
impact on the economy.
Syllabus
SECTION A: INDIAN ECONOMY
1.
An overview of Indian economy – potential and problems-National
Income-composition –trends-other indices of measuring national
income.
2.
Population problem –population policy – employment issues –
poverty concepts – dimensions of poverty-poverty estimates.
3.
Economic planning in India – objectives, achievements of Five
Year plans.
4.
Economic reforms, globalisation and privatisation of the Indian
Economy; Measures initiated towards globlisation; advantages
and risks of globalisation.
29
Infrastructure and tertiary sectors finance – problems and prospects.
SECTION C: MONETARY POLICY
9.
Money, concepts and nature and functions – demand and supply
– measures of money supply – money supply and inflation – price
stability in India – monetary aggregates M1, M2, M3 – factors
affecting money supply - role of RBI.
10. Monetary and Credit policies – objectives and scope; - various
instruments – interrelation between monetary- credit and fiscal
and budgetary policies
11
Interest rate policies - Interest rates; regulations and deregulation
policies; cross- subsidisation of interest rates; real and nominal
interest rates; relationship between national and international
interest rates; concepts of Prime Lending Rates, Bank Rate,
LINOR, etc.
SECTION D: FINANCIAL MARKETS
12. Public finance – Public finance and Budgetary Policies; Taxation
and revenues; Methods of raising resources; Deficit financing;
Fiscal deficit; Centre-State relations; Finance Commissions; Fiscal
Policy for economic development; Role of direct and indirect taxes.
SECTION B: VARIOUS SECTORS OF ECONOMY
13. Capital markets and Stock exchanges and their role; SEBI, powers
and functions; NBFC - their role and functions and impact on the
economy.
5.
Financing of Agricultre – importance and problems of agricultural
sector – land tenures and ownership-land man ratio – land holdings
– fragmentation and subdivision – subsistence and commercial
agriculture – infrastructural bottlenecks – trend and growth in
agricultural finance.
14. Money markets – Money market instruments in India; CPs, CDs,
IBPs, Treasury Bills, etc.; RBI, DFHI and SHCI and their role in
money and capital markets.
6.
Industrial finance – Industrial policy through Five year Plan –
problems of Indian Industry – trend and progress of Indian Industry
– classification of Indian industry – large, small, and tiny industries
– decentralised sectors – financing arrangements – cash credits –
loans – commercial paper – industrial sickness.
7.
External trade finance – trend and growth in external trade –
30
RULES AND SYLLABUS 2002
CAIIB
costs – short term and long term cost and their uses in decision
making- break even analysis - introduction to social costs benefits
analysis.
4. BUSINESS MANAGEMENT
Objectives
The candidates would be able to know and understand
1.
the basic principles of Business organisations and Business
environment.
2.
the essential principles of management.
3.
the economic aspects of business management.
7.
Pricing J price and output determination – market structure and
economics of price determination – pure competition - monopoly
– selling and promotional expenses – oligopolistic behaviour –
interdependence, collusion and price leadership - pricing of
multiple products; price discrimination; transfer pricing; pricing
practices; Product design and development.
8.
Taxation – brief introduction into direct and indirect taxes –
principles / canons of taxation – types of direct and indirect taxes
and their implications – impact of taxes on business organisations.
Syllabus
SECTION C: MANAGEMENT THEORIES AND PROCESS,
MODELS, TECHNIQUES
SECTION A: BUSINESS ENVIRONMENT
1.
2.
Centralised Planning – mixed economy and market economy; Objectives of business – appraisal of the environment – formulation
of strategies and strategic planning – Need for control in business
planning – evolution of appropriate organisational structure for
control of systems and policies – control and performance appraisal
– theory of planning.
31
9.
Management concepts – schools of thought and their theories –
principles of management – evolution of management with
relevance to the Indian Management situation.
10. Planning – definition, need and primacy – coordination and controlmonitoring.
New economic programme – Financial sector reforms – Profit
planning – Impact of fiscal and monetary policies.
11. Performance budgeting – processes and techniques of operational
planning - appraisal concepts and techniques.
SECTION B: BUSINESS ORGANISATIONS AND
ECONOMIC ASPECTS
12. Organisational structure – principles of structuring – criteria for
organising business / service activities – organisation and methods
in relation to systems and procedures in a bank/branch.
3.
Forms of business organisations like proprietorship, partnerships,
etc., - different objectives of various organisations.
4.
Organisational goals – normative and descriptive goals of firms
in the private and public sectors, cooperatives and non-profit
organisations – profits, profitability and profit maximization;
enhancing the value of the firm and its goals.
5.
Demand analysis and forecasting – market demand and supply –
factors affecting demand and supply
6.
Factor Costing – Production and costs – meaning of production
function –variable inputs and outputs – optimal combination of
inputs for maximizing profits – costs and cost functions - types of
13. Human resources management and manpower planning – concepts,
coverage and objectives – counseling and motivation.
14. Managing Information System – importance, scope and
implications.
15. Ethics – code of conduct and professionalism in management –
adherence to ethical codes and business promotion – unfair
practices and their pitfalls – preventive vigilance and practices.
SECTION D: BANK BRANCH MANAGEMENT
16. Branch setup and structure - role of management – special needs
of rural; urban and metropolitan branches – decision making at
32
RULES AND SYLLABUS 2002
the branch level.
17. Man power planning in a Bank branch – principles of management
of people in a branch.
18. Profit planning – management of branch level productivity –
transfer pricing and profitability – employee effectiveness and
efficiency parameters – per employee profitability and evaluation
– per branch business parameters and profitability; managing
competition – resource mobilisation – TQM, ISO series and the
standards – Business Process Re-engineering.
CAIIB
33
5. INTRODUCTION TO FOREIGN TRADE, FOREIGN
EXCHANGE AND RISK MANAGEMENT
Objectives
The Candidate would be able to acquire a fair
1.
knowledge in the areas of foreign trade, foreign exchange and
risk.
2.
to analyse and interpret the various factors which influence Foreign
trade and Financing thereof.
Syllabus
SECTION A: INTRODUCTION TO FOREIGN EXCHANGE
1.
The meaning of Foreign trade: Inco terms; terms of delivery of
goods; Balance of Payments; balance of trade;
2.
Role of banks in Foreign trade; methods of Financing;
a.
Documentary Letters of Credit – UCPDC 500 – Uniform
rules for bank-to-bank reimbursements under Documentary
Credits ICC Brochure no.525 (URR 525).
b.
Bills for collection – UCC 522.
c.
Various facilities to Exporters and Importers including
Forfaiting and factoring.
d.
Counter trade and Merchanting trade.
e.
Correspondent Banking-Bank accounts-NOSTRO and
VOSTRO accounts – SWIFT, CHIPS, CHAPS, FEDWIRE.
- NRI accounts – Indian rupee and Foreign currency.
3.
Role of EXIM Bank.
4.
Role of the Central bank of the country; RBI and Exchange Control
regulations of India.
5.
Role of FEDAI and FEDAI rules.
6.
Risks in Foreign Trade – the effect of Financial, Political and
Economic events on the risks and exchange rates; Role of ECGC;
34
RULES AND SYLLABUS 2002
CAIIB
SECTION B: WORLD MONETARY SYSTEM
Basics of Derivatives – forward exchange rates, contracts, currency
options, swaps and interest rate swaps. Major Recommendations
of the Expert Group on Forex Markets (SODHANI Committee).
1.
An overview of developments in the World Monetary System.
SECTION D: SOURCES OF FOREX FUNDS
2.
Asian Clearing Union.
1.
3.
International Organisations such as IMF, World bank, etc. and
lines of credit extended by them.
Debt – Short term – supplier's credit, buyer's credit; medium and
long term – ECBs.
2.
Equity; GDRs, ADRs, FDI.
Convertibility – capital and current account.
3.
NRI investments.
4.
Offshore banking.
types of insurance and guarantee covers of ECGC.
4.
SECTION C: FOREX MANAGEMENT FOREIGN
EXCHANGE MARKETS
1.
International Foreign exchange and Indian Foreign exchange
markets – characteristics and functioning.
2.
Foreign exchange dealing – funds position and currency position.
3.
Internal controls and foreign exchange business.
4.
Evaluation of foreign exchange profits.
EXCHANGE RATE MECHANISMS:
1.
Factors determining exchange rates – financial, political and
economic.
2.
Direct and indirect quotations.
3.
Spot rates, forward rates, premium and discount and cross rates.
4.
Determination of forward rates and their relationship with money
market interest rates – calculation of swap rates, interest rates and
arbitrage.
5.
Rupees exchange rates.
BASICS OF RISK MANAGEMENT:
1.
Concepts and objectives
2.
Risks in Foreign Exchange – Spot and Forward and Basic issues
in Interest Rate Risks.
3.
Risk management processes – techniques, measurement,
monitoring and control.
4.
35
36
RULES AND SYLLABUS 2002
OPTIONAL SUBJECTS
6
CAIIB
6.
INVESTMENT AND MERCHANT BANKING:
Objectives
The candidates would be able
1.
to acquire a basic knowledge of various aspects of Merchant and
Investment banking.
2.
to acquire knowledge of the theoretical concepts and their
applications to the banking sector.
3.
to understand the impact of International Finance and Financial
instruments on the Financial sector. The basic concepts and area
of asset-liability management will also be known.
Syllabus
SECTION A: INTRODUCTION
1.
Concepts and functions; Organisational structure – Managerial
and Advisory roles.
2.
Role of savings and Investment; Different types of securities
available for investment in the money markets and capital markets;
understanding Stock market operation; Valuation and Pricing of
securities; Portfolio Theories; Valuation of goodwill; specialised
financing structures such as BOI, BOOT, etc.; Warrant pricing.
3.
Techniques of forecasting security prices; Fundamental analysis
and Technical Analysis; Cyclical behaviour of prices; Portfolio
of Planning and Investment Advice; Taxation and Investment.
SECTION B: INVESTMENT MANAGEMENT
4.
Investment Management; evolution and objectives; the investment
environment; preview of the emerging environment.
5.
Investment market; securities market; The stock exchanges –
regional and national including NSE; over-the-counter market
(OTCEI); Bond market; Depositories such as NSDL; Laws and
regulations governing the securities and investment markets.
37
Considerations for investing in securities market; the equity route;
type of account; types of positions; Investment philosophies; Stock
market indicators, sources for investment information.
SECTION C: CAPITAL MARKETS
7.
Management of Capital Issues; Issue of Prospectus, etc.; SEBI –
functions and powers; Protection and Rights of Investors and
Shareholders;
8.
Mutual Funds and Venture capital; Infrastructure Finance; Mergers
/ Amalgamations / management buyouts / etc.; Equity research
and Management; Portfolio Management; Valuation of operating
businesses (for mergers and takeovers).
9.
Global Merchant Banking developments; Raising of resources
abroad; GDRs and ADRs – concepts and methodology of raising
resources – impact on the Investment pattern – guidelines issued
by Government /RBI on raising resources abroad.
SECTION D: TREASURY MANAGEMENT
10. Treasury management; concepts and functions; instruments in the
treasury market; development of new financial products; control
and supervision of Treasury management; linkage of domestic
operations with foreign operations.
11. Basic concepts of Loans syndication: Asset Securitisation; Credit
rating; International Finance and capital markets;
12. Asset-liability management; Interest rate risk; interest rate futures;
stock options; debt instruments; bond portfolio strategy; risk
control and hedging instruments.
13. Investments – Treasury bills – Money markets instruments such
as CDs, CPs, IBPs; Securitisation and Forfaiting; Refinance and
rediscounting facilities.
38
RULES AND SYLLABUS 2002
CAIIB
The candidate would be able
Datacom and Networking; network structure; network
standardisation; various examples of networking and its
applications in banks; transmission media and ISDN; terminal
handling; local area network and wide area networks; satellite
networks; fibre optic networks; various networks available in India
and Abroad.
1.
to appreciate the World trends in IT-HW/SW/Networking and
visualize its impact on Banking and finance.
SECTION B: SYSTEMS AND DESIGN
2.
to familiarise himself/her self with developments taking place in
Systems SW/Application SW; RDBMS; and System development.
3.
to realise that information is of critical importance and understand
the process of development of MIS/DSS and participate in CBIS
(Computer Based Information System) projects.
7. ELECTRONIC BANKING AND INFORMATION
TECHNOLOGY
3.
39
Objectives
4.
to know the security threats to information systems and participate
in the development of security systems and involve themselves in
the Inspection / Audit computerised environment.
4.
Operating systems – DOS / UNIX / WINDOWS / NETWARE.
5.
Computer languages – COBOL and C.
6.
Logic of Programming and Flow Charting.
7.
Database - objectives and types; Relational Data Base
Management Systems – DB III + / FOXPRO, etc., and ORACLE,
SYBASE, etc.
8.
Software development life cycle (SDLC); prototype modeling;
Computer aided systems engineering (CASE) tools.
This Optional paper is primarily aimed at those who are:
SECTION C: APPLICATIONS DEVELOPMENT
1.
System Operators;
2.
System Managers;
3.
Programmers or Programme Officers;
4.
Computer Operators;
5.
Software /Hardware Officers working in banks;
10. Computerizing Banks; Current trends; ATMs, POS, PC- Banking,
EFTS, Document Handling Systems, etc.
6.
Those who have prior experience, knowledge or an aptitude for
Computers and related areas.
11. Analytical methods in banking; Executive information systems;
Expert Systems; Artificial neural networks (ANN).
9.
Syllabus
SECTION A: INTRODUCTION TO INFORMATION
TECHNOLOGY
1.
Information technology; impact of technology; strategic issues in
IT; International business and Information technology; trends in
IT.
2.
IT impact on banking; changing financial environment and IT as
a strategic response.
Computer based Information System; information technology
architectures; systems analysis and design; MIS and organisation
support systems – DSSs, GDDSSs, EISs, Groupware and
Multimedia.
12. LAN/WAN; communications – modems / EDI / ATM
(Asynchronous Transmission Mode); Internet / WWW; Electronic
banking / Cyber banking.
SECTION D: SECURITY AND CONTROL SYSTEMS
13. Preventive vigilance; Security considerations; audit trails; various
types of damage and their remedies; transmission of funds and
data and message authentication; standards for accounting and
documentation; standards for software and hardware development
and their maintenance.
40
RULES AND SYLLABUS 2002
CAIIB
41
14. Threats to computerised environment; security types / level /
dimensions.
8. ORGANISATIONAL DEVELOPMENT AND HUMAN
RESOURCES DEVELOPMENT
15. Computer audit – Systems audit and checks and safeguards – Shere
Committee recommendations – legal aspects of electronics
banking; role of inspection and audit in a computerised
environment; disaster recovery and management.
Objectives
16. Branch Mechanisation; process of mechanisation; recent
developments in Industrial relations and Agreements with Unions
in the Banking industry; partial and Total branch mechanisation;
implications of mechanisation on Customer service, business
development and profitability.
The candidate will be able to acquire
1.
an overview of the Human Resources Management Scenario.
2.
an understanding of the process of Organisational development.
3.
an understanding of industrial relations, enactments, grievance
redressal mechanism, dispute settlements and allied issues; and
function more effectively in their respective areas and enable
Organisations to achieve excellence through personnel
development.
Syllabus
SECTION A: HUMAN RESOURCES MANAGEMENT
(HRM).
1.
Fundamentals of Human management; relationship between HRM
and HRD; structure and functions; role of the HRD professional;
development of HRM in India.
2.
Policy formulation in HR; comprehensive HRM and strategic
HRM.
3.
HRM and information Technology; Information and database
management; HR research; work culture.
SECTION B: HUMAN RESOURCES DEVELOPMENT
(HRD) and ORGANISATIONAL DEVELOPMENT (OD)
4.
Development of Human resources; HRD sub systems; Training
and Development; attitude development; role and impact of
training; career path planning and counselling; Interface of HRD
with Line functions; Line Manager expectations of HRD functions.
5.
Organisational development; definition and history; underlying
assumptions and values; planned change; OD processes; action
research and OD interventions.
6.
Human Implications of organisations; learning and instruction;
42
RULES AND SYLLABUS 2002
learning processes; employee behaviour; factors affecting
employee behaviour; diversity and gender issues – gender bias;
theories of Motivation and their practical implications; Role
concepts and analysis.
7.
8.
9.
Organisational change and development; responsibility charting;
conditions for optimal success; role of change agents and managing
change.
CAIIB
43
9. MARKETING OF BANKING SERVICES
Objectives
The candidate will be able
1.
to understand the concepts of marketing and its relevance and
impact on Banking.
Self development; personnel research and survey; employee
feedback survey; Reward and compensation system.
2.
to understand the changing competitive environment and its effect
on consumer behavior.
SECTION C: ORGANISATIONAL BEHAVIOUR (OB)
3.
to understand the concepts of bank marketing, its role and its
impact.
Person – Job fit; Group dynamics; Group Problems Solving and
effectiveness; Team building and Leadership; Behaviour in
Organisations; motivation and developing group behaviour.
10. Organisational Communication; barriers to communication; Steps
for effective communication in organisations.
11. Performance management and Appraisal systems; performance
review and counselling.
12. Manpower planning; Recruitment and selection; Manpower
placement; succession planning.
13. Human Response implications of Benchmarking. TQM, BPR, ISO
9000 series and other techniques for organisational improvement
and management of Service Industry; Quality Circles.
SECTION D: PERSONNEL MANAGEMENT AND
INDUSTRIAL RELATIONS (PMIR)
14. The personnel functions; Legal aspects of Personnel functions;
trade unionism and industrial relations; Industrial relations and
negotiation in the Indian Banking Industry; collective bargaining
concepts. Bipartite settlements in Banking.
15. Grievance redressal and discipline; mechanisms and processess;
discipline management including domestic enquiry; role of
management and functions; Conflict management and resolution.
16. Workers participation in Management; experience of employee
participation in Indian banking.
Syllabus
SECTION A:
Introduction to Marketing and Key Concepts
Definition – Marketing and Market- four elements in marketing mix
and their interrelation – Marketing concepts and elements – Why
marketing ? – Special features of Bank Marketing - Marketing as
management function – relation with other strategic management
functions – Product and Service Marketing.
Marketing Planning
Macro and Micro factors influencing the market for an organisation's
goods and services – applicability to banking – other factors such as
economic, demographic, social, cultural, political and legal factors;
meaning and importance of planning in marketing; difference between
strategic planning and annual planning; Banking regulation and its
impact on bank marketing strategies.
Strategic Marketing Process
Significance of Marketing management process – Meaning of Marketing
Task – Difference between a Marketing Plan and the Marketing Planning
process – steps involved in developing a marketing plan – pre-requisites
for implementing a successful marketing plan-Need and importance of
evaluation of marketing results.
44
RULES AND SYLLABUS 2002
Situation analysis / Marketing Audit
Need for situation analysis; steps involved in the development of a
situation analysis; objective, strategies and tactics; sources of
information for situation analysis; internal and external Primary research
and Situation analysis; types of primary research.
SECTION B:
The Consumer
Consumer Motivation and buying behaviour – Maslow'e hierarchy of
needs – Pareto's Law (or effect) – Perception/ behaviour-Other factors
affecting buying behaviour – Decision making process – individidual
and organisational – Selective exposure, selective distortion, and effect
on consumer behaviour.
Market Segmentation
Purpose and Content of product/market expansion – Mass marketing
and Marketing segmentation – multiple marketing – Matrix – Definition
of market segmentation – Steps in strategy formulation – Characteristics
of a viable market segment – benefits from market segmentation –
Disadvantages – market segmentation techniques for personal and
corporate customers.
CAIIB
45
SECTION C:
Product Strategy
Core, value added, fundamental and augmented products – product item
and product line-differences between a product and service – elements
of a product mix - product strategies and product life cycle strategies –
product portfolio analysis – new product development – stages and
process – branding – product management – product failures – product
elimination – concept or system selling- Brand and the role they play in
marketing banking services.
Pricing Strategy
Pricing and profitability – elasticity of demand – pricing decisions –
product strategies – costs and incremental and fully allocated costs –
break even analysis – pricing new products and existing products –
Pricing in Banking Industry.
Distribution Strategy
Evolution of Branch Network in India – Impact of Technology on
Branch expansion- Channels of Distribution and their functions –
Distribution Channels Planning – Off-site ATM – telebanking – Direct
Marketing – use of agencies.
Marketing Information and Research
Defination of marketing research and market research – Differences –
Contributions of marketing research to a bank – Types of data – primary
and secondary – uses of marketing research – process-use of external
agency – quantitative and qualitative research-Questionnaire; sampling
techniques, etc.; - Time and Cost constraints – Management Information
System and Marketing research.
Promotion Strategy
The Communication Process – Goals of Communication – Steps in
developing effective communication – Advertising and sales promotion
– Publicity – Internal Communication – Integrated Marketing
Communication – Concepts of Moments of Truth.
Marketing Mix
Elements of marketing mix – Their Inter relationship – uses of Marketing
Mix – Mix and marketing plan – Influence of a branch on marketing
mix.
HRD and Marketing
Attitude Orientation of Staff – Selling Skills – Sales training – need
and importance – impact thereof – Direct Sales forces – Quality of
Service – Public Relations and Institutional Image.
Competition Analysis
Understanding competition, identification of competition and their
focus-Strategic benefits of good competition – What makes a good
competitor.
Selling to Corporate Clients
SECTION D:
Meaning of Corporate Clients – Relationship and Transaction banking
– Bank organisation for Large Corporate Clients.
46
RULES AND SYLLABUS 2002
RECOMMENDED READING
"The Institute has prepared comprehensive study material in the
form of kits modelled on IGNOU pattern to facilitate preparation
for the examination without intervention of teacher. Attempt has
been made to cover fully in the write-ups the syllabus prescribed
for each subject/paper. The presentation of topics in the self study
material may not always be in the same sequence as given in the
syllabus. The said course material would be distributed to the
members appearing for the Institute's examination at the time of
enrolment.
Candidates are also expected to take note of all the latest
developments relating to the subjects covered in the syllabus by
referring to Economic Journals, Financial Papers, latest books
and publications on the subjects concerned".
ZONAL OFFICES OF THE INSTITUTE
47
5. LIST OF ZONAL OFFICES OF THE INSTITUTE
Western Zonal Office
The Indian Institute of Bankers
Maker Tower, 'F' Wing, 19th Floor,
Cuffe Parade, Mumbai-400 005.
Eastern Zonal Office
The Indian Institute of Bankers
'Anandlok', 3rd Floor,
227, Acharya J. C. Bose Road,
Calcutta-700 020.
Nothern Zonal Office
The Indian Institute of Bankers
11th Floor, Atmaram House,
Tolstoy Marg,
New Delhi-110 001.
Southern Zonal Office
The Indian Institute of Bankers
61, Arya Gowda Road,
West Mambalam,
Chennai-600 033.