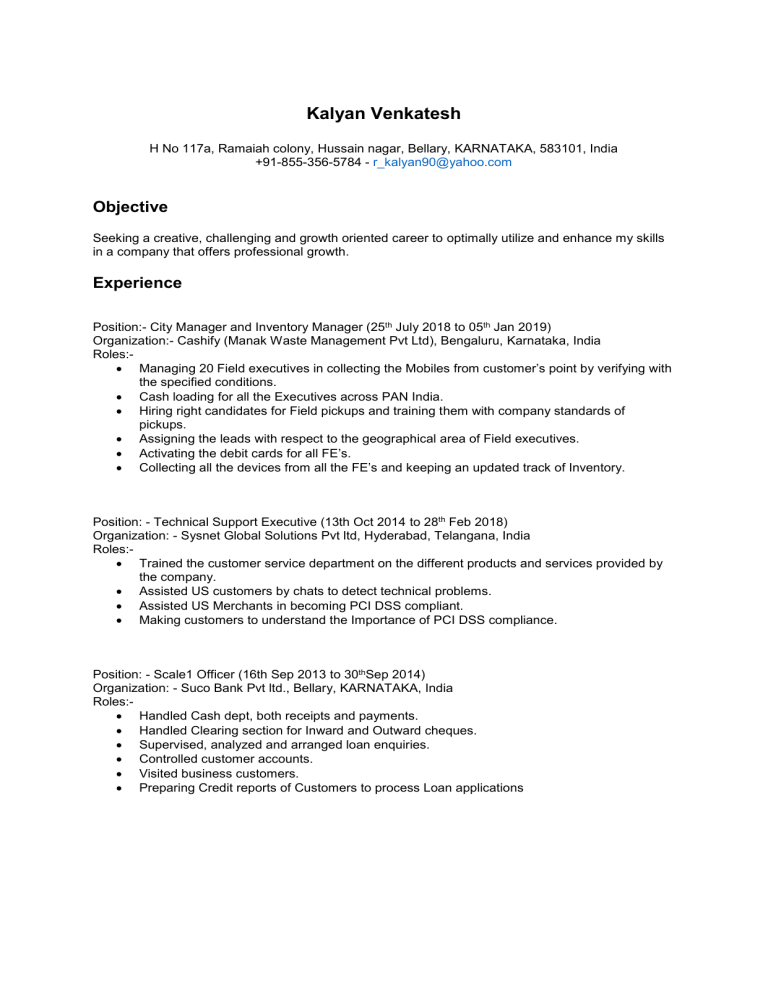 Kalyan Venkatesh
H No 117a, Ramaiah colony, Hussain nagar, Bellary, KARNATAKA, 583101, India
+91-855-356-5784 - [email protected]
Objective
Seeking a creative, challenging and growth oriented career to optimally utilize and enhance my skills
in a company that offers professional growth.
Experience
Position:- City Manager and Inventory Manager (25th July 2018 to 05th Jan 2019)
Organization:- Cashify (Manak Waste Management Pvt Ltd), Bengaluru, Karnataka, India
Roles: Managing 20 Field executives in collecting the Mobiles from customer's point by verifying with
the specified conditions.
 Cash loading for all the Executives across PAN India.
 Hiring right candidates for Field pickups and training them with company standards of
pickups.
 Assigning the leads with respect to the geographical area of Field executives.
 Activating the debit cards for all FE's.
 Collecting all the devices from all the FE's and keeping an updated track of Inventory.
Position: - Technical Support Executive (13th Oct 2014 to 28th Feb 2018)
Organization: - Sysnet Global Solutions Pvt ltd, Hyderabad, Telangana, India
Roles: Trained the customer service department on the different products and services provided by
the company.
 Assisted US customers by chats to detect technical problems.
 Assisted US Merchants in becoming PCI DSS compliant.
 Making customers to understand the Importance of PCI DSS compliance.
Position: - Scale1 Officer (16th Sep 2013 to 30thSep 2014)
Organization: - Suco Bank Pvt ltd., Bellary, KARNATAKA, India
Roles: Handled Cash dept, both receipts and payments.
 Handled Clearing section for Inward and Outward cheques.
 Supervised, analyzed and arranged loan enquiries.
 Controlled customer accounts.
 Visited business customers.
 Preparing Credit reports of Customers to process Loan applications
Education
Master of Business Administration - 60% (Finance and Marketing).
Alliance Business Academy, 2013, Bangalore
KARNATAKA, India
Bachelor's Degree in Business Management - 65% (Finance)
Theosophical College of Management, 2011, Hospet
KARNATAKA, India
Pre-University Course - 66% (Commerce)
VijayanagaraPreUniversity College, 2008, Munirabad
KARNATAKA, India
SSLC - 44% (10th).
Saptagiri High School, 2005, Hospet
KARNATAKA, India
Projects
Project title No.1: Working Capital Management At JairajIspat Ltd, Ballari.
Description: I have done this project at JairajIspat ltd, it is a Sponge Iron Production plant located in
Ballari for duration of 1 month.
Project title No.2: A study on perception and need of micro-insurance for low income group
people in Bengaluru city
Description: I have done this research for duration of 2 months on insurance industry and submitted
report for the partial completion of my MBA degree.
Personal Information
Date of Birth
: 01-06-1990
State of Domicile
: Karnataka
Hobbies
: Reading books, learning thing mainly on computer applications.
Languages Known : English, Hindi, Kannada and Telugu.
Declaration
I hereby declare that the information provided by me above is completely true to my knowledge.
Place:-Ballari
R Kalyan Venkatesh.