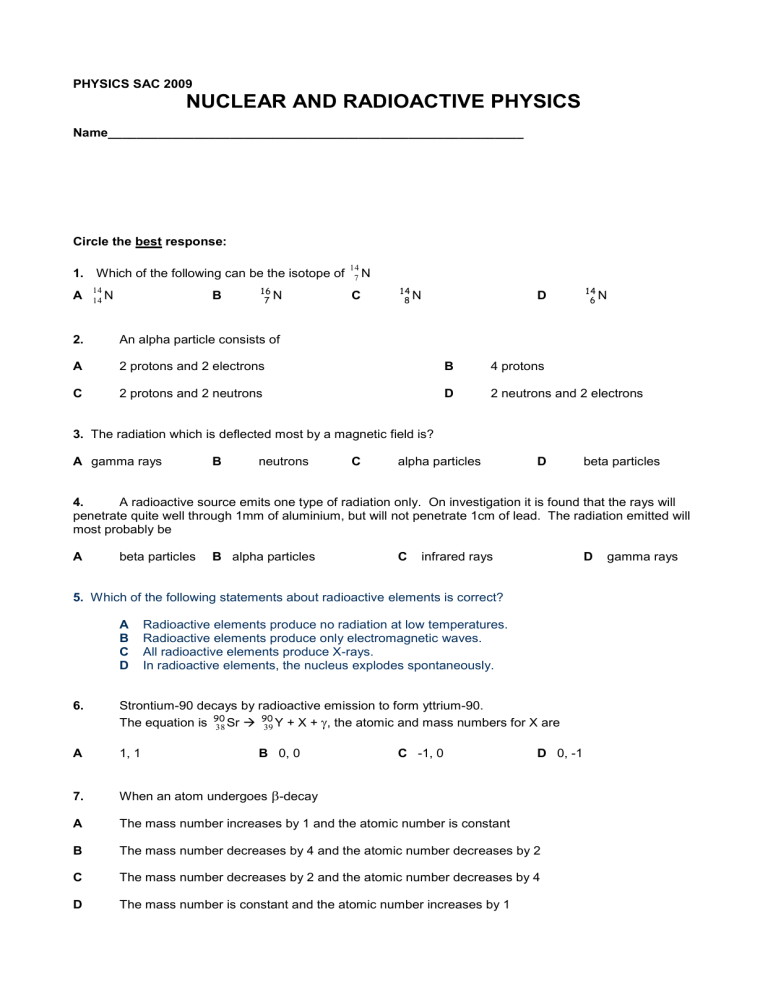 PHYSICS SAC 2009
NUCLEAR AND RADIOACTIVE PHYSICS
Name__________________________________________________________
Circle the best response:
1. Which of the following can be the isotope of
A
14
14 N
B
16
7N
14
7N
C
14
8N
D
14
6N
2.
An alpha particle consists of
A
2 protons and 2 electrons
B
4 protons
C
2 protons and 2 neutrons
D
2 neutrons and 2 electrons
3. The radiation which is deflected most by a magnetic field is?
A gamma rays
B
neutrons
C
alpha particles
D
beta particles
4.
A radioactive source emits one type of radiation only. On investigation it is found that the rays will
penetrate quite well through 1mm of aluminium, but will not penetrate 1cm of lead. The radiation emitted will
most probably be
A
beta particles
B alpha particles
C
infrared rays
D
5. Which of the following statements about radioactive elements is correct?
A
B
C
D
Radioactive elements produce no radiation at low temperatures.
Radioactive elements produce only electromagnetic waves.
All radioactive elements produce X-rays.
In radioactive elements, the nucleus explodes spontaneously.
6.
Strontium-90 decays by radioactive emission to form yttrium-90.
90
The equation is 90
38 Sr  39 Y + X + , the atomic and mass numbers for X are
A
1, 1
7.
When an atom undergoes -decay
A
The mass number increases by 1 and the atomic number is constant
B
The mass number decreases by 4 and the atomic number decreases by 2
C
The mass number decreases by 2 and the atomic number decreases by 4
D
The mass number is constant and the atomic number increases by 1
B 0, 0
C -1, 0
D 0, -1
gamma rays
8.  -rays are
A electromagnetic radiation
C positively charged particles
9.
B
D
negatively charged particles
uncharged particles
The radioisotope 25Na has a half life of 1 minute. Approximately what percentage of a sample remains
after 3 minutes
A 50%
B 33%
C 25%
D 12.5%
Question 10 &11 relate to the following.
A Geiger counter is used to measure the radioactive disintegrations from a sample of a certain radioisotope.
The count rate recorded is shown in the graph below
5
Activity (×1012 Bq)
4
3
2
1
0
10.
5
10
20 25
30 time (H)
What is the half-life of this sample?
A 5 hours
11.
15
B 10 hours
C 15 hours
D 20 hours
What is the activity (× 1012 Bq) after 3 half lives
A 3.5
B 2.5
C 1.7
D 0.6
12.
When a 228
90 Th nucleus undergoes radioactive decay by the emission of an alpha particle the new
nucleus formed is
A
228
89 Ac
B
228
90 Ac
C
224
88
Ra
D
224
87 Fr
13.
When tellurium-130 ( 130
52 Te) is bombarded with neutrons (inside the core of a nuclear reactor) it
forms a very unstable tellurium-131 and a gamma ray. The equation for this process is
A
130
52 Te
C
130
52 Te
14.
An electronvolt equals 1.6  10-19J. How much energy in Joules does a 4.2MeV alpha particle have?
A
1.6  10-19J
B
6.72  10-13J
C
6.72  10-19J
D
3.81  10-26J

131
52 Te
+ 01 n 
+ 01 n + 
131
52 Te
+
B
130
52 Te

D
130
52 Te
+ 2 01 n 
131
52 Te
+ 2 01 n + 
131
52 Te
+
Short Answer
1. The Helium ion
a. Protons
3
2
He2+ has what number of each of the following?
b. Neutrons
c. Electrons
2. An atom of an element contains 20 electrons and 20
neutrons.
a. What is its nuclear symbol?
b. What is its mass number?
c. What is its atomic number?
3. Thorium_234 emits a beta particle and a gamma ray as it decays. Write a nuclear equation for
this decay.
4. The decay series starting with Uranium-238 and finishing with Lead-82 is a naturally occurring
series as follows.
238
92 U


21 0
83 Bi
234
90 Th


21 0
84 Po
234
91 Pa


234
92 U

230
90 Th

226
88 Ra

222
86 Rn

21 8
84 Po

21 4
82 Pb

206
82 Pb
a. Which nuclide is stable in this series?
b. Which nuclide is the daughter of Thorium-230?
c. What type of radioactive decay does Radium-226 undergo?
d. Write the nuclear equation for the decay of lead-214 to Bismuth-214
21 4
83 Bi

21 4
84 Po

21 0
82 Pb
5. The half-life of Radium-226 is 1600 years. Draw a graph of the decay of a 2.0 gram sample over
time.
a What fraction of the element remains after
6400 years?
b How long does it take for 1.5 grams of the radium to
decay?
c How much radium will remain after 4000 years?
6. Why is α-particle radiation from a radioactive source likely to be less harmful to living
organisms than β-radiation or γ-radiation?
PART 3
Choose 2 questions to answer from the possible 6 below
1. a). The nuclear bomb dropped on Hiroshima during world war two used Uranium-235. Describe
how the bomb worked, include the following in your answer – fission, critical mass, chain reaction.
b). Describe three ways in which a nuclear bomb causes death.
2.
a). A nuclear reactor uses a controlled chain reaction to produce power. What is meant by
"controlled" and how can this control be achieved?
b). Nuclear power is a debatable issue across the world. Give a reason for both sides of the debate
(one for and one against nuclear power).
3. a). State two reasons why isotopes the emit alpha radiation are not used as medical tracers.
b). 10 Sieverts of radiation will cause death in about ½ an hour. Explain why then are some tumors
exposed to 25 Sieverts of radiation in medical procedures?
4. a). Describe two ways in which radioactive isotopes can be used in industry (include the benefit of
using this technology.
b). How are workers protected when working with radioactive nuclides? How is this monitored?
5. a). Natural radiation contributes to
the sources of this natural radiation?
about 88% of human exposure to radiation. What are
b). The background radiation dose that we receive each year is about 2 – 3 mSv. Describe three
factors that could affect this amount.
6.
a).
Carbon-14 is natural form of radiation occurring in nature. Describe how it is formed.
b). The Jurassic era is known as a time on Earth when many dinosaurs roamed the world. This
period of time occurred around 150 to 200 million years ago. Is carbon dating is a suitable and
accurate method of determining the age of a dinosaur bone from this period? Explain (the half life of
carbon-14 is 5670 years).