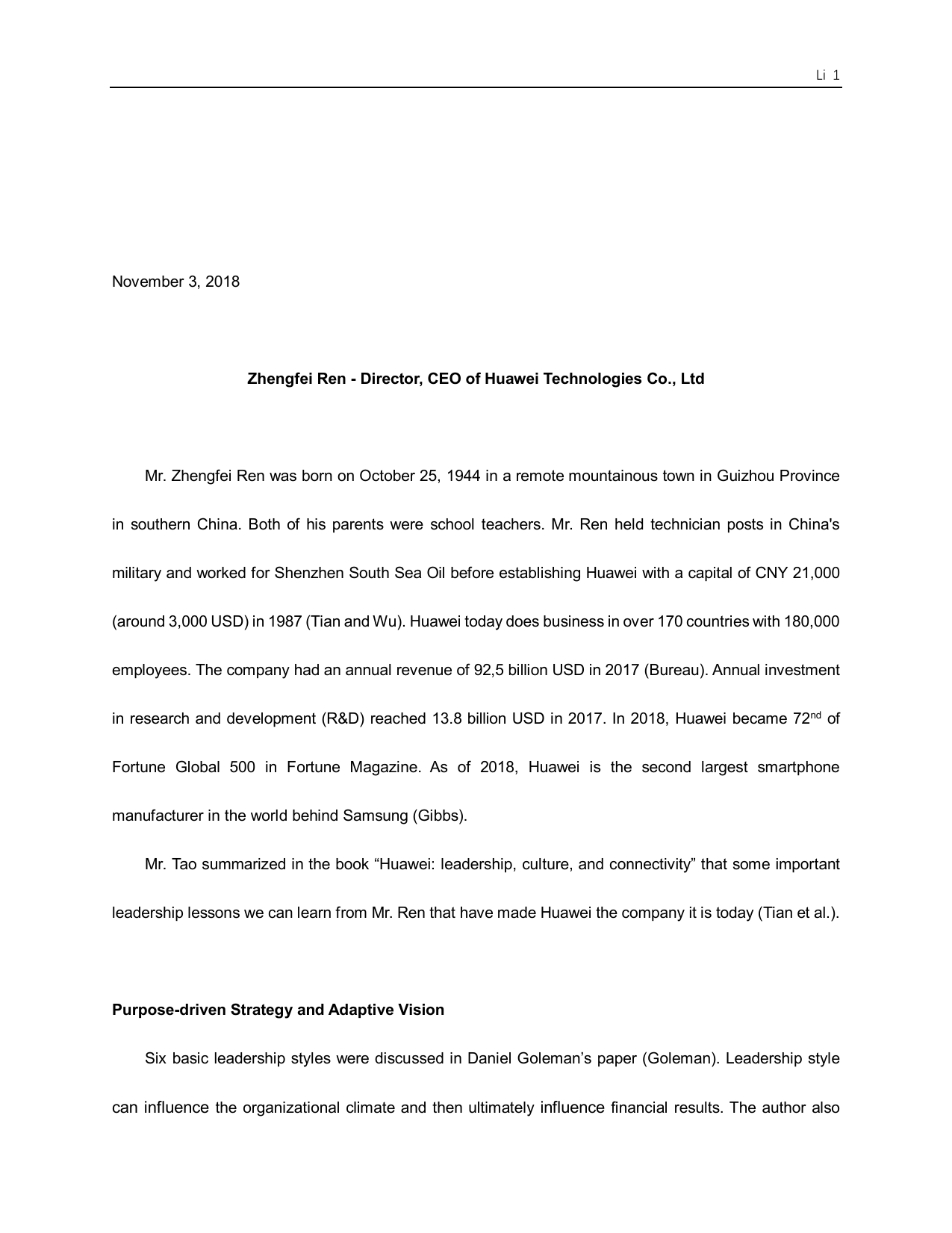 Li 1
November 3, 2018
Zhengfei Ren - Director, CEO of Huawei Technologies Co., Ltd
Mr. Zhengfei Ren was born on October 25, 1944 in a remote mountainous town in Guizhou Province
in southern China. Both of his parents were school teachers. Mr. Ren held technician posts in China's
military and worked for Shenzhen South Sea Oil before establishing Huawei with a capital of CNY 21,000
(around 3,000 USD) in 1987 (Tian and Wu). Huawei today does business in over 170 countries with 180,000
employees. The company had an annual revenue of 92,5 billion USD in 2017 (Bureau). Annual investment
in research and development (R&D) reached 13.8 billion USD in 2017. In 2018, Huawei became 72nd of
Fortune Global 500 in Fortune Magazine. As of 2018, Huawei is the second largest smartphone
manufacturer in the world behind Samsung (Gibbs).
Mr. Tao summarized in the book "Huawei: leadership, culture, and connectivity" that some important
leadership lessons we can learn from Mr. Ren that have made Huawei the company it is today (Tian et al.).
Purpose-driven Strategy and Adaptive Vision
Six basic leadership styles were discussed in Daniel Goleman's paper (Goleman). Leadership style
can influence the organizational climate and then ultimately influence financial results. The author also
Li 2
investigated the correlation between each leadership style and each aspect of climate.
Authoritative/Visionary style has a strongly positive 0.54 correlation with overall impact on working
climate, which is similar to one of the Peter F. Drucker's 7 Principles of Management "Every enterprise
requires commitment to common goals and shared values" (Drucker). Mr. Ren also aligned the purpose of
Huawei with one of the Peter F. Drucker's 7 Principles of Management "The single most important thing to
remember about any enterprise is a satisfied customer" (Drucker). Mr. Ren truly lives the purpose of helping
customers to realize their dreams. He is relentless in communicating to and convincing his employees that
they all should be dedicated to pursuing "To connect people via communication.", the mission of the
company.
The natural born mission of Huawei, which is crucial to the success of the company, is to provide the
best service possible. In the early years of Huawei, Mr. Ren was aware that Huawei products did not meet
that standards of those its competitors, so he looked for alternative ways to attract customers – by providing
excellent services. For example, Huawei responded to customers 24/7, which is differed from the ones
used by Western companies. This helped Huawei to gain the reputation and as a result gave them a
competitive advantage. For example, rats were a plague for the telecom connections to customers in the
desert and rural areas in China. Because of this purpose-driven strategy, Huawei acquired much experience
in developing robust equipment and materials, which helped them later to win several big business accounts
in the Middle-East.
Mr. Ren is a strategic thinker. He works hard to translate the mission of the company into a vision
aimed at Huawei achieving a world leading status during the past over three decades. While pursuing this
vision, Mr. Ren enabled him to adapt his vision never compromises the goals and values of Huawei.
Li 3
Interestingly, each decade (phase) is characterized by a specific vision and strategy. In the first phase (from
1987 to 1997, the years of chaos), Huawei was trying to survive the entrepreneurial stage. Mr. Ren and his
team worked hard to provide higher-quality service. In the second phase (from 1997 to 2007, chaos was
removed, and structure entered Huawei), Mr. Ren hired IBM to implement management structures, to allow
introducing a more global vision. He, as a coercive leader (Goleman), demanded that all employees learn
and adopt the US-based way of looking at business. In the third phase (after 2007), Mr. Ren focused on
simplifying management and being creative with top talents to turn Huawei into an efficient and creative
creator of customer's dreams. Mr. Ren, as an authoritative/visionary leader (Goleman), is always thinking
about Huawei in the next 10 years, whereas most of its competitors such as Ericsson and Motorola plan it
by financial quarter or year.
Diagram. Comparison of Two Models of Leadership
Inspiration
In the early years of Huawei (Phase 1), Mr. Ren, as a coaching leader (Goleman), used story telling
Li 4
as a vehicle to deliver a vision and to guide his employees towards their goal in a passionate manner.
Although Huawei employed only about 200 employees at that time, he regularly told stories to employees
that he believed that Huawei would be a top three player in the global communications market in 20 years.
Back home in Shenzhen from Mr. Ren's visit to the Bell labs in US in 1997, he passed his emotion-laden
message on his passion and love for that lab to his employees and make them believe that they could be
better than the researchers at the Bell labs one day.
Humble Dedication
As an affiliative leader (Goleman), Mr. Ren has a clear idea of sharing responsibility and the rewards
that are earned because of these collective successes. As stated in Huawei's 2014 Annual report on
December 31, 2014, Mr. Ren holds 1.4% of the company's total share capital whereas 82,471 employees
hold the rest of the shares. This incentive performance system ensures that Huawei really is an employeeowned company and that all employees are motivated to work hard towards collective success. This is
crucial to an organization's performance and to its survival (Drucker).
Directive Style
Traditionally, leadership has been grounded in a hierarchical top-down management system in China.
Mr. Ren is not only a coercive leader but also a democratic leader (Goleman). On one hand he made all
the decisions in the early years of Huawei. As a man who served in the People's Liberation Army, he is
known to be intense and tough and never loses control. On the other hand, Mr. Ren is also known to give
much freedom when it comes down to how to execute decisions. Huawei has established an increasingly
Li 5
standardized and institutional decision-making system since 2007. Today, Huawei has developed a
decision-making system with limited democracy and appropriate centralization. Such a system prevents
the company from collapsing due to a single leader, raises efficiency, and avoids inaction due to overdemocratization (Tian et al.).
The Power of Learning
Leaders must also enable the company and each of its employees to grow and develop as needs and
opportunities change (Drucker). Mr. Ren works hard to always keep clear to himself a power of thinking
attitude aligns with a shared learning orientation. Huawei makes use of an internal online forum which is
accessible to all Huawei employees worldwide. Ideas are communicated frequently by Mr. Ren and senior
executives on this forum. Feedback from all 170,000 employees is encouraged. For example, the company
made a decision on bonuses which received over 70,000 negative comments in 2014, leading to a
modification of that decision. Huawei has invested considerably in creating a learning driven culture where
the power of the mind is visible.
Summary
Mr. Zhengfei Ren, Director and CEO of Huawei Technologies Co., Ltd, is one of the leaders who have
all Daniel Goleman's six leadership styles (Goleman) in his repertory and a master of Peter Drucker's seven
principles of management. He knows when and how to use them.
References:
Li 6
Bureau, DA. "Huawei Achieves Annual Revenue of $92.5 Bn." 2018, https://www.digianalysys.com/huaweiachieves-annual-revenue-of-92-5-bn/.
Drucker, Peter F. The Essential Drucker : The Best of Sixty Years of Peter Drucker's Essential Writings on
Management. 1st Collins Business Essentials pbk. edition, Collins Business Essentials, 2008.
Gibbs, Samuel. "Huawei Beats Apple to Become Second-Largest Smartphone Maker." 2018,
https://www.theguardian.com/technology/2018/aug/01/huawei-beats-apple-smartphonemanufacturer-samsung-iphone.
Goleman, Daniel. "Leadership That Gets Results." Harvard Business Review, vol. March-April, 2000.
Tian, Tao et al. Huawei : Leadership, Culture, and Connectivity. SAGE, 2017.
Tian, Tao and Chunbo Wu. The Huawei Story. SAGE Publications India Pvt. Ltd, 2015.