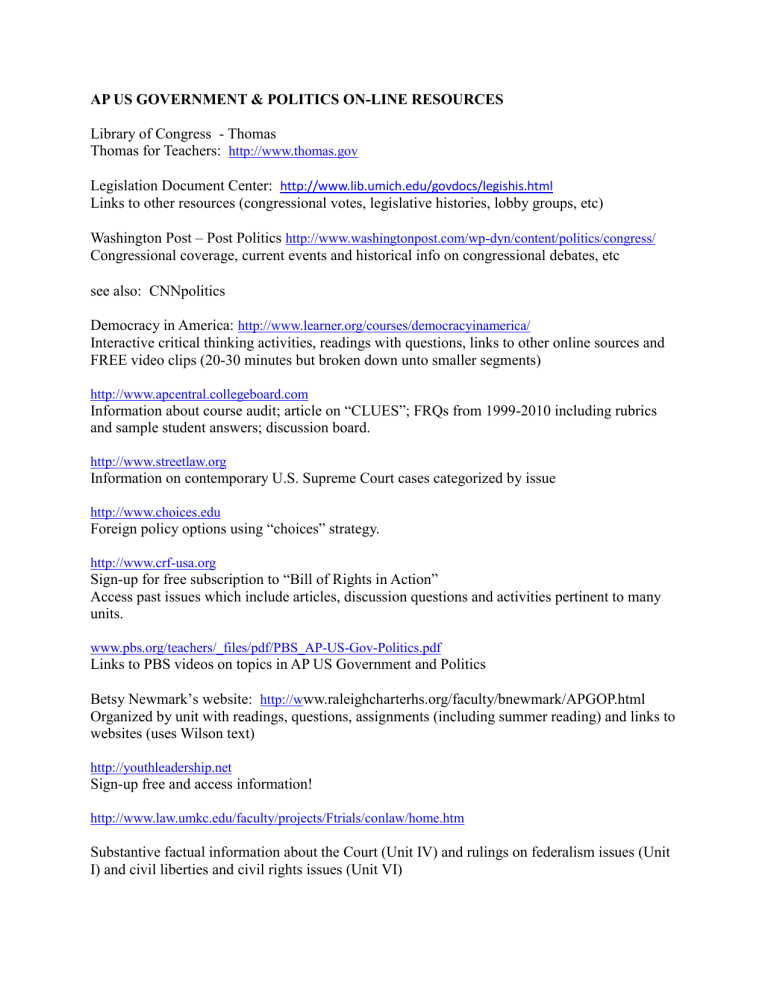 AP US GOVERNMENT & POLITICS ON-LINE RESOURCES
Library of Congress - Thomas
Thomas for Teachers: http://www.thomas.gov
Legislation Document Center: http://www.lib.umich.edu/govdocs/legishis.html
Links to other resources (congressional votes, legislative histories, lobby groups, etc)
Washington Post – Post Politics http://www.washingtonpost.com/wp-dyn/content/politics/congress/
Congressional coverage, current events and historical info on congressional debates, etc
see also: CNNpolitics
Democracy in America: http://www.learner.org/courses/democracyinamerica/
Interactive critical thinking activities, readings with questions, links to other online sources and
FREE video clips (20-30 minutes but broken down unto smaller segments)
http://www.apcentral.collegeboard.com
Information about course audit; article on "CLUES"; FRQs from 1999-2010 including rubrics
and sample student answers; discussion board.
http://www.streetlaw.org
Information on contemporary U.S. Supreme Court cases categorized by issue
http://www.choices.edu
Foreign policy options using "choices" strategy.
http://www.crf-usa.org
Sign-up for free subscription to "Bill of Rights in Action"
Access past issues which include articles, discussion questions and activities pertinent to many
units.
www.pbs.org/teachers/_files/pdf/PBS_AP-US-Gov-Politics.pdf
Links to PBS videos on topics in AP US Government and Politics
Betsy Newmark's website: http://www.raleighcharterhs.org/faculty/bnewmark/APGOP.html
Organized by unit with readings, questions, assignments (including summer reading) and links to
websites (uses Wilson text)
http://youthleadership.net
Sign-up free and access information!
http://www.law.umkc.edu/faculty/projects/Ftrials/conlaw/home.htm
Substantive factual information about the Court (Unit IV) and rulings on federalism issues (Unit
I) and civil liberties and civil rights issues (Unit VI)
www.teachablemoment.org
Downloadable activities for teaching high school students about current issues.
www.livingroomcandidate.org
Presidential election campaign commercials from 1952 – 2008. Teacher resource link with
lesson plans.
www.electionstudies.org
Resource for data.
www.billofrightsinstitute.org
www.people-press.org
Political typology.