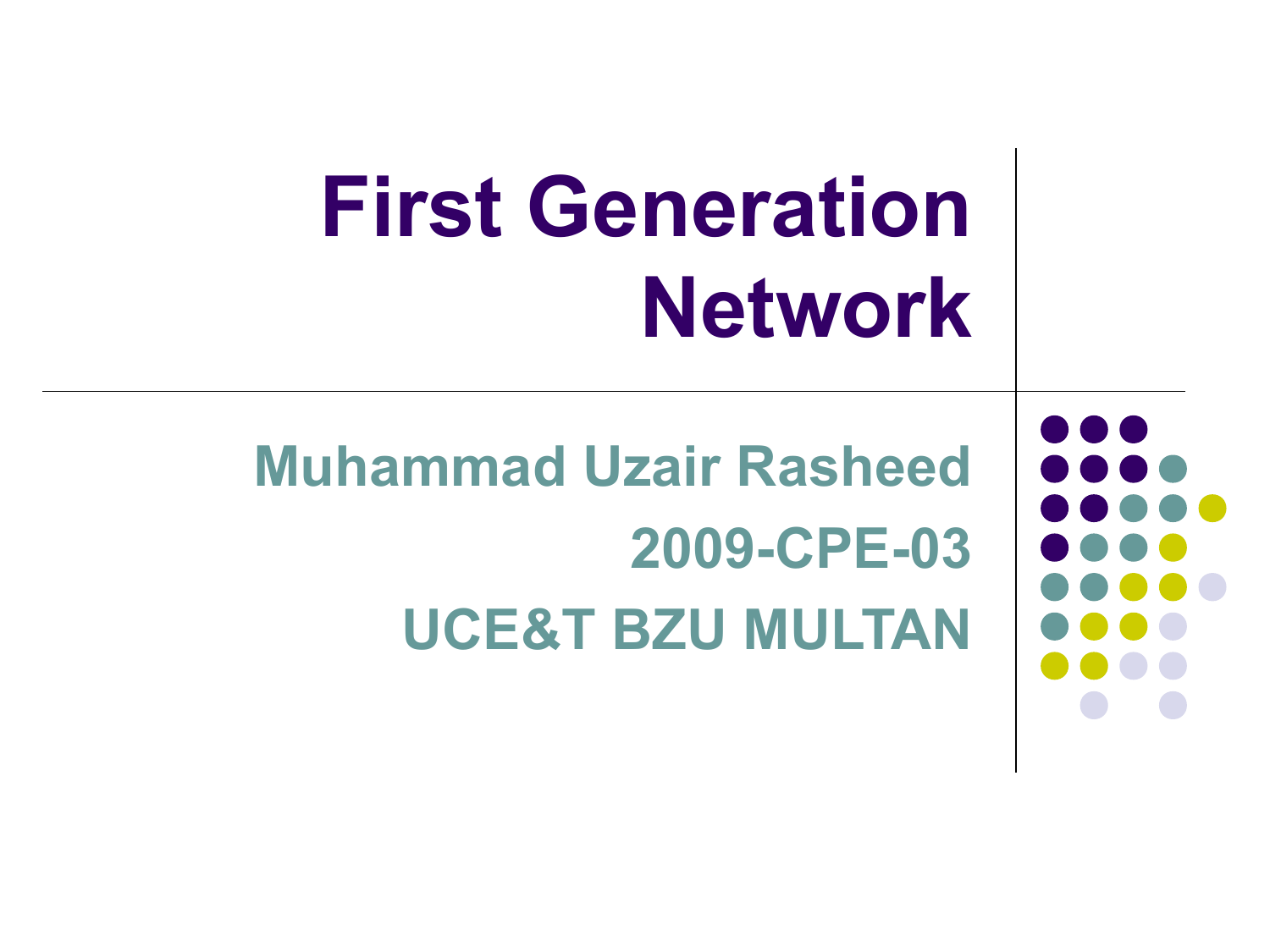 First Generation
Network
Muhammad Uzair Rasheed
2009-CPE-03
UCE&T BZU MULTAN
First Generation
 What




we will look at
1st Generation technology
Frequency Division
Handover
Infrastructure
First Generation

Early Wireless
communications



Signal fires
Morse Code
Radio
Radio Transmitter 1928 Dorchester
First Generation
 1st

Generation devices
Introduced in the UK by Vodafone


January 1985
UK Technology (and Italy)

Total Access Cellular System



This was based on the American design
Used the 900MHz frequency range
Europe


Germany adopted C-net
France adopted Nordic Mobile Telephone (NMT)
First Generation

Operates


Frequency Division Multiple Access (FDMA)
 Covered in next slide
Operates in the 900MHz frequency range
 Three parts to the communications



Voice channels
Paging Channels
Control Channels
1G technology

FDMA

Breaks up the available frequency into channels
 Allocates a single channel to each phone call
 The channel is agreed with the Base station before
transmission takes place on agreed and reserved channel
 The device can then transmit on this channel


No other device can share this channel even if the person is not
talking at the time!
A different channel is required to receive
 The
voice/sound is transmitted as analog data.
Continued …

FDMA
Frequency
Continued….

FDMA

You use this technology all of the time!
Consider your radio in the house(well use too!!!)
 As you want different information you change the frequency
which you are receiving

Voice calls..


Are transferred using Frequency modulation
The rate at which the carrier wave propogates is changed
Encoding information
 More resistant to interference than AM radio

(www.tiscali.co.uk/reference/encyclopaedia/hutchinson/m0030280.html, 2004)
First Generation
 Infrastructure

Base Station



Carries out the actual radio communications with the
device
Sends out paging and control signals
MSC

Takes responsibility



Controls all calls attached to this device
Maintains billing information
Switches calls (Handover/hand off)
First Generation
 Cellular


Architecture
Allows the area to be broken into smaller cells
The mobile device then connects to the closest
cell
Cell
Cell
Cell
Cell
Cell
Cell
Cell
Cell
Cell
Cell
Cell
Cell
Cell
Cell
Cell
Cell
First Generation

Cellular Architecture continued

Cellular architecture requires the available frequency to be
distributed between the cells
 If 2 cells next to each other used the same frequency each
would interfere with each other
Cell
Cell
Cell
Cell
Cell
Frequency 900
First Generation

Cellular Architecture continued
There must be a frequency difference
between adjoining cells.

Cell
Frequency 900
Cell
Frequency 920
Cell
Frequency 940
Cell
Frequency 960
Cell
Cell
Cell
Cell
First Generation

Logically we picture a cell as being a
Octagon
 In reality the shape of a transmission will
change depending on the environment
 In this diagram of a cell you can see this


The building are the rectangles in dark green
The darker the shade of green the stronger
the signal
Cell
Cell
Cell
Cell
Cell
First Generation
 Cellular

Cells with different frequencies allow devices to
move between these cells


infrastructure why ??
The device just informing what frequency they are
communicating at.
Cellular communications can only travel a certain
distance

Cell sizes are flexible

Examples in the AMP system were up to 50 Miles!
First Generation
 Cellular

infrastructure
Once you get to the 'edge' of a cell you will need
a handover

Handover allows the user to move between cells

After a certain distance the area covered by a certain cell
ends so it switches over to the domain of the next cell.

Cellular infrastructure

Communicating with BS1
 Moving towards BS2
Transmi
ssionBS
2
narT
s
m
i
s
s
i
o
1SBn
BS2
BS1
First Generation

Cellular infrastructure

BS2
Power of signal now weakening
BS1
First Generation

Cellular infrastructure

BS2
Paging signal stronger so hand over to new MSC
BS1
First Generation
 Handover

Once a handover is decided upon by the BS

The MSC is informed





All BS in the area of the current location are informed to
start paging the device
The BS with the strongest signal is then handed over to
The call can continue
In reality a lot of calls were dropped whilst waiting for a
handover to take place
Ending a call

The phone returns to an idle state and pagging ends
First Generation

Problems
 Roaming was not applicable

All of Europe was using different standards
 Different frequencies
 Different frequency spacing

Security





Calls were easily 'listened' upon
Limited capacity of the available spectrum
Analog signal meant a larger than required amount of the frequency
had to be allocated to each call
Expansion of the network was difficult
This was unacceptable

GSM was introduced….
 Summary





1G systems
Frequency Used
Infrastructure
Handover
Problems
Jazak Allah!!!!