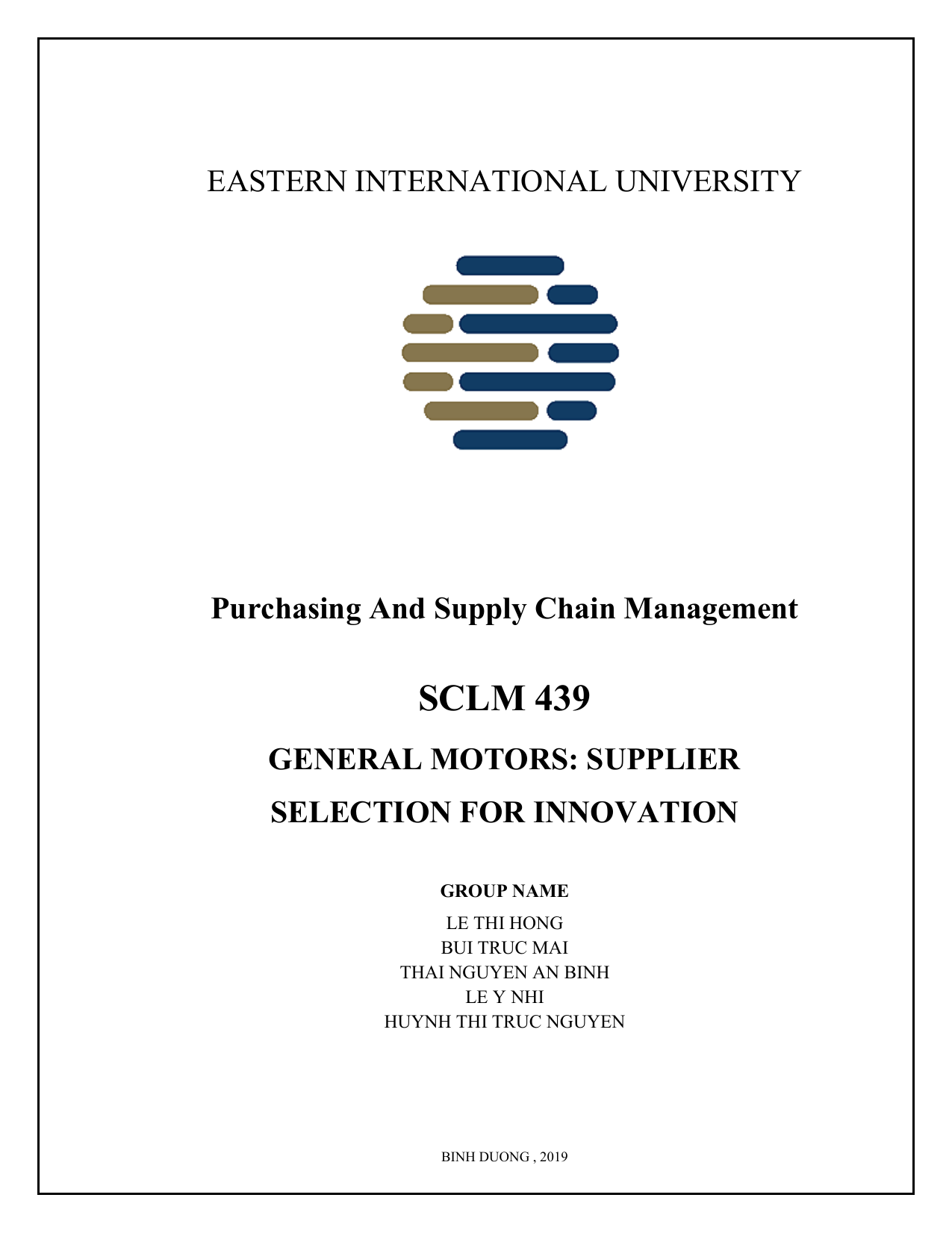 EASTERN INTERNATIONAL UNIVERSITY
Purchasing And Supply Chain Management
SCLM 439
GENERAL MOTORS: SUPPLIER
SELECTION FOR INNOVATION
GROUP NAME
LE THI HONG
BUI TRUC MAI
THAI NGUYEN AN BINH
LE Y NHI
HUYNH THI TRUC NGUYEN
BINH DUONG , 2019
I.
INTRODUCTION
In February 2017, a purchasing manager for General Motors Company (GM)
needed to come up with a sourcing proposal to source e-boost modules, which were
required to support the enhanced 2020 Chevrolet Bolt Electric Vehicle and the new 2020
Chevrolet Bolt Autonomous Vehicle. GM had four possible international suppliers to
choose from. Each supplier had its pros and cons in terms of price, product development
capability, and the architectural nature of the braking system.
GM wanted to be a disrupter to the autonomous vehicle industry. Its top priorities
were public safety and defect-free quality. In order to continue to maintain the market
leadership position, GM wanted to retain the intellectual property of the e-boost modules.
Which supplier would best meet the needs of the company?
1. General Motor Company( GM )
General Motors Company, incorporated on August 11, 2009, designs, builds and
sells cars, trucks, crossovers and automobile parts. The Company's segments include GM
North America (GMNA), GM Europe (GME), GM International Operations (GMIO),
GM South America (GMSA) and General Motors Financial Company, Inc. (GM
Financial). The Company provides automotive financing services through General
Motors Financial Company, Inc. The Company develops, manufactures and/or markets
vehicles in North America under the brands, including Buick, Cadillac, Chevrolet and
GMC. The Company also develops, manufactures and/or markets vehicles outside North
America under the brands, including Buick, Cadillac, Chevrolet, GMC, Holden, Opel and
Vauxhall.
2. The important of IP
The intellectual property (IP) included software, data streams, and data storage. IP
was an important part of the e-boost module, and e-boost module required to support the
enhanced 2020 Chevrolet Bolt EV and the new 2020 Chevrolet Bolt AV of GM. GM's
strategy is to own the IP so that it can react quickly and independently with the changes
in the context of technology. The production of 2020 Chevrolet Bolt EV and the new
2020 Chevrolet Bolt AV will allow GM and Cruise, in collaboration with Lyft ride
sharing service, to test Chevrolet Bolt AV on the road in selected cities. The vehicle
sharing facilities will be fully automated but there will be a backup driver trained in the
driver's seat to continue learning and improving the system and for any emergencies.
3. Autonomous vehicle (AV)
In the 4.0 technology now, to make vehicles safer, automation play an important
role in the technology revolution, which can eliminate human error and protect human
life.
Now, most the vehicles were equipped with "one function is automated" (level 1).
And GM want to move forward to manufacture level 3 and 4. To achieve that, we need
some specific systems and sensors allow vehicles to become a true driverless
transportation experience.
In 2026, AV was expected to be popular in all of the vehicles so no one in the
driver's seat.
4. GM's SWOT Analysis
Strengths
Weaknesses
- Joint ventures with local Chinese
- Dependence on U.S. to generate most of
automotive companies.
the revenue.
- Strong position in the U.S. automotive
- Brand awareness
market.
- Reliance on pickup trucks and SUVs for
- Sustainability and environmental policies.
sales growth.
- Safe and eco-friendly vehicles.
- Strong brand portfolio.
- OnStar all-in-one assistant.
- Rare product recalls.
Opportunities
Threats
- Low fuel prices are increasing the
- Increased competition.
demand for pickup trucks and SUVs.
- The rising U.S. dollar exchange rate.
- Timing and frequency of the new model
- Increasing government regulations may
releases.
raise the costs.
- Demand for autonomous vehicles.
- U.S. automotive market is poised to slow
down or even decline.
II.
SUPPLIERS OF GM
1. Rosie Automotive International
a. The advantages:
-
A regular supplier to GM located in Shanghai, China.
-
The contracted supplier for the 2018 Chevrolet Bolt EV and had the capability to
quote on all of the necessary e-boost modules.
b. The disadvantages:
-
Its IP was proprietary information, so GM would not have access to, or control of,
the software and data associated with the braking system.
-
Being experts in e-boost technology, and considering IP a competitive advantage,
RAI's technology team claimed that RAI needed to retain control of the software.
-
Approached GM for a price increase due to rising labor and regulatory costs in
China.
-
Required a larger percentage of GM business and a long-term contract guarantee
to offset additional capital investment
2. Elroy International
c. The advantages:
-
Did supply other commodities such as bumpers and side mirrors to GM.
-
Elroy was willing to share its IP with GM.
d. The disadvantages:
-
Elroy's capabilities as a supplier in this commodity were unknown to GM.
3. R.U.D.I. Braking Systems
a. The advantages:
-
R.U.D.I. had been a long-standing prototype supplier to GM, and had recently
signed a high-volume production contract for the Chevrolet Equinox program.
-
New state-of-the-art manufacturing site
-
The company was actively hiring new employees who exhibited enthusiasm for
the business, which was reflective of the company's excellent reputation for
customer service.
-
The company became the preferred supplier by GM's product engineering team
-
The language in the SOR was very familiar to R.U.D.I.'s engineer team
- The company was capable of producing the sensors, software, cameras, and
electronic modules in the autonomous arena
-
R.U.D.I.'s e-boost system AV components consisted of three unique
subcomponents that comprised the AV assembly. R.U.D.I.'s quote included one
purchased component.
-
The company was willing to share information about the source of the component
in the future, once GM develop enough internal subject matter expertise
b. The disadvantages:
-
R.U.D.I. had not been a seasoned regular production supplier for GM
4. Orbitty International Manufacturing & Technology Co.
a. The advantages
-
Orbitty was a global powerhouse with manufacturing facilities in Europe, Asia,
North America, and South America.
-
The company was recognized as an industry leader in automotive design and
engineering
-
Orbitty had co-developed the winning vehicle of the Defense Advanced Research
Projects Agency (DARPA) 2007 Autonomous Challenge, in partnership with GM
and other suppliers.
-
Invested significantly in the technology
-
The company's iconic reputation for innovation excellence
-
Orbitty's AV e-boost system comprised three unique subcomponents that were all
manufactured in-house.
b. The disadvantages:
-
Orbitty had no ongoing contracts on GM programs
-
The company clearly was lacking in terms of customer service
III.
RECOMMENDATION
So base on this information above, we think Hanna should chose R.U.D.I
because they're willing to share the IP in the future. Also they have enough
qulification employees with higher job satisfaction and SOR language was similar
with their team.