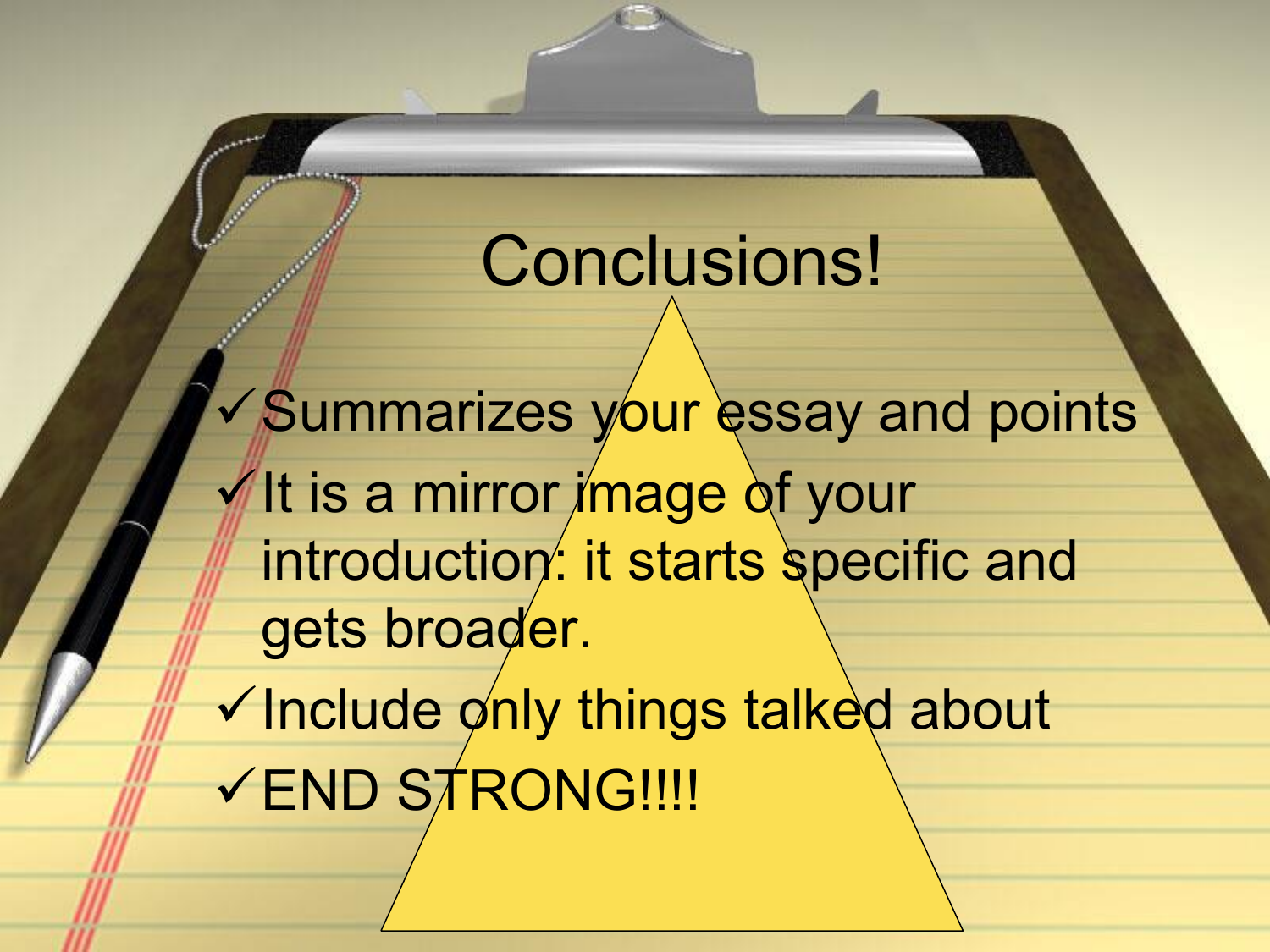 Conclusions!
Summarizes your essay and points
It is a mirror image of your
introduction: it starts specific and
gets broader.
Include only things talked about
END STRONG!!!!
Conclusions
What are the 3 parts of a
introduction paragraph?
1. Hook
2. Thesis
3. Preview
Classy Conclusions
 You need to avoid receiving a slow clap
from your audience!
 Restate thesis
 Summarize important information
 End with a final idea
Transition Sentence
Gives the reader a roadmap that
you are concluding.
Does not provide substance.
Merely shifts from body paragraphs
to conclusion
I have loved my three years at
EMS…
Your Turn: Transition
Try writing a transition sentence
about the prompt from yesterday
Who was a role model for you and
why?
Restate Thesis
Try to restate your thesis in different
words and/or deeper thinking.
Thesis: The most memorable
moment in my life was the 1987
Minnesota Twins World Series win.
Restate: The Twins victory that day
sealed their world title and made
my day.
Your Turn: Restate
Thesis
Try writing a thesis statement of
any kind.
Then, restate it in other words or
with deeper meaning.
Types of Final Ideas
1. A statement about the significance of the
essay's subject (Why was it important for the
reader to know what you just finished
explaining?)
2. A call to action
 Ex: The fate of Chinese dissidents is still
unknown. Action must be taken to spare them
from torture and death.
Final Ideas
3. A warning based on the essay's thesis
 Example: If efforts to reduce and recycle are
not soon put into effect, we will be polluting
our own nest beyond habitation.
4. A quotation or story that sums up the essay's
point, may be taken from your text or your
personal experience, etc.
Final Ideas
5. An image or description that lends a feeling
of finality to the essay.
6. A question (based on the essay's point that
makes the reader think further about its
implications. BUT the question must be
carefully worded so that the reader does not
wonder WHAT to think.)
7. Refer back to your introduction.
Your Turn: Final Ideas
 1. Statement of
significance
 2. Call to action
 3. A warning
 4. Quotation
 5. Relevant story
 6. An image
 7. A question
A good intro paragraph
starts with a…
1.
2.
3.
4.
Hook
Thesis
Preview
Transition
sentence
25%
1
25%
25%
2
3
25%
4
"I love living in the
United States." is a…
1.
2.
3.
4.
Hook
Thesis
Preview
Transition
sentence
25%
1
25%
25%
2
3
25%
4
"For these reasons, I
would choose me." is a…
1.
2.
3.
4.
Hook
Thesis
Preview
Transition
sentence
25%
1
25%
25%
2
3
25%
4
New information should
not be presented here…
1. Conclusion
paragraph
2. Introduction
3. Paragraph
33%
1
33%
2
33%
3
A good intro paragraph
_____ a conclusion P.
1.
2.
3.
4.
Mimics
Differs from
Mirrors
Is identical
25%
1
25%
25%
2
3
25%
4
0
0
0
0
0
Participant 1
Participant 2
Participant 3
Participant 4
Participant 5
Participant Scores
In conclusion…
Put it all together…
Who was a role model for you and
why?
Now, write a complete conclusion
paragraph using the skills we have
learned!