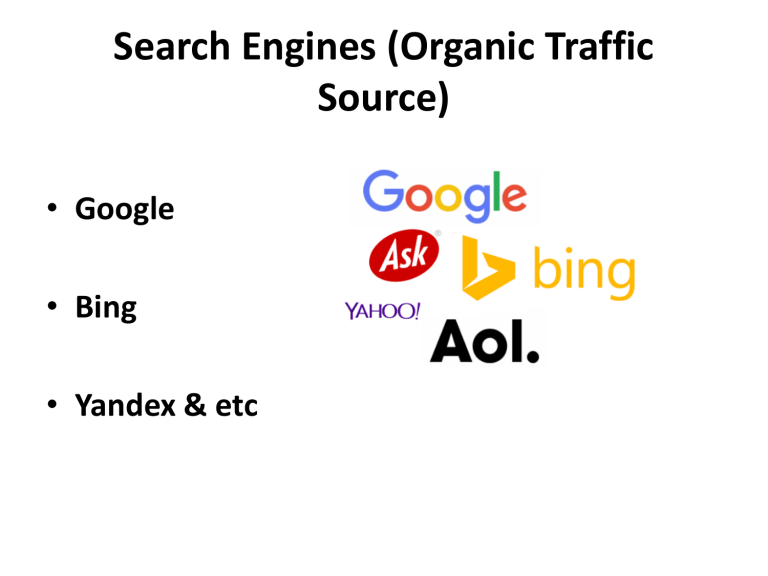 Search Engines (Organic Traffic
Source)
• Google
• Bing
• Yandex & etc
Optimization
• Defination: the action of making the best or most effective use of a
situation or resource.
• Hit & Trail recursive process.
• Like a Radio Frequency Tuning.
• Applied in every field even for monthly home budgeting.
Search Engine Optimization (Google)
• Search engine optimization (SEO) is the process of optimizing your online
content so that a search engine (Google) likes to show it as a top result for
searches of a certain keyword.
• Magic which brings your website on the first page or top position of the
google when someone searches for a specific keyword.
• 1st Position Result gets highest Volume of traffic (Approx 50%-90%)
• Real benefit  Being on the Top (No.1)
Why Google??
Google
Bing
Google Ranking Factors
•
•
•
•
•
•
•
•
•
A Secure and Accessible Website (HTTPS)
Page Speed
Mobile Friendliness (Responsiveness)
Domain Age (Old is Gold)
Unique, Fresh & Quality Content (No Spin, No
Copy)
Optimized Content (On Page SEO)
User Experience (RankBrain - Google Algo)
Backlinks (Off Page SEO)
Social Signals
User Experience
Content Is The King
SEO Types (Process)
• On Page SEO
– Our Control, Low Competition kw's mostly ranks due to better On-Page SEO.
• OFF Page SEO
– Can be Controlled but risky and leads to a penalty, if caught by Google.
On Page SEO
– Title (H1) (Must Include Focus/ Main Kw)
– URL / Slug (Must Include Focus/Main Kw)
– Use of Main kw in meta description.
– Main Kw must be used in first 100 words of the article.
– Use LSI Keywords for better understanding for Google (example:
cricket)
– Use of KW & LSI KW's in Subheading (H2, H3)
On Page SEO
– Use Kw's & LSI kw's in Image file name, alt text, title, description and
caption.
– Interlinking pages with in the site
– Use techniques to make user stay at site as long as possible but with
purpose.
– Bucket Brigades (Wait it's not finished yet, We have something more
for you).
– Page Speed & Mobile Friendly
– Use of relevant Schema (Structured)
OFF-Page SEO (Most Imp. Ranking Factor)
• You can rank low competition Kw's with ONPage SEO but for ranking high competition
kw's, you've to built site authority by doing
OFF Page SEO or Link Building.
OFF Page SEO & WebSite Authority
• How Site Authority Builts?
– Larger no. of other websites links to your website
pages.
BackLink Types
– Do Follow
– No Follow
Do Follow Vs No Follow
• Do Follow Backlink passes link juice, and
allows the Google crawler to crawl the
mentioned website.
• No Follow tag restricts the google not to crawl
mentioned link and doesn't permit google to
pass site link juice to the other website.
Link Juice
Off Page SEO (Backlinking/Link Building)
1. Comment Backlinks
2. Forum Backlinks
3. Web 2.0 Backlinks (Free Blogs)
4. Social Signals
5. Profile Backlinks
6. Wikipedia Links
7. Q & A sites like Quora
8. Guest Posts
9. Link Exchange
10. Email Outreach
11. Redirect 301 (Expired Domain)
12. Scholarhip Backlinks
13. Donation Backlinks
14. PBN's (Private/Personal Blog Network)
OFF-Page SEO – Best Practises
• Backlinking (Better to earn backlink rather to make it), only possible if you
produce some epic content, which people likes to share and talk about.

Google doesn't permit to use all of above link building practises, So, try this
at your own Risk :D
• Site may get penalized by Manual Penalty which make website out of the
google search engine record.
• Algorithmic Penalty can de-Rank your site rankings.
OFF-Page SEO – Warning
This Warning is for Off Page SEO only.
Questions?