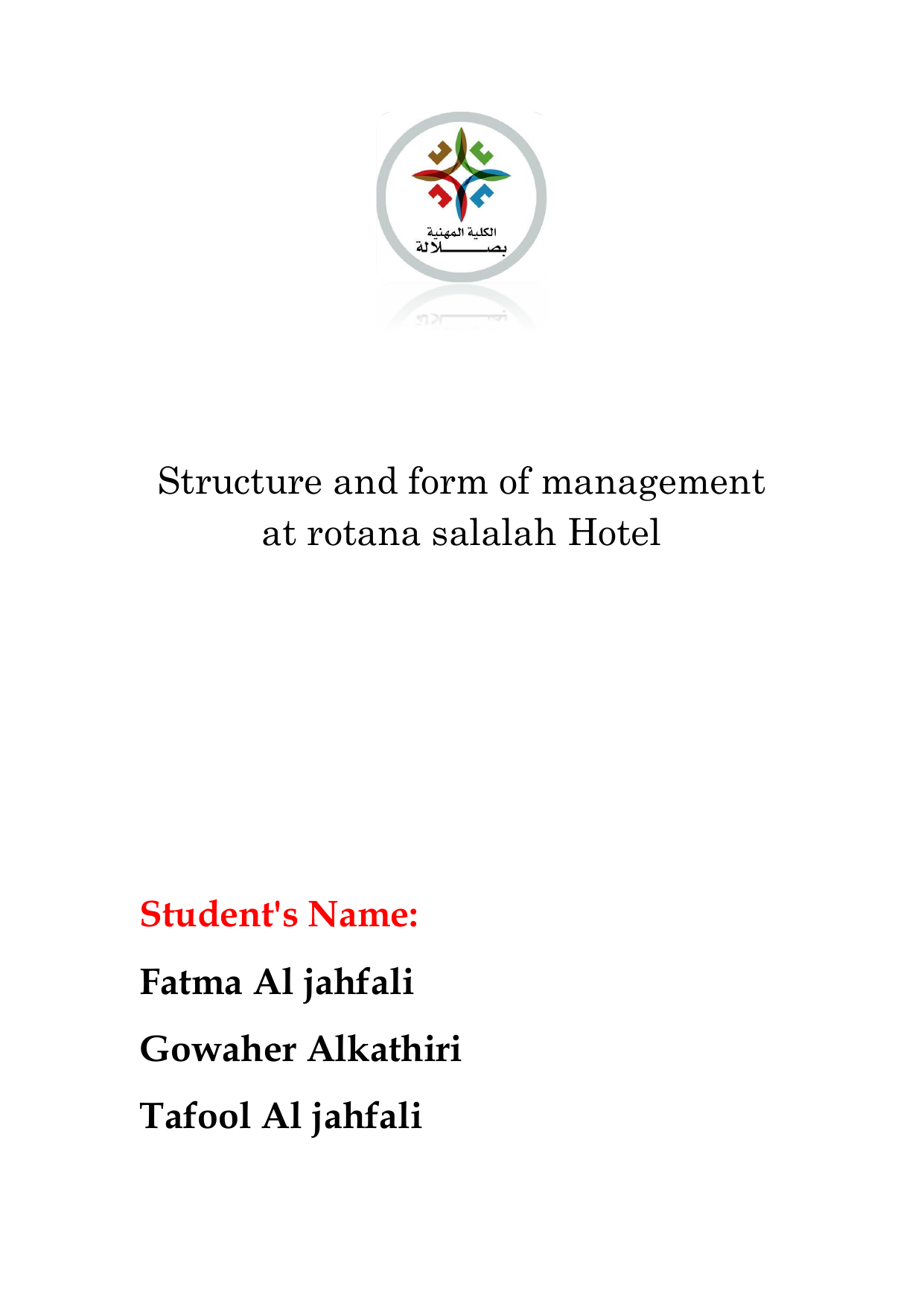 Structure and form of management
at rotana salalah Hotel
Student's Name:
Fatma Al jahfali
Gowaher Alkathiri
Tafool Al jahfali
Whether large or small, needs an
organizational structure to
carry out its day-to-day operations. It is used
to help divide
tasks, determine the function for each
department, and delegate
authority within and between departments.
Effective job
specifications will increase labor productivity
and efficiency.
Here is the organizational structure of the
Rotana Salalah Hotel.
Mainly divided into six divisions: finance,
front office, human
resources, food, beverage, sales and logistics
as follows:
Chairman
President and CEO
Executive Vice
President & Chief
Operating
Executive Vice
President & Chief
Financial Officer
Officer
Sales and
Revenue
Engineering
Housekeeping
Area Vice
Senior Vice President Abu
President - Dhabi & Al Ain
Development
Projects
Development
India
Area Vice
President Dubai
& Northern
Materials
emirates
Sustainability
Operations
Marketing
Communication
Area Vice
President
Lebanon
Bahrain,
Kuwait,
Area Vice
President
Saudi Arabia,
Iraq & Sudan
Information
Technology
Hotels
General
EHS Hotels Committee
Corporate Sustainability
Committee Members
Department
Heads
EHS
Manager
Senior Management: Usually represented by the
General Manager or the Chairman of the Board of
Directors
Middle management level: usually represented by
department
or branch managers, and is concerned with
implementing
hotel policies and strategies in branches or sections.
The level of executive management: usually
represented by
(executive managers) and is concerned with
supervision of
implementation and management of human
resources
operational.
Decisions are made by all levels
of management, critical
decisions are made by senior
management.