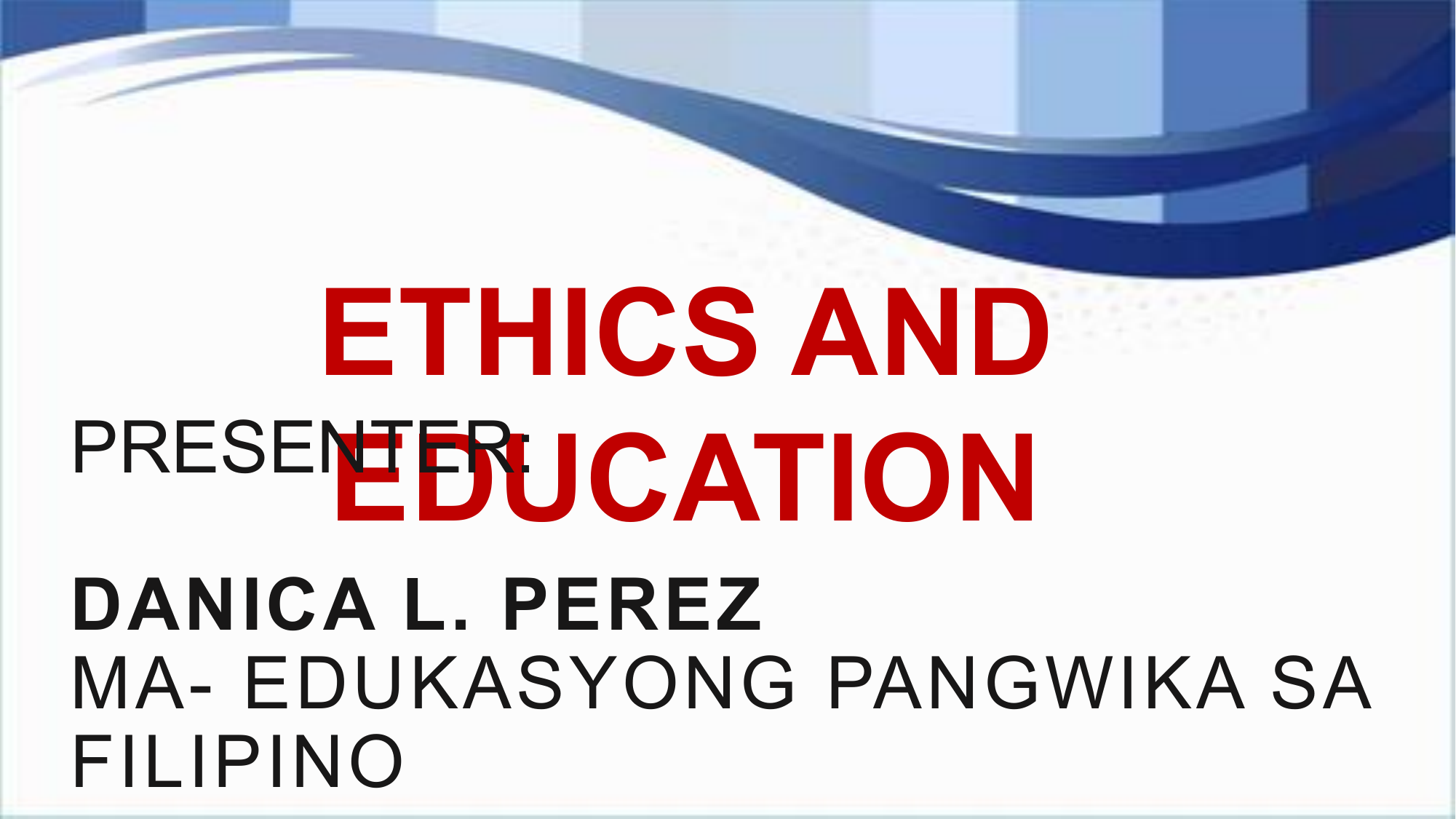 ETHICS AND
PRESENTER:
EDUCATION
DANICA L. PEREZ
MA- EDUKASYONG PANGWIKA SA
FILIPINO
WHY ETHICS IN EDUCATION?
Ethics in education are essential as they
help run the system smoothly.
"It deals with standards set by profession to
regulate
members' behavior in the profession. The
professional has a personal commitment to
individual client, to general public, to the
profession and its stature." (Kfir and Shamal,
WHY ETHICS IN EDUCATION?
Ethics in education are applicable on both
the instructors as well as the students.
"Brookfield (2006), says that the person who
chose to be a teacher in for the interest of
helping students learn, and that will be
his/her first priority."
WHY ETHICS IN EDUCATION?
 Ethics in education that are applicable on
teachers require them to show patience to
every student despite their learning
abilities.
"The educational leaders' understanding of what
it means to be a human being and his /her
understanding of how human beings should
treat one another ultimately affect all ethical
Ethics education can be
divided into four stages:
1- Ethics education in family
2- Ethics education in school
3- Ethics education in university
4- Ethics education in business
1. In family, ethics education should focus on descriptive
facts. Children observe their parents' ethical behaviors and
they learn social facts about ethical behavior.
2. In school, students learn what is right and what is wrong.
This is a value education or character education.
3. In university, ethics should be professional ethics.
4. In business, people learn some ethical codes about their
occupations.
www.sciencedirect.co
Ethical Education
Ethical Education is a key
component
of
the
Educate
Together model; it's a curriculum
that is living in Ireland's equalitybased schools and it seeks to offer
students
the
opportunity
to
meaningfully and critically reflect
upon the world around them.
www.educatetogether.ie
Ethical Education aims to extend and
hone students' ability to:
 To explore local and global issues
 To question and investigate their own
beliefs, values and worldview and those of
others
"Talkies and Seaton (2007) noted that ethical standards
and evaluations differ from one culture to another
depending on the cultural beliefswww.educatetogether.i
and behavior."
Ethical Education aims to extend and
hone students' ability to:
 To
develop
empathy
intercultural awareness
and
 To
hone
communication,
discussion, debate and critical
thinking skills
Educate Together schools teach Ethical Education as
an independent subject at primary (Learn Together)
and second-level (Ethical Education Curriculum). The
curriculum strands are outlined below:
Primary
Secondary
Moral and Spiritual
Equality and Justice
Belief Systems
Ethics and the Environment
Values
Making Moral and
Decisions
Beliefs and Worldviews
Different
Teachings
Perspectives
Diversity in Ireland
Migration
Power and Participation
Ethical
and
Strategy building
In 2017, the Globethics.net Board of Foundation
Foundation in Geneva, Switzerland, home to the
world's largest digital online library on ethics,
decided to intensify and focus on the integration
of Ethics in Higher Education as its key strategic
route. This agenda has resulted in consultations
and training happening for teachers and
stakeholders around the globe.
ETHICAL ISSUES
Ethical issues refer to the situations that
require a person or an organization to
choose between alternatives that must
be evaluated as right (ethical) or wrong
(unethical). (Barrett, 2005).
ACTIVITY 
ETHICAL-DECISION
MAKING
How to be Fair and Ethical in the
Classroom
 Impartiality. Students expect an instructor to treat
everyone in the class equally. Few professors
intentionally favor certain students over others, but it
is probably impossible not to like some students
more than others.
 Respect. Respect involves treating students politely.
 Concern for students. Students expect their
instructors to care about them and their academic
performance.
(Whitley, Jr., B., Perkins,et al.,
2000)
How to be Fair and Ethical in the
Classroom
 Integrity. Integrity
means being consistent
and
truthful, and explaining your policies, procedures and
decisions and why they are necessary, so that their
fairness can be judged and understood.
 Propriety. Propriety means acting in a socially
acceptable manner that does not offend students'
sensibilities.
(Whitley, Jr., B., Perkins,et al., 2000)
A code of ethics is a guide of principles
designed to help professionals conduct
business honestly and with integrity. It is also
referred to as an "ethical code," may
encompass areas such as business ethics, a
code of professional practice and an employee
code of conduct.
CODE OF ETHICS FOR
PROFESSIONAL TEACHERS IN
THE PHILIPPINES
Pursuant to the provisions of paragraph
(e), Article 11, of R.A. No. 7836,
otherwise known as the Philippine
Teachers Professionalization Act of
1994 and paragraph (a), section 6, P.D.
No. 223, as amended, the Board for
Professional Teachers hereby adopt the
SOME ETHICAL ISSUES TO
PONDER
In 2009, a Georgia teacher was forced to resign when a
picture of the teacher holding a drink was posted on
Facebook.
The teacher was on vacation in Europe at the time
The school felt like the teacher was promoting alcohol use
Court upheld decision because they feel that anyone who
resigns even under pressure can't be considered
involuntary termination (Downey, 2011)
SOME ETHICAL ISSUES TO
PONDER
Chicago public school teacher refused to teach
kindergarten curriculum because of religious beliefs
The teacher's religious beliefs prevented them from
promoting love of country
Court ruled that teacher's beliefs must be respected but
that the teacher can't force beliefs on students by
bypassing parts of curriculum (Schimmel, Stellman, &
Fischer, 2011).
SOME ETHICAL ISSUES TO
PONDER
Inireklamo ang isang guro sa bayan ng Lupi, Camarines
Sur dahil sa malakas umanong pamamalo sa puwet ng
isang estudyante sa kindergarten na nag-iwan pa ng pasa.
Natakot nang pumasok sa eskuwelahan ang limang taong
gulang na si "Jojo" matapos paluin noong Hunyo 28 ng
guro gamit umano ang stick na panturo sa pisara. (ABSCBN News)
SOME ETHICAL ISSUES TO
PONDER
Inireklamo ng isang magulang ang isang Grade 2 teacher dahil
sa mga pangungusap sa test paper ng kaniyang anak
patungkol sa extrajudicial killings (EJK) at imahe ng pulisya.
Unang nag-viral sa social media ang post ng magulang.
Kuwento ni alyas "Jacky," kung hindi pa nagtanong ang anak ay
hindi niya mapapansin ang nilalaman ng test paper.
Pang-uri sa Filipino ang paksa ng pagsusulit pero nabahala siya
sa ilang pangungusap na ginamit.
SOME ETHICAL ISSUES TO
Narito ang ilang mga inilagay ng guro:
PONDER
Pulang-pula ang dugo na nagkalat sa sahig.
Abusado ang mga pulis.
Matataba at malalaki ang tiyan ng mga pulis.
Masama ang extrajudicial killings.
"Sinabihan niya lang ako na 'Mommy, paano nangyari na 'yung dugo
nagkalat sa sahig?' Ano yun? Sabi ko sa movie mo ba nakita 'yan o may
nakita ka ba? 'Yun pa ang inisip ko," ayon kay Jacky.
"Tapos biglang nagtanong na naman siya na 'Mommy, bakit sabi
abusado ang mga pulis? Di ba, Mommy, ang abusado, bad 'yun?' Kasi
ang son ko, gusto niya maging pulis paglaki kaya nagulat ako," dagdag
ng ina.
END.