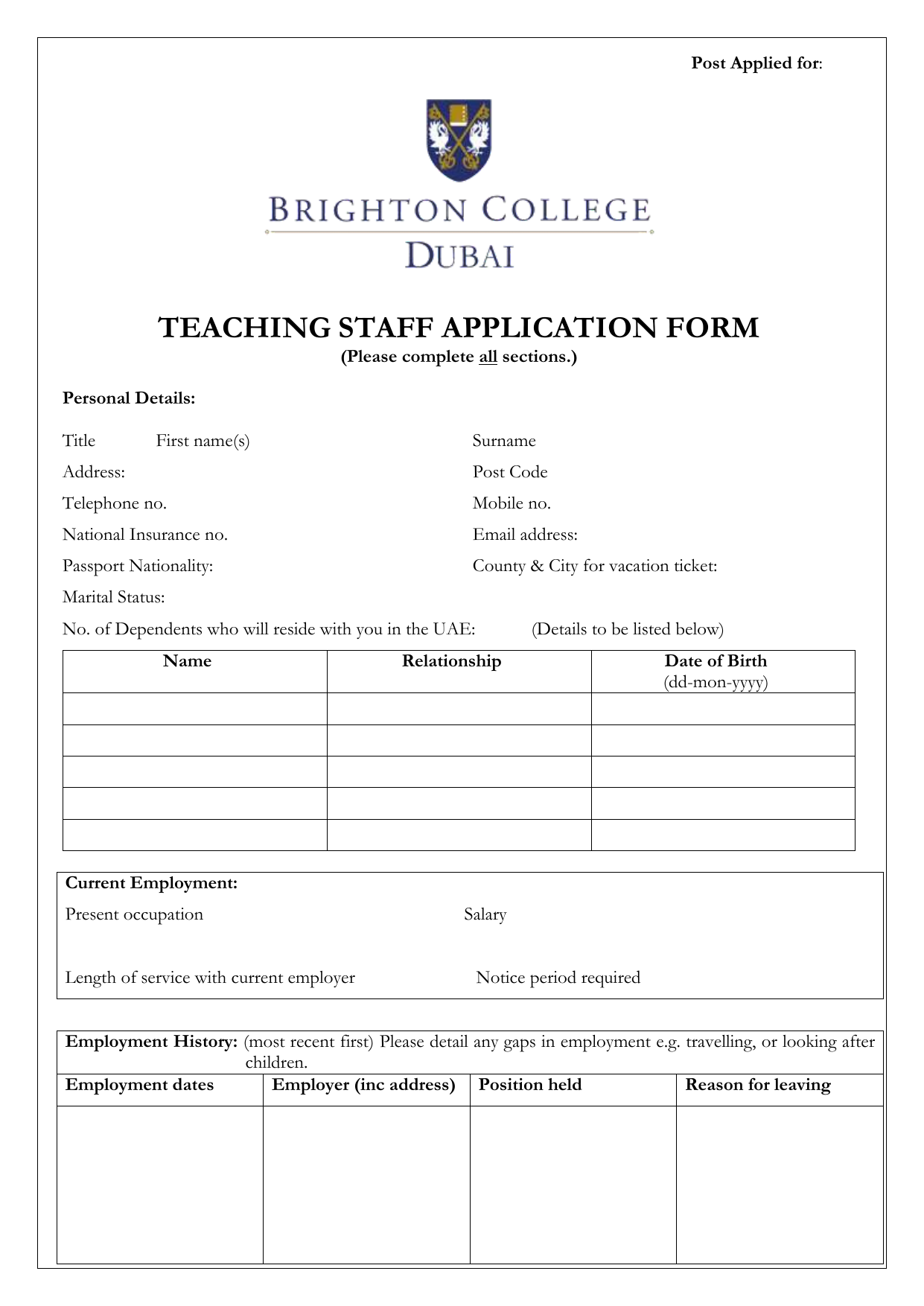 Post Applied for:
TEACHING STAFF APPLICATION FORM
(Please complete all sections.)
Personal Details:
Title
First name(s)
Surname
Address:
Post Code
Telephone no.
Mobile no.
National Insurance no.
Email address:
Passport Nationality:
County & City for vacation ticket:
Marital Status:
No. of Dependents who will reside with you in the UAE:
Name
(Details to be listed below)
Relationship
Date of Birth
(dd-mon-yyyy)
Current Employment:
Present occupation
Length of service with current employer
Salary
Notice period required
Employment History: (most recent first) Please detail any gaps in employment e.g. travelling, or looking after
children.
Employment dates
Employer (inc address) Position held
Reason for leaving
Please continue on a separate sheet if necessary.
References: Please give the name, address and telephone number of two contactable referees, one of whom
must be your most recent employer. References will not be accepted from relatives or from people writing
solely in the capacity of friends. Please note any previous employer may be approached for a reference.
Name
Address
Phone no
Occupation
Capacity known
E mail address
Education, Qualification and Training:
School
Qualification
Grade
Date
University/College
Qualification
Grade
Date
Please continue on a separate sheet if necessary.
Other skills: Please list any other skills or interests relevant to the post.
Please continue on a separate sheet if necessary.
A letter of application containing an account of your suitability for this post should accompany this
form.
Please provide your DFE reference number:
Do you have a Qualified Teacher (QTS) status?
Yes
No
Are you registered with the GTC for England?
Yes
No
Are there any restrictions to your residence in the UK that might affect your right to take up
employment in the UAE?
Yes
No
If yes to the above, are there any factors that would restrict your ability to obtain a valid work permit?
Give details.
If you are related to any existing employees, pupils or governors of Brighton College UK, Brighton
College Bangkok, any other Brighton College sister schools in the UAE or Dwight School Dubai,
please state the relationship:
Do you consider yourself to have a disability?
Yes
No
If so, do you require any special arrangements to enable you to attend interview?
Health record:
Please estimate the number of days' absence taken due to sickness in the last two years:
_____________________________________________________________________________
___
I hereby declare that I am not on the ISA Barred List (List 99), disqualified from working with children, or
subject to sanctions imposed by a regulatory body, e.g. the General Teaching Council (GTC), and have no
convictions, cautions, or bind-overs. Alternatively, if applicable, details regarding my record have been
attached in a sealed envelope marked confidential.
I confirm that the information given on this form is, to the best of my knowledge, true. Any false statement
may be sufficient cause for rejection or, if employed, dismissal.
I agree that Brighton College Dubai reserves the right to require me to undergo a medical examination. I
agree that this information will be retained in my personnel file during employment and for up to six years
thereafter, and I understand that the information will be processed in accordance with the UK Data
Protection Act.
Signed:
Date:
I hereby declare that the information given on this application form is true and accurate.
Signed:
Date:
This post is exempt from the Rehabilitation of Offenders Act. Brighton College is committed to safeguarding
and promoting the welfare of children; all successful applicants will be subject to an enhanced DBS disclosure.
Brighton College Dubai is committed to safeguarding and promoting the welfare of children and young people
and expects all its employees and volunteers to share this commitment. All employees resident in the UAE are
subject to the laws of the United Arab Emirates and the regulations of the Knowledge and Human
Development Authority.