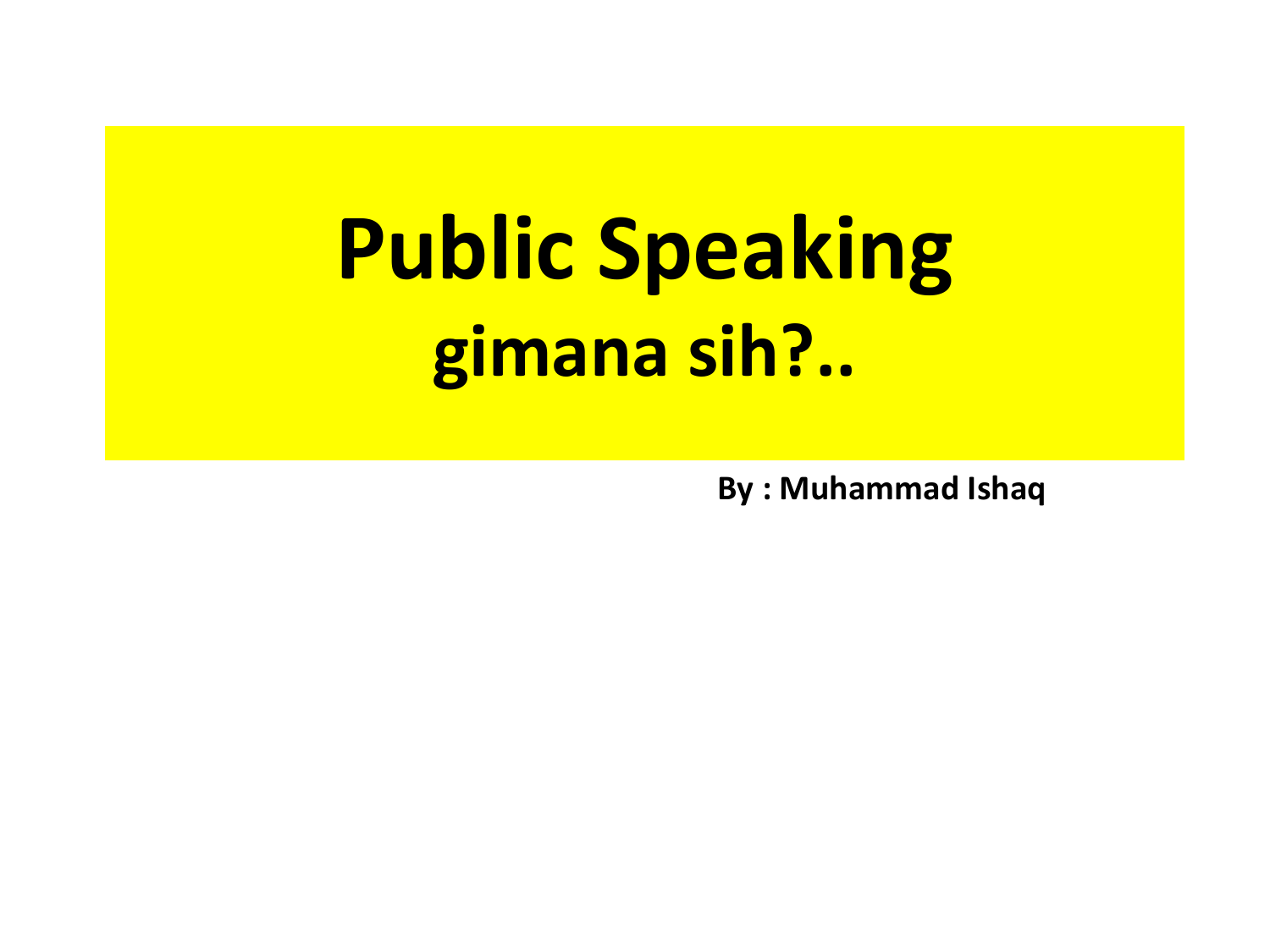 Public Speaking
gimana sih?..
By : Muhammad Ishaq
All the great speakers were
a bad speakers first
Ralph Waldo Emerson
Penting banget emang public speaking?
Gue gak suka-suka amat kak...
Its beyond about presentation in
front of class...
Terus gimana nanti pas lo..
•
•
•
•
Ngenalin diri ke calon mertua?
Interview magang atau kerja?
Negosiasi?
Menjelaskan suatu peristiwa, dimana lo saksinya...
• Kehilangan kesempatan bagus,
karena lo gak tau cara ngomongnya..
Lo takut...
Oke, terus gue harus gimana dong?
1. Tarik nafas,
BISMILLAHIROHMANIROHIM..
Yok bisa yok!
Awali presentasi dengan hal asik..
1.
2.
3.
4.
Quotes
Fakta
Humor
Interaksi dengan audience
Biasanya kendala di public speaking tuh apa aja?
• Word gravity (ee.. Apatuh.. Iya gitu
maksudnya.. Pleh pweeh)
• Nervous
• Baper liat audience huhu
• Gak ngerti mau ngomong apa
• Gatau takut aja kak
Perhatikan ini ya!
• Template muka
• Gesture
• Gaya pakaian
• Kebersihan
"Butuh latihan loh"
• Mengerti materi, gak boleh bohong..
(when you understant confident will follows)
• Vocal to convice audience
(mainkan inotasi sesuai presentasi!)
• Ekspresi
(make your audience not only listen to you, but
also feel you)
PUBLIC SPEAKING
Verbal
Visual
Voice
7%
38%
55%
• Verbal : kosa kata (5%)
• Voice : artikulasi, tempo, nada (40%)
• Visual : mimik, gesture, kontak mata,
penampilan (55%)
Be Authentic!
Lo harus keren ketika tampil :p
Keren itu bukan kata kita
Tapi kata orang yang "merasa"
Setelah mendengar kita dan cerita kita.
Itu yang priceless
-Didi Mudita
"Its not about
What you say
Its about
HOW YOU SAY"
Belajar Dari Soekarno
&
Bread talk
Any question?