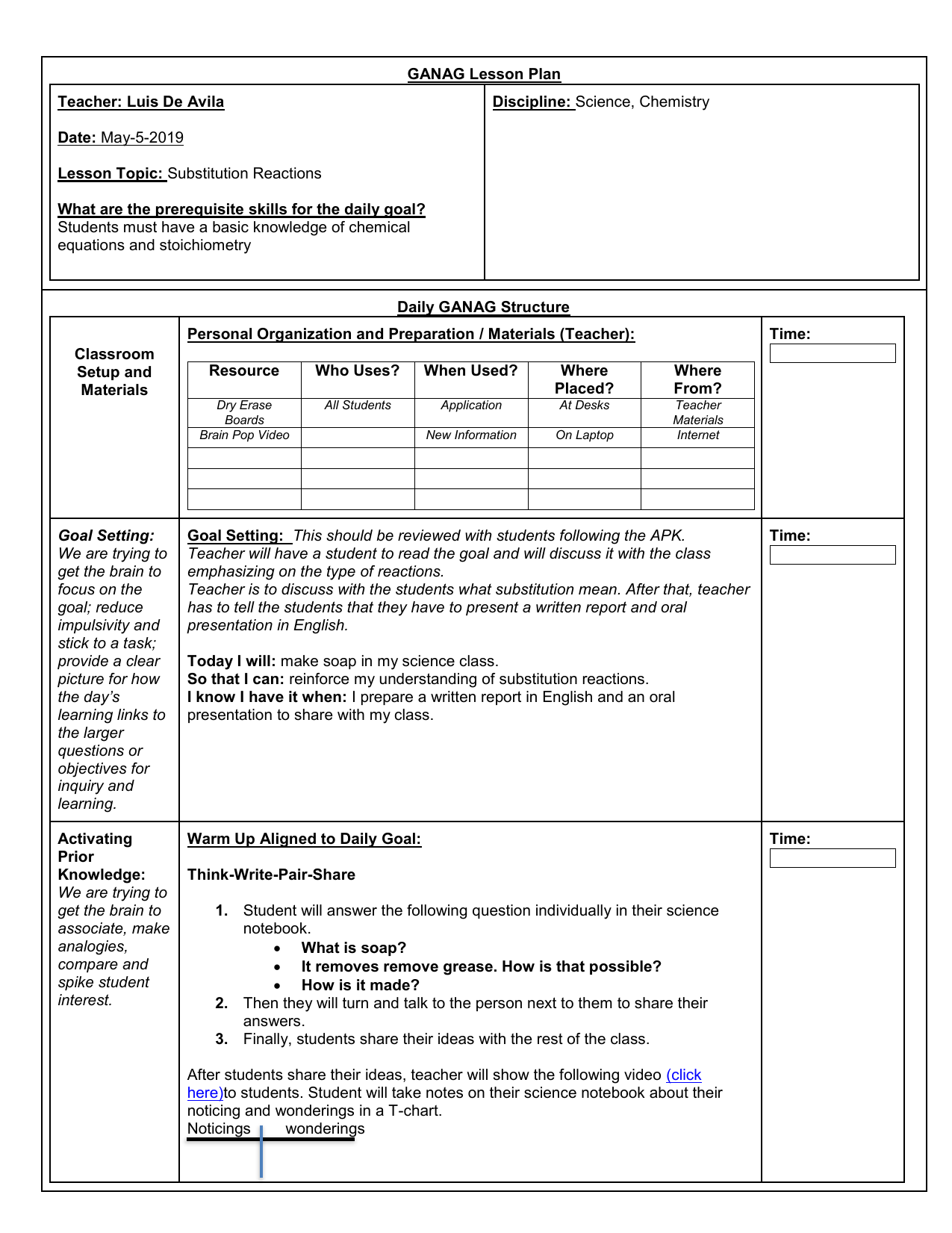 GANAG Lesson Plan
Teacher: Luis De Avila
Discipline: Science, Chemistry
Date: May-5-2019
Lesson Topic: Substitution Reactions
What are the prerequisite skills for the daily goal?
Students must have a basic knowledge of chemical
equations and stoichiometry
Daily GANAG Structure
Personal Organization and Preparation / Materials (Teacher):
Classroom
Setup and
Materials
Time:
Resource
Who Uses?
When Used?
Where
Placed?
Where
From?
Dry Erase
Boards
Brain Pop Video
All Students
Application
At Desks
New Information
On Laptop
Teacher
Materials
Internet
Goal Setting:
We are trying to
get the brain to
focus on the
goal; reduce
impulsivity and
stick to a task;
provide a clear
picture for how
the day's
learning links to
the larger
questions or
objectives for
inquiry and
learning.
Goal Setting: This should be reviewed with students following the APK.
Teacher will have a student to read the goal and will discuss it with the class
emphasizing on the type of reactions.
Teacher is to discuss with the students what substitution mean. After that, teacher
has to tell the students that they have to present a written report and oral
presentation in English.
Activating
Prior
Knowledge:
We are trying to
get the brain to
associate, make
analogies,
compare and
spike student
interest.
Warm Up Aligned to Daily Goal:
Time:
Today I will: make soap in my science class.
So that I can: reinforce my understanding of substitution reactions.
I know I have it when: I prepare a written report in English and an oral
presentation to share with my class.
Think-Write-Pair-Share
1. Student will answer the following question individually in their science
notebook.
 What is soap?
 It removes remove grease. How is that possible?
 How is it made?
2. Then they will turn and talk to the person next to them to share their
answers.
3. Finally, students share their ideas with the rest of the class.
After students share their ideas, teacher will show the following video (click
here)to students. Student will take notes on their science notebook about their
noticing and wonderings in a T-chart.
Noticings
wonderings
Time:
New
Information:
Introduction of
New
Information: We
are trying to get
the brain to
gather,
organize, and
make meaning
of information.
New Info Source: teacher will hand out the procedure for the experiment and will
have students read it and discuss it with them by asking confirmation questions.
After that, teacher will review the safety guidelines for the lab.
Time:
Application of
new learning
(Student Work
time): Students
need to be
given an
opportunity to
apply their new
information to a
relevant and
higher-order
situation.
Application Task: Students will perform the lab and will take notes about their
observations. Teacher will monitor students at all times.
Time:
Generalizing
on Goal and
learning: We
are trying to get
the brain to "put
a tab on the
folder," make a
connection to
the goal and
retain the
information
learned
Exit Ticket Prompt:
Have students answer the following prompt on a piece of paper: describe the
process of making soap.
Time:
HW
Assessment
(Components
1E, and 1F)
Homework Assignment:
 Reading: the story behind soap.
 Students will prepare a written report in English and will get prepared for
an oral presentation of it.
Review Check For Understanding: Are we ready to move on?
Additional Information: Since students are English learners the teacher must prepare in advance in collaboration with the
English teacher some stem sentences that students can use when they write their report and while presenting.
Sample stem sentences:
Science Lab Report Sentence Starters
Purpose
 The purpose of this experiment was….
 This lab relates to the things we have been learning in class because....
 One skill I practiced in this lab was....
 Some other skills I used were....
 In this lab I did/did not need a hypothesis because….
Conclusions
 At the end of this experiment, I ended up with ______g of ______.
 These results make sense/ do not make sense because….
 In this lab I learned…. I also learned….
 I believe I accomplished the goals of this lab because…
 In this lab, I got to practice….
Error analysis
 At the end of the experiment, I ended up with _____g of ___, but the theoretical yield showed have been_____. My
percent yield/ error was…, which means….
 One source of error may have been….
 This would have affected my results because….
 Another source of error was…
 It would have affected my results because….
 If I could do this again, I would….