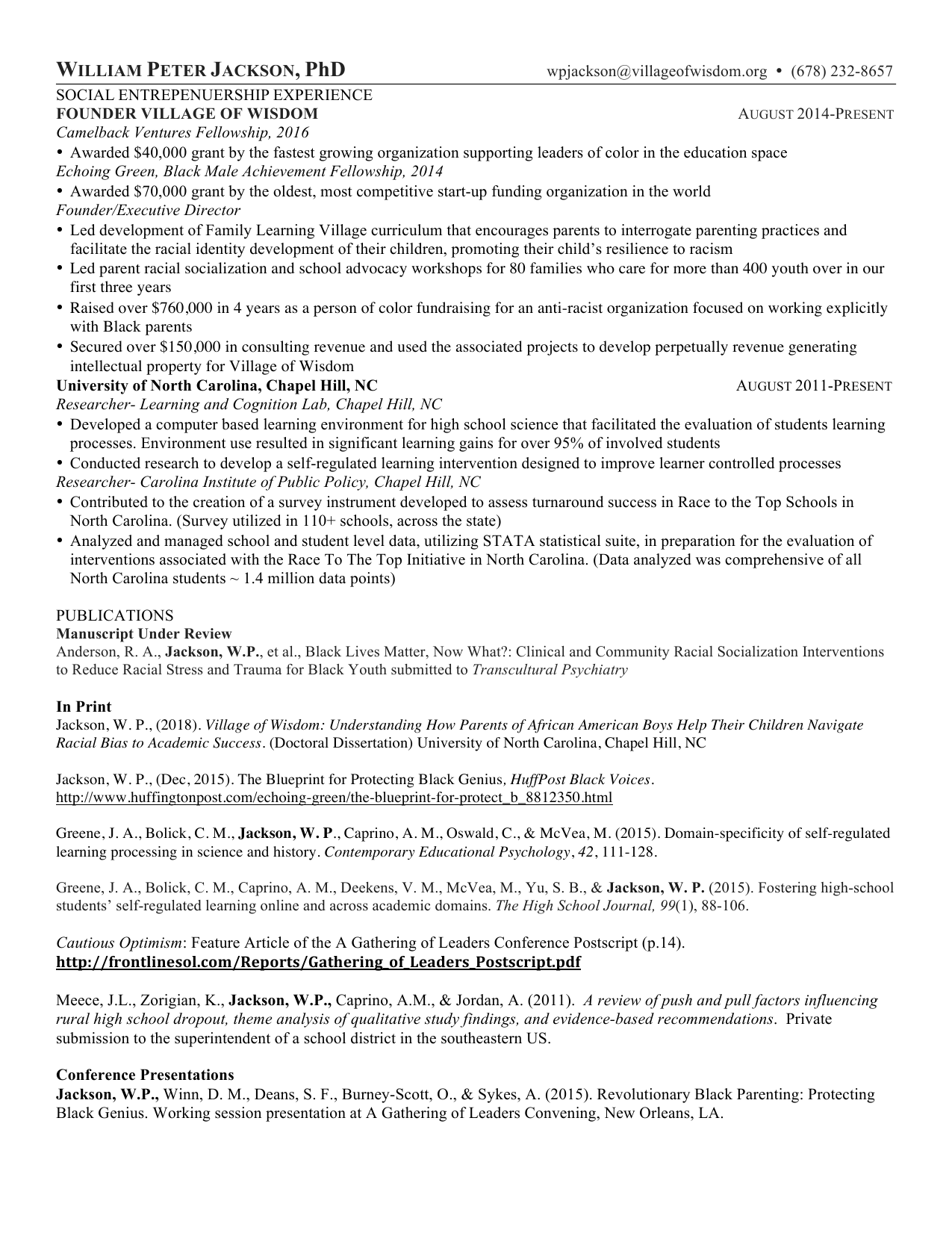 WILLIAM PETER JACKSON, PhD
[email protected] Ÿ (678) 232-8657
SOCIAL ENTREPENUERSHIP EXPERIENCE
FOUNDER VILLAGE OF WISDOM
AUGUST 2014-PRESENT
Camelback Ventures Fellowship, 2016
• Awarded $40,000 grant by the fastest growing organization supporting leaders of color in the education space
Echoing Green, Black Male Achievement Fellowship, 2014
• Awarded $70,000 grant by the oldest, most competitive start-up funding organization in the world
Founder/Executive Director
• Led development of Family Learning Village curriculum that encourages parents to interrogate parenting practices and
facilitate the racial identity development of their children, promoting their child's resilience to racism
• Led parent racial socialization and school advocacy workshops for 80 families who care for more than 400 youth over in our
first three years
• Raised over $760,000 in 4 years as a person of color fundraising for an anti-racist organization focused on working explicitly
with Black parents
• Secured over $150,000 in consulting revenue and used the associated projects to develop perpetually revenue generating
intellectual property for Village of Wisdom
University of North Carolina, Chapel Hill, NC
AUGUST 2011-PRESENT
Researcher- Learning and Cognition Lab, Chapel Hill, NC
• Developed a computer based learning environment for high school science that facilitated the evaluation of students learning
processes. Environment use resulted in significant learning gains for over 95% of involved students
• Conducted research to develop a self-regulated learning intervention designed to improve learner controlled processes
Researcher- Carolina Institute of Public Policy, Chapel Hill, NC
• Contributed to the creation of a survey instrument developed to assess turnaround success in Race to the Top Schools in
North Carolina. (Survey utilized in 110+ schools, across the state)
• Analyzed and managed school and student level data, utilizing STATA statistical suite, in preparation for the evaluation of
interventions associated with the Race To The Top Initiative in North Carolina. (Data analyzed was comprehensive of all
North Carolina students ~ 1.4 million data points)
PUBLICATIONS
Manuscript Under Review
Anderson, R. A., Jackson, W.P., et al., Black Lives Matter, Now What?: Clinical and Community Racial Socialization Interventions
to Reduce Racial Stress and Trauma for Black Youth submitted to Transcultural Psychiatry
In Print
Jackson, W. P., (2018). Village of Wisdom: Understanding How Parents of African American Boys Help Their Children Navigate
Racial Bias to Academic Success. (Doctoral Dissertation) University of North Carolina, Chapel Hill, NC
Jackson, W. P., (Dec, 2015). The Blueprint for Protecting Black Genius, HuffPost Black Voices.
http://www.huffingtonpost.com/echoing-green/the-blueprint-for-protect_b_8812350.html
Greene, J. A., Bolick, C. M., Jackson, W. P., Caprino, A. M., Oswald, C., & McVea, M. (2015). Domain-specificity of self-regulated
learning processing in science and history. Contemporary Educational Psychology, 42, 111-128.
Greene, J. A., Bolick, C. M., Caprino, A. M., Deekens, V. M., McVea, M., Yu, S. B., & Jackson, W. P. (2015). Fostering high-school
students' self-regulated learning online and across academic domains. The High School Journal, 99(1), 88-106.
Cautious Optimism: Feature Article of the A Gathering of Leaders Conference Postscript (p.14).
http://frontlinesol.com/Reports/Gathering_of_Leaders_Postscript.pdf
Meece, J.L., Zorigian, K., Jackson, W.P., Caprino, A.M., & Jordan, A. (2011). A review of push and pull factors influencing
rural high school dropout, theme analysis of qualitative study findings, and evidence-based recommendations. Private
submission to the superintendent of a school district in the southeastern US.
Conference Presentations
Jackson, W.P., Winn, D. M., Deans, S. F., Burney-Scott, O., & Sykes, A. (2015). Revolutionary Black Parenting: Protecting
Black Genius. Working session presentation at A Gathering of Leaders Convening, New Orleans, LA.