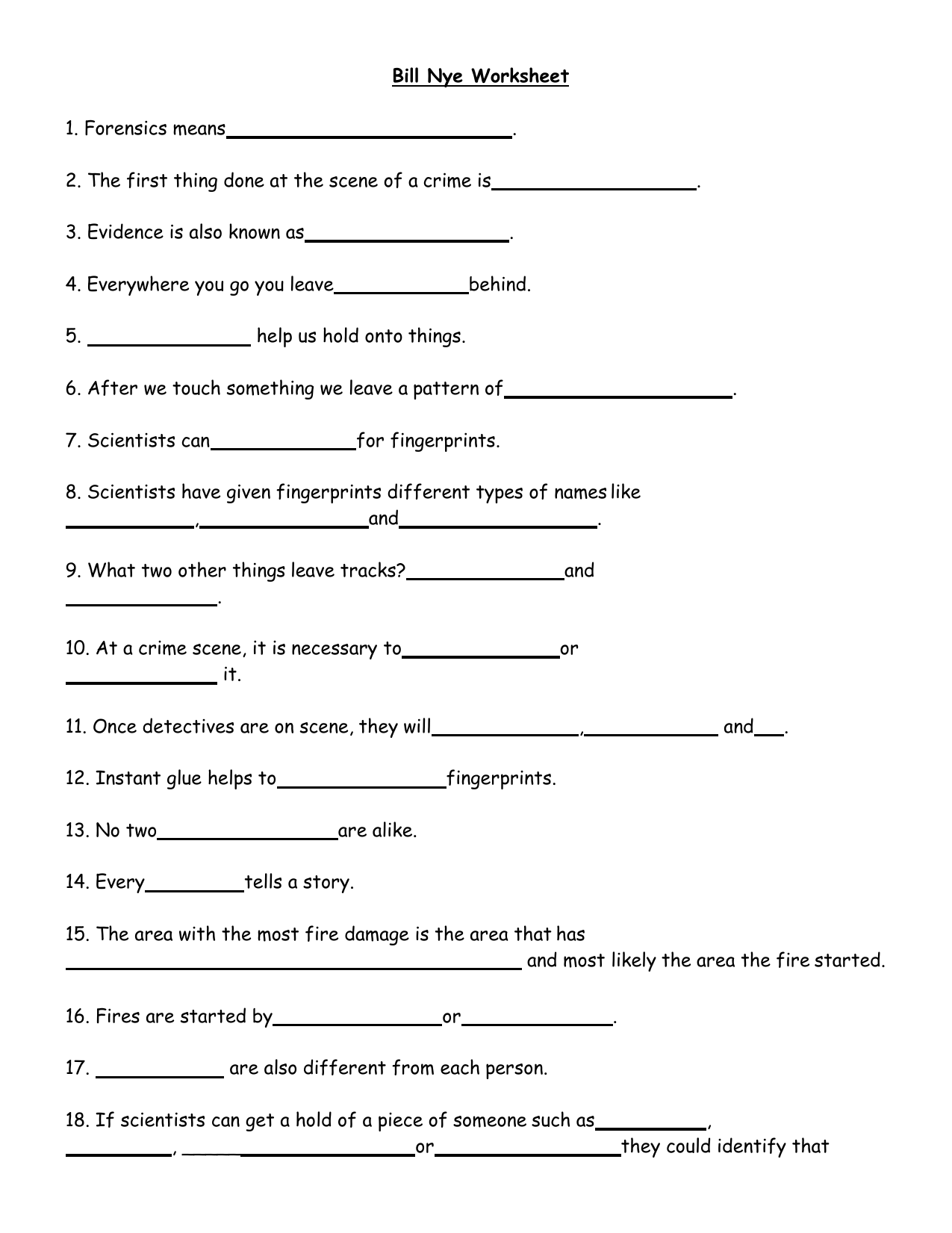 Bill Nye Worksheet
1. Forensics means
.
2. The first thing done at the scene of a crime is
3. Evidence is also known as
.
4. Everywhere you go you leave
5.
.
behind.
help us hold onto things.
6. After we touch something we leave a pattern of
7. Scientists can
.
for fingerprints.
8. Scientists have given fingerprints different types of names like
,
and
.
9. What two other things leave tracks?
.
and
10. At a crime scene, it is necessary to
it.
or
11. Once detectives are on scene, they will
12. Instant glue helps to
13. No two
14. Every
,
and
.
fingerprints.
are alike.
tells a story.
15. The area with the most fire damage is the area that has
and most likely the area the fire started.
16. Fires are started by
17.
or
.
are also different from each person.
18. If scientists can get a hold of a piece of someone such as
, _____
or
,
they could identify that
person.
19.
20.
contains the instructions to make a living thing.
will have the exact same DNA print.
21. A
test will determine which pen was used for a note.
22. The hills and valleys refer to
23. An autopsy means to
.
.
24. Hair identification will allow the detective to connect the ___
to the suspect of victim.
25. At each point of the triangle, one can place what three things?
,
,
Conclude: Write a C-E-R PARAGRAPH to answer: (15 pts)
What are some tests that forensic scientist and detectives can be used to solve crimes?
C= Claim (Answer to the question)
E= Evidence (At least 3 pieces of evidence from the video should be used and explained)
R= Reasoning (Explain how does your evidence supports your claim) Make connections
***Then, Highlight your claim in Yellow, Your evidence in Blue and Your reasoning in
Green.
Share your C-E-R with your table partner for peer review and
discuss how you can you improve it. Revise your Paragraph if
needed.