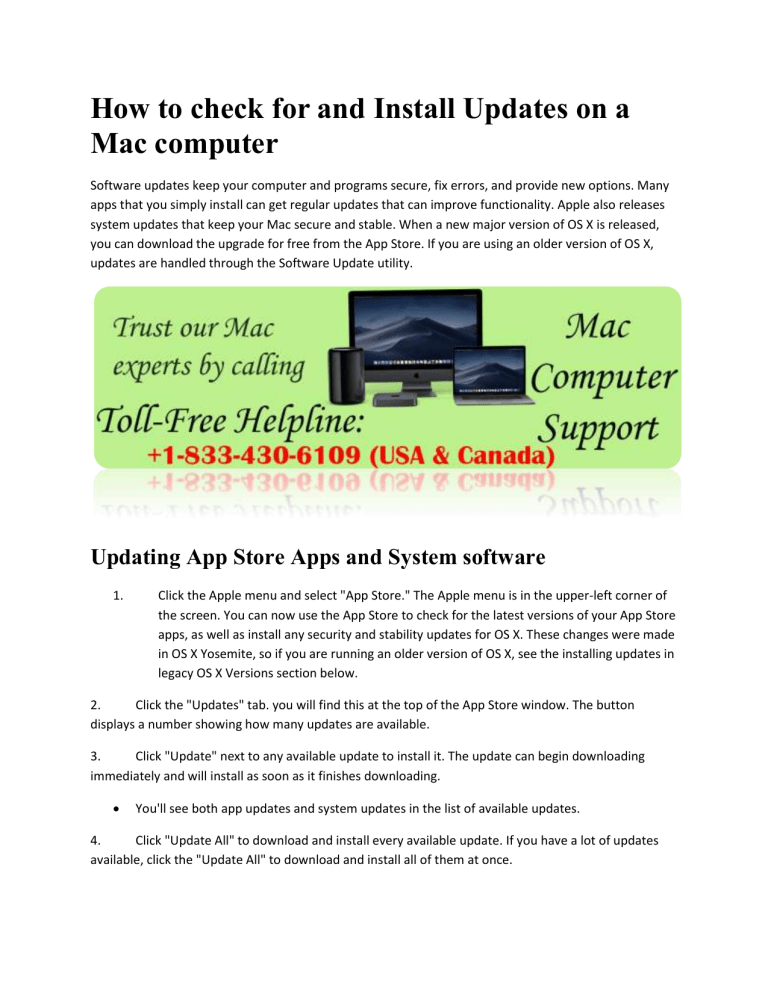 How to check for and Install Updates on a
Mac computer
Software updates keep your computer and programs secure, fix errors, and provide new options. Many
apps that you simply install can get regular updates that can improve functionality. Apple also releases
system updates that keep your Mac secure and stable. When a new major version of OS X is released,
you can download the upgrade for free from the App Store. If you are using an older version of OS X,
updates are handled through the Software Update utility.
Updating App Store Apps and System software
1.
Click the Apple menu and select "App Store." The Apple menu is in the upper-left corner of
the screen. You can now use the App Store to check for the latest versions of your App Store
apps, as well as install any security and stability updates for OS X. These changes were made
in OS X Yosemite, so if you are running an older version of OS X, see the installing updates in
legacy OS X Versions section below.
2.
Click the "Updates" tab. you will find this at the top of the App Store window. The button
displays a number showing how many updates are available.
3.
Click "Update" next to any available update to install it. The update can begin downloading
immediately and will install as soon as it finishes downloading.

You'll see both app updates and system updates in the list of available updates.
4.
Click "Update All" to download and install every available update. If you have a lot of updates
available, click the "Update All" to download and install all of them at once.
5.
Check for updates after installing the updates you had available. Some updates will only appear
after an older update has been installed. Open the Updates tab again} after you've installed all available
updates to see if more are now obtainable.
Enabling Automatic Updates
1.

Open the Apple menu and select "System Preferences."You will turn on automatic updates for
apps and system updates so that you never have to check for them yourself. This will help keep
your software up-to-date and secure
You will find the Apple menu in the upper-left corner of the screen.
2. Click the "App Store" option. This will open the App Store settings.
3. Check the "Automatically check for updates" box. This will enable the various automatic update
options.
4. Check all four boxes underneath "Automatically check for updates." this will automatically check for,
download, and install app updates, system updates, and security updates once a day.
5. Click "Check now" to see if any new updates are available. If any updates are available, they will start
downloading and installing immediately.
Updating Apps installed without the App Store
1.
Check for updates within the app (if available). Many apps that you download from websites or
install from discs have built-in update checkers. Look for one in the help or File menus. Follow

the prompts to examine for and install any obtainable updates. This might uninstall the program
and install the latest version.
Not all programs will have this feature.
2. Visit the developer's website. Some developers will post patches for their programs on their
websites. Visit the homepage for the program and check the "News" or "Downloads" section to see if a
newer version is available.

You can often find a link to the program's web site from the about section of the help menu.
3. Download and install the newest version. Some apps that you install from online sources do not have
update options and will need to be freshly installed with the latest version.



Download the installer for the latest version of the program from the website.
Drag your existing program from the Applications folder to the Trash. This can delete your
program, but will generally preserve your personal settings for the app.
Run the installer that you downloaded and drag the application to your Applications folder. This
will install the latest version.
Mac computers are recognized as one of the most demanding devices among all brands. Accessing
to quick computer support becomes an important requirement due to various technical issues. In
case you are facing any tech problem with your Mac computer, feel free to contact with MAC
Computer Support.