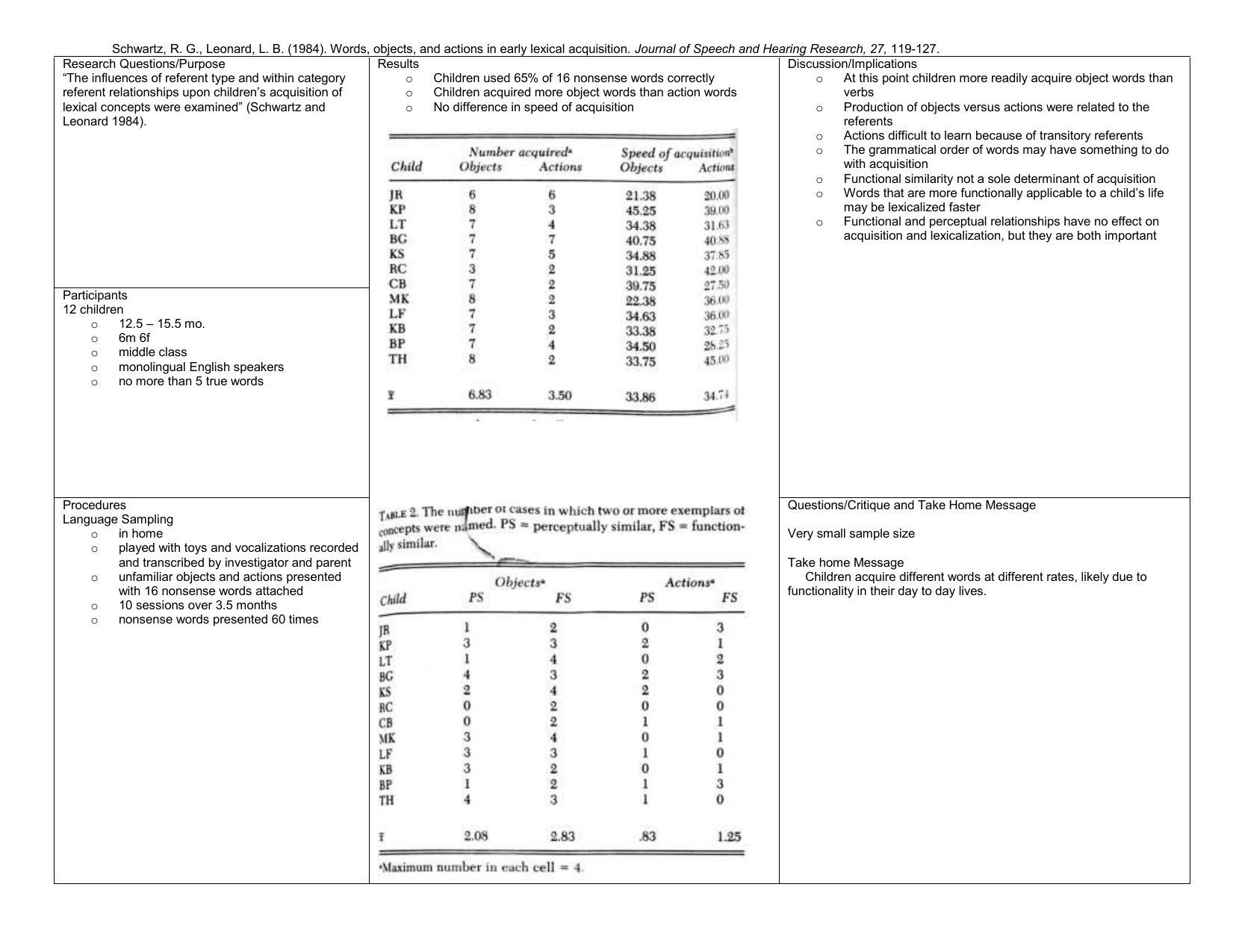 Schwartz, R. G., Leonard, L. B. (1984). Words, objects, and actions in early lexical acquisition. Journal of Speech and Hearing Research, 27, 119-127.
Research Questions/Purpose
Results
Discussion/Implications
"The influences of referent type and within category
o
Children used 65% of 16 nonsense words correctly
o
At this point children more readily acquire object words than
referent relationships upon children's acquisition of
o
Children acquired more object words than action words
verbs
lexical concepts were examined" (Schwartz and
o
No difference in speed of acquisition
o
Production of objects versus actions were related to the
Leonard 1984).
referents
o
Actions difficult to learn because of transitory referents
o
The grammatical order of words may have something to do
with acquisition
o
Functional similarity not a sole determinant of acquisition
o
Words that are more functionally applicable to a child's life
may be lexicalized faster
o
Functional and perceptual relationships have no effect on
acquisition and lexicalization, but they are both important
Participants
12 children
o
12.5 – 15.5 mo.
o
6m 6f
o
middle class
o
monolingual English speakers
o
no more than 5 true words
Procedures
Language Sampling
o
in home
o
played with toys and vocalizations recorded
and transcribed by investigator and parent
o
unfamiliar objects and actions presented
with 16 nonsense words attached
o
10 sessions over 3.5 months
o
nonsense words presented 60 times
Questions/Critique and Take Home Message
Very small sample size
Take home Message
Children acquire different words at different rates, likely due to
functionality in their day to day lives.