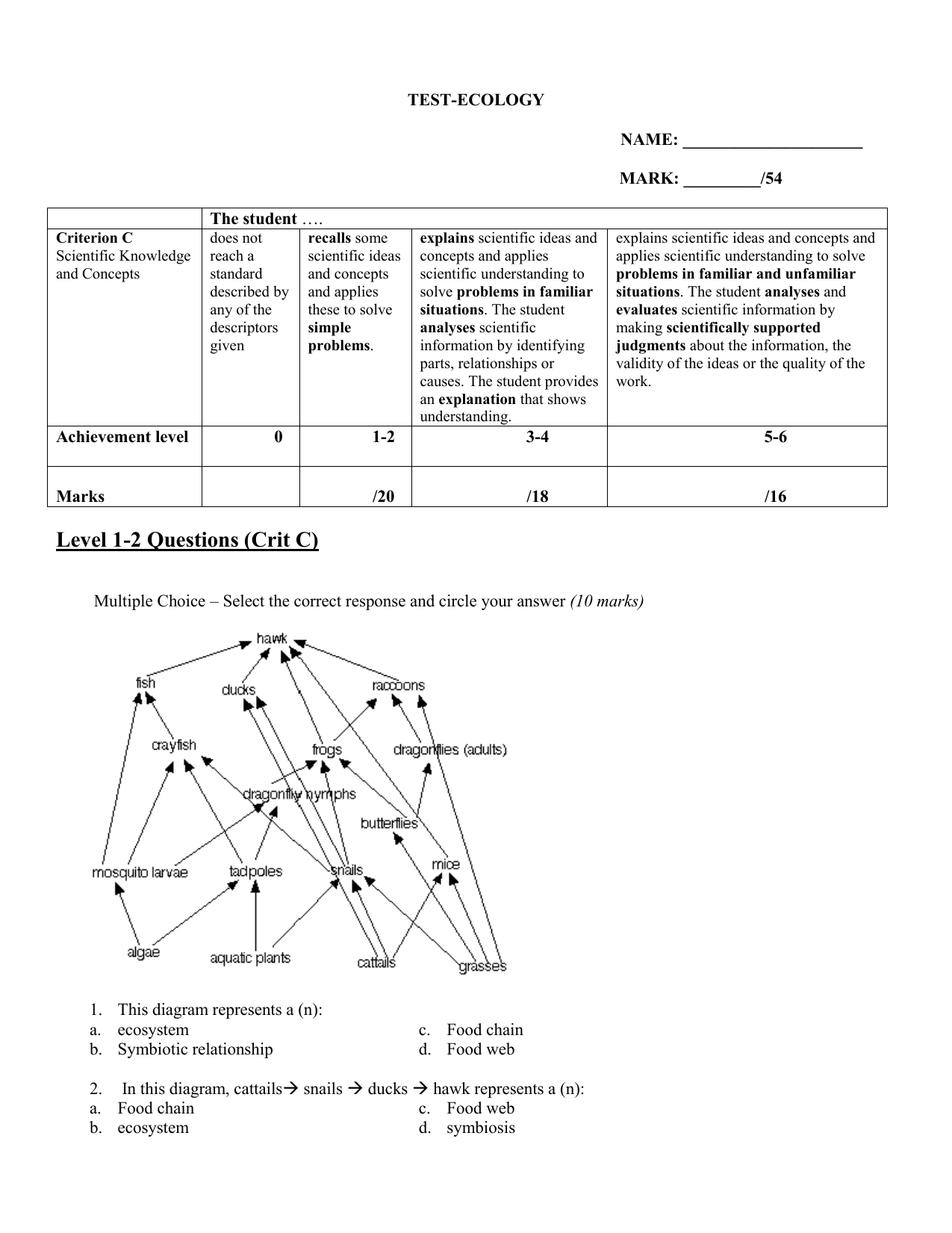 TEST-ECOLOGY
NAME: _____________________
MARK: _________/54
The student ….
Criterion C
Scientific Knowledge
and Concepts
Achievement level
does not
reach a
standard
described by
any of the
descriptors
given
recalls some
scientific ideas
and concepts
and applies
these to solve
simple
problems.
0
Marks
explains scientific ideas and
concepts and applies
scientific understanding to
solve problems in familiar
situations. The student
analyses scientific
information by identifying
parts, relationships or
causes. The student provides
an explanation that shows
understanding.
explains scientific ideas and concepts and
applies scientific understanding to solve
problems in familiar and unfamiliar
situations. The student analyses and
evaluates scientific information by
making scientifically supported
judgments about the information, the
validity of the ideas or the quality of the
work.
1-2
3-4
5-6
/20
/18
/16
Level 1-2 Questions (Crit C)
Multiple Choice – Select the correct response and circle your answer (10 marks)
1. This diagram represents a (n):
a. ecosystem
b. Symbiotic relationship
c. Food chain
d. Food web
2. In this diagram, cattails snails  ducks  hawk represents a (n):
a. Food chain
c. Food web
b. ecosystem
d. symbiosis
3. A second-order consumer in this diagram would be the:
a. algae
c. hawk
b. snails
d. frogs
4. Which of the following organisms would be classified as decomposers?
a. Corn, beetles and bacteria
c. Bacteria, water and air
b. Bacteria, fungus and mould
d. Fungus, spiders and water
5. A group of organisms of different species that live and interact together is referred to as a(n)
a. ecosystem.
c. population.
b. community.
d. biome.
6. The process by which light energy is converted into chemical energy is called:
a. respiration
c. photosynthesis
b. transpiration
d. None of the above
7.
a.
b.
c.
d.
An organic compound is one that
can only be produced by a living organism.
contains atoms that must include carbon, hydrogen, and phosphorus.
contains atoms that must contain carbon and hydrogen.
is released into the atmosphere as a result of combustion of fossil fuels.
8.
a.
b.
c.
d.
Modern water-soluble pesticides have less effect on top predators because
they act more quickly.
they last longer.
they accumulate only in the bodies of the pests for which they are intended.
they do not accumulate in the bodies of the top predators.
9. The bacteria that break down nitrates and return the nitrogen gas to the atmosphere are called
a. nitrogen-fixing.
c. nitrite-fixing.
b. nitrate-fixing.
d. denitrifying.
10.
a.
b.
c.
d.
The biotic potential of a population is defined as
the maximum number of individuals that can be supported indefinitely in an ecosystem.
the maximum number of offspring a species could produce if resources are unlimited.
the nutrient that is in the least supply and limits the population size.
the limited range of abiotic factors range within which an organism can survive.
11. Match each word in Column 1 with the corresponding definitions in Column 2 by placing the correct letter next to
the word in Column 1. ( 7 marks)
Column 1
Column 2
albedo
A
A defined area where one can study the relationships
between organisms.
autotroph
B
A measurement of the percentage of light an object
reflects. Usually in reference to the Earth and Sun.
biodiversity
C
The ability of an ecosystem to survive and be renewed
over time
habitat
D
A specimen which is close to extinction
extinct
E
endangered
F
ecology
G
ecosystem
H
A way of categorizing organisms according to how they
gain their energy
An organisms that makes its own food through
photosynthesis or another chemical reaction
The scientific study of energy transfer and
transformations
A species that no longer exists anywhere on Earth
consumer
I
the role of an organism within an ecosystem
niche
J
population
K
sustainability
L
thermodynamics
M
trophic level
N
The number of species in an ecosystem and the variety
within those species
All the members of a species living in the same
ecosystem at the same time
The conditions and/or place required for the survival of
the species
The study of the interactions of living things between
each other and their environment
An organism that must feed on other organisms to gain
energy
12. Write the word equation for photosynthesis. (1 marks)
13. Differentiate between open and closed population. Give examples. (2 marks)
Level 3-4 Questions (Crit C)
14. In January 2000, the population of varying hares in a mixed woodland ecosystem was 60. Calculate the
population growth rate using the following data: (3 marks)
births = 20
deaths = 25
immigration = 3
emigration = 7
15. Why is nitrogen important to all organisms? Explain the nitrogen cycle in detail and include the information
on three main processes involved. (4 marks)
16. Construct a pyramid of numbers with the following organisms and determine how much pesticide would be
found in the organism at each trophic level. For each trophic level give the total amount of pesticide and the
amount found in each organism. (5 marks)
1000 algae were eaten by 100 small fish, each fish received 2 units of fat soluble pesticide. The small fish were
eaten by 10 large fish. All the 10 fish were eaten by a heron.
17. Graph I shows the growth curve for a culture of Paramecium aurelia. Graph II shows the growth curve for a
culture of Paramecium caudatum, a larger species. Graph III shows the growth curves of both species when they
are grown together.
Figure 1
18a.
From Figure 1, which species has the greater growth rate overall when the species are grown together?
Describe the growth curve of P. caudatum in Graph III. (2 marks)
18b.
What type of population growth curve can be observed in Graphs I and II of Figure 1? (1 mark)
18c.
What is the most likely explanation for the decline of the P. caudatum shown in Graph III of Figure 1?
(1 mark)
18d.
Are the limiting factors for all cultures in Figure 1 density-dependent or density-independent? Explain.
(2 marks)
Level 5-6 Questions (Crit C)
19. Biodegradable insecticides can be broken down in the environment. An example is pyrethrum, a natural
product obtained from chrysanthemum flowers. However, pyrethrum is also toxic to other animals such as fish.
What advice would you give to someone using this insecticide in his or her garden? How often would the
insecticide need to be used? (2 marks)
20. Chek Jawa, on Pulau Ubin, has six different ecosystems consist of coastal forest, mangrove swamps, sandy
beach, mudflats, coral rubble and a tiny island called Frog Island. However, many of the plants and animals found
there are quickly disappearing from Singapore and the rest of the world.
Discuss in detail 3 main reasons for the disappearance of the species and what can we do to conserve the
ecosystems at Pulau Ubin. (6 marks)
21. A certain type of bacteria reproduces every 20 minutes by undergoing mitosis. (8 marks)
a. Prepare a table with the following headings: Time (min); Generation Number; Number of Individuals.
b. Complete the table to show the population of individuals to the end of 4 h.
c. Plot a graph of the data to the end of 2 h.
d. Describe the type of growth pattern shown by the graph.