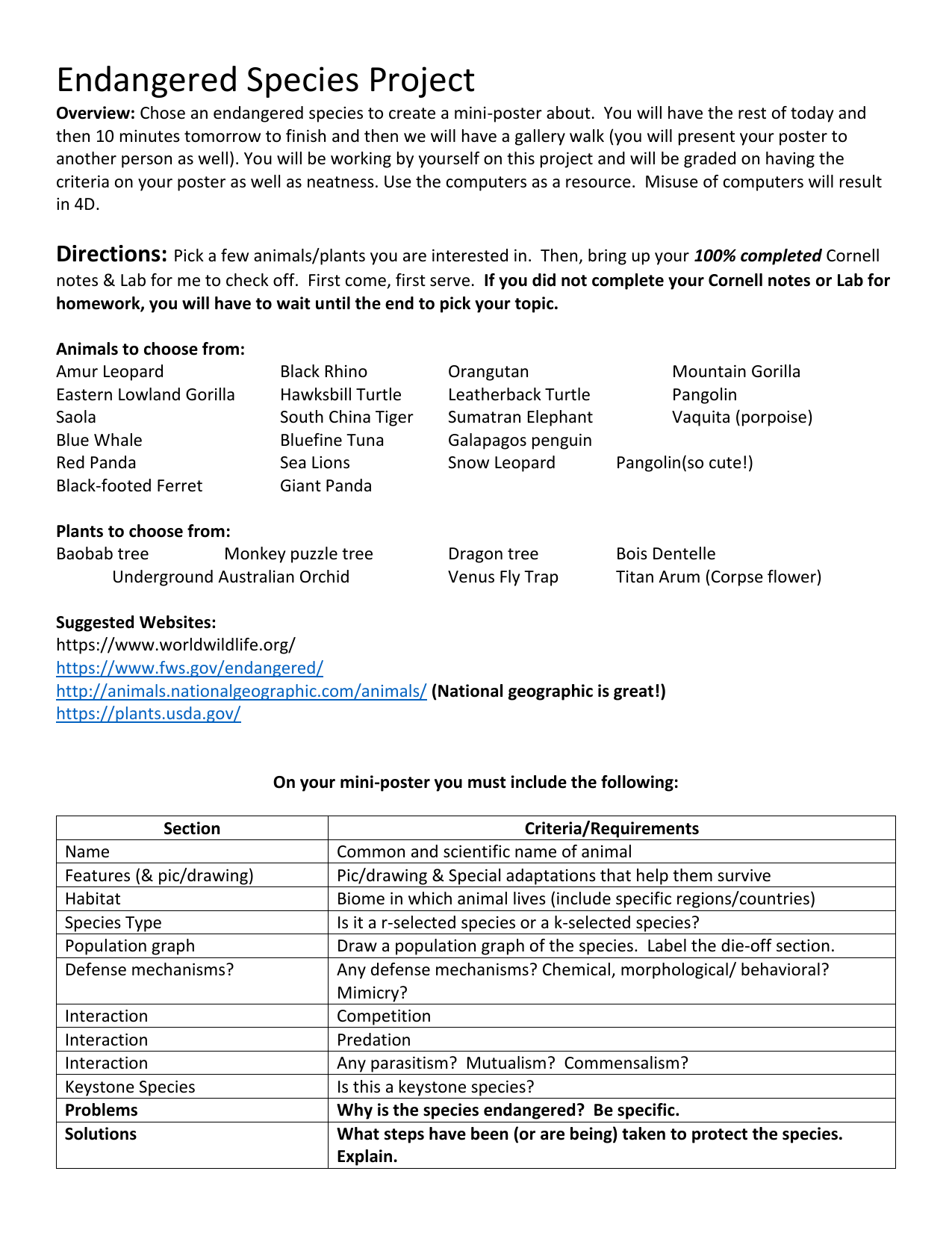 Endangered Species Project
Overview: Chose an endangered species to create a mini-poster about. You will have the rest of today and
then 10 minutes tomorrow to finish and then we will have a gallery walk (you will present your poster to
another person as well). You will be working by yourself on this project and will be graded on having the
criteria on your poster as well as neatness. Use the computers as a resource. Misuse of computers will result
in 4D.
Directions: Pick a few animals/plants you are interested in.
Then, bring up your 100% completed Cornell
notes & Lab for me to check off. First come, first serve. If you did not complete your Cornell notes or Lab for
homework, you will have to wait until the end to pick your topic.
Animals to choose from:
Amur Leopard
Eastern Lowland Gorilla
Saola
Blue Whale
Red Panda
Black-footed Ferret
Black Rhino
Hawksbill Turtle
South China Tiger
Bluefine Tuna
Sea Lions
Giant Panda
Plants to choose from:
Baobab tree
Monkey puzzle tree
Underground Australian Orchid
Orangutan
Leatherback Turtle
Sumatran Elephant
Galapagos penguin
Snow Leopard
Mountain Gorilla
Pangolin
Vaquita (porpoise)
Pangolin(so cute!)
Dragon tree
Venus Fly Trap
Bois Dentelle
Titan Arum (Corpse flower)
Suggested Websites:
https://www.worldwildlife.org/
https://www.fws.gov/endangered/
http://animals.nationalgeographic.com/animals/ (National geographic is great!)
https://plants.usda.gov/
On your mini-poster you must include the following:
Section
Name
Features (& pic/drawing)
Habitat
Species Type
Population graph
Defense mechanisms?
Interaction
Interaction
Interaction
Keystone Species
Problems
Solutions
Criteria/Requirements
Common and scientific name of animal
Pic/drawing & Special adaptations that help them survive
Biome in which animal lives (include specific regions/countries)
Is it a r-selected species or a k-selected species?
Draw a population graph of the species. Label the die-off section.
Any defense mechanisms? Chemical, morphological/ behavioral?
Mimicry?
Competition
Predation
Any parasitism? Mutualism? Commensalism?
Is this a keystone species?
Why is the species endangered? Be specific.
What steps have been (or are being) taken to protect the species.
Explain.