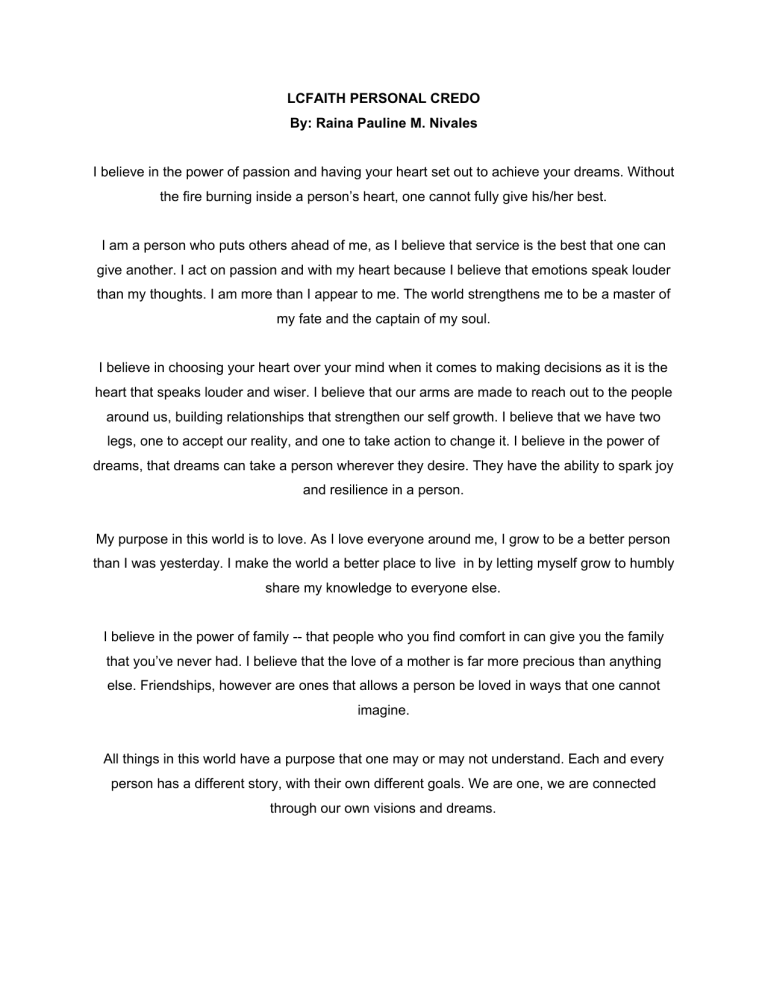 LCFAITH PERSONAL CREDO
By: Raina Pauline M. Nivales
I believe in the power of passion and having your heart set out to achieve your dreams. Without
the fire burning inside a person's heart, one cannot fully give his/her best.
I am a person who puts others ahead of me, as I believe that service is the best that one can
give another. I act on passion and with my heart because I believe that emotions speak louder
than my thoughts. I am more than I appear to me. The world strengthens me to be a master of
my fate and the captain of my soul.
I believe in choosing your heart over your mind when it comes to making decisions as it is the
heart that speaks louder and wiser. I believe that our arms are made to reach out to the people
around us, building relationships that strengthen our self growth. I believe that we have two
legs, one to accept our reality, and one to take action to change it. I believe in the power of
dreams, that dreams can take a person wherever they desire. They have the ability to spark joy
and resilience in a person.
My purpose in this world is to love. As I love everyone around me, I grow to be a better person
than I was yesterday. I make the world a better place to live in by letting myself grow to humbly
share my knowledge to everyone else.
I believe in the power of family -- that people who you find comfort in can give you the family
that you've never had. I believe that the love of a mother is far more precious than anything
else. Friendships, however are ones that allows a person be loved in ways that one cannot
imagine.
All things in this world have a purpose that one may or may not understand. Each and every
person has a different story, with their own different goals. We are one, we are connected
through our own visions and dreams.
I live each day as if it were my last. I think critically, speak gently, love unconditionally, laugh
until my stomach hurts, give as much as I can. I am happy and grateful for how I am made, and
who I will be. I am a person born to love, and serve.