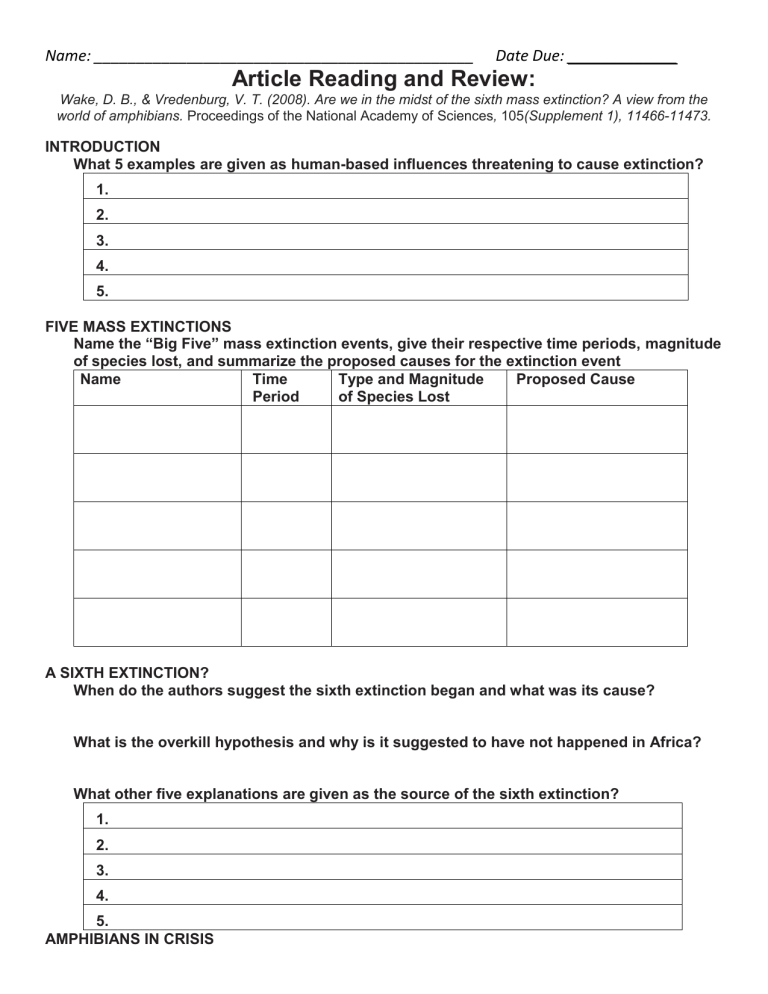 Name: _____________________________________________
Date Due: _____________
Article Reading and Review:
Wake, D. B., & Vredenburg, V. T. (2008). Are we in the midst of the sixth mass extinction? A view from the
world of amphibians. Proceedings of the National Academy of Sciences, 105(Supplement 1), 11466-11473.
INTRODUCTION
What 5 examples are given as human-based influences threatening to cause extinction?
1.
2.
3.
4.
5.
FIVE MASS EXTINCTIONS
Name the "Big Five" mass extinction events, give their respective time periods, magnitude
of species lost, and summarize the proposed causes for the extinction event
Name
Time
Type and Magnitude
Proposed Cause
Period
of Species Lost
A SIXTH EXTINCTION?
When do the authors suggest the sixth extinction began and what was its cause?
What is the overkill hypothesis and why is it suggested to have not happened in Africa?
What other five explanations are given as the source of the sixth extinction?
1.
2.
3.
4.
5.
AMPHIBIANS IN CRISIS
Explain the two main compelling reasons why amphibians are receiving so much attention
during the last few decades.
Explain at least 4 reasons why amphibians are recognized as "multipurpose sentinels of
environmental health"
1.
2.
3.
4.
5.
Provide 3 reasons why frogs are used more than any other amphibian in research studies.
1.
2.
3.
RANA IN THE SIERRA NEVADA OF CALIFORNIA
Biological surveys conducted nearly a century ago by Grinnell and Storer (1924) provide a
great basis for modern day comparison. Based on those historical values, what is the
story of the Yellow-legged frog?
COMMON THEMES IN AMPHIBIAN DECLINES
What seem to be the 3 common environmental changes that affect the disappearance of
frog species across the globe?
IS GLOBAL WARMING A REAL EXTINCTION THREAT?
What is the range of temperature change that can be expected within the next 100 years?
What interesting facts about amphibians were observed as additional mountain peaks
were surveyed for species ranges?
What will climate change likely do for these mountain range specific species?
WHAT WILL WE LOSE?
What is the current extinction rate for amphibians in comparison to the background
extinction rate?
What populations of amphibians are the most susceptible to extinction? Why?
WHAT IS THE PRINCIPAL CAUSE OF THE PRESENT EXTINCTION SPASM?
Describe the domino-like series of human influences that the authors claim to be causing
the major environmental impacts on amphibians
What is the authors' call to action?