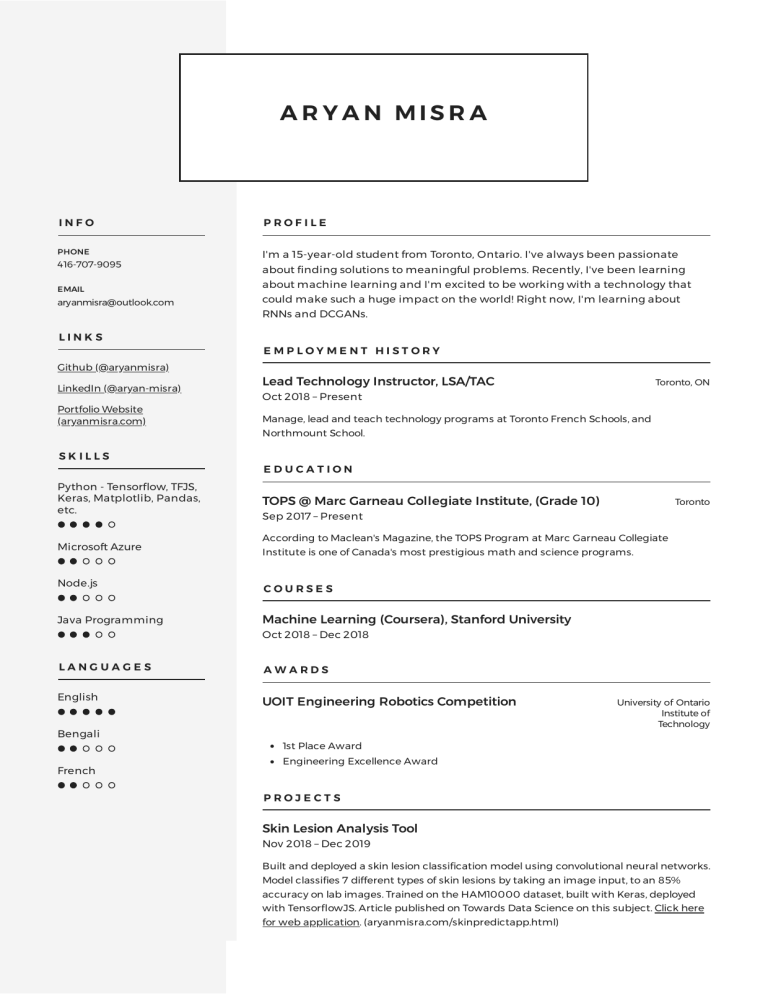 ARYAN MISRA
INFO
PROFILE
PHONE
I'm a 15-year-old student from Toronto, Ontario. I've always been passionate
about finding solutions to meaningful problems. Recently, I've been learning
about machine learning and I'm excited to be working with a technology that
could make such a huge impact on the world! Right now, I'm learning about
RNNs and DCGANs.
416-707-9095
EMAIL
aryanmisra@outlook.com
LINKS
EMPLOYMENT HISTORY
Github (@aryanmisra)
LinkedIn (@aryan-misra)
Portfolio Website
(aryanmisra.com)
Lead Technology Instructor, LSA/TAC
Toronto, ON
Oct 2018 – Present
Manage, lead and teach technology programs at Toronto French Schools, and
Northmount School.
SKILLS
EDUCATION
Python - Tensorflow, TFJS,
Keras, Matplotlib, Pandas,
etc.
Microsoft Azure
Node.js
Java Programming
TOPS @ Marc Garneau Collegiate Institute, (Grade 10)
Toronto
Sep 2017 – Present
According to Maclean's Magazine, the TOPS Program at Marc Garneau Collegiate
Institute is one of Canada's most prestigious math and science programs.
COURSES
Machine Learning (Coursera), Stanford University
Oct 2018 – Dec 2018
LANGUAGES
AWARDS
English
UOIT Engineering Robotics Competition
Bengali
University of Ontario
Institute of
Technology
1st Place Award
French
Engineering Excellence Award
PROJECTS
Skin Lesion Analysis Tool
Nov 2018 – Dec 2019
Built and deployed a skin lesion classification model using convolutional neural networks.
Model classifies 7 different types of skin lesions by taking an image input, to an 85%
accuracy on lab images. Trained on the HAM10000 dataset, built with Keras, deployed
with TensorflowJS. Article published on Towards Data Science on this subject. Click here
for web application. (aryanmisra.com/skinpredictapp.html)
Sinewave Denoising
Feb 2019
Using time-series analysis with LSTMs to predict sinewaves from noisy inputs. Click here.
PUBLICATIONS
Logistic Regression Application Article
Towards Data Science
Nov 2019
Published an article on "Towards Data Science" regarding the applications of Logistic
Regression, specifically spam classification. Read here.
Skin Lesion Classification Project Article
Towards Data Science
Dec 2018
Published an article on my Skin Lesion Classification project and also talk about
Convolutional Neural Networks. Read here.
Capsule Network Article
Towards Data Science
Jan 2019
An overview of the "Dynamic Routing Between Capsules" paper, published by Geoffrey
Hinton. Gives an overview of how Capsule Networks work and their current problems.
Read here.