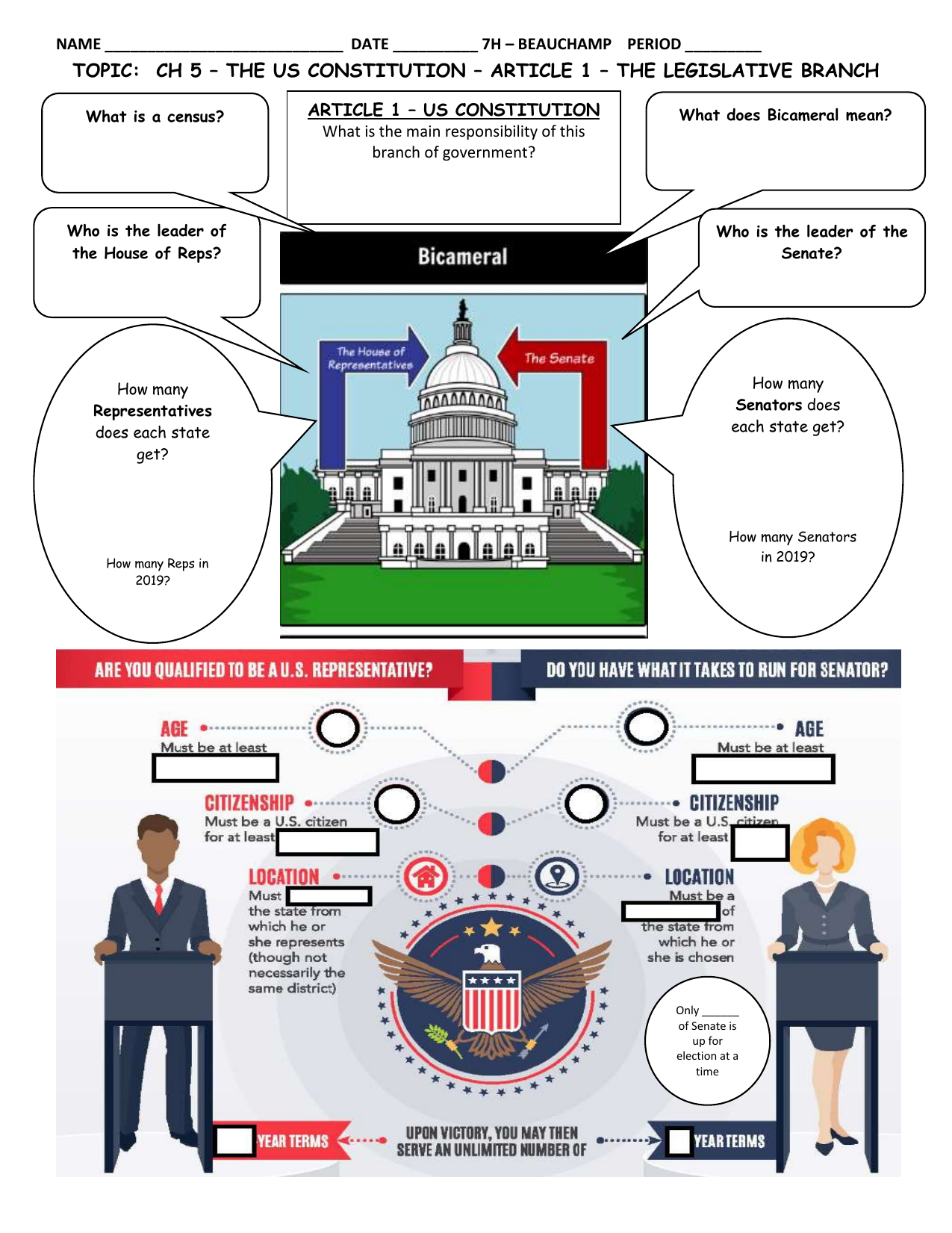 NAME ____________________________ DATE __________ 7H – BEAUCHAMP PERIOD _________
TOPIC: CH 5 – THE US CONSTITUTION – ARTICLE 1 – THE LEGISLATIVE BRANCH
What is a census?
Who is the leader of
the House of Reps?
How many
Representatives
does each state
get?
How many Reps in
2019?
ARTICLE 1 – US CONSTITUTION
What is the main responsibility of this
branch of government?
What does Bicameral mean?
Who is the leader of the
Senate?
How many
Senators does
each state get?
How many Senators
in 2019?
Only ______
of Senate is
up for
election at a
time
RESPONSIBILITES OF THE LEGISLATIVE BRANCH
As a member of the Congress, or the legislative branch, you have the power to:







Introduce new laws;
Override a presidential veto;
Coin money;
Borrow money on behalf of the United States;
Appropriate money to the executive branch (the president);
Declare war;
Impeach* or remove the president from office.
You can check the powers of the president by:



Overriding a presidential veto on a bill;
Impeaching or removing the president; and
Approving presidential appointments to the Supreme Court, the Cabinet, and federal agencies
(like the F.B.I.).
You can check the powers of the Supreme Court by:



Confirming judiciary appointments to the Court;
Impeaching or removing justices; and
Proposing new amendments to the Constitution.
Scenario/Goal:
After a trip abroad, the President is impressed with the unconditional allegiance that citizens in
some other countries display toward their leaders. Inspired, he/she can hardly wait to disembark Air
Force One and return to the White House. Once home, they head straight for the Oval Office. Inside,
the President begins brainstorming a series of actions he/she can take to make U.S. citizens more
devoted to their leadership.
The President proposes a law to the Congress requiring a change to the wording of the Pledge of
Allegiance. Instead of pledging allegiance to the United States of America, you propose, citizens should
pledge allegiance to you. ("I pledge allegiance to the honorable president of the United States of
America and promise my unconditional support for all decisions that our brave leader makes…")
Using your constitutional authority check the power of the President.