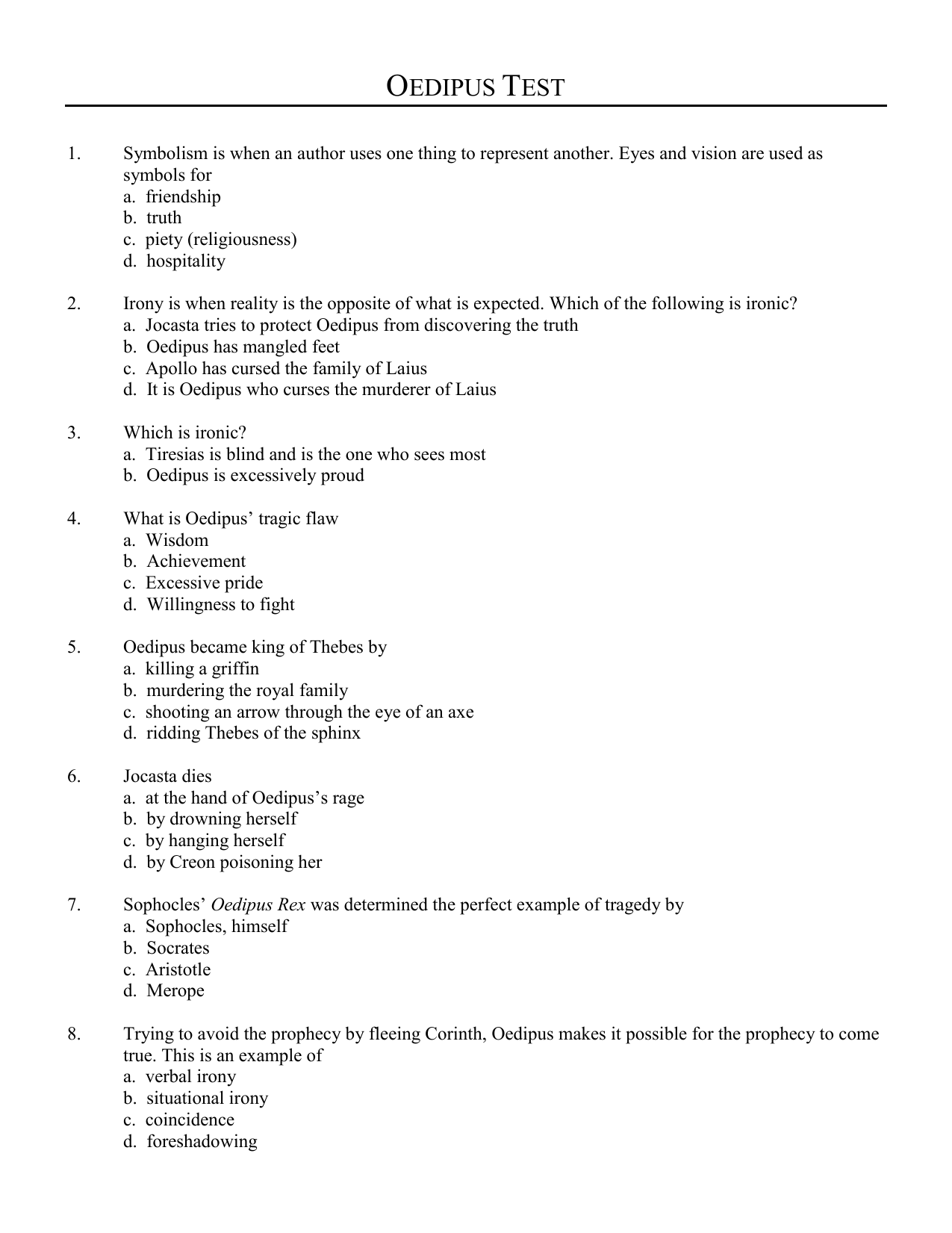 OEDIPUS TEST
1.
Symbolism is when an author uses one thing to represent another. Eyes and vision are used as
symbols for
a. friendship
b. truth
c. piety (religiousness)
d. hospitality
2.
Irony is when reality is the opposite of what is expected. Which of the following is ironic?
a. Jocasta tries to protect Oedipus from discovering the truth
b. Oedipus has mangled feet
c. Apollo has cursed the family of Laius
d. It is Oedipus who curses the murderer of Laius
3.
Which is ironic?
a. Tiresias is blind and is the one who sees most
b. Oedipus is excessively proud
4.
What is Oedipus' tragic flaw
a. Wisdom
b. Achievement
c. Excessive pride
d. Willingness to fight
5.
Oedipus became king of Thebes by
a. killing a griffin
b. murdering the royal family
c. shooting an arrow through the eye of an axe
d. ridding Thebes of the sphinx
6.
Jocasta dies
a. at the hand of Oedipus's rage
b. by drowning herself
c. by hanging herself
d. by Creon poisoning her
7.
Sophocles' Oedipus Rex was determined the perfect example of tragedy by
a. Sophocles, himself
b. Socrates
c. Aristotle
d. Merope
8.
Trying to avoid the prophecy by fleeing Corinth, Oedipus makes it possible for the prophecy to come
true. This is an example of
a. verbal irony
b. situational irony
c. coincidence
d. foreshadowing
9.
Laius is killed at
a. a crossroads
b. his palace
c. in Corinth
d. in Thebes
10.
Oedipus' adoptive mother is
a. Jocasta
b. Merope
c. Chryssipus
d. Athena
11.
Oedipus' adoptive father is
a. Laius
b. Tiresias
c. Polybus
d. Creon
12.
"You are nice" is a(n)
a. Independent clause
b. Dependent clause
13.
"Because you are nice" is a(n)
a. Independent clause
b. Dependent clause
14.
At the end of the play, Oedipus has
a. been killed
b. been publicly ridiculed, castigated, and hated
c. blinded himself
d. remained an accepted citizen of Thebes
15.
The purpose of the chorus is
a. to serve as the voice of the community
b. to serve as Oedipus's conscience
c. to create conflict (Man v. Society)
d. comic relief
16.
According to Aristotle, Oedipus the King serves as a catharsis (purging/release) of
a. disgust and distaste
b. loneliness and melancholy
c. pity and fear
d. excitement and romance
17.
Oedipus accuses whom of conspiring against him?
a. Jocasta and Merope
b. Laius and Polybus
c. Creon and the messenger
d. Tiresias and Creon
18.
Before Oedipus flees Corinth,
a. he kills Laius
b. he sleeps with Jocasta
c. he kills Merope
d. he is offended by a drunkard who says Oedipus is not the son of Polybus
19.
Creon is best described as
a. scheming
b. insincere
c. manipulative
d. rational
20.
"Oedipus" means
a. shepherd
b. king
c. swollen feet
d. murderer
21.
The chorus needs the prophecy to be true because they
a. hate Oedipus
b. want Oedipus out of power
c. need the gods to remain supreme
d. are devoted to Laius and Creon
22.
Apollo doomed Laius and his descendents for
a. violating Greek hospitality law
b. murdering Chryssipus
c. worshipping other gods
d. stealing fire from heaven
23.
In Ancient Greece, the cultural event of the year was
a. The Olympics
b. The Dionysia
c. The Festival of Diomedes
d. The Labyrinth
24.
What is NOT true about tragedy?
a. It must be serious
b. It must be complete in itself
c. It must use embellished language
d. It must serve as a catharsis of anger and spite
e. It must serve as a catharsis of pity and fear
25.
Who introduced the first actor into the Dionysia?
a. Sophocles
b. Aeschylus
c. Tiresias
d. Thespis
26.
Zeus is
a. the god of fire
b. the king of the gods
c. the god of time
d. the king of Athens
27.
Ares, whose Roman name is Mars, is the
a. Sun God
b. God of Wind
c. God of War
d. God of the Moon
28.
Hercules is
a. the son of Zeus
b. a demigod (half god, half mortal)
c. a hero
d. all of the above
29.
Aphrodite is the
a. Goddess of Thunder
b. Goddess of War
c. Goddess of Love, Fertility, and Beauty
d. Goddess of Mutant Offspring
30.
The god of fire and metal working is
a. Apollo
b. Ares
c. Hephaestus
d. Hesiod
31.
Zeus's Roman name is
a. Chronos
b. Artemis
c. Mercury
d. Jupiter
32.
Apollo is the god of
a. the sun and music
b. war
c. dancing
d. fertility and wine
33.
Dionysus is the god of
a. thunder
b. dancing
c. beauty
d. fertility and wine
34.
Dionysus is associated with the
a. donkey
b. pigeon
c. pomegranate
d. goat
35.
Initially, Dionysian plays were
a. comedies
b. tragedies
36.
The author of Oedipus the King is
a. Aeschylus
b. Aristophanes
c. Aristotle
d. Sophocles
37.
In mythology, prophecies are
a. always true
b. capable of being proved incorrect
38.
Jocasta advises Oedipus not to be worried about the prophecy because
a. he is stronger than prophecies
b. he has beaten other prophecies
c. she thinks she and Laius beat their prophecy
d. she thinks Tiresias is crazy
39.
Tiresias is the prophet of which god?
a. Ares
b. Zeus
c. Dionysus
d. Apollo
40.
Oedipus can be described as
a. slow to react and calculating
b. one who reacts too quickly
c. humble
d. disrespected in Thebes
41.
"Before I went to the store"
a. is a dependent clause
b. is an independent clause
42.
"I went to the store"
a. is a dependent clause
b. is an independent clause
43.
Compound sentences combine two
a. independent clauses
b. dependent clauses
44.
Oedipus was miserable immediately after killing his father and sleeping with his mother.
a. True
b. False
45.
Creon is remains respectful and loyal to Oedipus.
a. True
b. False
46.
Jocasta realizes the truth of Oedipus' birth before he does.
a. True
b. False
47.
Oedipus is dead at the end of the play.
a. True
b. False
48.
There is no significance of Tiresias being blind.
a. True
b. False
49.
Oedipus brings about his own demise (downfall).
a. True
b. False
50.
Oedipus blinds himself because he doesn't want to see those whom he hurt.
a. True
b. False
ESSAY:
15 POINTS
Select ONE theme from Oedipus the King. In one paragraph, explain how the theme is represented
in the play. In a separate paragraph, explain WHY the theme is important in understanding the play.