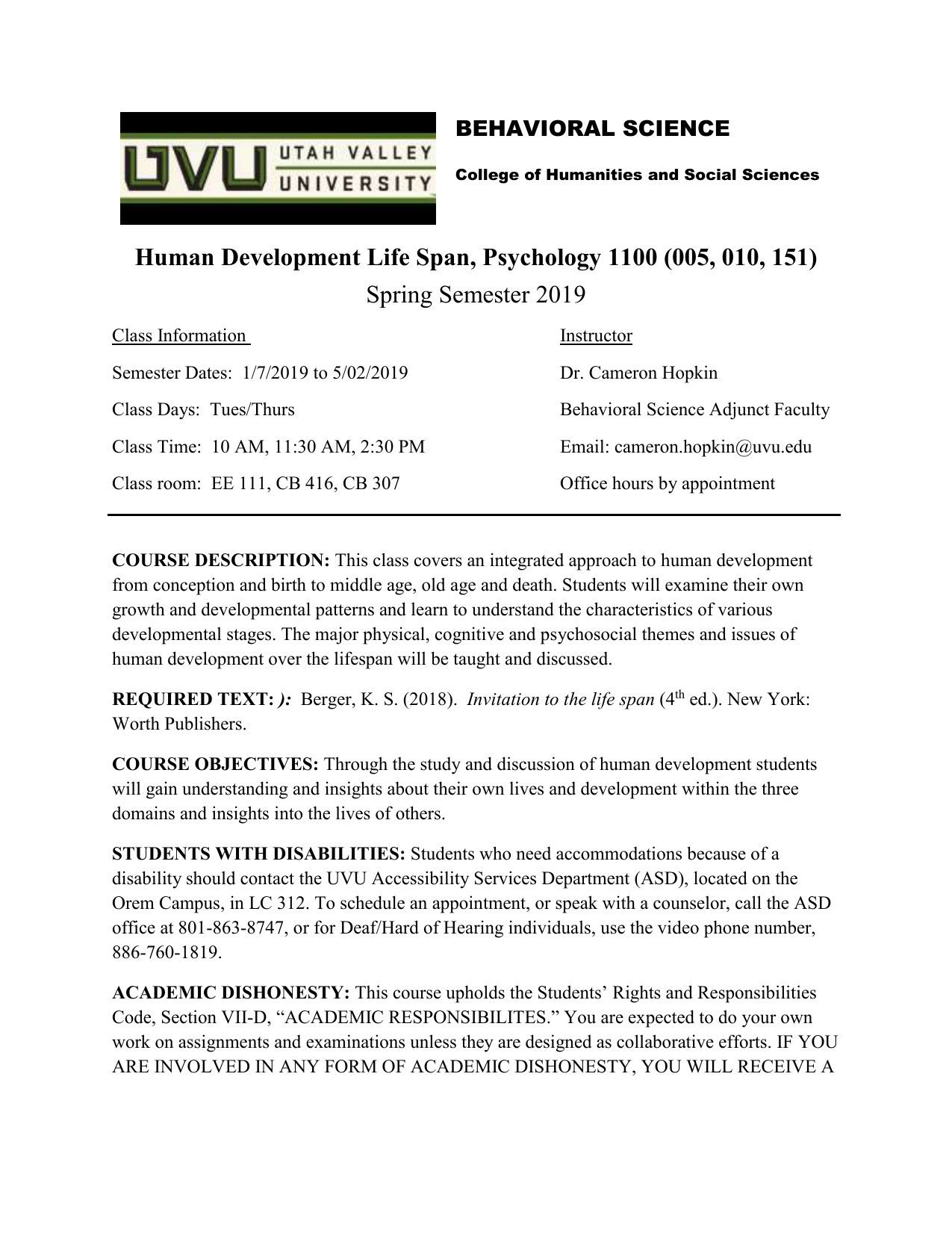 BEHAVIORAL SCIENCE
College of Humanities and Social Sciences
Human Development Life Span, Psychology 1100 (005, 010, 151)
Spring Semester 2019
Class Information
Instructor
Semester Dates: 1/7/2019 to 5/02/2019
Dr. Cameron Hopkin
Class Days: Tues/Thurs
Behavioral Science Adjunct Faculty
Class Time: 10 AM, 11:30 AM, 2:30 PM
Email: [email protected]
Class room: EE 111, CB 416, CB 307
Office hours by appointment
COURSE DESCRIPTION: This class covers an integrated approach to human development
from conception and birth to middle age, old age and death. Students will examine their own
growth and developmental patterns and learn to understand the characteristics of various
developmental stages. The major physical, cognitive and psychosocial themes and issues of
human development over the lifespan will be taught and discussed.
REQUIRED TEXT: ): Berger, K. S. (2018). Invitation to the life span (4th ed.). New York:
Worth Publishers.
COURSE OBJECTIVES: Through the study and discussion of human development students
will gain understanding and insights about their own lives and development within the three
domains and insights into the lives of others.
STUDENTS WITH DISABILITIES: Students who need accommodations because of a
disability should contact the UVU Accessibility Services Department (ASD), located on the
Orem Campus, in LC 312. To schedule an appointment, or speak with a counselor, call the ASD
office at 801-863-8747, or for Deaf/Hard of Hearing individuals, use the video phone number,
886-760-1819.
ACADEMIC DISHONESTY: This course upholds the Students' Rights and Responsibilities
Code, Section VII-D, "ACADEMIC RESPONSIBILITES." You are expected to do your own
work on assignments and examinations unless they are designed as collaborative efforts. IF YOU
ARE INVOLVED IN ANY FORM OF ACADEMIC DISHONESTY, YOU WILL RECEIVE A
GRADE OF ZERO FOR THAT ASSIGNMENT OR EXAM AND YOU MAY BE REPORTED
TO THE DEAN FOR DISCIPLINARY ACTION.
CLASS TIME: Class lecture time will be used to elaborate on the themes of chapters with
supplemental or related information. The lectures are not intended to be a substitute for the
readings nor will they revisit all of the content from the textbook. Students are expected to be
prepared to participate in class lectures so that everyone can have a more rich and meaningful
academic experience.
ATTENDANCE AND PARTICIPATION: Attendance is worth 15% of your grade. The
research is very clear that class attendance = better grades and better mastery of the material. I
will pass around an attendance sheet to check off in class. Please do not check in for anyone but
yourself.
LATE ASSIGNMENTS: Please be organized! Keep track of assignment due dates and turn
things in on time. Since there are various ways of earning points in the class, due dates will be
adhered to. If you miss a due date, refer to the late assignment grade deductions.
CANVAS: We will be using the course management system Canvas throughout the semester. If
you are unfamiliar with Canvas, then we will spend some time helping you get up to speed on it.
Assignments will be submitted through Canvas and quizzes will be taken through Canvas. This
also helps us to be more "green" as we use less paper in the process.
GRADING SCALE:
93-100 = A
90-92 = A87-89 = B+
83-86 = B
80-82 = B77-79 = C+
73-76 = C
70-72 = C67-69 = D+
63-66 = D
60-62 = D0-59 = E
Your final grade in the course is based on five categories:
Attendance
15%
Online Quizzes (5)
25%
Essays (2)
25%
Midterm
20%
Final
20%
*Late assignments will be accepted up to 5 days late with a 20% reduction in score each day.
Essays are to be turned in via Canvas.
GRADING: We will be using Rubrics for essay grading and assessment throughout the
semester. Points are assigned and used for grading and assessment. Feedback describes present
skills and indicates areas of improvement. The following is an example of such a Rubric.
Analytic Rubric for Grading
Organization
Below Expectations Satisfactory
Exemplary
No apparent
organization.
Carefully
organized and
provides
convincing
evidence to
support
conclusions.
Evidence is not
used to support
assertions.
(0-10)
Has a focus and
provides some
evidence which
supports
conclusions.
(10-20)
(20-30)
Content
The content is
inaccurate or overly
general. Readers
are unlikely to learn
anything or may be
misled.
(0-20)
The content is
generally accurate,
but incomplete.
Readers may learn
some isolated facts,
but they are
unlikely to gain
new insights about
the topic.
The content is
accurate and
complete.
Readers are likely
to gain new
insights about the
topic.
(30-40)
(20-30)
Style
Does not respond to
the assignment
appropriately.
Below college level
content. Many
grammatical errors.
No clear style.
(0-10)
Total Score:
Responds
reasonably to the
assignment.
Mostly college
level content. Style
is fairly consistent
throughout. Has
some grammatical
errors.
Responds
appropriately to
the assignment.
College level
content. Clear,
readable style.
Uses correct
grammatical
mechanics.
(10-20)
(20-30)
Score
We will be using rubric grading on the essay assignments. You will be aware of the expectations
and points available and will receive feedback with each assignment.
EXAMS: Midterm and final exams will be administered in class. They are 50 questions each,
Multiple choice, scantrons provided (you must supply the pencil).
*Make up tests and quizzes will only be allowed in cases of emergencies WITH
DOCUMENTATION: funerals of a family member, a hospitalization of yourself or an
immediate family member, if you have a baby or if you get married, you can make up a test with
documentation if you make arrangements for it as soon as possible. You CANNOT make up a
test due to work or travel reasons, so make arrangements ahead of time for this class.
Let me know in the beginning of the class if you will be requiring ADA accommodations. See
the end of the syllabus for ADA guidelines.
ONLINE QUIZZES
There will be 5 online Quizzes, 10 multiple choice questions each. They will be administered
through Canvas and will be available for 24 hours on the day they are due. You have one attempt
to do the quiz, but your time is unlimited. You will have access to your results after midnight that
day. Make up quizzes will be allowed only in the situations outlines under the EXAMS section.
ESSAY ASSIGNMENTS:
*If you are not familiar with writing essays in APA format, please address this on your own or
by asking questions about APA style ahead of the Essay due date. We will go over what is
generally expected of you when writing APA papers in this course during class time.
*You will have to have the subject or his/her parent sign a CONSENT FORM ahead of time for
each observation essay assignment saying that it is okay for them to be interviewed/observed for
that assignment. I will provide the waiver forms.
Infant/Early Childhood/Middle Childhood Observation Essay Assignment
Observe (or interview) either a child under 2 years old, an individual in early childhood, or an
individual in middle childhood. Take notes from your observation. Then write a 2 page paper in
APA format about what stage of development you see that this individual is in, based on our
readings and classes. Cite your textbook. One additional source is required in this paper (i.e.
relevant news article, text, or scholarly journal article), and you must also cite that.
Adolescence/Adulthood/Late Adulthood Essay Assignment
Observe or interview either a person in adolescence, adulthood, or late adulthood. Take notes.
Then write a 2 page paper in APA format about what stage of development this individual is in
based on our textbook readings & classroom lectures. Cite your textbook. One additional
scholarly journal article is required in this paper, and you must also cite that.
CLASS SCHEDULE
Date
8-Jan
10-Jan
15-Jan
17-Jan
22-Jan
24-Jan
29-Jan
31-Jan
5-Feb
7-Feb
12-Feb
14-Feb
19-Feb
21-Feb
26-Feb
28-Feb
5-Mar
7-Mar
12-Mar
14-Mar
19-Mar
21-Mar
26-Mar
28-Mar
2-Apr
4-Apr
9-Apr
11-Apr
Day
Tues
Thurs
Tues
Thurs
Tues
Thurs
Tues
Thurs
Tues
Thurs
Tues
Thurs
Tues
Thurs
Tues
Thurs
Tues
Thurs
Tues
Thurs
Tues
Thurs
Tues
Thurs
Tues
Thurs
Tues
Thurs
Topic
Intro/Ch. 1
Ch. 1
Ch. 2
Ch. 2
Ch. 3
Ch. 4
Ch. 4
Ch. 5
Ch. 6
Ch. 6
Ch. 7
Ch. 7
Ch. 8
Ch. 8
Exam 1
Ch. 9
Ch. 9
Ch. 10
Ch. 10
Ch. 11
SPRING BREAK
SPRING BREAK
Ch. 11
Ch. 12
Ch. 12
Ch. 13
Ch. 13
Ch. 14
Due
Quiz 1 & 2
Quiz 3
Quiz 4
Quiz 5
Quiz 6
Quiz 7
Essay 1
Quiz 8
Quiz 9
Quiz 10
Quiz 11
Quiz 12
Quiz 13
Quiz 14
16-Apr
18-Apr
23-Apr
25-Apr
Tues
Thurs
Tues
Thurs
Ch. 14
Ch. 15
Ch. 15
Exam 2
Quiz 15
Essay 2
NOTE: I reserve the right to make changes to any aspect of the syllabus. If changes occur, I will
make every effort to provide timely, advanced notice.