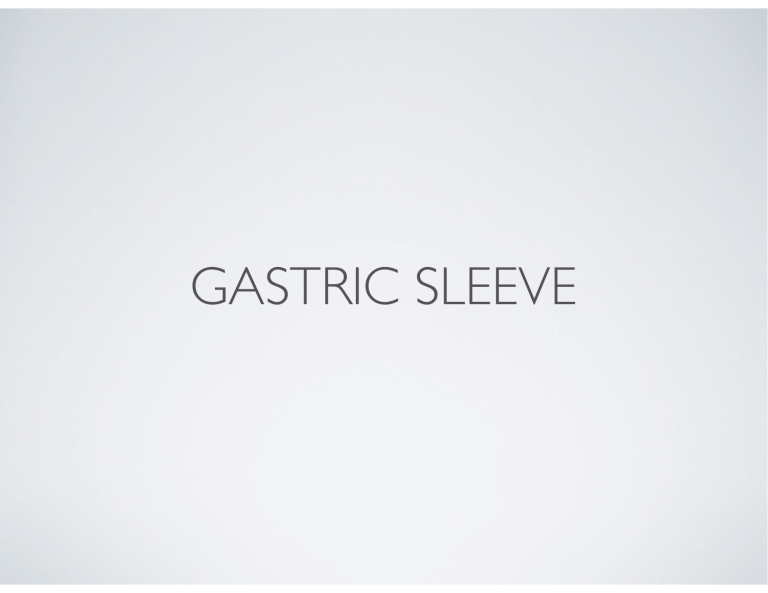 GASTRIC SLEEVE
INITIAL CONSULT IN OFFICE
(11/19/18)
•
50 Year old female pt. presents for bariatric consult and a history of GERD referred
by her PCP. Mrs. T states she has been struggling with weight loss since age 18. She
states she has tried the cabbage soup diet, Nutrisystem, Weight Watchers, Sum Fast,
HCG, Lean Cuisine and the most she could lose was 50 pounds. She states her
highest weight she was 260 pounds. Today Mrs. T is 240.2 pounds with a BMI of 37.6.
Pt. Denies binge eating, night eating or overeating. Factors she states contributes to
weight gain are pregnancy and lack of activity. Pt. has a history of fatigue, difficultly
sleeping and back pain that she attributes to weight gain.
•
Mrs. T states the onset of her heartburn was gradual and not changing. Pt. states
there is a burning sensation in her chest but no radiation. Pt. States symptoms are
constant and aggravated by eating. Pt. states nothing helps to relieving the reflux. Pt.
Denies chronic cough, dental erosions, dysphagia, hoarseness, melena or vomiting.
IN OFFICE HISTORY
•
PMH - GERD, Anxiety, Insomnia
•
PSH- 2 abdominoplasty C-sections 1987 & 1989, Tubal ligation with
hysterectomy, Cholecystectomy 2008
•
Family Hx- None provided
•
Social Hx- Married, unemployed, Smokes a vape pen for 2 years, Drinks 1-2
drinks per week, Denies illegal drug use
•
Meds- Lexapro10mg 1 tab daily, Trazadone 50mg tab as needed
•
Allergies- NKDA
ROS-IN OFFICE (11/19/18)
•
Resp: Denies aspiration, stridor and wheezing
•
Cardio: Denies claudication, edema and palpitations
•
GI: Denies constipation, change in stool pattern, diarrhea, decreased appetite
•
GU: Denies Dribbling, dysuria, hematuria, urinary frequency, urinary incontinence and urinary retention
•
Endocrine: Denies cold intolerance, heat intolerance, polydipsia and polyphagia
•
Neruo: (+) headaches, Denies dizziness, memory impairment, numbness in extremities
•
Psych: (+) anxiety
•
MS: (+) joint pain
•
Heme/Lymph: Denies easy bleeding and lymphadenopathy
PHYSICAL EXAM- IN OFFICE
(11/19/18)
•
Vitals: BP 127/81, Pulse 86, Height 5'7", Weight 240.2, BMI 37.6
•
Gen: Obese female, alert and appropriate, No acute distress
•
Back/Spine: No kyphosis
•
Heart: RRR, no murmurs, rubs gallops
•
Lungs: CTA AF, no wheezes, rales, or rhonchi
•
Vascular: No Carotid bruits, normal doornails peds, capillary refill less than 2 seconds,
no varicosities
•
Ab: obese, abdomen soft, nontender, nondistented, no hepatic enlargement, no splenic
enlargement, no femoral or ventral hernias, no Murphy's sign
PHYSICAL EXAM CONT.
•
Skin: Warm and dry, no pallor
•
Head/Neck: No JVD, No Thyromegaly,
•
Eyes: PERRLA, no scleral icterus
•
Ears: TMs pearly grey, cone of light present
•
Nose: symmetrical, nares patent, non- erythematous, no septal deviation
•
Mouth/Throat: normal dentition and gums, no lesions, pink mucosa, no tonsil enlargement
•
MS: normal gait, no muscle atrophy
•
Neuro: CNs II-XII present B/L, DTRs +2/4, normal sensation
•
Psysh: appropriate mood, cooperative
SURGICAL ASSESSMENT AND
PLAN
•
Assessment: Unspecified abdominal pain and Morbid Obesity
•
Plan: Mrs. T meets the NIH guidelines for bariatric surgery. She has clinical risks of
obesity including, back pain, suspected sleep apnea and suspected depression.
Discussed the different bariatric procedures including lap band, gastric bypass and
the sleeve as well as the risks and benefits of each procedure. Discussed risks in
surgery including but not limited to: Bleeding, infection, bowel injury and need for
open operation. Discussed possible hiatal hernia repair if one is identified on EGD .
Pt. is asked to follow up after her EGD for repeat evaluation. The pt. expressed
complete understanding, was agreeable to this plan, and will follow up as discussed.
•
Plan Orders: Avoid citrus, alcohol, coffee, chocolate, mints, eat smaller meals, no
eating three hours prior to bedtime and elevate head prior to sleep.
EDG WITH BIOPSY ( 12/11/12)
•
No gastric ulcerations or masses. Retroflexion view
shows hiatal hernia. The distal antrum shows
flattening of the rugal folds distally and some
streaky erythema, no ulcerations. Duodenum
showed no ulcerations. The distal third of the
esophagus shows erythema consistent with reflux
esophagitis.The rest of the esophagus appeared
normal.
FOLLOW-UP ( 12/12/18)
•
Mrs. T is presenting today for preoperative check. An EGD done 12/11/18 show hiatal
hernia. Pathology is pending. Pt. has been following her diet and has lost 7 pounds since
her initial visit, 240.2 to 233 pounds. Pt. has been given pre-and post-op diet
instructions. Given the pt. symptomatic presentation, plan for laparoscopic hiatal hernia
repair and partial gastrectomy. Discussed in detail all the risks, benefits and alternatives.
Pt. understands and wishes to proceed with the operation.
•
Pre-operative and post-operative prescriptions were offered to minimize or alleviate
the patient's post-operative discomfort. Pt. has been asked to review the pre- and postop intrusions and contact the office with any questions. The pt. expressed complete
understanding and agreed to do so.
•
Pt. scheduled for surgery 01/01/19 - to go home same day pending no
complications
PRE-OP LABS
•
EKG: Normal sinus rhythm
•
Rate 76 BPM
•
PR internal 142 ms
•
QRS duration 97 ms
•
QT/QTc 412/443 ms
PRE-OP LABS
•
U/A
•
Specific Gravity -1.016
•
pH -6.0
•
Urine-Color -Yellow
•
Appearance -Clear
•
WBC Esterase/Protein/Glucose/Ketones/Occult blood/Bilirubin -Negative
•
Nitrate -Negative
•
Microscopic
•
WBC/RBC/Epithelial cells- None
•
Bacteria- few
PRE-OP LABS
BMP
CBC
13.1
4.5
142
106
14
179
38.4
106
4.1
PT
10.8
PTT
28
INR
1.0
23
0.50
SURGICAL PROCEDURE
•
Needle is placed left to the umbilicus
and abdomen insufflated to 15mmHg.
Pt. placed supine and in Trendelenberg
once ports are placed. Several ports are
placed in several locations depending on
the size and pannus of the patient.
•
Mobilization of the fundus, antrum and
cardia with the energy device. The
stomach is inspected and the blood
vessels to the lateral side of the stomach
are divided.
•
A bougies is inserted into the stomach
and serves as a sizer for the new
stomach.
http://surgery.ucla.edu/bariatrics-gastric-sleeve
SURGICAL PROCEDURE
•
The hiatal hernia defect was closed with
interrupted suture intracorporeally.
•
The greater curvature of the stomach was
amputated using successful firing of a stapling
device. It was reinforced with individual clips and
sealant.
•
The distal stomach was then occluded and
proximal stomach was filled with 60 mL of
methylene blue placing the proximal staple line
under tension. There was no evidence of
extravasation of the methylene blue and the
closure appeared completely satisfactory.
•
The greater curvature of the stomach was in a bag
and removed through the 15-mm port site.
•
Abdomen was deflated, all ports removed and all
skin incision were closed.
http://surgery.ucla.edu/bariatrics-gastric-sleeve
BENEFITS OF THE GASTRIC
SLEEVE
•
Removal of part of the stomach reduces stomach volume, causing people to feel fuller
much quicker. Thus reducing intake of calories. There are also hormonal changes
because there is reduced secretion of hunger hormones such as ghrelin. Food can pass
the stomach to the intestine quicker which increases stomach motility.
•
People lose about 60-70% of their excess body weight. The success rate for the gastric
sleeve is 80-90%.
•
Resolution or improvement of obesity related health problems such as: Diabetes type 2,
hypertension, fatty liver disease, high cholesterol, sleep apnea, joint pain, depression,
PCOS and gout.
•
Surgery offered to patients with a BMI greater than 40 kg/m2, or greater than 35 kg/m2
with serious comorbidities.
WEIGHT LOSS PROGRESSION
•
2 weeks- 10-20 pounds;
one pound a day
•
3 months- 35-45% weight
loss
•
6 months- 50-60% weight
loss
•
First Year- 60-705 weight
loss
COMPLICATIONS AND RISKS
•
A staple line leak from where the part stomach was removed
•
Bleeding, blot clot
•
Nutrient or vitamin deficiency
•
GERD
•
Weight regain due to the stomach being overstretched thus increased
volume intake allowed again
•
Excess skin
ADVANTAGE OF GASTRIC
SLEEVE VS. GASTRIC BYPASS
•
Simpler surgery, gastric sleeve takes 40-70mins
while gastric bypass takes 2-3 hours.
•
No mal-absorption
•
More likely to develop complications such as
bowel obstruction, marginal ulcer, and internal
hernias with bypass.
DISCUSSION QUESTIONS
•
What psychological effects does the gastric sleeve
have on the patient in the long run?
•
What percent of people who have the gastric
sleeve procedure return back to their pre-op
weight?
RESOURCES
Cummings, David E and Ricardo V Cohen. "Beyond BMI:
the need for new guidelines governing the use of
bariatric and metabolic surgery" lancet. Diabetes &
endocrinology vol. 2,2 (2014): 175-81.
Dr. Shawn Stevenson. General Surgeon. Agave Surgery.
"Gastric Sleeve." Bariatrics, surgery.ucla.edu/bariatricsgasrtic-sleeve.