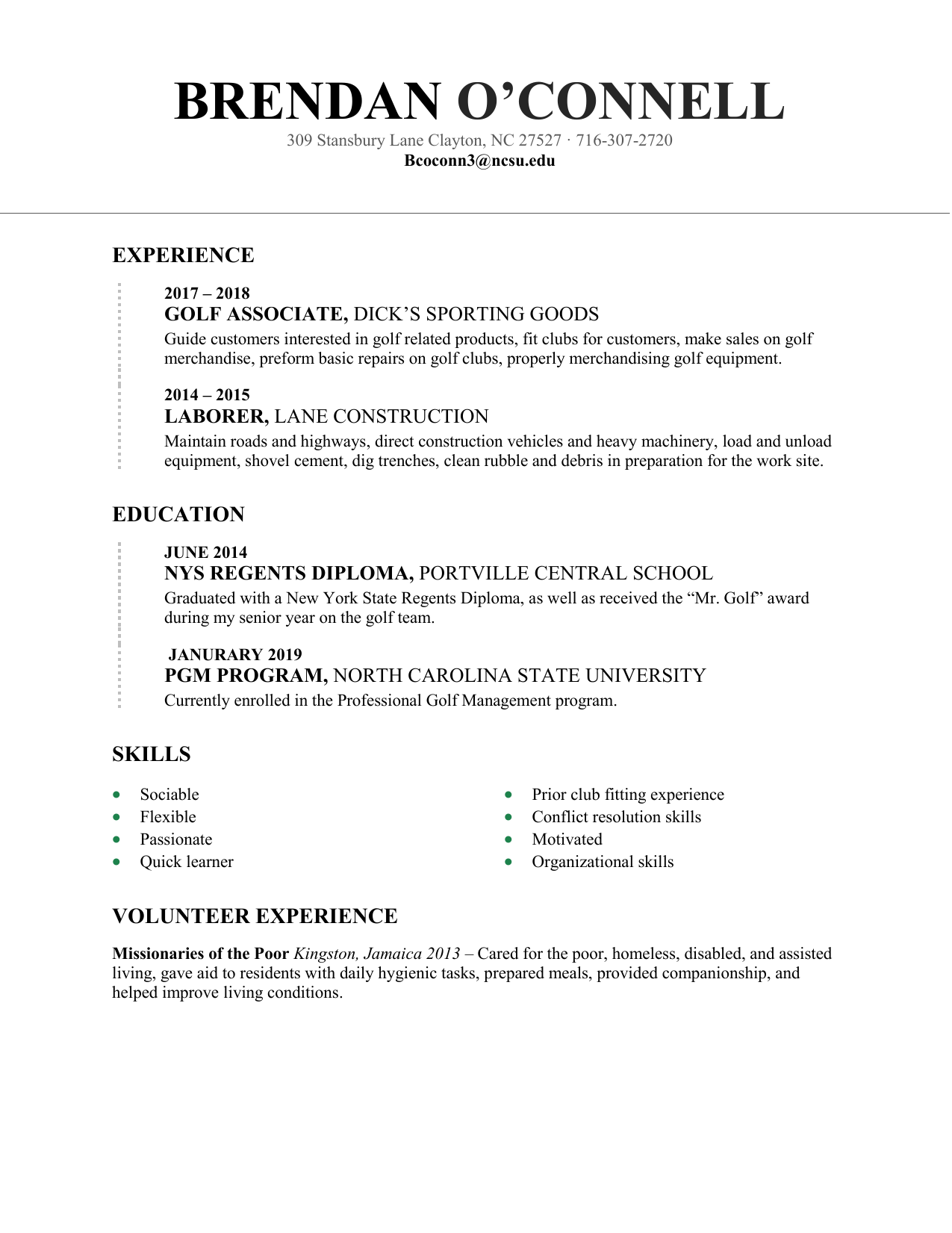 BRENDAN O'CONNELL
309 Stansbury Lane Clayton, NC 27527 · 716-307-2720
[email protected]
EXPERIENCE
2017 – 2018
GOLF ASSOCIATE, DICK'S SPORTING GOODS
Guide customers interested in golf related products, fit clubs for customers, make sales on golf
merchandise, preform basic repairs on golf clubs, properly merchandising golf equipment.
2014 – 2015
LABORER, LANE CONSTRUCTION
Maintain roads and highways, direct construction vehicles and heavy machinery, load and unload
equipment, shovel cement, dig trenches, clean rubble and debris in preparation for the work site.
EDUCATION
JUNE 2014
NYS REGENTS DIPLOMA, PORTVILLE CENTRAL SCHOOL
Graduated with a New York State Regents Diploma, as well as received the "Mr. Golf" award
during my senior year on the golf team.
JANURARY 2019
PGM PROGRAM, NORTH CAROLINA STATE UNIVERSITY
Currently enrolled in the Professional Golf Management program.
SKILLS




Sociable
Flexible
Passionate
Quick learner




Prior club fitting experience
Conflict resolution skills
Motivated
Organizational skills
VOLUNTEER EXPERIENCE
Missionaries of the Poor Kingston, Jamaica 2013 – Cared for the poor, homeless, disabled, and assisted
living, gave aid to residents with daily hygienic tasks, prepared meals, provided companionship, and
helped improve living conditions.