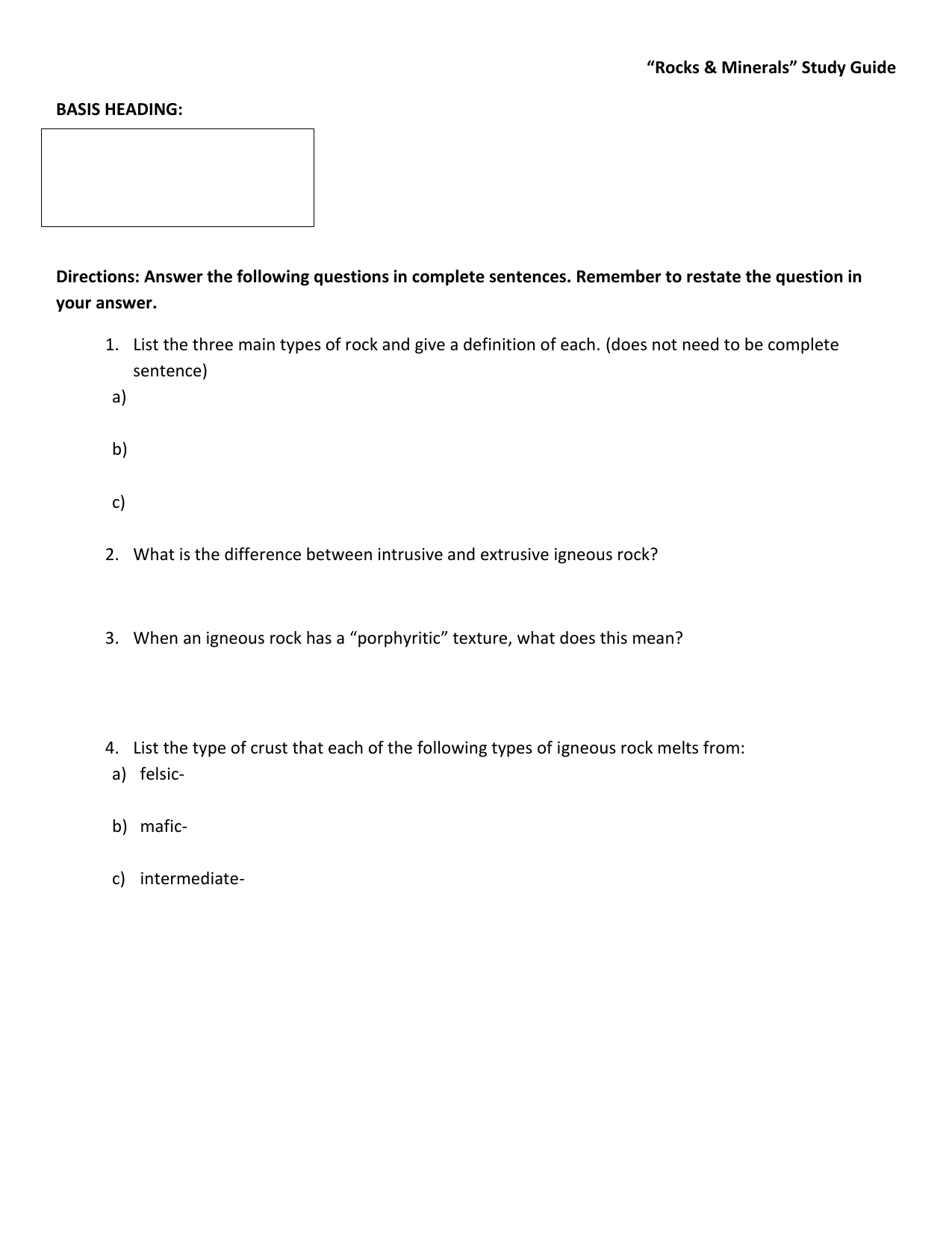 "Rocks & Minerals" Study Guide
BASIS HEADING:
Directions: Answer the following questions in complete sentences. Remember to restate the question in
your answer.
1. List the three main types of rock and give a definition of each. (does not need to be complete
sentence)
a)
b)
c)
2. What is the difference between intrusive and extrusive igneous rock?
3. When an igneous rock has a "porphyritic" texture, what does this mean?
4. List the type of crust that each of the following types of igneous rock melts from:
a) felsicb) maficc) intermediate-
5. Fill in the table below with the correct rock names:
DO NOT WRITE HERE.
Coarse grained
Fine Grained
Felsic
Intermediate
Mafic
6. List the 5 intrusive structures.
7. List the 3 extrusive structures.
8. What is a laccolith? What is a batholith? How are they different?
9. What is a dike? What is a sill? How are they different?
10. How is a volcanic neck formed?
11. List the three types of sedimentary rock with a description of how they are each formed.
a)
b)
c)
12. How are fossils formed? Why are they important?
13. Define stratification:
14. Define metamorphism:
15. What are the two types of metamorphism? Describe how they each occur.
a)
b)
16. What is the difference between foliated and nonfoliated metamorphic rock? Give 2 examples of
each.
17. What is the difference between rocks and minerals?
18. How many types of rocks make up the Earth's crust?
19. Explain who founded mining in Arizona and what kind of mining is most common in Arizona.
20. What percent of Copper is mined in Arizona?
21. What are the two kind of mining? What is the difference? What kinds of minerals would the miners
find for each type?
22. What is the difference between hardness and streak?
23. What causes differences in mineral color?
24. Fill out the following diagrams below:
25. Fill in the correct term for each
letter on the side using the picture
to the right.
A.
B.
C.
D.