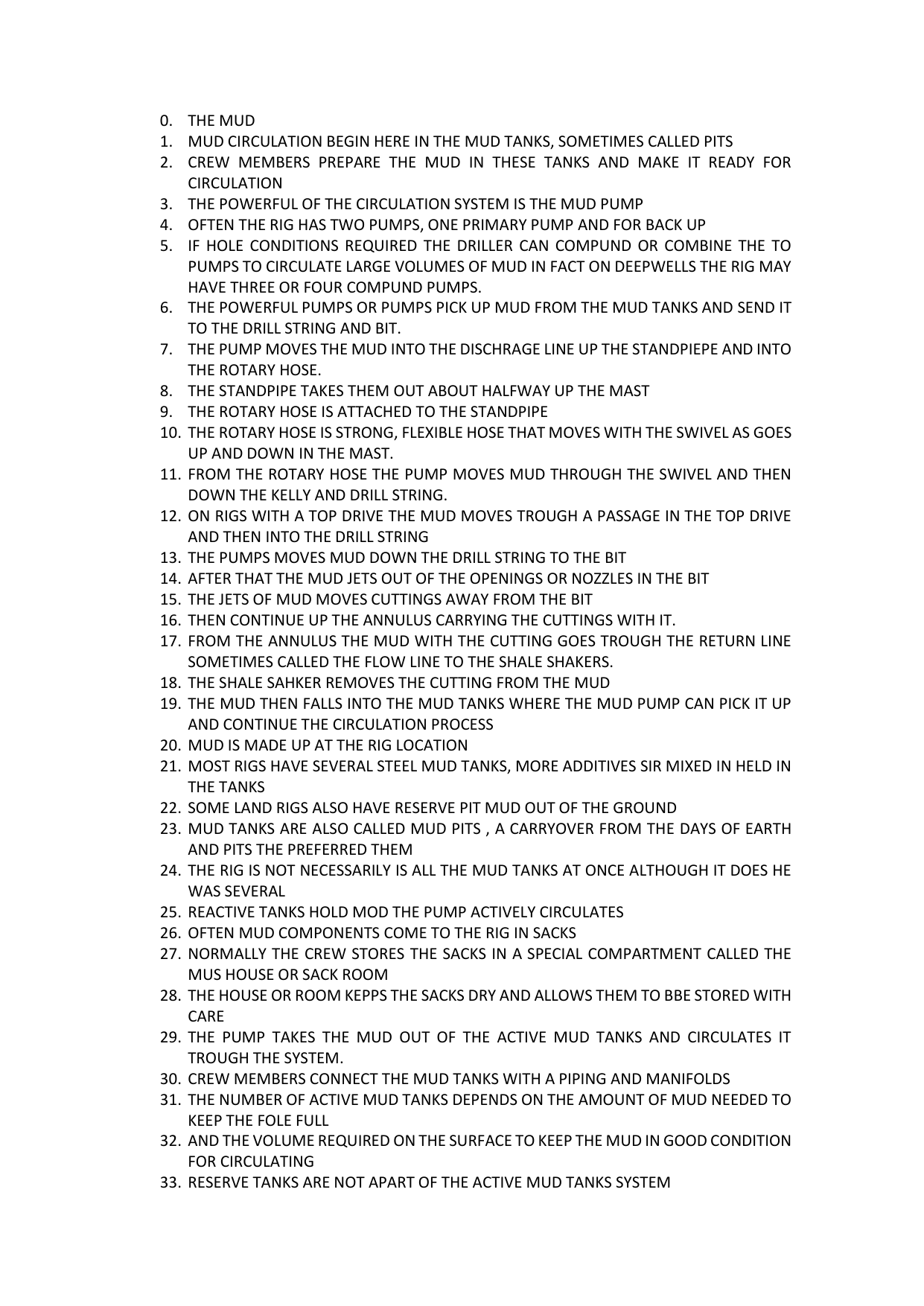 0. THE MUD
1. MUD CIRCULATION BEGIN HERE IN THE MUD TANKS, SOMETIMES CALLED PITS
2. CREW MEMBERS PREPARE THE MUD IN THESE TANKS AND MAKE IT READY FOR
CIRCULATION
3. THE POWERFUL OF THE CIRCULATION SYSTEM IS THE MUD PUMP
4. OFTEN THE RIG HAS TWO PUMPS, ONE PRIMARY PUMP AND FOR BACK UP
5. IF HOLE CONDITIONS REQUIRED THE DRILLER CAN COMPUND OR COMBINE THE TO
PUMPS TO CIRCULATE LARGE VOLUMES OF MUD IN FACT ON DEEPWELLS THE RIG MAY
HAVE THREE OR FOUR COMPUND PUMPS.
6. THE POWERFUL PUMPS OR PUMPS PICK UP MUD FROM THE MUD TANKS AND SEND IT
TO THE DRILL STRING AND BIT.
7. THE PUMP MOVES THE MUD INTO THE DISCHRAGE LINE UP THE STANDPIEPE AND INTO
THE ROTARY HOSE.
8. THE STANDPIPE TAKES THEM OUT ABOUT HALFWAY UP THE MAST
9. THE ROTARY HOSE IS ATTACHED TO THE STANDPIPE
10. THE ROTARY HOSE IS STRONG, FLEXIBLE HOSE THAT MOVES WITH THE SWIVEL AS GOES
UP AND DOWN IN THE MAST.
11. FROM THE ROTARY HOSE THE PUMP MOVES MUD THROUGH THE SWIVEL AND THEN
DOWN THE KELLY AND DRILL STRING.
12. ON RIGS WITH A TOP DRIVE THE MUD MOVES TROUGH A PASSAGE IN THE TOP DRIVE
AND THEN INTO THE DRILL STRING
13. THE PUMPS MOVES MUD DOWN THE DRILL STRING TO THE BIT
14. AFTER THAT THE MUD JETS OUT OF THE OPENINGS OR NOZZLES IN THE BIT
15. THE JETS OF MUD MOVES CUTTINGS AWAY FROM THE BIT
16. THEN CONTINUE UP THE ANNULUS CARRYING THE CUTTINGS WITH IT.
17. FROM THE ANNULUS THE MUD WITH THE CUTTING GOES TROUGH THE RETURN LINE
SOMETIMES CALLED THE FLOW LINE TO THE SHALE SHAKERS.
18. THE SHALE SAHKER REMOVES THE CUTTING FROM THE MUD
19. THE MUD THEN FALLS INTO THE MUD TANKS WHERE THE MUD PUMP CAN PICK IT UP
AND CONTINUE THE CIRCULATION PROCESS
20. MUD IS MADE UP AT THE RIG LOCATION
21. MOST RIGS HAVE SEVERAL STEEL MUD TANKS, MORE ADDITIVES SIR MIXED IN HELD IN
THE TANKS
22. SOME LAND RIGS ALSO HAVE RESERVE PIT MUD OUT OF THE GROUND
23. MUD TANKS ARE ALSO CALLED MUD PITS , A CARRYOVER FROM THE DAYS OF EARTH
AND PITS THE PREFERRED THEM
24. THE RIG IS NOT NECESSARILY IS ALL THE MUD TANKS AT ONCE ALTHOUGH IT DOES HE
WAS SEVERAL
25. REACTIVE TANKS HOLD MOD THE PUMP ACTIVELY CIRCULATES
26. OFTEN MUD COMPONENTS COME TO THE RIG IN SACKS
27. NORMALLY THE CREW STORES THE SACKS IN A SPECIAL COMPARTMENT CALLED THE
MUS HOUSE OR SACK ROOM
28. THE HOUSE OR ROOM KEPPS THE SACKS DRY AND ALLOWS THEM TO BBE STORED WITH
CARE
29. THE PUMP TAKES THE MUD OUT OF THE ACTIVE MUD TANKS AND CIRCULATES IT
TROUGH THE SYSTEM.
30. CREW MEMBERS CONNECT THE MUD TANKS WITH A PIPING AND MANIFOLDS
31. THE NUMBER OF ACTIVE MUD TANKS DEPENDS ON THE AMOUNT OF MUD NEEDED TO
KEEP THE FOLE FULL
32. AND THE VOLUME REQUIRED ON THE SURFACE TO KEEP THE MUD IN GOOD CONDITION
FOR CIRCULATING
33. RESERVE TANKS ARE NOT APART OF THE ACTIVE MUD TANKS SYSTEM
34. INSTEAD THE CREW USES THEM TO HOLD EXCESS MUD
35. OR THEY MAY USE THEM TO MIX A DIFFERENT TYPE OF MUD THAN THE PUMP IS
CURRENTLY CIRCULATING
36. THEY MAY ALSO STORE HEAVY MUD FOR EMERGENCY WELL CONTROL OPERATIONS
37. CREW MEMBERS USE THE CHEMICAL TANK TO MAKE SPECIAL CHEMICALS SUCH AS
CAUSTIC THAT THEY WILL PUT INTO THE ACTIVE MUD TANKS.
38. ON SOME LAND RIGS THE REGULAR TAKES A LARGE PIT NEXT TO THE RIG, THIS PIT IS
CALLED THE RESERVE PIT.
39. THE CREW PUT WASTE MUD AND RUN OFF FROM THE RIG SITE IN THE RESERVE PIT
40. AN EMERGENCY THEY CAN ALSO USE IT AS A PLACE TO PUT MORE MUD THAN THE
TANKS CAN HOLD
41. OFTEN THE RIG OPERATOR LINES THE RESERVE PIT WITH A THICK PLASTIC SHEET TO
PREVENT LIQUIDS FORM LEAKING INTO THE SOIL.
42. POWERFUL MUD PUMP PICK UP MUD DONT HOLD OUT THE BED AND BACK TO THE
SURFACE
43. ALL OF THESE RIGS USUALLY HAVE TWO MUD PUMPS AND SOMTIMES THREE OR FOUR,
NORMALLY THEY USE ONLY ONE AT A TIME.
44. THE OTHERS ARE MAINLY USED AS BACKUP IN CASE ONE FAILS
45. SOMETIMES HOWEVER THE RIG CREW MADE COMPOUND THE PUMPS
46. THAT IS THEY MAY USE TWO, THREE OR FOUR PUMPS AT THE SAME TIME TO MOVE
LARGE VOLUMES OF MUD WHEN REQUIRED.
47. RIGS USE ONE OF TWO TYPES OF MUD PUMPS, TRIPLEX PUMP
48. DUPLEX PUMP
49. TRIPLEX PUMPS HAVE THREE PISTONS THAT MOVE BACK AND FORTH IN LINERS
50. DUMPLEX PUMPS HAVE TWO PISTONS THAT MOVE BACK AND FORTH AND WHINERS
51. TRIPLEX PUMPS HAVE MANY ADVANTAGES
52. THEY WEIGHT 30% LESS THAN DUPLEX OF THE EQUAL HORSE POWER OR KILOWATTS
53. THE LIGHTER WEIGHT PARTS ARE EASIER TO HANDLE AND THEREFORE EASIER TO
MAINTAIN.
54. THE OTHER ADVANTAGES INCLUDE
55. THEY COST LESS TO OPERATE
56. THEIR FLUID IN IS MORE ACCESSIBLE
57. AND THEY DISCHARGE MUD MORE SMOOTHLY. THAT IS, THE TRIPLEX'S OUTPUT
DOES NOT SURGE AS MUCH AS A DUPLEX.
58. IN A TRIPLEX PUMP THE PISTON DISCHARGE MUD ONLY WHEN THEY MOVE
FORWARD IN LINER.
59. THEN WHEN THEY MOVE BACK THEY DRAWN IN MUD ON A SAME SIDE OF THE
PISTON BECAUSE OF THESE THEY ARE ALSO CALLED SINGLED ACTING
60. SINGLE ACTING TRIPLEX PUMPS, PUMP MUDS HAVE RELATIVELY HIGH SPEEDS.
61. INPUT HORSE POWER RANGES FROM 220 TO 2200 FROM 164 TO 1641 KW
62. LARGE PUMPS CAN PUMPS OVER 1100 GALLONS PER MINUTE OVER 4000 LITERS
PER MINUTE
63. SOME BIT PUMPS HAVE A MAXIMUM RATE OF WORKING PRESSURE OVER 7000 PSI
OVER 50000 KPA WITH 5 INCH 127MM LINER
64. A MUD PUMP HAS A FLUID END, POWER END AND INTAKE AND DISCHARGE VALVES.
65. THE FLUID END OF A PUMP CONTAINS THE PISTON WITH LINERS WICH TAKES IN AND
DISCHARGE THE FLUID OR MUD.
66. THE PUMP PISTONS DRAW IN MUD THROUGH THE INTAKE VALVES AND PUSH MUD
OUT THROUGH THE DISCHARGE VALVES.
67. THE POWER END HOUSES THE THE LARGE CRANKSHAFT AND GEAR ASSEMBLY THAT
MOVES THE PISTON ASSEMBLIES ON A FLUID END.
68. PUMPS ARE POWERED BY A PUMP MOTOR
69. LARGE MODERN DIESEL ELECTRIC RIGS USED POWERFULL ELECTRIC MOTORS TO
DRIVE THE PUMP
70. MECHANICAL RIGS USED CHAINS DRIVES OR POWER BANDS BELTS FROM THE RIG'S
ENGINES AND COMPOUNDS TO DRIVE THE PUMP.
71. THE SHALE SHAKER MECHANICALLY TAKES OUT THE LARGE CUTTINGS FROM THE
MUD.
72. IT IS NOT HOWEVER REMOVE VERY FINE CUTTINGS IN OTHER SMALL SOLID
PARTICLES
73. THESE SOLIDS CAN BE FIND SENT PARTICLES IN OTHER VERY FIND MATERIALS OFTEN
CALLED SILT
74. GOOD DRILLING PRACTICE REQUIRING REMOVING THESE UNDESIRABLE SOLIDS.
75. IF NOT REMOVE THE SOLID CAN INCREASE THE WEIGHT OF THE MUD MORE THAN
REQUIRED REDUCED THE BITS PENETRATION RATE AND SIGNIFICANTLY INCREASE RATE
OF WARE ON CIRCULATION EQUIPMENT.
76. THE RIG USES MECHANICAL SOLID REMOVING EQUIPMENT SUCH AS
HYDROCYCLONES AND CENTRIFUGES TO REMOVE THE FINE SOLIDS.
77. SOMETIMES THE HOLE PENETRATES A FORMATION THAT HAS SMALL AMOUNTS OF
GAS.
78. THIS GAS GETS INTO THE MUD, BECOMES ENTRAINED IN IT AND MUST BE REMOVED
BEFORE THE PUMP RE-CIRCULATES THE MUD BACK DOWN HOLE. A DEGASSER
REMOVES AND ENTRAINED GAS FROM THE MUD.
79. THE SHALE SHAKER HAS RAPIDLY VIBRATING SCREENS.
80. THE MUD IN CUTTINGS FROM THE RETURN LINE FALL UNTO IT.
81. THE VIBRATING SCREENS CATCH THE LARGER CUTTINGS
82. THESE CUTTINGS FALL INTO THE RESERVE PIT, THE SEA OR OTHER CONTAINER FOR
DISPOSAL.
83. SOMETIMES THE CREW SENDS MUD THROUGH A VACUUM DEGASSER
84. THE DEGASSER REMOVES GAS FROM THE MUD.
85. IF THE GAS WERE NOT REMOVED IT COULD MAKE THE MUD TOO LIGHT, NOT DENSE
ENOUGH.
86. AS A RESULT THE WELL COULD KICK. FORMATION FLUIDS COULD ENTER THE
WELLBORE AND HAVE TO BE CONTROLLED TO PREVENT A BLOWOUT.
87. ANOTHER PROBLEM, IF THE DRILLER RE-CIRCULATES GAS CUT MUD THE GAS COULD
CAUSE THE MUD PUMPS TO GAS LOCK.
88. GAS LOCKED PUMPS PUMP GAS AND MUD INSTEAD OF JUST MUD WHICH IS HIGHLY
INEFFICIENT. SO, TO REMOVE GAS CREW MEMBERS USE A DEGASSER.
89. A PIT VOLUME TOTALIZER OR PVT ALERTS THE DRILLER TO CHANGES IN THE LEVEL
OF MUD IN THE TANKS.
90. A FLOAT IN EACH TANK RISES OR FALLS IF THE MUD LEVEL RISES OR FALLS.
91. FOR EXAMPLE, IF THE LEVEL RISES, THE RISING FLOATS SEND THE SIGNAL TO A
RECORDER AND TO A DIGITAL PANEL ON THE RIG FLOOR.
92. THE PANEL ALERTS THE DRILLER OF A RISE.
93. THIS DEVICE IS CALLED A PIT VOLUME TOTALIZER OR PVT BECAUSE IT MEASURES
THE GAIN OR FALL IN EACH OF THE TANKS OR PITS, TOTALS THE GAIN OR FALL AND
SENDS THIS INFORMATION TO THE DRILLER ON THE RIG FLOOR.
94. IF THE MUD LEVEL IN THE TANKS FALL THE PVT ALSO ALERTS THE DRILLER.
95. THESE FLOAT IN A MUD TANK IS PART OF A PIT VOLUME TOTALIZER
96. USUALLY, CREW MEMBERS INSTALL A FLOAT IN EACH ACTIVE TANK.
97. THE FLOATS RISE OR FALL WITH THE MUD LEVEL IN THE ACTIVE TANKS.
98. MUD LEVEL IN THE TANKS IS VITAL INFORMATION.
99. IF THE MUD LEVEL RISES, IT OFTEN MEANS THAT THE WELL HAS KICKED, FORMATION
FLUIDS HAVE ENTERED THE HOLE AND FORCED MUD OUT.
100. THE KICK FLUIDS REPLACE MUD IN THE HOLE AND CAUSE MUD LEVEL IN THE TANKS
TO RISE
101. ON THE OTHER HAND, IF MUD BEGAN GOING INTO A FORMATION, IF MUD IS LOST
TO THE FORMATION, THE MUD TANK LEVEL DROPS.
102. LOST CIRCULATION CAN ALSO BE A SERIOUS PROBLEM.
103. THE DECREASING HEIGHT OF MUD IN THE HOLE COULD LEAD TO A KICK BECAUSE
HYDROSTATIC PRESSURE IS REDUCED.
105. ALSO DRILLING WITHOUT MUD RETURNING TO THE SURFACE IS LIKE DRILLING
BLIND. NO COMMUNICATION BETWEEN THE BOTTOM OF THE HOLE AND THE SURFACE
EXISTS.
TRADUCCIONES:
0. LA TORRE DE PERFORACION UTILIZA MUCHOS PIEZAS DE EQUIPO PARA CIRCULAR Y
TRATAR O CONDICIONAR EL LODO
1. CIRCULACIÓN DEL LODO EMPIEZA AQUÍ EN LOS TANQUES DEL LODO, A VECES
LLAMADO PILETAS
2. LOS MIEMBROS DE LA TRIPULACIÓN PREPARAN EL LODO EN ESTOS TANQUES Y LO
ALISTAN PARA LA CIRCULACIÓN
3. EL POTENCIADOR DEL SISTEMA DE CIRCULACIÓN ES LA BOMBA DE LODO
4. A MENUDO LA TORRE DE PERFORACION TIENE DOS BOMBAS, UNA BOMBA PRIMARIA
Y DE RESPALDO
5. SI LAS CONDICIONES DEL POZO REQUIERE, EL DRILLER (PERFORADOR) PUEDE
COMPONER O COMBINAR LAS BOMBAS PARA CIRCULAR GRANDES VOLUMENES DE
LODO. DE HECHO EN POZOS PROFUNDOS LA TORRE DE PERFORACION PUEDE TENER
TRES O CUATRO BOMBAS COMPONENTES.
6. LAS BOMBAS POTENCIALES O LAS BOMBAS RECOGEN EL LODO DE LOS TANQUES DEL
LODO Y LO ENVÍAN A LA CADENA Y TREPANO.
7. LA BOMBA MUEVE EL LODO DENTRO DE LA LINEA DE DESCARGA ENCIMA DEL
STANDPIPE Y DENTRO DE LA MANGUERA ROTATIVA.
8. EL STANDPIPE LOS TOMA SOBRE LA MITAD DEL MASTIL
9. LA MANGUERA ROTATIVA ESTÁ ADJUNTA A LA STANDPIPE
10. LA MANGUERA ROTATIVA ES UNA MANGUERA FUERTE Y FLEXIBLE QUE SE MUEVE
CON EL SWIVEL YA QUE SUBE Y ABAJO EN EL MASTIL
11. DESDE LA MANGUERA ROTATIVA LA BOMBA MUEVE EL LODO A TRAVÉS DEL SWIVEL
DESPUÉS AL KELLY AND A LOS COLLARES DE PERFORACION.
12. EN LAS TORRES DE PERFORACION UN TOP DRIVE MUEVE AL LODO A TRAVES DE UN
PASAJE EN EL TOP DRIVE Y LUEGO DENTRO DEL COLLAR DE PERFORACION
13. LAS BOMBAS MUEVEN AL LODO ABAJO AL COLLAR DE PERFORACION Y AL TREPANO
14. DESPUÉS DE QUE EL LODO SALE DE LAS ABERTURAS O LAS BOQUILLAS EN EL
TREPANO
15. EL LODO DE LAS BOQUILLAS MUEVEN LOS RECORTES LEJOS DEL TREPANO
16. ENTONCES CONTINUA SUBIENDO POR EL ANULAR Y TRAYENDO CONSIGO LOS
RECORTES
17. DEL ANULAR EL LODO CON LOS RECORTES VAN LA LÍNEA DE DEVOLUCIÓN A VECES
LLAMADO LA LÍNEA DE FLUJO Y AL ZARANDA.
18. LA ZARANDA REMUEVE LOS RECORTES DEL LODO
19. EL LODO ENTONCES CAE EN LOS TANQUES DELODO DONDE LA BOMBA DE LODO
PUEDE RECOGER Y CONTINUAR EL PROCESO DE CIRCULACIÓN
20. EL LODO ESTÁ HECHADO EN LA UBICACIÓN DE LA TORRE DE PERFORACION
21. LA MAYORÍA DE LAS TORRES DE PERFORACION TIENEN VARIOS TANQUES DE LODO,
MÁS ADITIVOS VERTIDOS Y MEZCLADOS EN LOS TANQUES
22. ALGUNOS TERRENOS TIENEN TAMBIÉN PILETA DE RESERVA FUERA DE LA TIERRA DE
LODO
23. TANQUES DE LODO TAMBIÉN SE LLAMAN PILETAS DE LODO, UN CONTINUADOR DE
LOS DIAS DE TIERRA Y PILETAS PREFERIDOS POR ELLOS
24. EL EQUIPO NO ES NECESARIAMENTE PARA TODOS LOS TANQUES DE LODO SOLO
PARA UNA VEZ, AUNQUE TENGA VARIOS
25. LOS TANQUES ACTIVOS SE MANTIENEN LA BOMBA ACTIVAMENTE CIRCULANDO
26. LOS COMPONENTES OFRECIDOS DEL LODO VIENEN A LA TORRE DE PERFORACION
EN SACOS
27. NORMALMENTE EL GRUPO ALMACENA LOS SACOS EN UN COMPARTIMIENTO
ESPECIAL LLAMADO LA CASA DEL LODO O LA HABITACIÓN DEL SACO
28. LA CASA O SALA MANTIENE LOS SACOS SECOS Y LES PERMITE ALMACENARSE CON
CUIDADO
29. LA BOMBA TOMA EL LODO DE LOS TANQUES DE LODO ACTIVO Y LO CIRCULA A
TRAVÉS DEL SISTEMA.
30. LOS MIEMBROS DE LA TRIPULACIÓN CONECTAN LOS TANQUES DE LODO CON UNA
TUBERÍA Y LOS CONECTA
31 EL NÚMERO DE TANQUES DE LODO ACTIVO DEPENDE DE LA CANTIDAD DE LODO
NECESARIA PARA MANTENER EL POZO LLENO
32. Y EL VOLUMEN REQUERIDO EN LA SUPERFICIE PARA MANTENER EL LODO EN
BUENAS CONDICIONES DE CIRCULACIÓN
33. LOS TANQUES DE RESERVA NO SON PARTES DEL SISTEMA DE TANQUES LODOS
ACTIVOS
34. EN VEZ QUE EL EQUIPO LOS UTILICE PARA SUPERAR LODO
35. O PUEDEN SER UTILIZARLOS PARA MEZCLAR UN DIFERENTE TIPO DE LODO QUE LA
BOMBA ESTÁ CIRCULANDO ACTUALMENTE
36. TAMBIÉN PUEDEN ALMACENAR LODOS PESADOS PARA OPERACIONES DE CONTROL
DE POZO
37. LOS MIEMBROS DE LA TRIPULACIÓN UTILIZAN EL DEPÓSITO QUÍMICO PARA HACER
PRODUCTOS QUÍMICOS ESPECIALES TALES COMO CAUSTICOS QUE PONDRAN A LOS
TANQUES DE LODO ACTIVOS.
38. EN ALGUNOS TERRITORIOS EL REGULAR TOMA UN LOTE GRANDE JUNTO A LA TORRE
DE PERFORACION, ESTA PILETA SE LLAMA EL PILETA DE RESERVA.
39. LA TRIPULACIÓN PONE EL LODO DE RESIDUOS Y ESCAPA DESDE EL SITIO DE LA TORRE
DE PERFORACION EN EL PILETA DE RESERVA
40. EN UNA EMERGENCIA PUEDE TAMBIEN USARLO COMO LUGAR PARA PONER MAS
LODO QUE LOS TANQUES PUEDEN SOSTENER
41. USUALMENTE EL OPERADOR DE LA TORRE ALINEA EL TUBO DE RESERVA CON UNA
HOJA DE PLÁSTICO GRUESO PARA EVITAR QUE LOS LÍQUIDOS SE VIERTAN EN EL SUELO.
42. LA BOMBA DE LODO PODRA RECOGER EL LODO NO SOSTENER Y DETRÁS A LA
SUPERFICIE
43. TODOS ESTAS TORRES DE PERFORACION TIENEN DOS BOMBAS DE LODO Y A VECES
TRES O CUATRO, NORMALMENTE USAN SOLO UNO A LA VEZ
44. LOS OTROS SON UTILIZADOS PRINCIPALMENTE COMO REEMPLAZO EN CASO DE
FALLA
45. A VECES, SIN EMBARGO, EL GRUPO DE LA TORRE DE PERFORACION ESTA
COMPUESTO DE LAS BOMBAS
46. QUE PUEDEN UTILIZAR DOS, TRES O CUATRO BOMBAS AL MISMO TIEMPO PARA
MOVER GRANDES VOLUMENES DE LODO CUANDO SE REQUIERAN.
47. LAS TORRES DE PERFORACION UTILIZAN UNO DE DOS TIPOS DE BOMBAS, BOMBA
TRIPLEX Y BOMBA DUPLEX
48. LAS BOMBAS TRIPLEX TIENEN TRES PISTONES QUE SE DESPLAZAN
49. LAS BOMBAS DÚPLEX TIENEN DOS PISTONES QUE SE DESPLAZAN Y HACIA ABAJO
50. TRIPLEX TIENEN MUCHAS VENTAJAS
51. LAS BOMBAS TRIPES TIENEN MUCHAS VENTAJAS
52. PESAN 30% MENOS QUE LA DÚPLEX PARA UNA POTENCIA IGUAL EN CABALLOS DE
FUERZA O kw
53. EL LIGERO PESO DE LAS PARTES HACEN QUE SEAN FÁCILES DE MANEJAR Y ASÍ MISMO
DE SU MANTENIMIENTO.
54. OTRAS VENTAJAS INCLUYEN
55. EL COSTO DE OPERACION ES MENOR
56. EL FLUIDO ES MAS ACCESSIBLE
57. Y LA DESCARGA DE LODO ES MAS SUAVE. ES DECIR, LA SALIDA DE LA BOMBA TRIPLEX
NO SUBE TANTO COMO LA DE UNA DÚPLEX.
58. EN UNA BOMBA TRIPLEX EL PISTON DESCARGA EL LODO SOLO CUANDO SE MUEVE
ADELANTE EN EL LINER
59. ENTONCES CUANDO SE MUEVEN HACIA ATRAS SE SUMERGE EN EL LODO EN EL MISMO
LADO QUE EL PISTON DEBIDO A ESTO ES TAMBIÉN LLAMADO DE ACCIÓN SIMPLE
60. BOMBAS TRIPLEX DE ACCION SIMPLE, BOMBEA LODO A VELOCIDADES RELATIVAMENTE
ALTAS
61. LA POTENCIA DE ENTRADA OSCILA ENTRE 220 Y 2200 HP Y DE 164 Y 1641 KW
62. LAS GRANDES BOMBAS PUEDEN BOMBEAR ARRIBA DE 1100 GALONES POR MINUTE Y
SOBRE 4000 LITROS POR MINUTO
63. ALGUNAS BOMBAS TIENEN UNA TAZA MÁXIMA DE PRESIÓN DE TRABAJO DE 7000 PSI O
50000KPA CON 5 PULG O 127 MM DE LINER
64. UNA BOMBA DE LODO TIENE UN EXTREMO DE FLUIDO Y VÁLVULAS DE ADMISIÓN Y
DESCARGA.
65. EL EXTREMO DE LA BOMBA CONTIENE EL PISTON CON REVESTIMIENTO QUE RECOGE LA
DESCARGA DEL FLUIDO O LODO
66. LOS PISTONES DE LA BOMBA SUCCIONAN EL LODO A TRAVÉS DE LAS VÁLVULAS DE
ADMISIÓN Y EXPULSAN EL LODO A TRAVÉS DE LAS VÁLVULAS DE DESCARGA
67. EL EXTREMO DE POTENCIA ALOJA EL CIGUEÑAL GRANDE Y EL ARREGLO DE ENGRANAJES
QUE MUEVEN EL ARREGLO DE PISTONES EN EL EXTREMO DEL FLUIDO
68. LAS BOMBAS ESTAN ALIMENTADAS POR UN MOTOR DE BOMBA
69. SE UTILIZAN GRANDES Y MODERNAS PLATAFORMAS DIESEL ELECTRICAS QUE USAN
GRANDES Y POTENTES MOTORES PARA ACCIONAR LA BOMBA
70. PLATAFORMAS MECANICAS USAN CADENAS O CINTAS DE DE POTENCIA DESDE LAS
PLATAFORMA DE LOS MOTORES PARA IMPULSAR LOS COMPONENTES DE LA BOMBA
71. LA ZARANDA REMUEVE MECÁNICAMENTE LOS RECORTES GRANDES DEL LODO
72. SIN EMBARGO NO REMUEVE LOS RECORTES FINOS EN OTRAS PARTÍCULAS PEQUEÑAS
73. ESTOS SOLIDOS PUEDEN SER ENCONTRADOS EN OTRAS PARTICULAS MUY FINAS Y SON
COMÚNMENTE LLAMADAS LIMO.
74. UNA BUENA PRÁCTICA DE PERFORACION REQUIERE REMOVER ESTOS INDESEABLES
SOLIDOS
75. SI NO SE REMUEVEN LOS SOLIDOS EL PESO DEL LODO SE PUEDE INCREMENTAR MAS
DEL REQUERIDO, REDUCIENDO LA TAZA DE PERFORACIÓN E INCREMENTANDO
76. SIGNIFICATIVAMENTE LOS PROBLEMAS EN LOS EQUIPOS DE CIRCULACION
77. LA PLATAFORMA USA UN EQUIPO DE REMOCION DE SOLIDOS COMO SER LA DE
78. HIDROCICLONES Y LA CENTRIFUGADORA PARA REMOVER LOS SOLIDOS FINOS
79. A VECES EL EL POZO PENETRA UNA FORMACIÓN QUE CONTIENE PEQUEÑAS
CANTIDADES DE GAS
80. ESTE GAS SE METE DENTRO DEL LODO, Y ES ARRASTRADO, ESTE DEBE SER RETIRADO
ANTES Q EL LODO SE RE CIRCULE EL LODO NUEVAMENTE EN EL HOYO, UN
DESGASIFICADOR REMUEVE EL GAS ARRASTRADO DEL LODO
81. LA ZARANDA TIENE PANELES QUE VIBRAN RAPIDAMENTE
82. LOS RECORTES QUE RETORNAN DE LA LINEA CAEN EN ELLA
83. LOS PANELES VIBRANTES ATRAPAN LOS RECORTES
84. ESTOS RECORTES CAEN EN UN TAQUE DE RESERVE, U OTRO CONTENEDOR DISPUESTO
PARA ESTE ACOMETIDO
85. A VECES EL PERSONAL ENVÍA LODO A TRAVÉS DE UN DESCALIFICADOR DE VACÍO
86. EL DESCALIFICADOR REMUEVE EL GAS DEL LODO.
87. SI EL GAS NO FUESE REMOVIDO ESTO PROVOCARÍA QUE EL LODO SEA MÁS LIGERO, NO
LO SUFICIENTEMENTE DENSO.
88. COMO RESULTADO EL POZO PUEDE REVENTAR. FLUIDOS DE FORMACIÓN PUEDEN
INGRESAR AL POZO Y DEBEN SER CONTROLADOS PARA PREVENIR UN REVENTÓN.
89. OTRO PROBLEMA, SI EL PERFORADOR RE CIRCULA GAS LODO CON GAS PUEDE CAUSAR
QUE LAS BOMBAS SE BLOQUEEN CON GAS
90. BOMBAS DE GAS BLOQUEADAS BOMBEAN GAS EN VEZ DE LODO LO CUAL ES MUY
INEFICIENTE, ENTONCES PARA REMOVER EL GAS EL PERSONAL USA UN
DESGASIFICADOR
91. UN TOTALIZADOR DE VOLUMEN O PVT ALERTA AL PERFORADOR PARA CAMBIAR EL
NIVEL DEL LODO EN EL TANQUE.
92. UN FLOTADOR EN CADA TANQUE SE ELEVA O CAE SI EL NIVEL DEL LODO SUBE O BAJA.
93. POR EJEMPLO, SI EL NIVEL SE INCREMENTA, EL ELEVADO FLOTADOR ENVIARA UNA
SEÑAL A DISPOSITIVO QUE ALMACENA Y A UN PANEL DIGITAL EN LA BASE DE LA
PLATAFORMA
94. EL PANEL ALERTA AL PERFORADOR DEL INCREMENTO.
95. ESTE DISPOSITIVO ES LLAMADO TOTALIZADOR DE VOLUMEN DE POZO O PVT POR QUE
MIDE LA GANANCIA O PÉRDIDA EN CADA UNO DE LOS TANQUES O TANQUES DE
RESERVA, TOTALIZA LA GANANCIA O LA PERDIDA Y ENVÍA ESTA INFORMACIÓN AL
PERFORADOR EN LA BASE DE LA PLATAFORMA
96. SI EL NIVEL DEL LODO EN EL TANQUE CAE EL PVT TAMBIÉN ALERTA AL PERFORADOR.
97. ESTE FLOTADOR EN UN TANQUE DE LODO ES PARTE DEL PVT
98. USUALMENTE, EL MIEMBRO DEL PERSONAL INSTALA UN FLOTADOR EN CADA UNO DE
LOS TANQUES ACTIVOS
99. EL FLOTADOR SE ELEVA O CAE CON EL NIVEL DEL LODO EN LOS TANQUES ACTIVOS.
100.
EL NIVEL DEL LODO EN EL TANQUE ES UNA INFORMACIÓN VITAL.
101.
SI EL NIVEL DEL LODO SUBE, ESTO ES FRECUENTEMENTE POR QUE EL POZO A
SUFRIDO UN INFLUJO, FLUIDO DE LA FORMACIÓN HAN ENTRADO AL HOYO FORZANDO
EL LODO A SALIR.
102.
LOS FLUIDOS DEL INFLUJO REEMPLAZAN AL LODO EN EL HOYO Y CAUSAN QUE
EL NIVEL DEL LODO EN EL TANQUE SE ELEVE.
103.
DE OTRO MODO, SI EL LODO EMPIEZA A INTRODUCIRSE EN LA FORMACIÓN, SI
EL LODO SE PIERDE EN LA FORMACIÓN, EL NIVEL DEL TANQUE BAJA.
LAS PERDIDAS DE CIRCULACION TAMBIEN PUEDEN SER UN PROBLEMA SERIO
104.
LA REDUCCION DE LA ALTURA DEL LODO EN EL HOYO PUEDE DEBERSE A UN
INFLUJO
PORQUE LA PRESIÓN HIDROSTÁTICA ES REDUCIDA
105.
TAMBIEN PERFORAR SIN LODO QUE RETORNA A LA SUPERFICIE ES COMO
PERFORAR CIEGAMENTE. SIN COMUNICACIÓN ENTRE EL FONDO DEL POZO Y LA
SUPERFICIE.