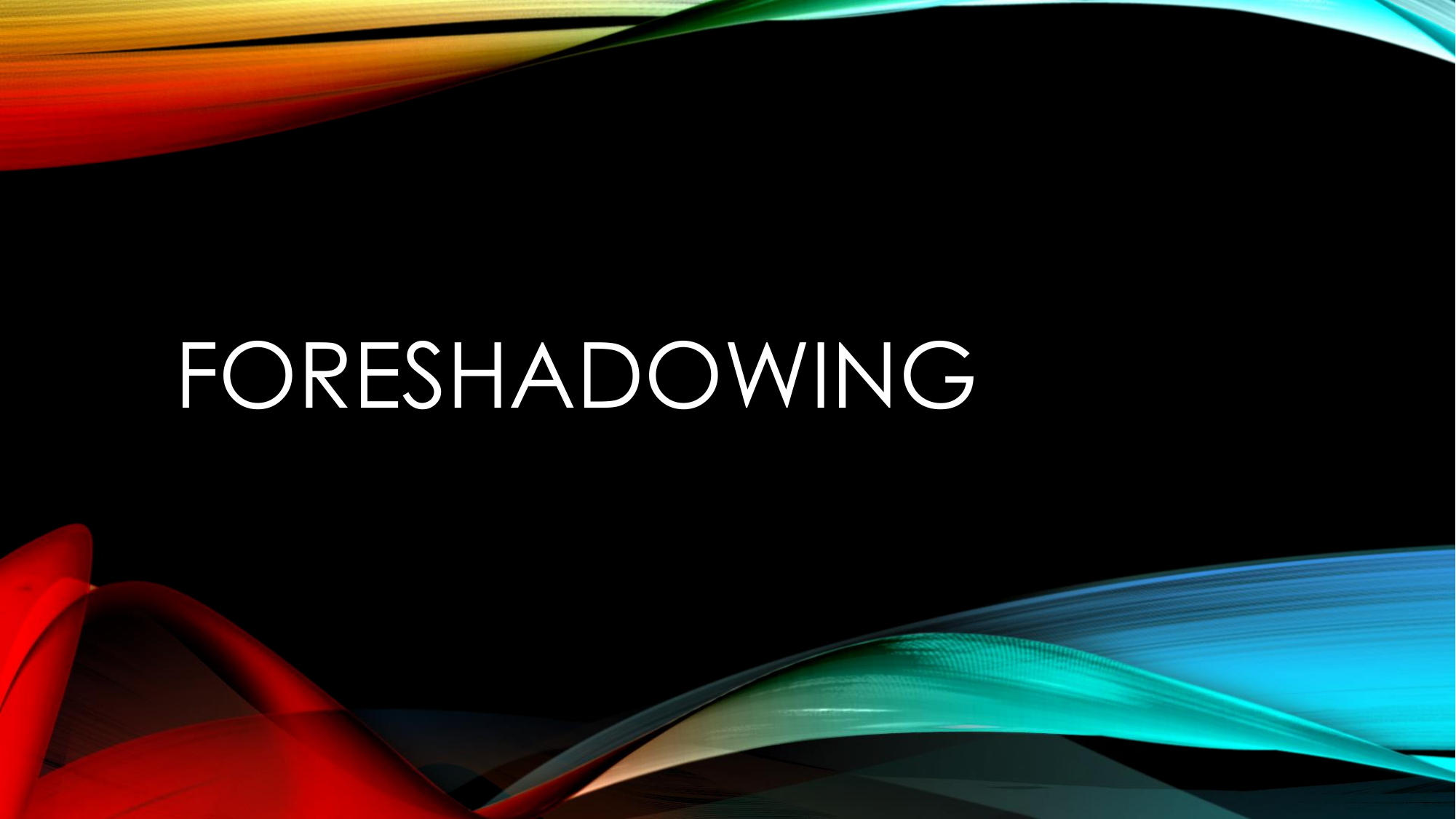 FORESHADOWING
FORESHADOW
• A sign or warning of what's to come in the
future
• It's basically hinting at something that will
happen later in the story
FORESHADOW
• This is done by showing certain events
• Or something that a character says
• Foreshadowing usually adds tension to the story
EXAMPLES
• An example of foreshadow is to introduce a weapon into a
movie scene, which will later be used in combat
• Sometimes a character is worried or anxious, this
foreshadows something bad or uncomfortable is about to
happen
• Narration can sometimes foreshadow events that are going
to happen in a story
EXAMPLES
• When you are watching a show, they usually give previews
for what will happen on the following episode (they use
foreshadowing to give you hints)
PICTURE THE SCENE
• We are in the cockpit of an airplane. The plane hits
turbulence and the captain struggles to regain control. It
doesn't last long, and everything is soon seemingly fine
again…
• What do you think is going to happen?
PICTURE THE SCENE
• A teenage girl leaves the house for an evening out with her
friends. Her mother makes her promise to be back before
midnight. The girl kisses her mother and tells her she worries
too much. She'll be fine, she says.
…but us readers know she won't be.
• In the real world, mothers worry over nothing all the time,
however old their children are (it's part of their job
description).
• In fiction, however, there is no such thing as irrationality. If a
character worries, the reader expects – indeed, demands –
that these worries are for a reason.
• The obvious outcome here is that the daughter does not
make it home safely.
ONE MORE SCENE:
• An old man is sitting at his desk looking at his stamp
collection. When he opens the drawer for his magnifying
glass, his fingers brush against a revolver. He finds the
magnifying glass and closes the drawer…
• But us readers know that the gun wouldn't have been
shown to us at all if it wasn't going to be fired later in the
novel.
• What is going to happen?