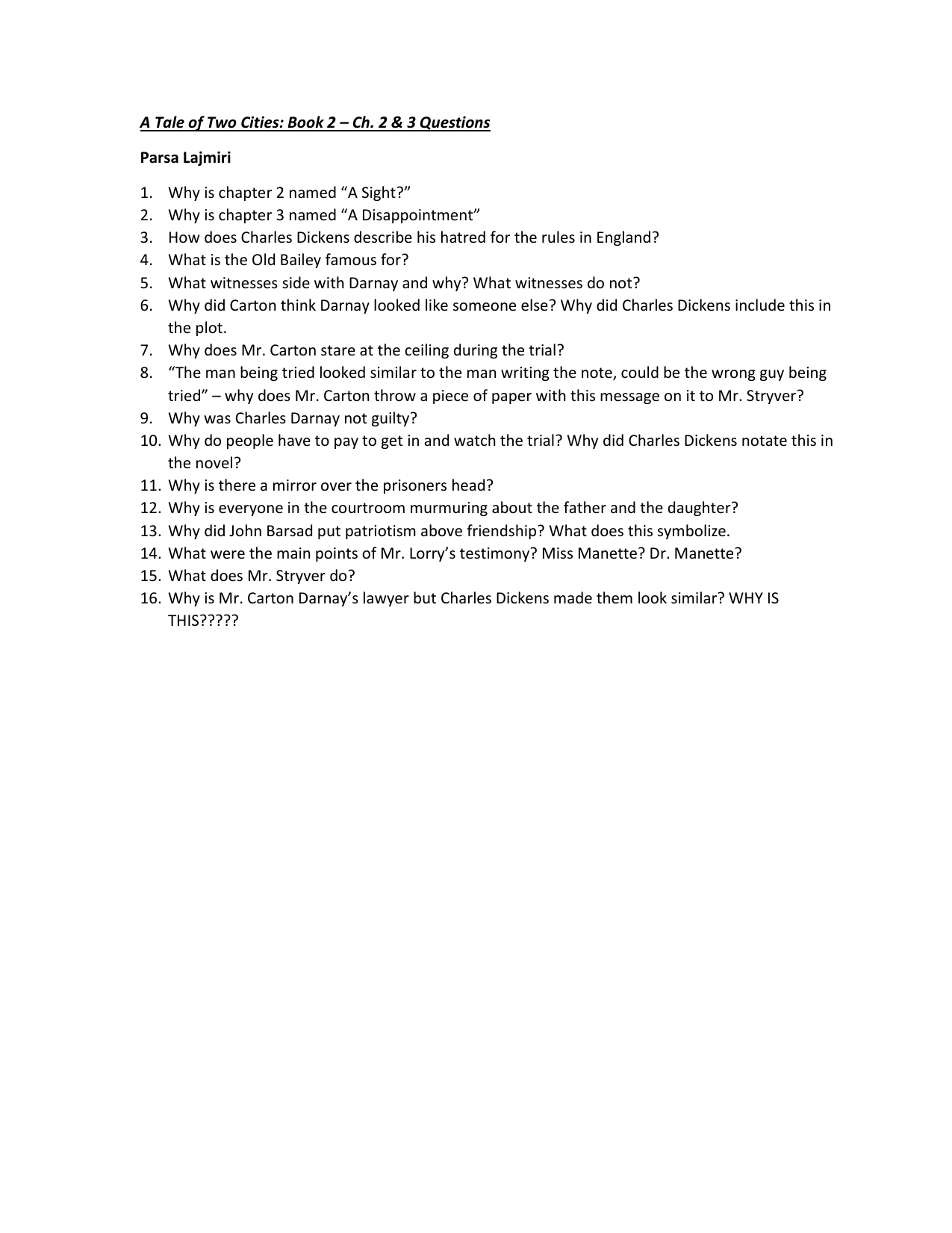 A Tale of Two Cities: Book 2 – Ch. 2 & 3 Questions
Parsa Lajmiri
1.
2.
3.
4.
5.
6.
7.
8.
9.
10.
11.
12.
13.
14.
15.
16.
Why is chapter 2 named "A Sight?"
Why is chapter 3 named "A Disappointment"
How does Charles Dickens describe his hatred for the rules in England?
What is the Old Bailey famous for?
What witnesses side with Darnay and why? What witnesses do not?
Why did Carton think Darnay looked like someone else? Why did Charles Dickens include this in
the plot.
Why does Mr. Carton stare at the ceiling during the trial?
"The man being tried looked similar to the man writing the note, could be the wrong guy being
tried" – why does Mr. Carton throw a piece of paper with this message on it to Mr. Stryver?
Why was Charles Darnay not guilty?
Why do people have to pay to get in and watch the trial? Why did Charles Dickens notate this in
the novel?
Why is there a mirror over the prisoners head?
Why is everyone in the courtroom murmuring about the father and the daughter?
Why did John Barsad put patriotism above friendship? What does this symbolize.
What were the main points of Mr. Lorry's testimony? Miss Manette? Dr. Manette?
What does Mr. Stryver do?
Why is Mr. Carton Darnay's lawyer but Charles Dickens made them look similar? WHY IS
THIS?????