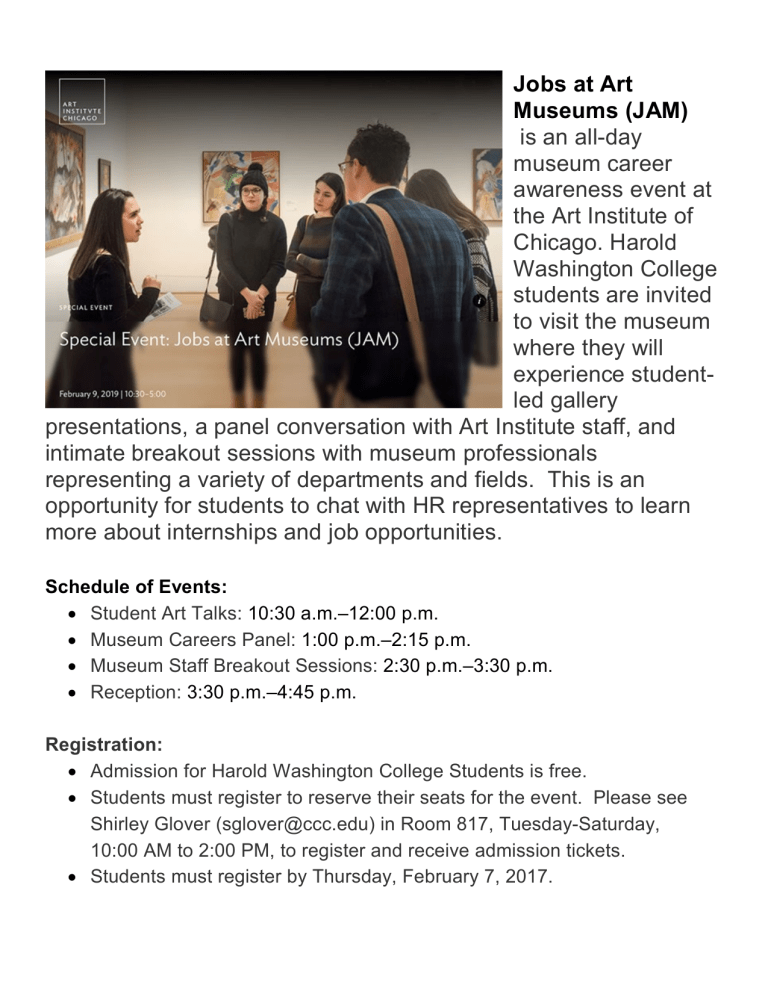 Jobs at Art
Museums (JAM)
is an all-day
museum career
awareness event at
the Art Institute of
Chicago. Harold
Washington College
students are invited
to visit the museum
where they will
experience studentled gallery
presentations, a panel conversation with Art Institute staff, and
intimate breakout sessions with museum professionals
representing a variety of departments and fields. This is an
opportunity for students to chat with HR representatives to learn
more about internships and job opportunities.
Schedule of Events:
• Student Art Talks: 10:30 a.m.–12:00 p.m.
• Museum Careers Panel: 1:00 p.m.–2:15 p.m.
• Museum Staff Breakout Sessions: 2:30 p.m.–3:30 p.m.
• Reception: 3:30 p.m.–4:45 p.m.
Registration:
• Admission for Harold Washington College Students is free.
• Students must register to reserve their seats for the event. Please see
Shirley Glover (sglover@ccc.edu) in Room 817, Tuesday-Saturday,
10:00 AM to 2:00 PM, to register and receive admission tickets.
• Students must register by Thursday, February 7, 2017.