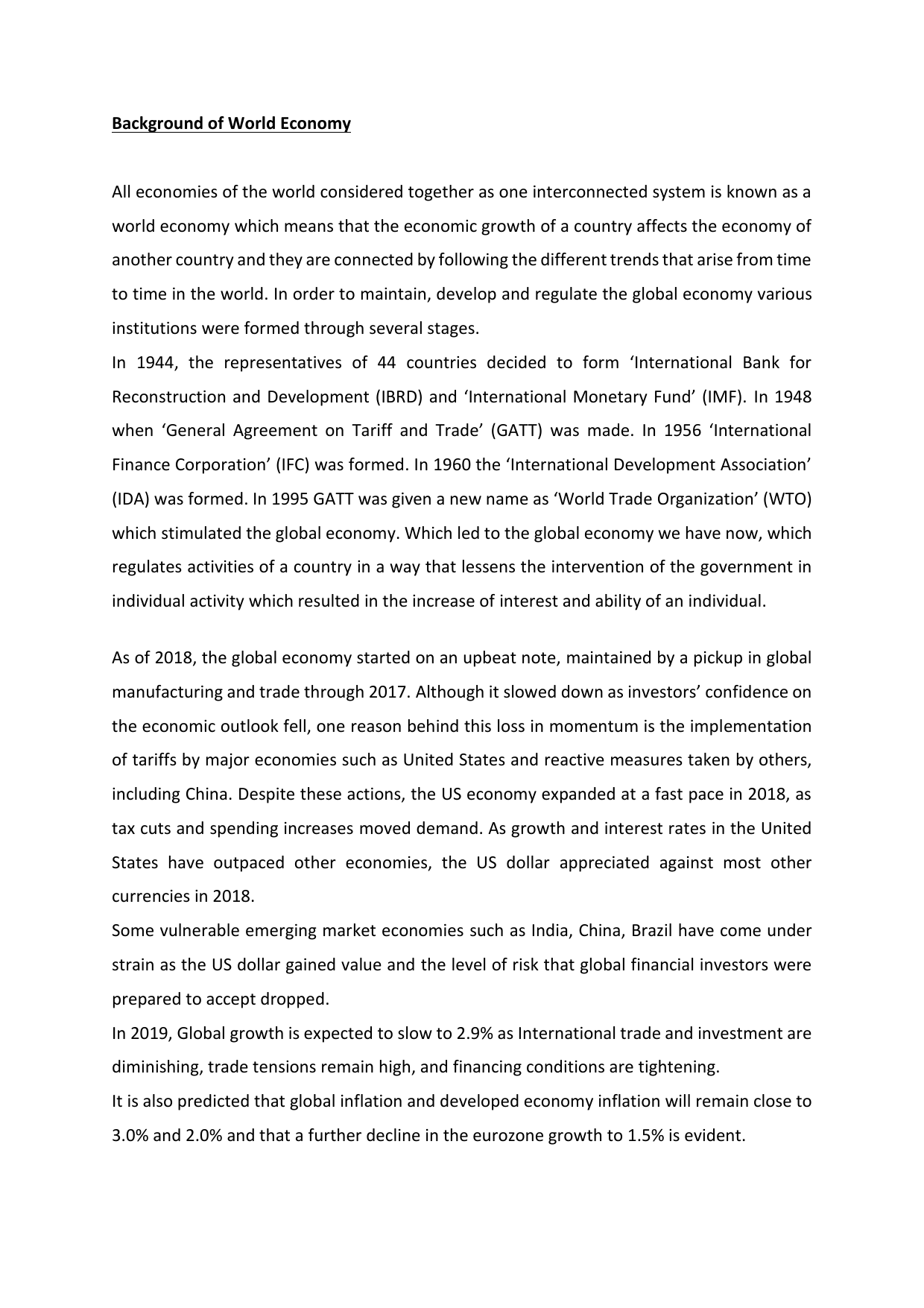 Background of World Economy
All economies of the world considered together as one interconnected system is known as a
world economy which means that the economic growth of a country affects the economy of
another country and they are connected by following the different trends that arise from time
to time in the world. In order to maintain, develop and regulate the global economy various
institutions were formed through several stages.
In 1944, the representatives of 44 countries decided to form 'International Bank for
Reconstruction and Development (IBRD) and 'International Monetary Fund' (IMF). In 1948
when 'General Agreement on Tariff and Trade' (GATT) was made. In 1956 'International
Finance Corporation' (IFC) was formed. In 1960 the 'International Development Association'
(IDA) was formed. In 1995 GATT was given a new name as 'World Trade Organization' (WTO)
which stimulated the global economy. Which led to the global economy we have now, which
regulates activities of a country in a way that lessens the intervention of the government in
individual activity which resulted in the increase of interest and ability of an individual.
As of 2018, the global economy started on an upbeat note, maintained by a pickup in global
manufacturing and trade through 2017. Although it slowed down as investors' confidence on
the economic outlook fell, one reason behind this loss in momentum is the implementation
of tariffs by major economies such as United States and reactive measures taken by others,
including China. Despite these actions, the US economy expanded at a fast pace in 2018, as
tax cuts and spending increases moved demand. As growth and interest rates in the United
States have outpaced other economies, the US dollar appreciated against most other
currencies in 2018.
Some vulnerable emerging market economies such as India, China, Brazil have come under
strain as the US dollar gained value and the level of risk that global financial investors were
prepared to accept dropped.
In 2019, Global growth is expected to slow to 2.9% as International trade and investment are
diminishing, trade tensions remain high, and financing conditions are tightening.
It is also predicted that global inflation and developed economy inflation will remain close to
3.0% and 2.0% and that a further decline in the eurozone growth to 1.5% is evident.
Background of Sri Lankan Economy
Sri Lanka is a Lower Middle-Income country with a per capita income of 621,026 and a total
population of 21.4 million people. The people of Sri Lanka were involved in a 30-year civil war
that ended in 2009, After which the economy grew at a steady average of 5.8% during the
period of 2010 to 2017, reflecting a determined plunge towards reconstruction and growth;
although there were some signs of a slowdown in the last few years. The economy is shifting
from a predominantly rural-based economy towards a more urbanized economy around
manufacturing and services. The country has made significant progress in its socio-economic
and human development indicators.
Economic growth has translated into shared prosperity with the national poverty headcount
ratio declining from 15.3% in 2006 to 4.1% in 2016. Extreme poverty is rare and concentrated
in some geographical pockets; however, a relatively large share of the population exists on
slightly more than the extreme poverty. The country has comfortably surpassed most of the
Millennium Development Goals (MDGs), targets that were set for 2015 and was ranked 73rd
in the Human Development Index in 2015.
After hitting a 16-year low economic growth of 3.3% in 2017, Agricultural industry sectors are
expected to have recovered in the first half of 2018 with favorable weather conditions.
However, the ongoing drought, which has been more pronounced from the beginning of the
third quarter of 2018, has already impacted more than 900,000 people in 18 districts.
Currency depreciation and effects of increasing fuel prices increased inflation to 5.6% by
August 2018. On the external front, exports recovered thanks to the reinstatement of GSP+
preferential access to the European Union. Nevertheless, the gradually rising fuel bill and
increased imports of vehicles and gold meant that there would be a negative balance of
payments.
Sri Lankan economy took the biggest hit from the ongoing constitutional crisis that started in
October as the dollar rate continues to rise in value against the rupee, which in turn led to
many investors and lenders such as the International Monetary Fund backing out from
funding projects in the country.
We hope to delve deeper into the after effects of the recent political crisis and on how to rise
from the ashes as an economy in the year 2019.
References
o World Bank. (2019). Global Economic Prospects. [online] Available at:
http://www.worldbank.org/en/publication/global-economic-prospects [Accessed 7
Jan. 2019].
o FocusEconomics | Economic Forecasts from the World's Leading Economists.
(2019). The World's Largest Economies (2019-2023). [online] Available at:
https://www.focus-economics.com/blog/the-largest-economies-in-the-world
[Accessed 6 Jan. 2019].
o IMF. (2019). World Economic Outlook, October 2018: Challenges to Steady Growth.
[online] Available at:
https://www.imf.org/en/Publications/WEO/Issues/2018/09/24/world-economicoutlook-october-2018 [Accessed 8 Jan. 2019].
o The Balance. (2019). What Will the Economy Do in 2019 and Beyond?. [online]
Available at: https://www.thebalance.com/us-economic-outlook-3305669 [Accessed
7 Jan. 2019].
o IMF Blog. (2019). 5 Charts That Explain the Global Economy in 2018. [online]
Available at: https://blogs.imf.org/2018/12/20/5-charts-that-explain-the-globaleconomy-in-2018/ [Accessed 7 Jan. 2019].
o Central bank of Sri Lanka. (2019). RECENT ECONOMIC DEVELOPMENTS: HIGHLIGHTS
OF 2018 AND PROSPECTS FOR 2019. [online] Available at:
https://www.cbsl.gov.lk/sites/default/files/cbslweb_documents/publications/red/20
18/2%20-%20Chapter%201%20-%20English.pdf [Accessed 7 Jan. 2019].
o Un.org. (2019). [online] Available at:
https://www.un.org/development/desa/dpad/wpcontent/uploads/sites/45/publication/WESP2018_Full_Web-1.pdf [Accessed 8 Jan.
2019].