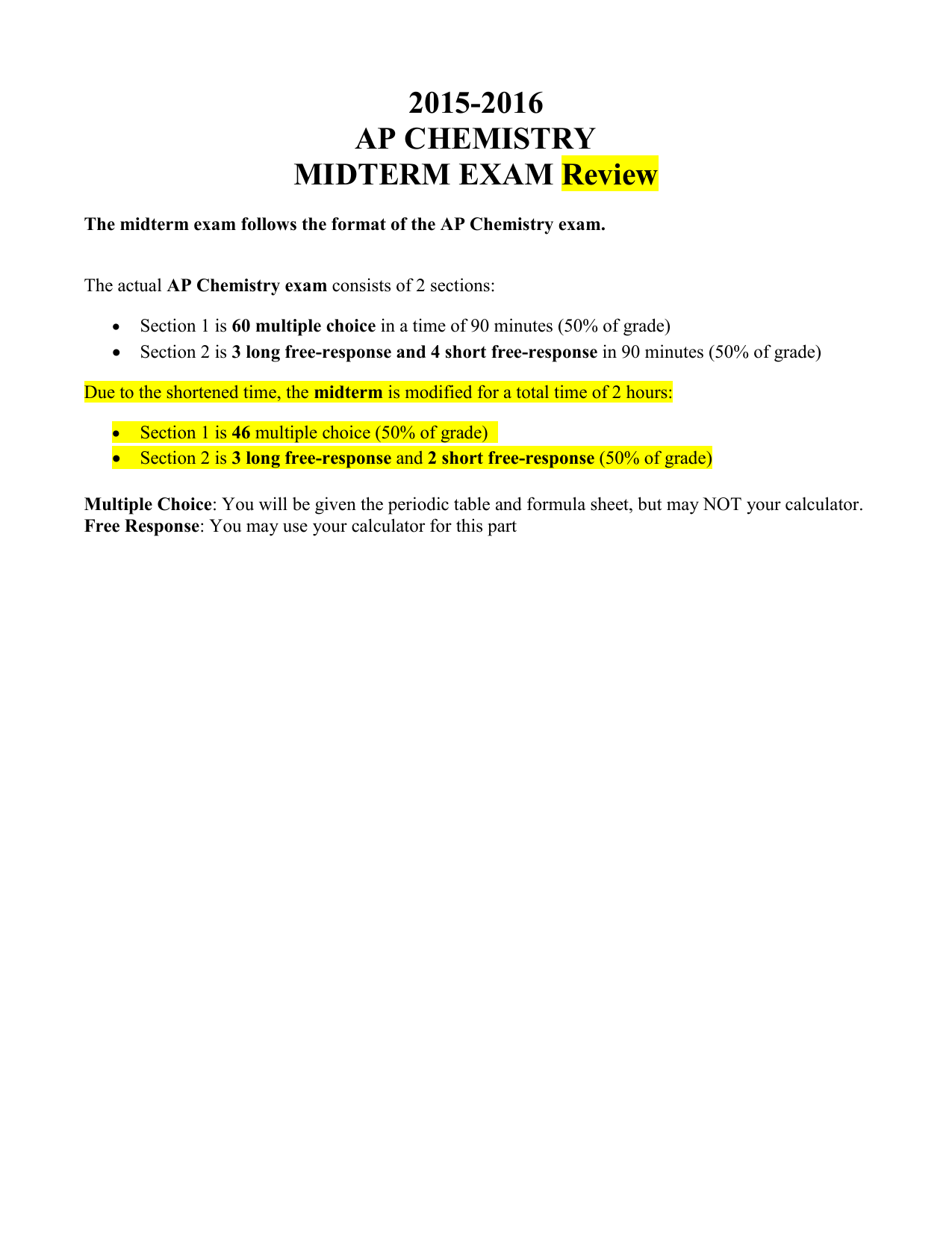 2015-2016
AP CHEMISTRY
MIDTERM EXAM Review
The midterm exam follows the format of the AP Chemistry exam.
The actual AP Chemistry exam consists of 2 sections:


Section 1 is 60 multiple choice in a time of 90 minutes (50% of grade)
Section 2 is 3 long free-response and 4 short free-response in 90 minutes (50% of grade)
Due to the shortened time, the midterm is modified for a total time of 2 hours:


Section 1 is 46 multiple choice (50% of grade)
Section 2 is 3 long free-response and 2 short free-response (50% of grade)
Multiple Choice: You will be given the periodic table and formula sheet, but may NOT your calculator.
Free Response: You may use your calculator for this part
SECTION I: Multiple Choice
Please mark the best choice for each question.
Note: For all questions involving solutions and/or chemical equations, assume that the system is in pure water at room temperature unless otherwise noted.
1.
A combination of sand, salt, and water is an
example of a ___________________.
a. Homogeneous mixture
b. Heterogeneous mixture
c. Compound
2.
Which state or states of matter are significantly
compressible?
a. gases
b. liquids
c. solids
3.
d. liquids and gases
e. solids and liquids
d. a heterogeneous mixture
e. an element
9.
a.
b.
c.
d.
e.
Of the following, only _______________ is a
chemical reaction.
a. Melting of lead
b. Dissolving sugar in water
c. Tarnishing of Silver
The charge on an electron was determined in the
______.
cathode ray tube by JJ Thompson
Rutherford gold foil experiment
Millikan oil drop experiment
Dalton atomic theory
radioactive decay of Carbon by James Chadwick
10. Which combination of protons, neutrons, and
electrons is correct for the 6329Cu isotope of
Copper?
d. Crushing of Stone
e. Placing a penny in water
5. Of the following, _____ is smallest in mass.
a. 25 kg
d. 2.5 x 109 fg
-2
b. 2.5 x 10 mg
e. 2.5 x 1010 ng
15
c. 2.5 x 10 pg
Which one of the following is NOT one of the
postulates of Dalton's atomic theory?
a. Each element is composed of tiny, indivisible particles
called atoms
b. All atoms of a given element are identical to each other
and different from those of other elements
c. During a chemical reaction, atoms are changed into atoms
of different elements
d. Compounds are formed when atoms of different elements
combine
e. Atoms of an element are not changed into different types
of atoms by chemical reactions
If matter is uniform throughout and cannot be
separated into other substances by physical
means, it is _____.
a. a compound
b. either an element or a
compound
c. a homogenous mixture
4.
d. Pure substance
e. Solid
8.
a.
b.
c.
d.
e.
29 protons, 34 neutrons, and 29 electrons
29 protons, 29 neutrons, and 63 electrons
63 protons, 29 neutrons, and 63 electrons
34 protons, 29 neutrons, and 34 electrons
34 protons, 34 neutrons, and 29 electrons
11. In the Rutherford nuclear-atom model,
6.
a.
b.
c.
d.
e.
Precision refers to _______________.
How close a measured value is to other measured numbers
How close a measured number is to the true value
How close a measured number is to the calculated value
How close a measured number is to zero
How close a measured number is to the determined mean
7.
A scientific __________ is a concise statement or
an equation that summarizes a broad variety of
observations. It has been extensively tested.
a. law
b. hypothesis
c. theory
d. trend
e. pattern
a. The heavy subatomic particles, protons and neutrons,
reside in the nucleus
b. The three principle subatomic particles (protons, neutrons,
and electrons,) all have essentially the same mass.
c. The light subatomic particles, protons and neutrons, reside
in the nucleus
d. Mass is spread essentially uniformly throughout the atom
e. The three principle subatomic particles(protons, neutrons,
and electrons) all have essentially the same mass and mass
is spread essentially uniformly throughout the atom.
12. In the periodic table, the elements are arranged in
_____________.
a.
b.
c.
d.
e.
Alphabetical order
Order of increasing atomic number
Order of decreasing metallic properties
Order of increasing neutron content
Chemically families based on bit physical and chemical
properties
13. Which pair of elements would you expect to
exhibit the greatest similarities in the physical and
chemical properties?
a. Oxygen and Sulfur
b. Carbon and Nitrogen
c. Potassium and Calcium
d. Hydrogen and Helium
e. Silicon and Phosphorous
15. Which one of the following does not occur as a
diatomic molecule in elemental form?
a. oxygen
b. nitrogen
c. sulfur
16. When a metal and a nonmetal react, the ________
tends to lose electrons and the _______ tends to
gain electrons.
a. Metal, metal
b. Nonmetal, nonmetal
Alkaline earth metals, halogens, and chalcogens
Alkali metals, chalcogens, and halogens
Alkali metals, halogens, and noble gasses
Alkaline earth metals, transition metals, and halogens
18. When the following equation is balanced, the
coefficients are ____________.
NH3 + O2 → NO2 + H2O
a. 1, 1, 1, 1
b. 4, 7, 4, 6
c. 2, 3, 2, 3
d. 1, 3, 1, 2
e. 4, 3, 4, 3
19. When the following equation is balanced, the
coefficient of Al is __________.
Al (s) + H O
2 (l)
a. 1
b. 2
c. 3
Al(OH) (s)
3 +H
17. The correct formula for molybdenum (IV)
hypochlorite is ____________.
20. Predict the product in the combination
reaction below.
Al (s) + N2 (g) → ____________
23. When aqueous solutions of ___________ are
mixed, a precipitate forms.
a. NiBr2 and AgNO3
b. NaI and KBr
c. K2SO4 and CrCl3
a. Mo(ClO3)4
b. Mo(ClO)4
c. Mo(ClO2)4
d. KOH and Ba(NO3)2
e. Li2CO3 and CsI
24. Which one of the following is a correct
expression for molarity?
a. mol solute / L solvent
d. mol solute / kg solvent
b. mol solute / mL Solvent e. μmol solute / L solution
c. mmol solute / mL
solution
d. Mo(ClO4)4
e. MoCl4
21. Pentacarbonyliron (Fe(CO)5) reacts with
phosphorous trifluoride and hydrogen to
release carbon monoxide. The reaction of 5.0
mol of Fe(CO)5, 8.0 mol of PF3, and 6.0 mol of
H2 will release ________ mol of CO.
Fe(CO)5+2PF3+H2→Fe(CO)2(PF3)2H2+3CO
a. 15
b. 5.0
c. 24
d. 6.0
e. 12
22. When H2SO4 is neutralized by KOH in
aqueous solution, the net ionic equation is:
(g)2
d. 4
e. 5
d. Nonmetal, metal
e. None of the above, these
elements share electrons
c. Metal, nonmetal
14. The elements in groups 1A, 6A, and 7A are called
_______________, respectively.
a.
b.
c.
d.
d. hydrogen
e. bromine
a.
b.
c.
d.
e.
SO42- + 2K+ → K2SO4 (aq)
SO42- + 2K+ → K2SO4 (s)
H+ + OH- → H2O (l)
H2SO4 + 2OH- → 2H2O (l) + SO422H+ + 2KOH → 2H2O (l) + 2K+
25. How many moles of Co2+ are present in
0.200L of a 0.400 M solution of CoI2
a. 2.00
b. 0.500
c. 0.160
d. 0.0800
e. 0.0400
26. There are _____ paired and _______ unpaired
electrons in the Lewis Symbol for a
phosphorous atom.
a. 4, 2
d. 4, 3
b. 2, 4
e. 3, 2
c. 2, 3
27. The halogens, alkali metals, and alkaline
earth metals have ____ valence electrons,
respectively.
a. 2, 4, and 6
b. 1, 5, and 7
c. 8, 2, and 3
d. 7, 1, and 2
e. 2, 7, and 4
a.
b.
c.
d.
e.
28. Elements from opposite sides of the periodic
table tend to form ___________.
Covalent compounds
Ionic compounds
Compounds that are gases at room temperature
Diatomic compounds
Metallic compounds
Questions 29-32
(A) Heisenberg uncertainty principle
(B) Pauli exclusion principle
(C) Hund's rule (principle of maximum multiplicity)
(D) Shielding effect
(E) Wave nature of matter
29. Can be used to predict that a gaseous carbon atom in its ground state is paramagnetic
30. Explains the experimental phenomenon of electron diffraction
31. Indicates that an atomic orbital can hold no more than two electrons
32. Predicts that it is impossible to determine simultaneously the exact position and the exact velocity of an electron
Questions 33-35 refer to the phase diagram below of a pure substance.
(A) Sublimation
(B) Condensation
(C) Solvation
(D) Fusion
(E) Freezing
33. If the temperature increases from 10° C to 60° C at a constant pressure of 0.4 atmosphere, which of the processes occurs?
34. If the temperature decreases from 110° C to 40° C at a constant pressure of 1.1 atmospheres, which of the processes occurs?
35. If the pressure increases from 0.5 to 1.5 atmospheres at a constant temperature of 50° C, which of the processes occurs?
Questions 36-38 refer to the following diatomic species.
(A) Li2
(B) B2
(C) N2
36. Has the largest bond-dissociation energy
(D) O2
(E) F2
37. Has a bond order of 2
38. Contains 1 sigma (σ) and 2 pi (π) bonds
39. In a molecule in which the central atom exhibits sp3d2 hybrid orbitals, the electron pairs are directed toward the corners of
(A) a tetrahedron
(B) a square-based pyramid
(C) a trigonal bipyramid
(D) a square
(E) an octahedron
40. Which of the following sets of quantum numbers (n, l, ml, ms) best describes the valence electron of highest energy in a
ground-state gallium atom (atomic number 31) ?
(D) 4, 1, 2, 1/2
(E) 4, 2, 0, 1/2
(A) 4, 0, 0, 1/2
(B) 4, 0, 1, 1/2
(C) 4, 1, 1, 1/2
41. CH3CH2OH boils at 78 °C and CH3OCH3 boils at - 24 °C, although both compounds have the same composition. This difference in boiling points may be attributed to a difference in
(D) hydrogen bonding
(E) heat of combustion
(A) molecular mass
(B) density
(C) specific heat
42. Based on concepts of polarity and hydrogen bonding, which of the following sequences correctly lists the compounds below
in the order of their increasing solubility in water?
X = CH3-CH2-CH2-CH2-CH3
Y = CH3-CH2-CH2-CH2-OH
Z = HO-CH2-CH2-CH2-OH
(A) Z < Y < X
(B) Y < Z < X
(C) Y < X < Z
(D) X < Z < Y
(E) X < Y < Z
43. Concentrations of colored substances are commonly measured by means of a spectrophotometer. Which of the following
would ensure that correct values are obtained for the measured absorbance?
I. There must be enough sample in the tube to cover the entire light path.
II. The instrument must be periodically reset using a standard.
III. The solution must be saturated.
(A) I only
(B) II only
(C) I and II only
(D) II and III only
(E) I, II, and III
44. The data below were gathered in order to determine the density of an unknown solid. The density of the sample should be reported as
Mass of an empty container = 3.0 grams
Mass of the container plus the solid sample = 25.0 grams
Volume of the solid sample = 11.0 cubic centimeters
(A) 0.5 g/cm3
(B) 0.50 g/cm3
(C) 2.0 g/cm3
(D) 2.00 g/cm3
(E) 2.27 g/cm3
45. Which of the following pairs of compounds are isomers?
46. It is suggested that SO2 (molar mass 64 grams), which contributes to acid rain, could be removed from a stream of waste gases by bubbling the gases through 0.25-molar KOH, thereby producing K2SO3. What is the maximum mass of SO2 that could
be removed by 1,000. liters of the KOH solution?
(A) 4.0 kg
(B) 8.0 kg
(C) 16 kg
(D) 20. kg
(E) 40. kg
47. I2(g) + 3 Cl2(g)  2 ICl3(g)
According to the data in the table below, what is the value of ∆H° for the reaction represented above?
Bond
Average Bond Energy
(kilojoules / mole)
I---I
150
Cl---Cl
240
I---Cl
210
(A) - 870 kJ
(B) - 390 kJ
(C) + 180 kJ
(D) + 450 kJ
(E) + 1,260 kJ
48. The electron-dot structure (Lewis structure) for which of the following molecules would have two unshared pairs of electrons
on the central atom?
(A) H2S
(B) NH3
(C) CH4
(D) HCN
(E) CO2
49. Which of the following molecules has a dipole moment of zero?
(A) C6H6 (benzene)
(B) NO
(C) SO2
(D) NH3
(E) H2S
50. _____ Fe(OH)2 + _____ O2 + _____ H2O  _____ Fe(OH)3
If 1 mole of O2 oxidizes Fe(OH)2, how many moles of Fe(OH)3 can be formed?
(A) 2
(B) 3
(C) 4
(D) 5
(E) 6
Questions 51-52 refer to the following types of energy
A) Activation energy
B) Free energy
C) Ionization energy
D) Kinetic energy
E) Lattice energy
51. The energy required to convert a ground-state atom in the gas phase to a gaseous positive ion. C
52. The energy released when gas phase ions bond to form a crystalline solid. E
Questions 53-56 refer to the following descriptions of bonding in different types of solids.
A) Lattice of positive and negative ions held together by electrostatic forces
B) Closely packed lattice with delocalized electrons throughout
C) Strong single covalent bonds with weak intermolecular forces
D) Strong multiple covalent bonds (including π-bonds) with weak intermolecular forces
E) Macromolecules held together with strong polar bonds
53. Cesium chloride, CsCl (s)
54. Gold, Au (s)
55. Carbon dioxide, CO2 (s)
56. Methane, CH4 (s)
57. When the following equation is balanced, the coefficient of C3H8O3 is __________.
C3H8O3 (g) + O2 (g)  CO2 (g) + H2O (g)
A)
B)
C)
D)
E)
1
2
3
7
5
58. A compound contains 40.0% C, 6.71% H, and 53.29% O by mass. The molecular weight of the compound is 60.05 amu. The
molecular formula of this compound is __________.
A)
C2 H 4 O 2
B)
CH2 O
C)
C 2 H3 O 4
D)
C2 H 2 O 4
E)
CHO2
59. What mass of copper is produced when 0.050 00 mol of CuCl 2 (aq) is reacted completely with excess Zn(s)?
A) 3.178 g
B) 7.868x10-4 g
C) 6.723 g
D) 3.270 g
E) 6.355 g
60. When a solution of sodium chloride is vaporized in a flame, the color of the flame is _____
A) blue
B) yellow
C) green
D) violet
E) white
61. The phase diagram for a pure substance is shown at right. Which point on the diagram corresponds to the equilibrium between the solid and liquid phases at the normal melting point?
A) A
B) B
C) C
D) D
E) E
62. Types of hybridization exhibited by the C atoms in propene, CH 3 CHCH2, include which of the following?
I.
II.
III.
A)
B)
C)
D)
E)
sp
sp2
sp3
I only
III only
I and II only
II and III only
I, II, and III
63. A 1.0 L sample of an aqueous solution contains 0.10 mol of NaCl and 0.10 mol of CaCl 2. What is the minimum number of
moles of AgNO3 that must be added to the solution in order to precipitate all of the Cl - as AgCl(s)? (Assume that AgCl is
completely insoluble)
A)
B)
C)
D)
E)
0.10 mol
0.20 mol
0.30 mol
0.40 mol
0.60 mol
64. The ionization energies for element X are listed in the table below. Based on this data, element X is most likely to be
Ionization Energies for Element X (kJ mol-1)
Second
Third
Fourth
1 815
2 740
11 600
First
580
A)
B)
C)
D)
E)
Na
Mg
Al
Si
P
65. Of the following molecules, which has the largest dipole moment?
A)
B)
C)
D)
E)
CO
CO2
O2
HF
F2
Fifth
14 800
66. Which of the following techniques is most appropriate for the recovery of solid KNO 3 from an aqueous solution of KNO3?
A)
B)
C)
D)
E)
Paper chromatography
Filtration
Titration
Electrolysis
Evaporation to dryness
67. In the periodic table, as the atomic number increases from 11 to 17, what happens to the atomic radius?
A)
B)
C)
D)
E)
It remains constant
It increases only
It increases, then decreases
It decreases only
It decreases, then increases
68. According to the balanced chemical equation, how many moles of HI would be necessary to produce 2.5 mol of I 2, starting
with 4.0 mol of KMnO4 and 3.0 mol H2SO4?
10 HI + 2 KMO4 + 3H2SO4 → 5 I2 + 2MnSO4 + K2SO4 + 8 H2O
A)
B)
C)
D)
E)
20.
10.
8.0
5.0
2.5
69. A yellow precipitate forms when 0.5 M NaI (aq) is added to a 0.5M solution of which of the following ions?
A)
B)
C)
D)
E)
Pb2+ (aq)
Zn2+ (aq)
CrO42-(aq)
SO42- (aq)
OH- (aq)
70. The volume of distilled water that should be added to 10.0 mL of 6.00 M HCl (aq) in order to prepare a 0.500 M HCl (aq) solution is approximately
A)
B)
C)
D)
E)
50.0 mL
60.0 mL
100. mL
110. mL
120. mL
Section II: Free Response
YOU MAY USE YOUR CALCULATOR
CLEARLY SHOW THE METHOD USED AND THE STEPS INVOLVED IN ARRIVING AT YOUR ANSWERS. It is to
your advantage to do this, since you may obtain partial credit if you do and you will receive little or no credit if you do not.
Attention should be paid to significant figures.
1. Polystyrene is often used as plastic foam insulation in disposable cups and plates. Polystyrene, like other plastics and like
diamonds and silica, is a network solid. Its carbon and hydrogen atoms are connected by huge networks of covalent bonds. It
isn't made up of identical small molecules, so it doesn't really have a molar mass. But like any compound, polystyrene's
atoms are combined in definite proportions, so it does have an empirical formula. To learn more about the composition of
polystyrene, combustion analysis was performed on a 2.57 g sample. In the combustion analysis, 8.67 g of carbon dioxide
and 1.77 g of water were produced.
a.
b.
c.
d.
e.
How many moles of carbon were present in the original sample of polystyrene?
How many moles of hydrogen were present in the original sample of polystyrene?
What is the empirical formula of polystyrene?
Write a balanced chemical reaction for the combustion of Polystyrene.
What is the molecular formula of polystyrene if it had a molecular mass of 195 g/mol?
2. One commercial method used to peel potatoes is to soak them in a solution of NaOH for a short time, remove them from the
NaOH, and spray off the peel. The concentration of NaOH is normally in the range of 3 to 6 M. The NaOH is analyzed
periodically. In once such analysis, 45.7mL of 0.500M H 2SO4 is required to neutralize a 20.0mL sample of NaOH solution.
a.
b.
d.
Write a balanced chemical equation for the mentioned neutralization process.
How many moles of H2SO4 are contained in the 45.7mL sample?
What volume of 18M stock solution of H2SO4 is required to prepare the 45.7mL
sample that is required for neutralization?
e. What was the concentration of the NaOH solution?
3. A sample of 70.5 mg of Potassium Phosphate is added to 15.0mL of a 0.050 M Silver Nitrate solution, resulting in the
formation of a precipitate.
a.
b.
c.
d.
e.
Write a balanced chemical equation for this reaction.
How many grams of each compound were put into this reaction?
Which compound is the limiting reagent?
Calculate the theoretical yield of the precipitate that forms.
What was the % yield if you only obtained 9.85 x 10-2 g in the lab?
4. Answer all three portions in this part. Give the formulas to show the reactants and the products for the three following chemical reactions. Each reaction occurs in aqueous solution unless otherwise indicated. Represent the substances in solution as
ions if the substance is extensively ionized. Omit formulas for any ions or molecules that are unchanged by the reaction. In
all cases a reaction occurs. You need to balance the chemical equation. Then answer a question about the reaction.
Example: A strip of magnesium is added to a solution of silver nitrate
Mg +2 Ag+ --> Mg2+ +2 Ag
a.
b.
c.
d.
e.
f.
Solutions of tin(II) chloride and iron(III) chloride are mixed.
Solutions of cobalt(II) nitrate and sodium hydroxide are mixed.
Ethene gas is burned air.
Solid calcium sulfite is heated in a vacuum.
Solid sodium oxide is added to distilled water.
A strip of zinc is added to a solution of hydrobromic acid.
5. You are given a solution containing barium nitrate, mercury(II) nitrate, and magnesium nitrate. Using only sodium chloride,
sodium fluoride, and sodium hydroxide you need to separate the barium, mercury(II), and magnesium ions. How would you
go about separating these ions? Discuss your experimental procedure and defend your answer.
6. Describe how you would separate a mixture of water, cyclohexanol, and lead shavings. (Water boils at 100° C and
cyclohexanol boils at 161°C.) Classify each mixture and the components at each step of the separation protocol as a
heterogeneous mixture, a homogeneous mixture, an element, or a compound.
7. A Lewis dot structure can be drawn for boron trifluoride, BF 3, in which the octet rule is satisfied for all the atoms.
a.
b.
c.
d.
e.
f.
How many total valence electrons are there in this compound?
Draw the Lewis dot structure for the resonance structures.
How many total sigma bonds are there? How many total pi bonds?
Write the formal charge of each atom in the Lewis representation next to the symbol for the atom.
Why is this structure of BF3 unreasonable from the standpoint of electronegativities?
What would a stable resonance structure look like?
8. Use the principles of atomic structure and/or chemical bonding to explain each of the following. In each part, you answer
must include references to both substances.
a. The atomic radius of Li is larger than that of Be.
b. The second ionization energy of K is greater than the second ionization energy of Ca.
c. The carbon-carbon bond energy in C2H4 is greater than it is in C2H6.
d. The boiling point of Cl2 is lower than the boiling point of Br2.
9. Answer the following questions about the element selenium, Se (atomic number 34).
a.
b.
c.
d.
Samples of natural selenium contain six stable isotopes. In terms of atomic structure, explain what these isotopes
have in common, and how they differ.
Write the complete electron configuration (e.g., 1s2 2s2 … etc.) for a selenium atom in the ground state. Indicate
the number of unpaired electrons in the ground-state atom, and explain your reasoning.
In terms of atomic structure, explain why the first ionization energy of selenium is
i. less than that of bromine (atomic number 35), and
ii. greater than that of tellurium (atomic number 52).
Selenium reacts with fluorine to form SeF4. Draw the complete Lewis electron-dot structure for SeF4 and sketch
the molecular structure. Indicate whether the molecule is polar or nonpolar, and justify your answer.
10. The longest wavelength of light with enough energy to break the Cl-Cl bond in Cl2(g) is 495 nm.
a.
b.
c.
Calculate the frequency, in s-1, of the light.
Calculate the energy, in J, of a photon of the light.
Calculate the minimum energy, in kJ mol-1, of the Cl-Cl bond.
11. A certain line in the sp ectrum of atomic hydrogen is associated with the electronic transition in the H atom from the sixth
energy level (n = 6) to the second energy level (n = 2).
a. Indicate whether the H atom emits energy or whether it absorbs energy during the transition. Justify your answer.
b. Calculate the wavelength, in nm, of the radiation associated with the spectral line.
c. Account for the observation that the amount of energy associated with the same electronic transition (n = 6 to n = 2)
in the He+ ion is greater than that associated with the corresponding transition in the H atom.
12. Refer to the atomic orbitals shown below for the following questions:
A)
B)
C)
3d
D)
E)
b.
Represents an atom that is chemically unreactive
c.
Represents an atom in an excited state
d.
Represents a violation of Hund's rule
e.
Represents an atom that has four valence electrons
f.
Represents an atom of a transition metal
g.
Use the quantum numbers to identify the location of the following electron from Choice A
h.
Use the quantum numbers to identify the location of the following electron from Choice D
3d
i.
Use the quantum numbers to identify the location of the following electron from Choice E
13. In an experiment, a sample of an unknown, pure gaseous hydrocarbon was analyzed. Results showed that the sample contained 6.000 g of carbon and 1.344 g of hydrogen.
a.
Determine the empirical formula of the hydrocarbon.
14. The reaction between silver ion and solid zinc is represented in the following equation:
2 Ag+ (aq) + Zn (s) → Zn2+ + 2Ag (s)
a.
A 1.50 g sample of Zn is combined with 250 mL of 0.110 M AgNO3 at 25o C. Identify the limiting reactant.
Show calculations to support your answer.
b.
On the basis of the limiting reactant that you identified in part (a), determine the concentration of Zn 2+ after the
reaction is complete. (Assume volume is conserved).
15. Why is it that the aluminum atom is larger than the phosphorus atom, but the aluminum ion is smaller than the
phosphorus ion? Defend your answer using periodic trends.
16. Neils Bohr deduced his "planetary model" of the atom from the data of the line spectrum of a hydrogen atom. It was
very successful in justifying the empirical relationships of data but did not work for atoms larger than hydrogen.
Schrödinger's wave function equation modified the Bohr model to account for the splitting of energy levels. We
now have quantum numbers to describe the placement of electrons in an atom. Please explain the advantages in the
modern quantum mechanical model over the Bohr model. Use the following concepts in your answer: Heisenberg
Uncertainty Principle, quantum numbers, orbital, sublevel, Hund's Rule, Pauli Exclusion Principle.
17. Consider the hydrocarbon pentane, C5H12 (molar mass 72.15 g/mol)
a.
Write the balanced equation for the combustion of pentane.
b.
Draw the structural formulas for three isomers of pentane. Be sure to include all atoms of hydrogen and
carbon in your structures.