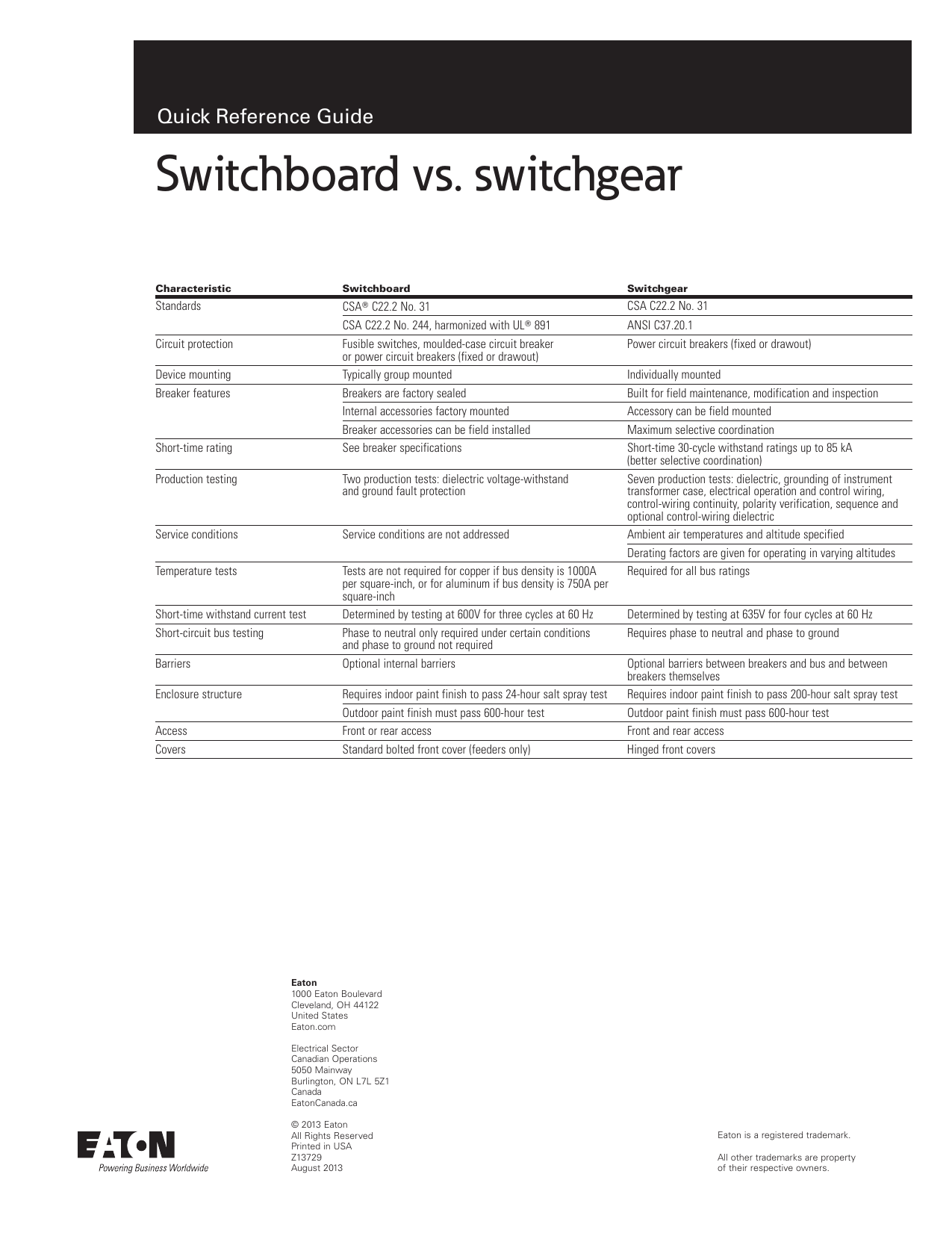 Quick Reference Guide
Switchboard vs. switchgear
Characteristic
Switchboard
Switchgear
Standards
CSAT C22.2 No. 31
CSA C22.2 No. 31
CSA C22.2 No. 244, harmonized with ULT 891
Fusible switches, moulded-case circuit breaker
or power circuit breakers (fixed or drawout)
Typically group mounted
Breakers are factory sealed
Internal accessories factory mounted
Breaker accessories can be field installed
See breaker specifications
Circuit protection
Device mounting
Breaker features
Short-time rating
Production testing
Two production tests: dielectric voltage-withstand
and ground fault protection
Service conditions
Service conditions are not addressed
Temperature tests
Tests are not required for copper if bus density is 1000A
per square-inch, or for aluminum if bus density is 750A per
square-inch
Determined by testing at 600V for three cycles at 60 Hz
Phase to neutral only required under certain conditions
and phase to ground not required
Optional internal barriers
Short-time withstand current test
Short-circuit bus testing
Barriers
Enclosure structure
Access
Covers
Requires indoor paint finish to pass 24-hour salt spray test
Outdoor paint finish must pass 600-hour test
Front or rear access
Standard bolted front cover (feeders only)
ANSI C37.20.1
Power circuit breakers (fixed or drawout)
Individually mounted
Built for field maintenance, modification and inspection
Accessory can be field mounted
Maximum selective coordination
Short-time 30-cycle withstand ratings up to 85 kA
(better selective coordination)
Seven production tests: dielectric, grounding of instrument
transformer case, electrical operation and control wiring,
control-wiring continuity, polarity verification, sequence and
optional control-wiring dielectric
Ambient air temperatures and altitude specified
Derating factors are given for operating in varying altitudes
Required for all bus ratings
Determined by testing at 635V for four cycles at 60 Hz
Requires phase to neutral and phase to ground
Optional barriers between breakers and bus and between
breakers themselves
Requires indoor paint finish to pass 200-hour salt spray test
Outdoor paint finish must pass 600-hour test
Front and rear access
Hinged front covers
Eaton
1000 Eaton Boulevard
Cleveland, OH 44122
United States
Eaton.com
Electrical Sector
Canadian Operations
5050 Mainway
Burlington, ON L7L 5Z1
Canada
EatonCanada.ca
© 2013 Eaton
All Rights Reserved
Printed in USA
Z13729
August 2013
Eaton is a registered trademark.
All other trademarks are property
of their respective owners.