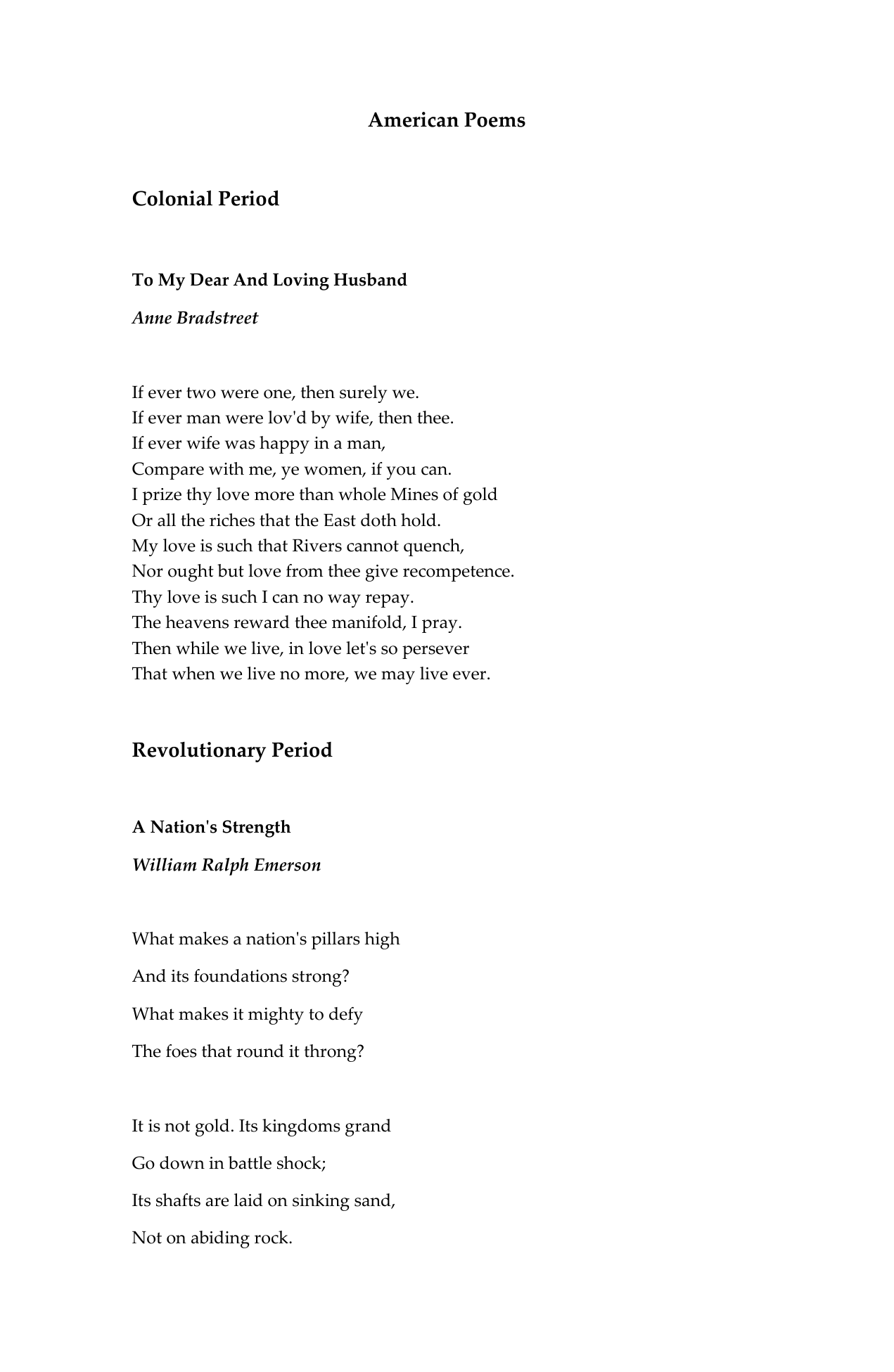 American Poems
Colonial Period
To My Dear And Loving Husband
Anne Bradstreet
If ever two were one, then surely we.
If ever man were lov'd by wife, then thee.
If ever wife was happy in a man,
Compare with me, ye women, if you can.
I prize thy love more than whole Mines of gold
Or all the riches that the East doth hold.
My love is such that Rivers cannot quench,
Nor ought but love from thee give recompetence.
Thy love is such I can no way repay.
The heavens reward thee manifold, I pray.
Then while we live, in love let's so persever
That when we live no more, we may live ever.
Revolutionary Period
A Nation's Strength
William Ralph Emerson
What makes a nation's pillars high
And its foundations strong?
What makes it mighty to defy
The foes that round it throng?
It is not gold. Its kingdoms grand
Go down in battle shock;
Its shafts are laid on sinking sand,
Not on abiding rock.
Is it the sword? Ask the red dust
Of empires passed away;
The blood has turned their stones to rust,
Their glory to decay.
And is it pride? Ah, that bright crown
Has seemed to nations sweet;
But God has struck its luster down
In ashes at his feet.
Not gold but only men can make
A people great and strong;
Men who for truth and honor's sake
Stand fast and suffer long.
Brave men who work while others sleep,
Who dare while others fly...
They build a nation's pillars deep
And lift them to the sky.
The Early National Period
The Falls of the Passaic
by Washington Irving
In a wild, tranquil vale, fringed with forests of green,
Where nature had fashioned a soft, sylvan scene,
The retreat of the ring-dove, the haunt of the deer,
Passaic in silence rolled gentle and clear.
No grandeur of prospect astonished the sight,
No abruptness sublime mingled awe with delight;
Here the wild floweret blossomed, the elm proudly waved,
And pure was the current the green bank that laved.
But the spirit that ruled o'er the thick tangled wood,
And deep in its gloom fixed his murky abode,
Who loved the wild scene that the whirlwinds deform,
And gloried in thunder and lightning and storm;
All flushed from the tumult of battle he came,
Where the red men encountered the children of flame,
While the noise of the war-whoop still rang in his ears,
And the fresh bleeding scalp as a trophy he bears:
With a glance of disgust, he the landscape surveyed,
With its fragrant wild-flowers, its wide waving shade;
Where Passaic meanders through margins of green,
So transparent its waters, its surface serene.
He rived the green hills, the wild woods he laid low;
He taught the pure stream in rough channels to flow;
He rent the rude rock, the steep precipice gave,
And hurled down the chasm the thundering wave.
Countless moons have since rolled in the long lapse of time,
Cultivation has softened those features sublime;
The axe of the white man has lightened the shade,
And dispelled the deep gloom of the thicketed glade.
But the stranger still gazes, with wondering eye,
On the rocks rudely torn, and grooves mounted on high;
Still loves on the cliff's dizzy borders to roam,
Where the torrent leaps headlong, embosomed in foam.
My Brigantine
by James Fenimore Cooper
MY brigantine!
Just in thy mould and beauteous in thy form,
Gentle in roll and buoyant on the surge,
Light as the sea-fowl rocking in the storm,
In breeze and gale thy onward course we urge,
My water-queen!
Lady of mine!
More light and swift than thou none thread the sea,
With surer keel or steadier on its path;
We brave each waste of ocean-mystery
And laugh to hear the howling tempest's wrath,
For we are thine!
My brigantine!
Trust to the mystic power that points thy way,
Trust to the eye that pierces from afar,
Trust the red meteors that around thee play,
And, fearless, trust the Sea-Green Lady's Star,
Thou bark divine!
The Romantic Period
The Raven
by Edgar Allan Poe
Once upon a midnight dreary, while I pondered, weak and weary,
Over many a quaint and curious volume of forgotten lore—
While I nodded, nearly napping, suddenly there came a tapping,
As of some one gently rapping, rapping at my chamber door.
"'Tis some visitor," I muttered, "tapping at my chamber door—
Only this and nothing more."
Ah, distinctly I remember it was in the bleak December;
And each separate dying ember wrought its ghost upon the floor.
Eagerly I wished the morrow;—vainly I had sought to borrow
From my books surcease of sorrow—sorrow for the lost Lenore—
For the rare and radiant maiden whom the angels name Lenore—
Nameless here for evermore.
And the silken, sad, uncertain rustling of each purple curtain
Thrilled me—filled me with fantastic terrors never felt before;
So that now, to still the beating of my heart, I stood repeating
"'Tis some visitor entreating entrance at my chamber door—
Some late visitor entreating entrance at my chamber door;—
This it is and nothing more."
Presently my soul grew stronger; hesitating then no longer,
"Sir," said I, "or Madam, truly your forgiveness I implore;
But the fact is I was napping, and so gently you came rapping,
And so faintly you came tapping, tapping at my chamber door,
That I scarce was sure I heard you"—here I opened wide the door;—
Darkness there and nothing more.
Deep into that darkness peering, long I stood there wondering, fearing,
Doubting, dreaming dreams no mortal ever dared to dream before;
But the silence was unbroken, and the stillness gave no token,
And the only word there spoken was the whispered word, "Lenore?"
This I whispered, and an echo murmured back the word, "Lenore!"—
Merely this and nothing more.
Back into the chamber turning, all my soul within me burning,
Soon again I heard a tapping somewhat louder than before.
"Surely," said I, "surely that is something at my window lattice;
Let me see, then, what thereat is, and this mystery explore—
Let my heart be still a moment and this mystery explore;—
'Tis the wind and nothing more!"
Open here I flung the shutter, when, with many a flirt and flutter,
In there stepped a stately Raven of the saintly days of yore;
Not the least obeisance made he; not a minute stopped or stayed he;
But, with mien of lord or lady, perched above my chamber door—
Perched upon a bust of Pallas just above my chamber door—
Perched, and sat, and nothing more.
Then this ebony bird beguiling my sad fancy into smiling,
By the grave and stern decorum of the countenance it wore,
"Though thy crest be shorn and shaven, thou," I said, "art sure no craven,
Ghastly grim and ancient Raven wandering from the Nightly shore—
Tell me what thy lordly name is on the Night's Plutonian shore!"
Quoth the Raven "Nevermore."
Much I marvelled this ungainly fowl to hear discourse so plainly,
Though its answer little meaning—little relevancy bore;
For we cannot help agreeing that no living human being
Ever yet was blessed with seeing bird above his chamber door—
Bird or beast upon the sculptured bust above his chamber door,
With such name as "Nevermore."
But the Raven, sitting lonely on the placid bust, spoke only
That one word, as if his soul in that one word he did outpour.
Nothing farther then he uttered—not a feather then he fluttered—
Till I scarcely more than muttered "Other friends have flown before—
On the morrow he will leave me, as my Hopes have flown before."
Then the bird said "Nevermore."
Startled at the stillness broken by reply so aptly spoken,
"Doubtless," said I, "what it utters is its only stock and store
Caught from some unhappy master whom unmerciful Disaster
Followed fast and followed faster till his songs one burden bore—
Till the dirges of his Hope that melancholy burden bore
Of 'Never—nevermore'."
But the Raven still beguiling all my fancy into smiling,
Straight I wheeled a cushioned seat in front of bird, and bust and door;
Then, upon the velvet sinking, I betook myself to linking
Fancy unto fancy, thinking what this ominous bird of yore—
What this grim, ungainly, ghastly, gaunt, and ominous bird of yore
Meant in croaking "Nevermore."
This I sat engaged in guessing, but no syllable expressing
To the fowl whose fiery eyes now burned into my bosom's core;
This and more I sat divining, with my head at ease reclining
On the cushion's velvet lining that the lamp-light gloated o'er,
But whose velvet-violet lining with the lamp-light gloating o'er,
She shall press, ah, nevermore!
Then, methought, the air grew denser, perfumed from an unseen censer
Swung by Seraphim whose foot-falls tinkled on the tufted floor.
"Wretch," I cried, "thy God hath lent thee—by these angels he hath sent thee
Respite—respite and nepenthe from thy memories of Lenore;
Quaff, oh quaff this kind nepenthe and forget this lost Lenore!"
Quoth the Raven "Nevermore."
"Prophet!" said I, "thing of evil!—prophet still, if bird or devil!—
Whether Tempter sent, or whether tempest tossed thee here ashore,
Desolate yet all undaunted, on this desert land enchanted—
On this home by Horror haunted—tell me truly, I implore—
Is there—is there balm in Gilead?—tell me—tell me, I implore!"
Quoth the Raven "Nevermore."
"Prophet!" said I, "thing of evil!—prophet still, if bird or devil!
By that Heaven that bends above us—by that God we both adore—
Tell this soul with sorrow laden if, within the distant Aidenn,
It shall clasp a sainted maiden whom the angels name Lenore—
Clasp a rare and radiant maiden whom the angels name Lenore."
Quoth the Raven "Nevermore."
"Be that word our sign of parting, bird or fiend!" I shrieked, upstarting—
"Get thee back into the tempest and the Night's Plutonian shore!
Leave no black plume as a token of that lie thy soul hath spoken!
Leave my loneliness unbroken!—quit the bust above my door!
Take thy beak from out my heart, and take thy form from off my door!"
Quoth the Raven "Nevermore."
And the Raven, never flitting, still is sitting, still is sitting
On the pallid bust of Pallas just above my chamber door;
And his eyes have all the seeming of a demon's that is dreaming,
And the lamp-light o'er him streaming throws his shadow on the floor;
And my soul from out that shadow that lies floating on the floor
Shall be lifted—nevermore!
The Realistic Period
To Jennie
by Mark Twain
Good-bye! a kind good-bye,
I bid you now, my friend,
And though 'tis sad to speak the word,
To destiny I bend
And though it be decreed by Fate
That we ne'er meet again,
Your image, graven on my heart,
Forever shall remain.
Aye, in my heart thoult have a place,
Among the friends held dear,Nor shall the hand of Time efface
The memories written there.
Goodbye,
S.L.C.
The Modern Period
The Road Not Taken
by Robert Frost
Two roads diverged in a yellow wood,
And sorry I could not travel both
And be one traveler, long I stood
And looked down one as far as I could
To where it bent in the undergrowth;
Then took the other, as just as fair,
And having perhaps the better claim
Because it was grassy and wanted wear,
Though as for that the passing there
Had worn them really about the same,
And both that morning equally lay
In leaves no step had trodden black.
Oh, I kept the first for another day!
Yet knowing how way leads on to way
I doubted if I should ever come back.
I shall be telling this with a sigh
Somewhere ages and ages hence:
Two roads diverged in a wood, and I,
I took the one less traveled by,
And that has made all the difference.
The Contemporary Period
If
by E.E. Cummings
If freckles were lovely, and day was night,
And measles were nice and a lie warn't a lie,
Life would be delight,—
But things couldn't go right
For in such a sad plight
I wouldn't be I.
If earth was heaven and now was hence,
And past was present, and false was true,
There might be some sense
But I'd be in suspense
For on such a pretense
You wouldn't be you.
If fear was plucky, and globes were square,
And dirt was cleanly and tears were glee
Things would seem fair,—
Yet they'd all despair,
For if here was there
We wouldn't be we.