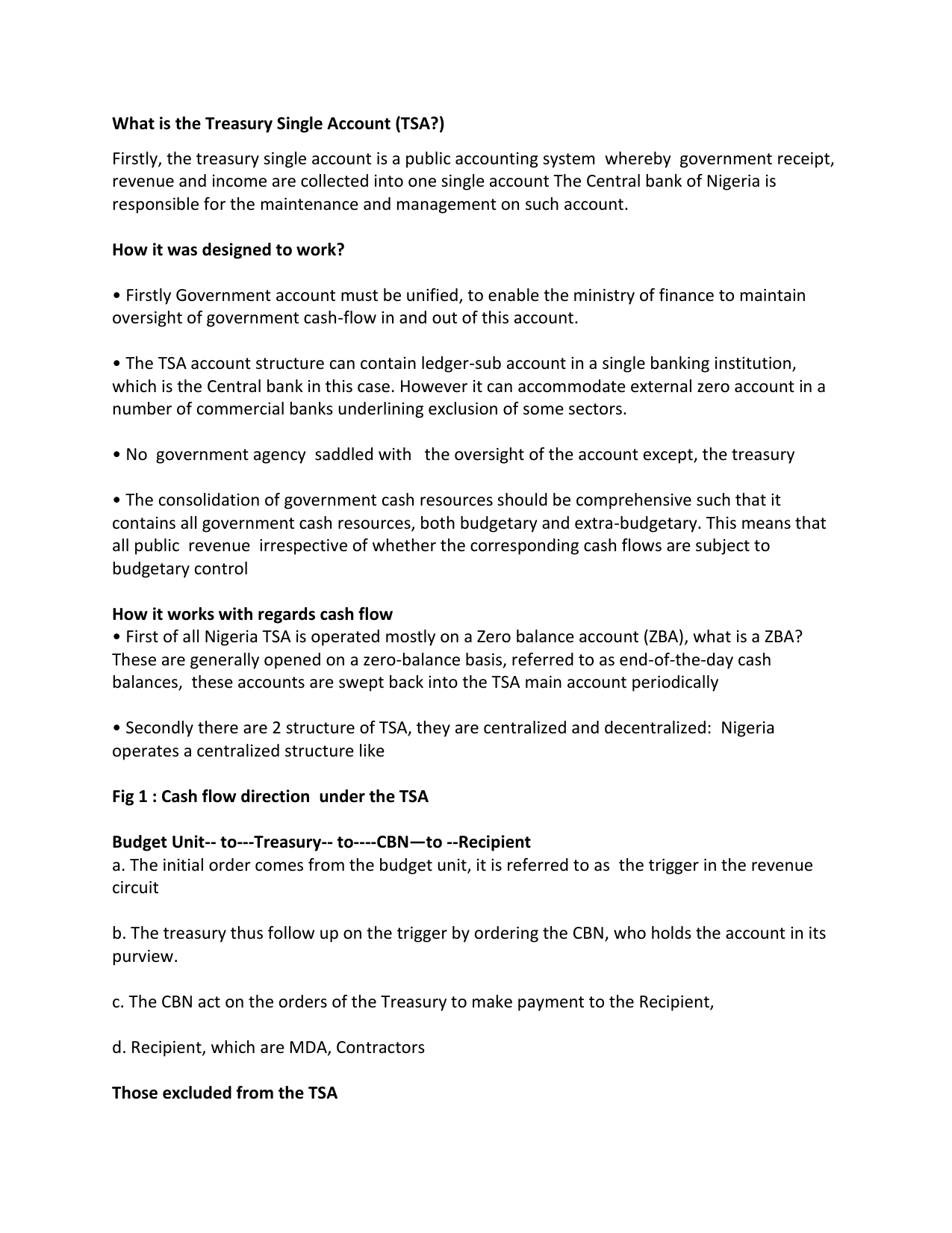 What is the Treasury Single Account (TSA?)
Firstly, the treasury single account is a public accounting system whereby government receipt,
revenue and income are collected into one single account The Central bank of Nigeria is
responsible for the maintenance and management on such account.
How it was designed to work?
• Firstly Government account must be unified, to enable the ministry of finance to maintain
oversight of government cash-flow in and out of this account.
• The TSA account structure can contain ledger-sub account in a single banking institution,
which is the Central bank in this case. However it can accommodate external zero account in a
number of commercial banks underlining exclusion of some sectors.
• No government agency saddled with the oversight of the account except, the treasury
• The consolidation of government cash resources should be comprehensive such that it
contains all government cash resources, both budgetary and extra-budgetary. This means that
all public revenue irrespective of whether the corresponding cash flows are subject to
budgetary control
How it works with regards cash flow
• First of all Nigeria TSA is operated mostly on a Zero balance account (ZBA), what is a ZBA?
These are generally opened on a zero-balance basis, referred to as end-of-the-day cash
balances, these accounts are swept back into the TSA main account periodically
• Secondly there are 2 structure of TSA, they are centralized and decentralized: Nigeria
operates a centralized structure like
Fig 1 : Cash flow direction under the TSA
Budget Unit-- to---Treasury-- to----CBN—to --Recipient
a. The initial order comes from the budget unit, it is referred to as the trigger in the revenue
circuit
b. The treasury thus follow up on the trigger by ordering the CBN, who holds the account in its
purview.
c. The CBN act on the orders of the Treasury to make payment to the Recipient,
d. Recipient, which are MDA, Contractors
Those excluded from the TSA
• National Nigeria petroleum corporation (NNPC)
• Power holding corporation of Nigeria (PHCN)
• Bank of industry (B0I)
• Nigerian Railway corporation (NRC)
• Federal mortgage bank of Nigeria
• Bank of Agriculture
• Niger Delta power holding corporation
• Nigerian communication satellite limited
• Galaxy backbone limited
• Ajaokuta Steel company limited
• Urban development bank
• Nigeria import- export bank
Implications
• The presence of a single treasury account enhances the management of cash flow
• The presence of an established chain of command Reduce room for leakages
• It improves electronic penetration in public finances,
• The establishment of treasury single account reduces volatility in cash through the treasury,
thus allowing for relatively lower cash reserve buffer
• Reconciliation in government balance sheet is easier due to the ZBA approach.
• It help at appraising the budget execution
Take Away
• Evidently the treasury single improves fiscal house keeping but it also provides room for
warehousing cash
• The TSA is similar to sterilization, it does starve the system of liquidity
• The inherent bureaucracy is a negation to effective and timely payment.