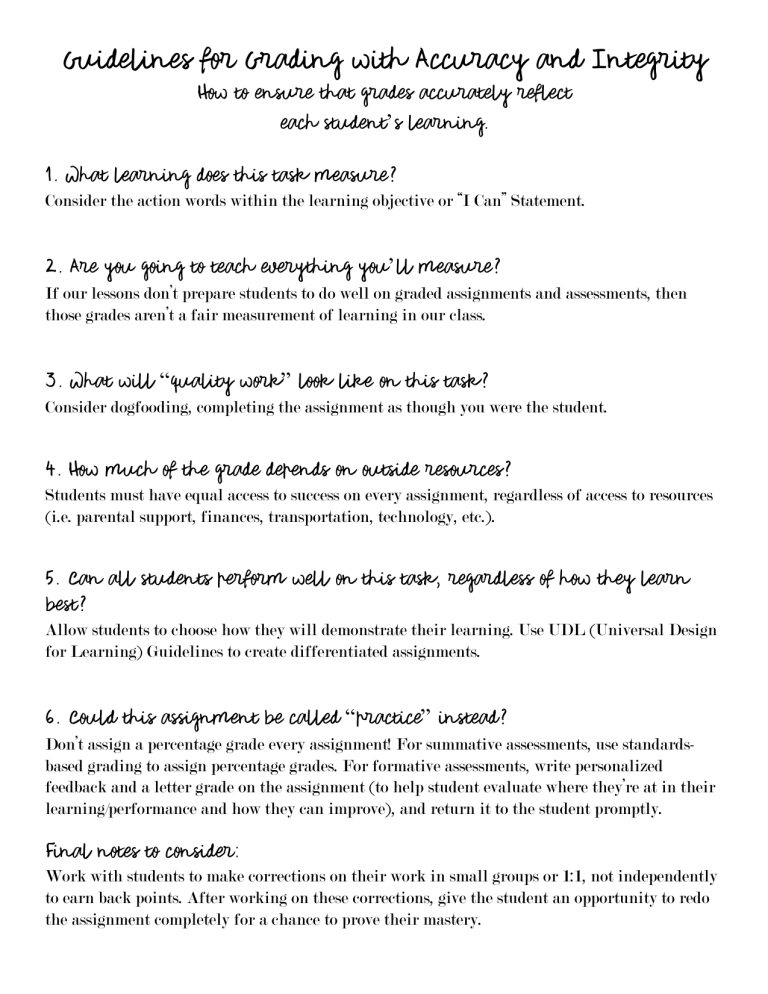 Guidelines for Grading with Accuracy and Integrity
How to ensure that grades accurately reflect
each student's learning.
1. What learning does this task measure?
Consider the action words within the learning objective or "I Can" Statement.
2. Are you going to teach everything you'll measure?
If our lessons don't prepare students to do well on graded assignments and assessments, then
those grades aren't a fair measurement of learning in our class.
3. What will "quality work" look like on this task?
Consider dogfooding, completing the assignment as though you were the student.
4. How much of the grade depends on outside resources?
Students must have equal access to success on every assignment, regardless of access to resources
(i.e. parental support, finances, transportation, technology, etc.).
5. Can all students perform well on this task, regardless of how they learn
best?
Allow students to choose how they will demonstrate their learning. Use UDL (Universal Design
for Learning) Guidelines to create differentiated assignments.
6. Could this assignment be called "practice" instead?
Don't assign a percentage grade every assignment! For summative assessments, use standardsbased grading to assign percentage grades. For formative assessments, write personalized
feedback and a letter grade on the assignment (to help student evaluate where they're at in their
learning/performance and how they can improve), and return it to the student promptly.
Final notes to consider:
Work with students to make corrections on their work in small groups or 1:1, not independently
to earn back points. After working on these corrections, give the student an opportunity to redo
the assignment completely for a chance to prove their mastery.