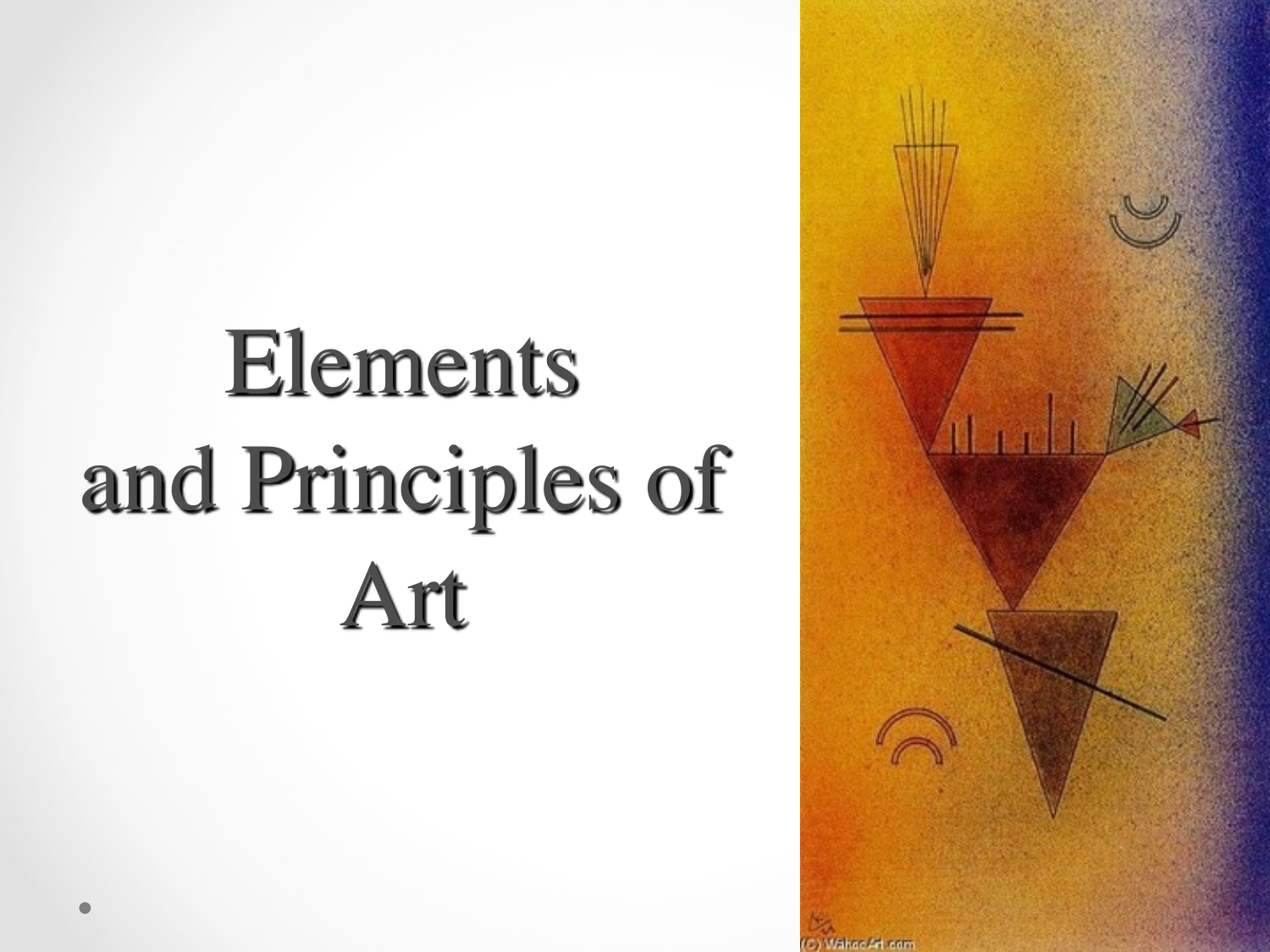 Elements
and Principles of
Art
Elements of Art
• Elements of art are
the building
blocks from which
a piece of art is
made; the
alphabet of the
visual world.
Elements of Art
•
•
•
•
•
•
•
Line
Shape
Form
Value
Color
Texture
Space
Line
• A mark made by a
pointed tool.
• Can be long,
short, straight,
curved, thick,
thin, etc.
• Lines can be
organic (round,
found in nature) or
geometric.
(created by man)
Shape
• An area enclosed
by a line. They can
be geometric or
organic, large or
small, simple or
complex, etc.
Form
• Forms differ from
shapes in that
they are threedimensional. Like
shapes, they can
be geometric or
organic.
Value
• Light to Dark and all
the shades inbetween.
• Value creates
the illusion of
3-Dimensions in
paintings and
drawings.
• Here we can see
how value creates
the illusion of
dimension on a flat
surface.
Value
• Value creates
the illusion of
space to
paintings and
drawings.
• In this artwork it
gives a sense of
space as it gets
lighter as it
recedes into the
distance.
Color
• Colors are the
hues in the
artwork – red,
blue, yellow, etc.
• Color has Value,
how light or dark
it is.
• Color has
Intensity, how
bright or dull it is.
Color
• Color can be
divided by warm
(reds, yellows
and oranges, or
cool (blues and
greens).
Color
• Complementary
Colors are across
from each other on
the color wheel, and
can create visual
interest, and
emphasis.
• Analogous colors are
next to each other on
the color wheel, they
go well together and
create a sense of
peacefulness or unity.
Texture
• Texture is the feel
or look of the
surface – rough,
smooth, grainy,
lumpy, etc.
• Textures can be
actual or implied.
• Texture can add
visual interest, or
variety to art.
Space
• Space is often
separated into
Positive or Negative
space. The object
in a composition is
referred to as
Positive Space, and
the space
surrounding it is
referred to as
Negative Space.
Space
• The illusion of
space can be
created through
• Overlapping
• Size
• Value
• Vanishing Point
• Placement along
horizon line
Principles of Art
Principles of Art
•
•
•
•
•
•
•
•
Balance
Movement
Rhythm
Contrast
Emphasis
Pattern
Variety
Unity
Balance
• The distribution of
visual weight by
the arrangement
of elements;
balance may be
symmetrical
(formal) or
asymmetrical
(informal)
Movement
• The visual path
that a viewer's
eyes follow across
a work of art, also
the implied
movement of
lines: horizontal
(calm/still), vertical
(strong) and
diagonal (action).
Rhythm
• The repetition of
elements in a work
of art; rhythm and
movement work
together to create
a visual beat.
Pattern
• Planned or
random repetitions
of elements which
help to create
rhythm and unity
in a piece of art.
Contrast
• The arrangement
of opposite, or
different elements
in close proximity
to create interest.
Emphasis
• Used when an
element is given
dominance,
making it stand
out.
Variety
• An assortment of
lines, shapes,
colors and other
elements of art
that create
interest in a piece
of artwork.
Unity
• The individual
elements that
work together to
create harmony in
a piece of art.
When it is
achieved the
artwork feels and
looks finished.