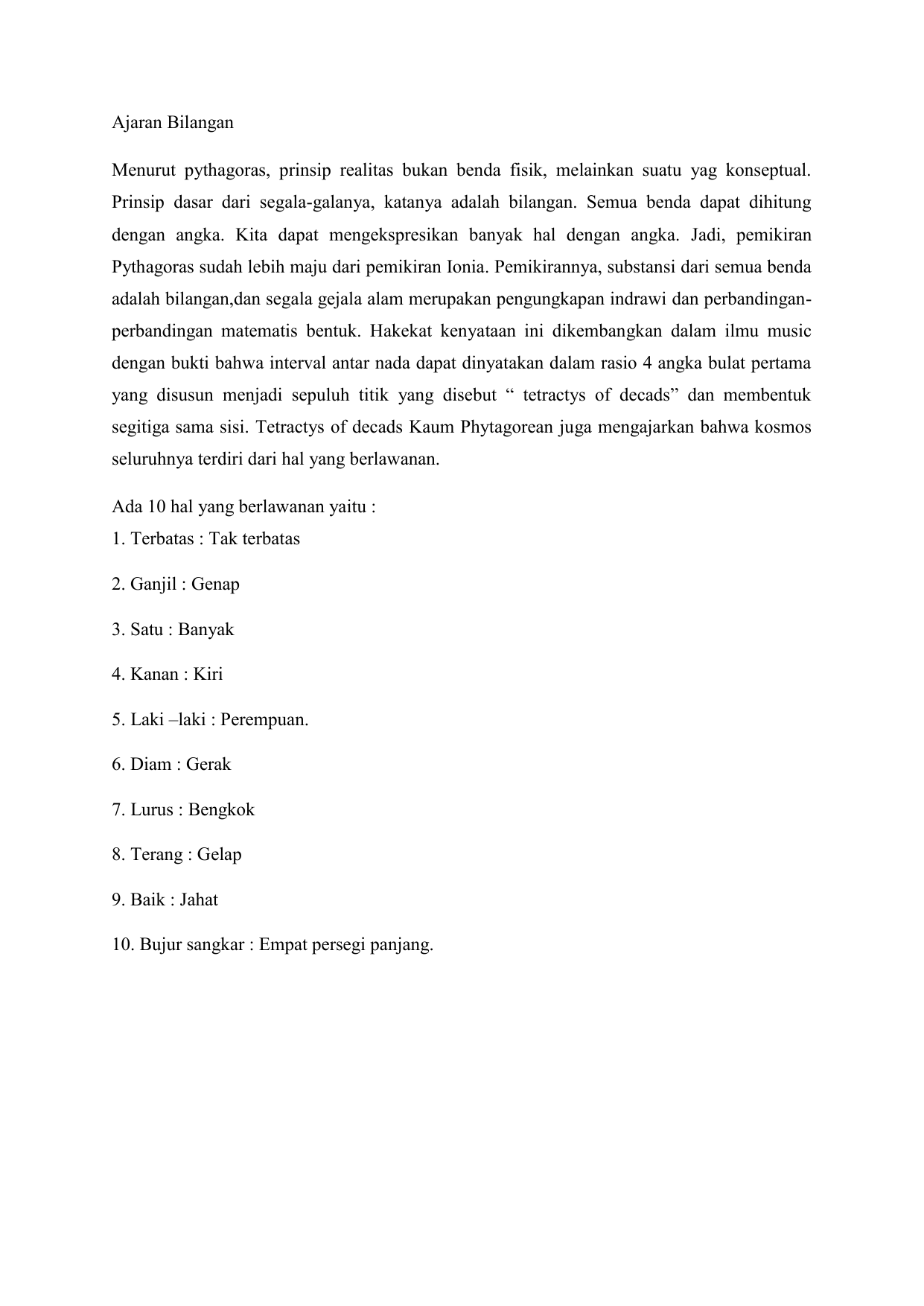 Ajaran Bilangan
Menurut pythagoras, prinsip realitas bukan benda fisik, melainkan suatu yag konseptual.
Prinsip dasar dari segala-galanya, katanya adalah bilangan. Semua benda dapat dihitung
dengan angka. Kita dapat mengekspresikan banyak hal dengan angka. Jadi, pemikiran
Pythagoras sudah lebih maju dari pemikiran Ionia. Pemikirannya, substansi dari semua benda
adalah bilangan,dan segala gejala alam merupakan pengungkapan indrawi dan perbandinganperbandingan matematis bentuk. Hakekat kenyataan ini dikembangkan dalam ilmu music
dengan bukti bahwa interval antar nada dapat dinyatakan dalam rasio 4 angka bulat pertama
yang disusun menjadi sepuluh titik yang disebut " tetractys of decads" dan membentuk
segitiga sama sisi. Tetractys of decads Kaum Phytagorean juga mengajarkan bahwa kosmos
seluruhnya terdiri dari hal yang berlawanan.
Ada 10 hal yang berlawanan yaitu :
1. Terbatas : Tak terbatas
2. Ganjil : Genap
3. Satu : Banyak
4. Kanan : Kiri
5. Laki –laki : Perempuan.
6. Diam : Gerak
7. Lurus : Bengkok
8. Terang : Gelap
9. Baik : Jahat
10. Bujur sangkar : Empat persegi panjang.