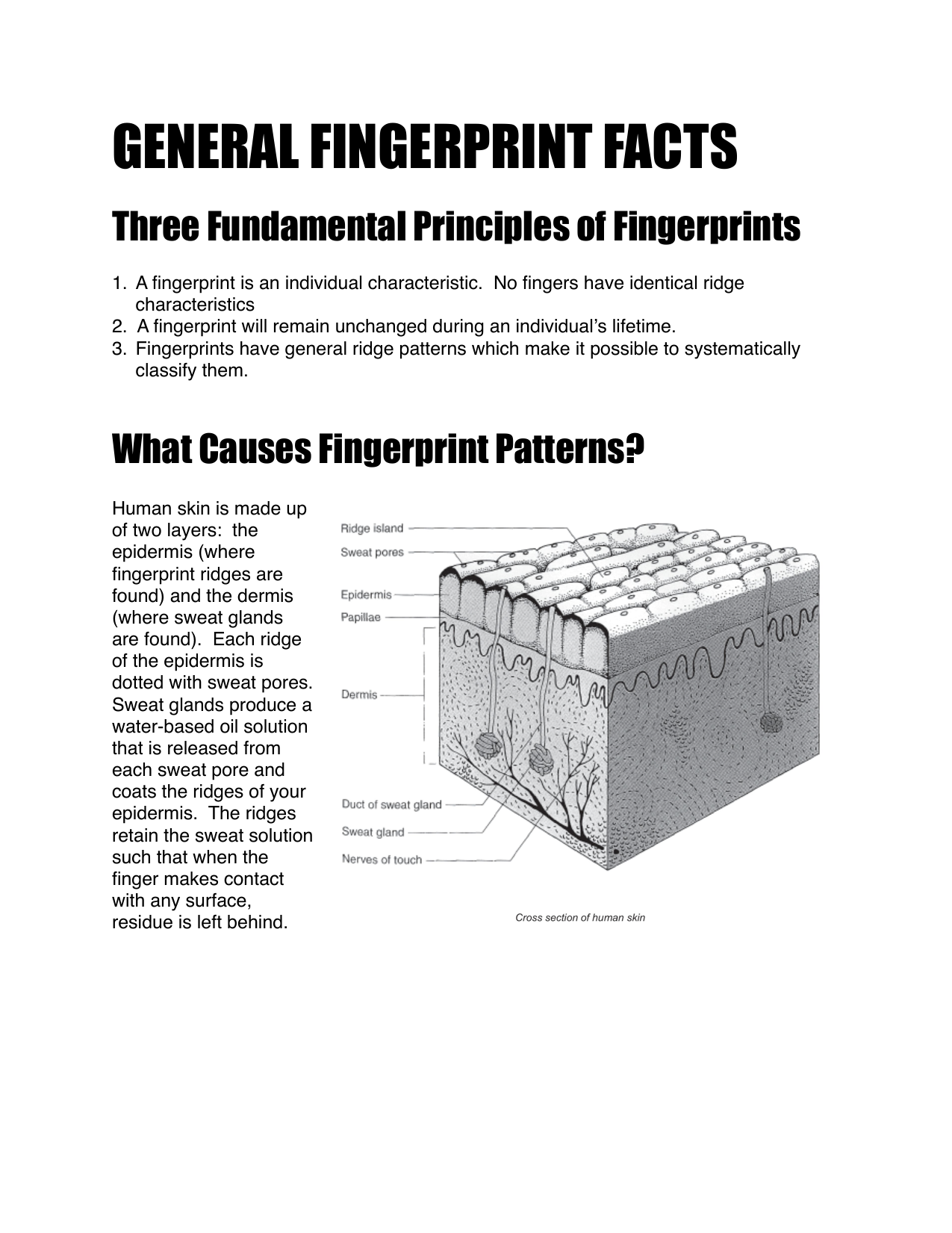 GENERAL FINGERPRINT FACTS
Three Fundamental Principles of Fingerprints
1. A fingerprint is an individual characteristic. No fingers have identical ridge
characteristics
2. A fingerprint will remain unchanged during an individual's lifetime.
3. Fingerprints have general ridge patterns which make it possible to systematically
classify them.
What Causes Fingerprint Patterns?
Human skin is made up
of two layers: the
epidermis (where
fingerprint ridges are
found) and the dermis
(where sweat glands
are found). Each ridge
of the epidermis is
dotted with sweat pores.
Sweat glands produce a
water-based oil solution
that is released from
each sweat pore and
coats the ridges of your
epidermis. The ridges
retain the sweat solution
such that when the
finger makes contact
with any surface,
residue is left behind.
Types of Fingerprint Evidence
1. VISIBLE:
2. LATENT:
3. PHYSICAL:
Fingerprint Terminology
1. TYPE LINES:
2. DELTA:
3. CORE:
Fingerprint Patterns
LOOPS
Approximately 60% of people exhibit this pattern. This pattern has ridges that enter
from one side of the finger, recurve, touch or pass an imaginary line between the Delta
and Core and tend to exit the same side as the ridge entry. There are two sub-classes.
ULNAR VS RADIAL LOOPS "
"
"
"
"
"
"
To determine if you have an ulnar or radial loop there are three things to remember:
1. You have two bones in your
lower arm: the ulna (lines up
with your pinky) & the radius
(lines up with your thumb)
2. The bone which the loop begins
and ends at determines which
type of loop it is (this is called the
"road test")
3. You must know which hand right or left - the print came from.
The loops reverse depending on
which hand they're from.
Radial loop (right hand)
Ulnar loop (right hand)
WHORLS
Approximately 34% of people exhibit this pattern. Lines form concentric circles,
whirlpools or spirals. Sub-classes include plain, central pocket, double loop &
accidental.
PLAIN
WHORLS " "
"
"
"
"
"
The ridges make a turn of one complete circuit and, therefore,
circular or spiral in shape. They have two deltas. This is the
simplest and most common of whorl fingerprint.
CENTRAL POCKET
WHORLS " "
"
"
"
"
"
This fingerprint pattern recurves a second time forming an inner
pocket (whorl) within an outer loop. It has a minimum of two deltas
and type lines. Is sometimes known as a Peacock's Eye, due to it's
similarity to the eye pattern on a male peacock feather.
DOUBLE LOOP
WHORLS " "
"
"
"
"
There are two separate loop formations which attempt to wrap
around each other. There are two entirely separate and distinct
sets of deltas.
ACCIDENTAL WHORLS
A combination of two different types of patterns (with the exception
of Plain Arches). Have two or more deltas. Combinations can
include:
- Loop and a whorl
- Loop and a tented arch
- Loop and central pocket loop
- double loop and central pocket loop
ARCHES
Approximately 6% of people exhibit this pattern. Lines cross smoothly or upthrust at the
center of the finger. Sub-classes include plain and tented.
PLAIN ARCH
Simplest of all fingerprint patterns. It is formed by ridges entering
from one side of the print and exiting on the opposite side. These
ridges tend to rise in the center of the pattern, forming a wave-like
pattern.
TENTED ARCH
Starts on side of the finger and flows out in
a similar pattern to that of a plain arch.
The difference lies in the ridges in the
center, which are not continuous (they
adjoin each other, converge and thrust
upward giving the impression of a pitched
tent).
OVERALL
FINGERPRINT
FREQUENCY
Ulnar Loop - 56%
Radial Loop - 4%
Plain Whorl - 24%
Central Pocket Whorl - 4%
Double Loop Whorl - 4%
Accidental Whorl - 1%
Plain Arch - 4%
Tented Arch - 2%
4%
56%
24%
4%
4%
1%
4%
2%
TEST YOUR KNOWLEDGE
NAME:
1. Which general pattern requires that you know which hand it came from before you
can identify it?
2. The radial bone is aligned with which finger in the hand?
3. Which two sub-classified patterns are made up of two or more fingerprint patterns?
4. Describe what a delta is? How can you identify it?
5. Fingerprints are located on which layer of the skin?
______________________________________________________________________
Identify the specific type of fingerprint pattern for each of the following. Assume that
these come from the RIGHT THUMB of the suspect.